Sautéed Chipotle Mushroom Tacos, a blend of thinly sliced Cremini and Portobello mushrooms sautéed in chipotle adobo sauce, lime juice, and sour cream. Served on a warm tortilla and topped with fresh mesclun greens and creamy crumbles of queso fresco.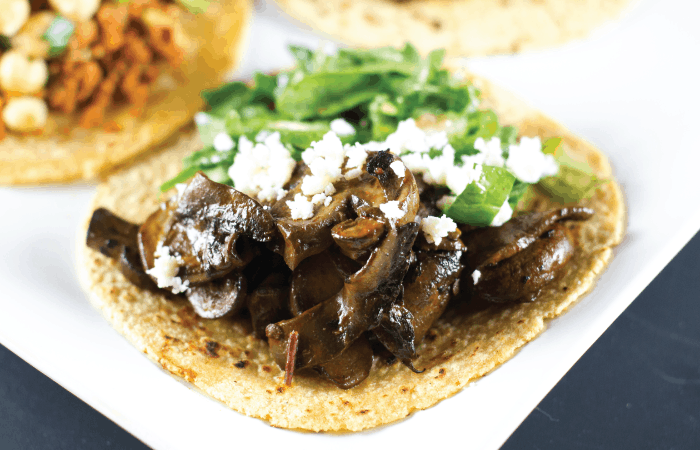 Have you had a taco worth dying for? Apparently, I have! I got a story. Want to hear it? Well, here it goes.
So I decided to visit Chicago last week. I had a business meeting, and I also just wanted to hang out with my girlfriends a bit. On Friday, I worked from a cute little cafe in Wicker Park. For lunch, I decided to grab a few tacos from Big Star on my way to my next destination. So I got my tacos "to-go" and got on the CTA Blue Line. I got on at Damen and knew that I had only two stops before it was time to get off on Chicago. Nevertheless, I got wrapped up on Instagram and wasn't paying attention to the trip. BAD IDEA.
The Blue Line stopped at Chicago, and like clockwork, the pleasant automated lady's voice announced the stop over the intercom system. People rushed around me to get off, but I didn't. Why? Because instead of using my ears, I was using my super sassy index finger to scroll through Insta on a "liking" spree.
For some reason, I took a breather and looked up, only to realize we were parked at my stop. I quickly grabbed my bag of food and ran towards the closing doors. I was fast enough to put my hand in the door, thinking that it would signal the door to open back up… it didn't. Not only did the door close on my hand repeatedly, but the Blue Line started slowly moving. Oh, and I forgot to mention that the hand stuck in the door was the one holding my bag of food!!! Insert "HELL TO THE NAH" song.
The next series of events happened quickly, but I will describe them as I know them to be true. First, I looked at my bag of food, caught on the outside of the door, in despair, and thought, "I'M NOT LETTING GO; I WON'T GIVE UP ON YOU." Then, I saw people on the outside of the train chuckling at my expense. My heart was beating fast at the thought of losing all this food I had just paid for, not to mention, I really had my heart set on trying the Taco De Zanahorias.
I heard someone say, "let go of the bag!" My immediate response was not to let go but to give them the death stare for saying something so preposterous. All the while, a striking young man comes to my rescue and hits some magical button that stops the train and releases the jaw-clenching grip of the door. I say thank you, and after which secure the bag of food, calmly walk off the Blue Line, with my head lifted high and adorning the biggest smile, knowing that I was still about to eat.
Were my priorities mixed up at the moment? Pretty much. Could I have almost died or lost my hand? Quite possibly. But had I not committed to keeping that food, you, my friend, would not have benefited from this week's inspired Taco Tuesday recipes. BLOOP!
Since I am eating vegetarian for the Mission: Get It Right, Get It Tight, Health Challenge, I shared my recipes for the three amazing vegetarian tacos I made this week. Are my vegetarian taco creations worth dying for? I think so, but you be the judge!
What's the difference between Cremini and White mushrooms?
There are a few differences between the cremini mushroom and the white mushroom. Though they are in the same species (Agaricus bisporus), the cremini is the larger and brown version of the smaller white mushroom.
Are Baby Bella and Cremini mushrooms the same?
Actually, there are a massive variety of mushroom types and categories. However, Baby Belle mushroom is a type of Cremini mushroom. The Cremini/Baby Bella mushrooms are in the same Agaricus Bisporus mushroom species as the Button/White mushrooms. Cremini is just a variety of species. The Portabella mushroom is a type of Cremini mushroom, and the Baby Bella is, as the name suggests, a young version of the Portabella.
What is Cotija Cheese?
Cotija is a Hispanic-style cheese named after the town of Cotija in the Mexican state of Michoacán. This hard, crumbly Mexican cheese is made mainly from cow's milk. When the cheese is made, it is white, fresh, and salty, thus bearing an immense resemblance to feta cheese. Its flavor saltiness enhances the flavor of the mushroom tacos.
What are canned chipotles in adobo, and where can I get it?
Canned chipotles in adobo are dried jalapeno peppers smoked and canned with tomato sauce and other spices. Chipotles in adobo will add a "little kick" to your mushroom tacos. You can even make your own chipotle mayo by simply adding a bit to mayo and combine. You can usually find canned chipotles in adobo on the ethnic or Latin food aisle at your local grocery store or any Latin market.
More Delicious Taco Recipes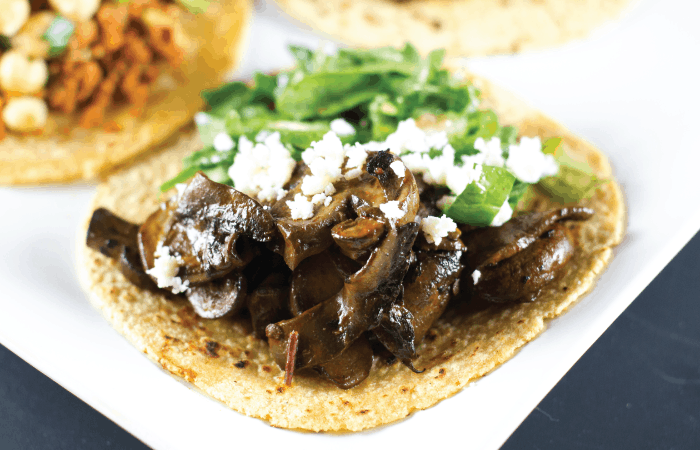 Ingredients
Chipotle Sautéed Mushrooms
8

oz

Cremini mushrooms

sliced

2

large

Portobello mushroom caps

thinly sliced

3

teaspoons

sauce from canned chipotles in adobo

2

teaspoons

olive oil

1

teaspoon

sour cream

1

teaspoon

lemon juice

salt to taste
Tacos
chipotle sautéed mushrooms

4

corn tortillas

warm

1½

cup

mesclun greens

1

cup

queso fresco or cotija cheese

crumbled

¼

tablespoon

olive oil

salt to taste

pepper to taste
Instructions
Heat olive oil in a medium skillet and add in all sliced mushrooms. Cook mushrooms browned and excess fluid has evaporated (approx. 10 minutes on medium heat). Add salt to taste.

Get sauce (not the actual chipotles) out of the canned chipotles in adobo and add it to the pan. Add in the sour cream and lemon juice and stir. Cook down for 5 minutes

Serve sauteed mushrooms on top of warm tortillas with crumbled queso fresco and mesclun greens topped in olive oil, salt and pepper
Nutrition
Calories:
202
kcal
|
Carbohydrates:
18
g
|
Protein:
10
g
|
Fat:
11
g
|
Saturated Fat:
5
g
|
Polyunsaturated Fat:
1
g
|
Monounsaturated Fat:
4
g
|
Trans Fat:
1
g
|
Cholesterol:
22
mg
|
Sodium:
300
mg
|
Potassium:
523
mg
|
Fiber:
3
g
|
Sugar:
3
g
|
Vitamin A:
611
IU
|
Vitamin C:
4
mg
|
Calcium:
208
mg
|
Iron:
1
mg
*Nutrition information is a rough estimate.
**The equipment section above contains affiliate links to products I use and love. As an Amazon Associate I earn from qualifying purchases.