Buckle up because this buttery, sweet, super moist cast iron cornbread might be the best you ever have. This southern-style method is made in a hot sizzling skillet with the perfect zip of buttermilk. In less than 30 minutes, it bakes into a beautiful golden loaf with crispy, crunchy edges and a soft, fluffy center.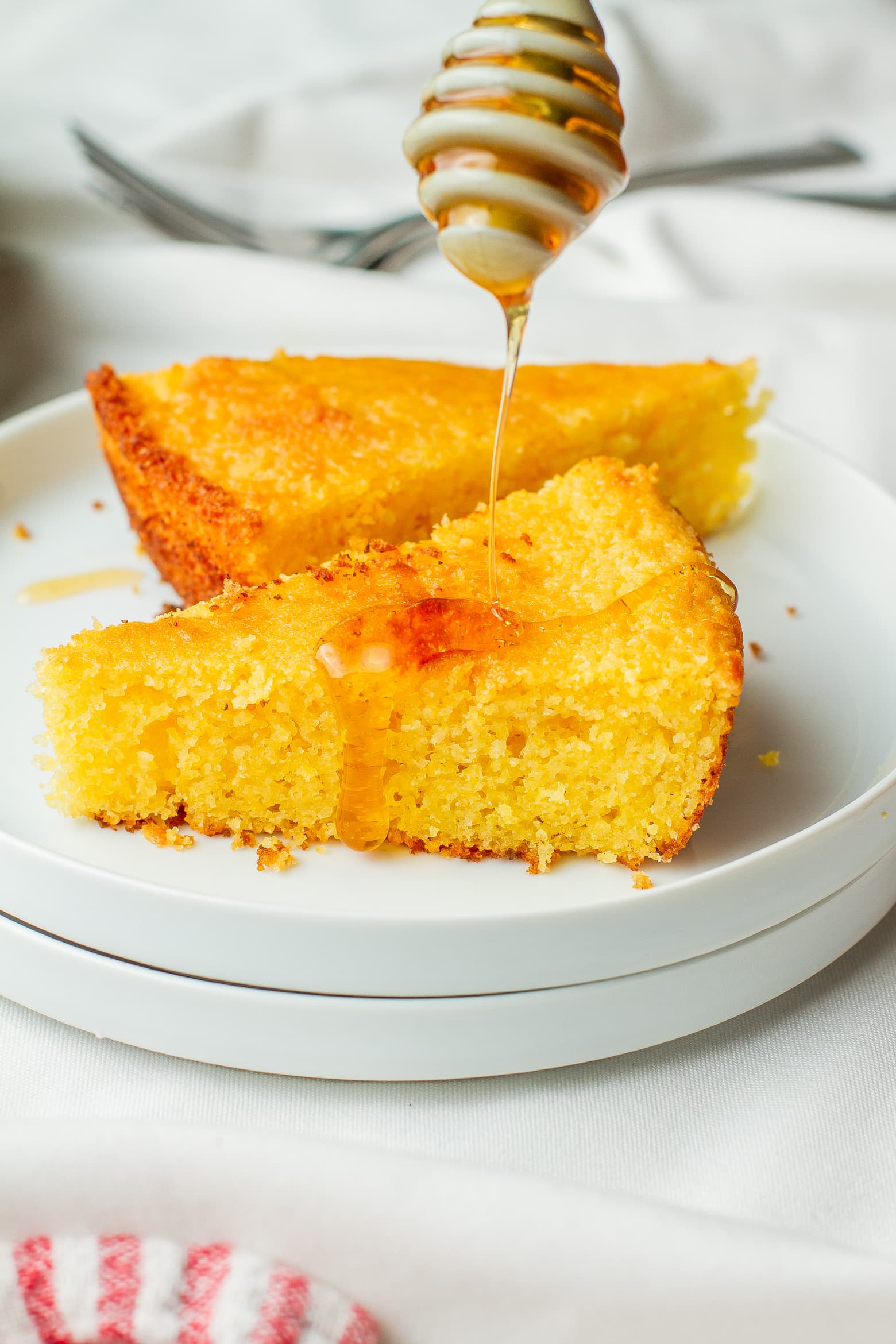 Sweet Cornbread x Savory Cornbread
I'm sure you know there is a great divide in the cornbread-loving community. Some folks love sweet cake-like cornbread, while others enjoy more savory dense cornbread. I heard it was a regional thing (sweet=north, savory=savory), but personally, I enjoy both.
If I had to pick one, it would definitely be sweet cornbread. It has a slight edge for me because I grew up in a household where jiffy cornbread stayed stocked in our pantry. This classic southern recipe is the perfect grown-up upgrade for those ready to leave the blue box cornbread mix behind. I promise homemade cornbread is so much better.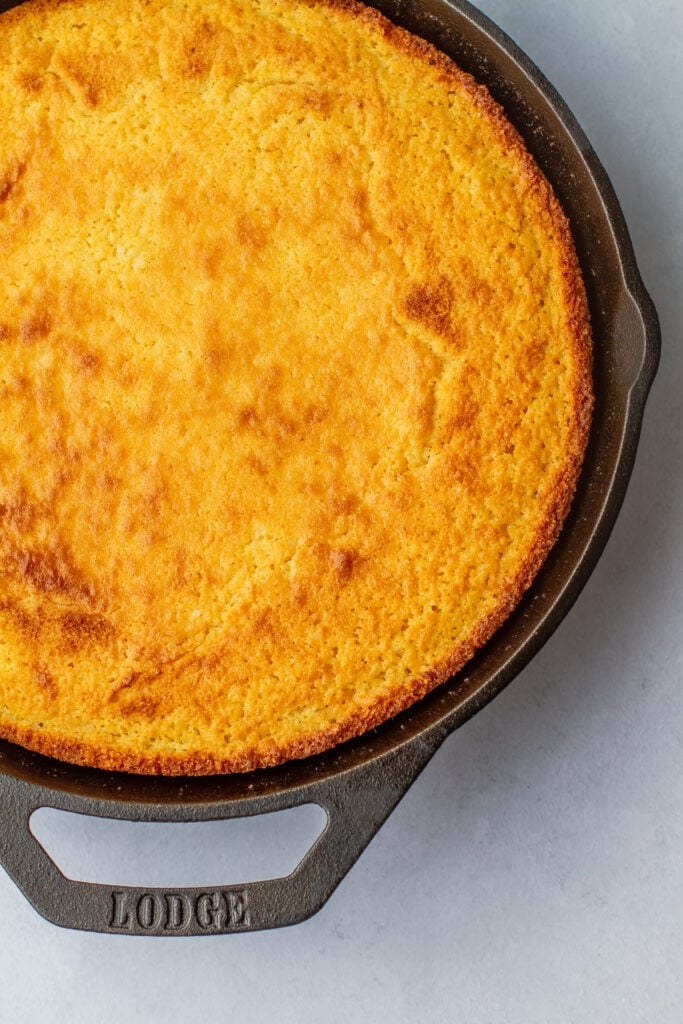 Moist Cast Iron Cornbread Recipe
I love me some cast iron cornbread yall! This recipe is so versatile and jazzes up so many of my favorite classic southern dishes. It has just the right amount of sweetness but a buttery tender crumb and the most epic crispy exterior.
Speaking of crispy edges, it is lightweight critical that you follow the hot cast iron + butter method used in this recipe. The technique creates crisp, crunchy edges that seal in the moistness, making this cornbread so irresistible.
It's the perfect Southern side dish to sop up pot liquor, dip in soups, or drizzle with a lil' honey. I personally love to enjoy it with collard greens, black eye peas, and red chili, but as I said, you can almost add this to any dish as a great side.
Ingredients You'll Need
Yellow cornmeal – this is the main ingredient and gives the cornbread its signature flavor and texture
Baking powder/baking soda – are leavening agents that help the cornbread to rise and fluff up
Buttermilk – adds richness and helps to tenderize the cornbread
Eggs – bind the ingredients together and add structure
Melted butter – You'll want to get the butter sizzling right before you add the batter to create a buttery, crispy cornbread crust.
All-purpose flour – creates a light and fluffy texture
Sugar – depending on how you like your cornbread, you can moderately increase or decrease the sugar without any significant disruption to the recipe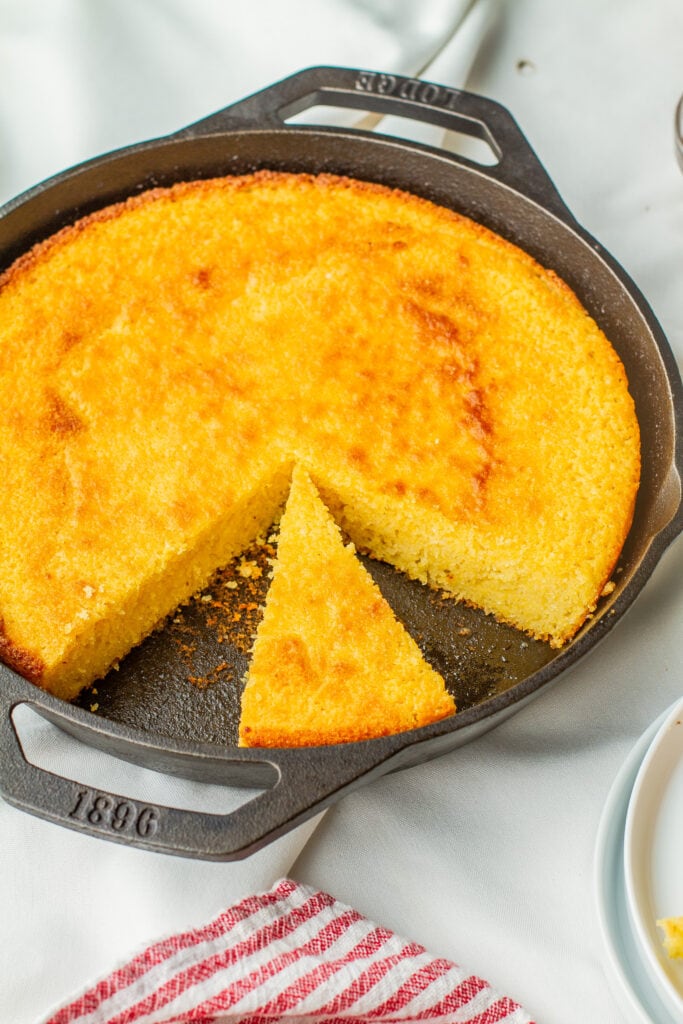 How To Make Skillet Cornbread
For the full recipe and detailed baking instructions, please see the recipe card at the end of this post.
Step 1 – Preheat Your Cast Iron Skillet: This is not the time to ignore the preheat instructions. I highly advise that you follow this set to achieve a perfectly crisp exterior and moist interior.
Step 2 – Separate Dry vs. Wet Ingredients: In two separate large bowls, whisk together respectively dry ingredients (cornmeal, flour, sugar, salt, baking powder, and baking soda) and wet ingredients (buttermilk, eggs, 4 tablespoons butter, and avocado oil) until blended.
Stir wet ingredients into dry ingredients and mix well but be careful not to overmix the batter.
Step 3 – Pour Batter While The Skillet Is Hot: Once hot, carefully remove cast iron from the oven and add 2 tablespoons of butter. Brush or swirl butter so that it coats the entire skillet. Pour in the batter and use a spatula to spread the batter evenly over the pan.
Step 4 – Bake Until Golden
Bake in the oven until the top is golden brown for 20-25 minutes. Slice and serve with additional butter and honey if desired.
Cooking Tip – when mixing cornbread, it is best to put down the electric mixer. Mixing by hand eliminates the chance of overmixing. A few lumps in the batter are actually encouraged; they help give your cornbread a craggy appearance. By not overmixing, you get a more light and fluffy result.
No Cast Iron, No Problem … Kind Of
One of the best benefits of a cast iron is its ability to conduct and retain even heat which is a big factor in achieving those extra buttery AND CRISPY edges. While I strongly suggest that you make this cornbread in a cast iron skillet, if you don't have one, all is not lost. You can also bake it cake pan or muffin tin. Follow the same instructions but know that the results may vary a bit.
I tested this recipe using a 10-inch cast iron skillet, but if you use an alternative vessel, you also need to be aware of how the variation in depth and size can affect the cooking time. It could result in longer or shorter baking times, so just be sure to monitor the cornbread closely if you go this route. You want the top of the cornbread to be golden brown, with the edges slightly darker and pulling away from the pan.
You can test doneness by inserting a toothpick into the bread's center; if it comes out clean, that is a good sign that it is done.
Have it Your Way … Customizations
I can't tell yall enough about how versatile this cornbread is. You really can add in almost whatever you like. Here are some classic options.
For Freshness: add fresh corn for some additional texture
For Spice: add cheddar cheese and/or jalapeno to add a kick of Spice
For Herbaceousness: sprinkle some fresh rosemary, thyme, chives, or parsley if you are going the more savory route
Storing
Store leftover cornbread in airtight container at room temperature for up to 2 days, or in the fridge for up to 5 days.
Let's Talk Cornbread In America
Cornbread has a long and textured history, believed to have originated with the Native American tribes, that has grown to be a staple in homes of all cultures and backgrounds. Cornbread is more than just a type of bread. It's a cultural staple that has been enjoyed by black people for centuries.
Cornmeal was a common ration amongst those enslaved. As a result, black people mastered the preparation of many cornbread varieties like joe cakes, johnny cakes, hot water cornbread, fritters, spoon bread, and hushpuppies.
This explains why cornbread feels inherently southern, African American, and connected to the black soul food experience. I can't imagine a family feast that doesn't involve some variation of cornbread.
But my utmost favorite is this Cast Iron Skillet Cornbread. A classic southern method of whipping up buttermilk cornbread by pouring cornmeal batter into a sizzling hot skillet gives it that uniquely comforting flavor and texture that I obsess over.
Recipe Prep
Read through the recipe: If it's your first time making this recipe, always read the full recipe from start to finish. This helps you prepare, avoid mistakes and potentially finish cooking faster.
Essential tools: I highly recommend using a cast iron skillet for this recipe. I used a 10-inch seasoned cast iron skillet from Lodge. I love this one because it has a double-sided grip, perfect for baked treats like cornbread, cakes, and pies.
Ingredient Prep: Gather and measure your ingredients in advance. And PLEASE DON'T FORGET to preheat your cast iron before adding your butter and cornbread mix.
Ingredients
1

cup

yellow cornmeal

1

cup

all-purpose flour

2/3

cup

granulated sugar

1

teaspoon

kosher salt

1

tablespoon

baking powder

1

teaspoon

baking soda

1 1/4

cups

whole buttermilk

2

large eggs

6

tablespoons

unsalted butter

melted & divided

¼

cup

avocado oil or neutral oil

Honey

optional
Instructions
Preheat oven to 425°F. Place a 10-inch cast iron skillet in the oven to preheat for 10-15 minutes.

In a large bowl, whisk together dry ingredients (cornmeal, flour, sugar, salt baking powder, and baking soda) until blended.

In a separate medium bowl, whisk together wet ingredients (buttermilk, eggs, 4 tablespoons butter, and oil) until blended.

Stir wet ingredients into dry ingredients and mix. Be careful not to overmix the batter.

Once hot, carefully remove the cast iron from the oven and add 2 tablespoons butter. Brush or swirl butter so that it coats the entire skillet. Carefully pour the batter into the hot pan. Use a spatula to spread the batter evenly over the pan.

Bake in the oven until the top is golden brown for 20-25 minutes. Slice and serve with additional butter and honey.
Nutrition
Calories:
373
kcal
|
Carbohydrates:
45
g
|
Protein:
6
g
|
Fat:
19
g
|
Saturated Fat:
7
g
|
Polyunsaturated Fat:
2
g
|
Monounsaturated Fat:
8
g
|
Trans Fat:
0.3
g
|
Cholesterol:
68
mg
|
Sodium:
644
mg
|
Potassium:
150
mg
|
Fiber:
2
g
|
Sugar:
19
g
|
Vitamin A:
384
IU
|
Calcium:
144
mg
|
Iron:
2
mg
*Nutrition information is a rough estimate.
**The equipment section above contains affiliate links to products I use and love. As an Amazon Associate I earn from qualifying purchases.