Smoked Salmon Mediterranean Salad is a flavorful union of potatoes, green beans, onions, tomatoes, eggs, almonds, currants, smoked salmon, & creamy green vinaigrette.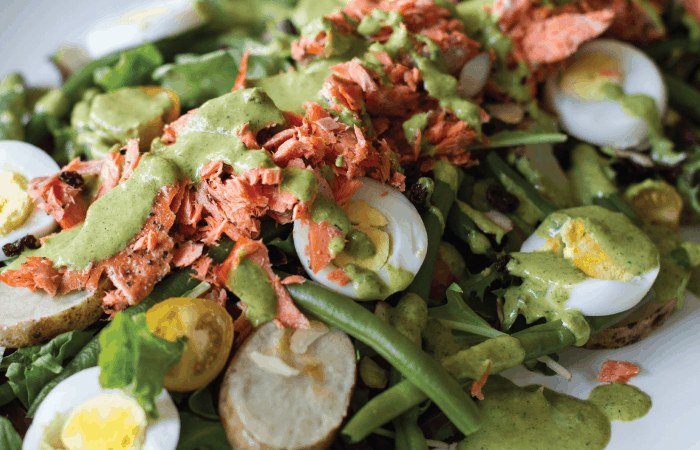 This Whole30 Challenge has really gotten me into a salad mood. I've been making salads for breakfast, lunch, and dinner #NoFlexZone. This Smoked Salmon Mediterranean Salad is one of my current faves and is layered with bright and crunchy veggies and a delicious creamy green vinaigrette.
As you can see, the salad got off to a pretty rough start. I'm not sure what ratchet tv I was watching that distracted me from my duties, but I ended up burning the first round of potatoes in the oven. LOL!
Potatoes in a salad? Yes indeed. My friend Courtney asked the same question when we shared this dish. But after his first bite, his question shifted to why aren't potatoes featured in green leaf salads more? My sentiments exactly! Needless to say, it tastes good, real good.
TIP: Make sure you use fresh green beans and blanch them in saltwater. Blanching allows the green beans to remain crisp and maintain a bright color.
This is a salad of the people. The recipe serves as a beautiful side dish when hosting guests but can easily double duty as your light and healthy meal. Get the recipe and give it a try. #Whole30 approved.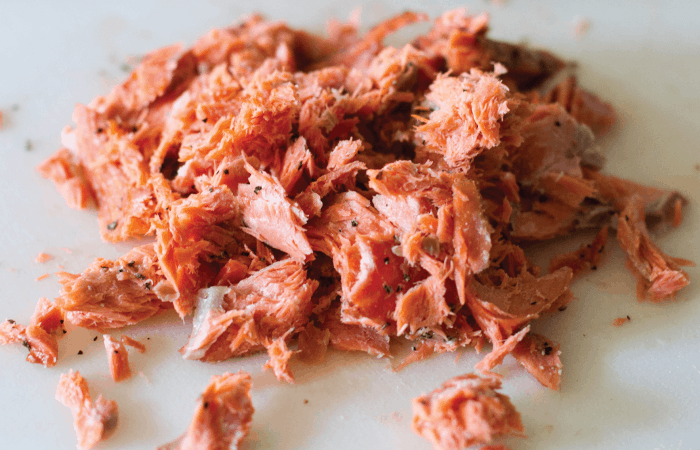 Is hot smoked salmon fully cooked?
Believe it or not, both hot and cold smoked salmon are fully cooked and ready to eat. Hot smoked salmon is cured in salty water, usually overnight, then smoked the next day at 120°F, while cold smoked salmon is smoked at around 90°F after curing. Smoked at these temperatures cooks the salmon throughout, making it safe for consumption. 
What is the difference between currants and raisins?
Though both currants and raisins are naturally dried grapes, they have a couple of slight differences. Raisins are dried from larger dark grapes, typically from the Thompson seedless variety.  While currants are dried from smaller varieties of grapes called "Black Corinth" and "Carina." This makes currants smaller in size and darker than raisins.  Now don't let the small size fool you; currants pack an intense flavor. Currants add a sweet and tangy nutritious treat to this dish.
How to make creamy green dressing?
Grab your blender or food processor, pour a little olive oil and apple cider vinegar for your dressing base. Add sugar-free Dijon mustard, egg yolk, capers, and minced shallot. Next, add lemon, squeeze orange juice, and garlic. Right before topping your blender, sprinkle your refresh chopped parsley. Blend until smooth. And just like that, you've created the fresh and flavor-packed creamy green dressing.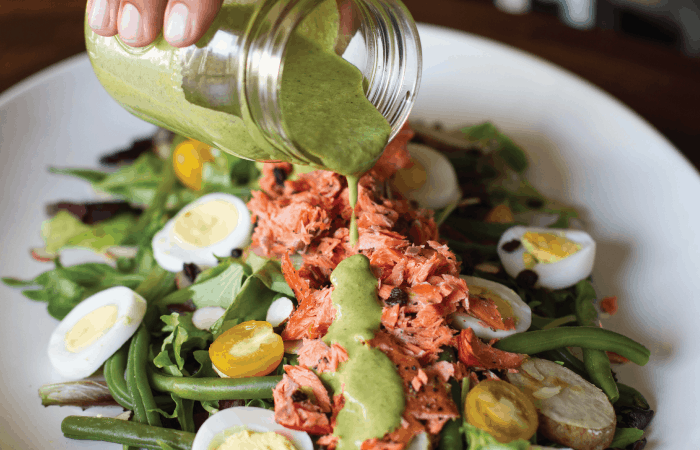 How to make Smoked Salmon Mediterranean Salad vegan?
Luckily you can make any recipe to accommodate a vegan or plant-based diet. You have to know the proper substitutes.  For this Smoked Salmon Mediterranean Salad recipe, the only things that would need to be substituted are the smoked salmon and eggs.
The best vegan alternative for smoked salmon is carrots! All you have to do is soak sliced carrots in a marinade made of Soy Sauce, Nori (Seaweed), water, and other flavors for 24hrs. Bake and then allow to cool. The Nori will give the carrots the fish taste we are looking for in this Vegan Smoked Salmon.
You can usually find vegan boiled eggs in your local Whole Foods or grocery store in the "Plant-Based" cooler section for the eggs. If you're feeling adventurous, you can attempt to make them at home. The main ingredients you'll need will be tofu, yeast, turmeric, and black salt for the egg taste. 
Cherry Tomatoes vs. Grape Tomatoes
Ahh, the great cherry vs. grape tomato debate! Just kidding, I'm sure you and I are part of a small group that never even noticed that these two are, in fact, different yet interchangeable. Here are some of the differences that I find between the two.
The cherry tomato is round, sweet, juicy, and has thin skin.  While the grape tomato is more oblong-shaped, meatier,  less sweet, not as juicy, and has a thicker skin. You'll likely find grape tomatoes more often than cherry tomatoes in your local produce section. They are easier to ship because of their thick skin compared to the cherry variety.  Though these two have some differences, either can be used in your favorite recipes and give you a similar great result.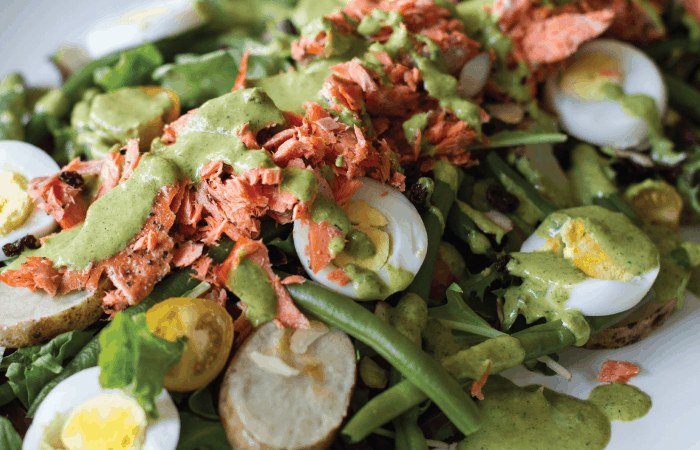 Ingredients
4

oz.

hot smoked salmon

8

oz.

green beans

ends trimmed

5

oz.

spring mix lettuce

1

lb.

potatoes

1

cup

red onion

⅛ inch sliced

1

cup

cherry or grape tomatoes

⅛-¼

cup

currants

2

hard

boiled eggs

sliced lengthwise

2

tbsp

almonds

sliced

olive oil

salt & pepper

to taste

creamy green vinaigrette
Instructions
Preheat oven to 350 degrees. On a baking sheet, spread out the potato slices, drizzle with olive oil and generously sprinkle with salt and pepper. Place in the oven for 20 minutes.

Fill a medium saucepan halfway with water, and on high heat, bring water to a rolling boil. Add salt and green beans; cook for approximately 4 to 6 minutes. Remove green beans from the boiling water, add them to a bowl of the ice water bath, and set.

Break apart salmon fillet until it is flaky.

On a platter, set a bed of lettuce and layer on top the potatoes, green beans, onions, tomatoes, eggs, almonds, currants, and salmon.

Sprinkle with additional salt and pepper.

Drizzle with creamy green vinaigrette and toss when ready to serve.
Nutrition
Serving:
2
g
|
Calories:
417
kcal
|
Carbohydrates:
69
g
|
Protein:
22
g
|
Fat:
8
g
|
Saturated Fat:
1
g
|
Polyunsaturated Fat:
2
g
|
Monounsaturated Fat:
4
g
|
Cholesterol:
17
mg
|
Sodium:
497
mg
|
Potassium:
1846
mg
|
Fiber:
12
g
|
Sugar:
17
g
|
Vitamin A:
2019
IU
|
Vitamin C:
98
mg
|
Calcium:
146
mg
|
Iron:
5
mg
*Nutrition information is a rough estimate.
**The equipment section above contains affiliate links to products I use and love. As an Amazon Associate I earn from qualifying purchases.