Let me tell you about this Southern Biscuits & Gravy with Turkey Sausage recipe. The sausage gravy is so creamy and flavorful, it's like a hug for your taste buds. And the biscuits? Melt-in-your-mouth buttery goodness. The turkey sausage adds a healthier twist without skimping on taste. This dish is perfect for a weekend brunch or when you need some comfort food to get you through the day.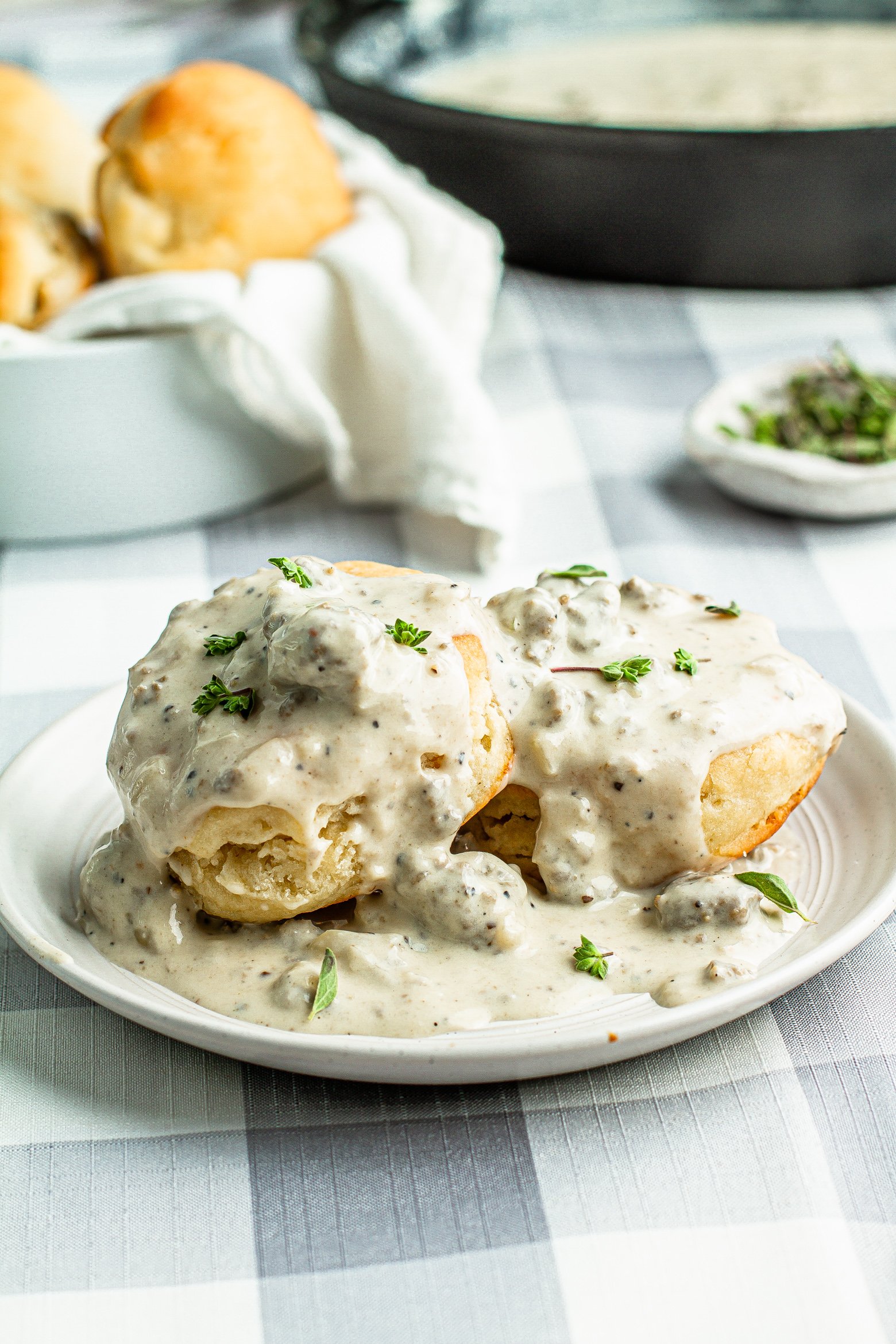 Need A Quick Meal Plan?

If you're looking to host a brunch or want to elevate your weekend breakfast game, we've got you covered! Here are some delicious and well-balanced dishes that pair perfectly with Southern Buttermilk Biscuits:

Entree: Cheddar Cheese Omelet
Side: Goat Cheese Grits
Veg: Fried Green Tomatoes
Drink: Minneola Paloma

Southern Biscuits & Sausage Gravy Recipe
Growing up, my stepdad was the chef of the house and made almost everything from scratch, including SOS. It's a no-frills meat gravy over toast that he learned in the military. I was 10 when he taught me the recipe, which I still use as the base for my own biscuits and gravy recipe with minor tweaks. This easy recipe yields plate-licking results!
The only difference in the gravy is that I use turkey sausage instead of the traditional meat. But don't worry, it still has that rich and creamy texture that makes it the perfect topping for freshly made buttery biscuits.
Gravy Train: A Saucy Guide to Brown, White, and Red Gravy Styles!
Get ready to take your taste buds on a gravy train because this versatile sauce comes in many flavors and styles.
Brown gravy is a classic and hearty sauce, perfect for beef dishes. Made with a roux of flour and fat combined with beef broth, it gets its rich brown color and flavor.
White gravy, also known as country gravy, or southern gravy is another popular option made with a roux of flour and fat combined with milk, giving it a creamy texture. This gravy is commonly paired with biscuits, fried chicken, and mashed potatoes.
And let's not forget about red gravy, the tomato-based sauce popular in Italian cuisine, especially with pasta dishes.
Each gravy style has its unique flavor and use, but all of them can add depth and richness to your meals. Our recipe takes a creamy twist, using turkey sausage gravy that pairs perfectly with buttery, warm biscuits.
What You'll Need For The White Turkey Sausage Gravy
Seasoning: a blend of kosher salt, black pepper, garlic powder, onion powder
All-purpose flour – this will be our thickener
Half & Half – Most homemade sausage gravy recipes call for regular whole milk, but I find the blend of milk and cream in half Half and Half adds a creamy richness without making it too heavy.
Unsalted butter – for richness and flavor
Breakfast sausage – My preference is for turkey breakfast sausage. The recipe is classically made with pork sausage or beef sausage but you can use any breakfast sausage in like in the gravy. Sausage patties are great too!
Buttermilk biscuits – I'm going to be biased and suggest you use my recipe for buttermilk biscuits. If you are in a pinch for time, I guess you could also use canned or store-bought biscuits – but don't do it. Lol.
Want to learn more about the origin of homemade biscuits and gravy? Check out this dope article by my friend Aaron about its surprising history.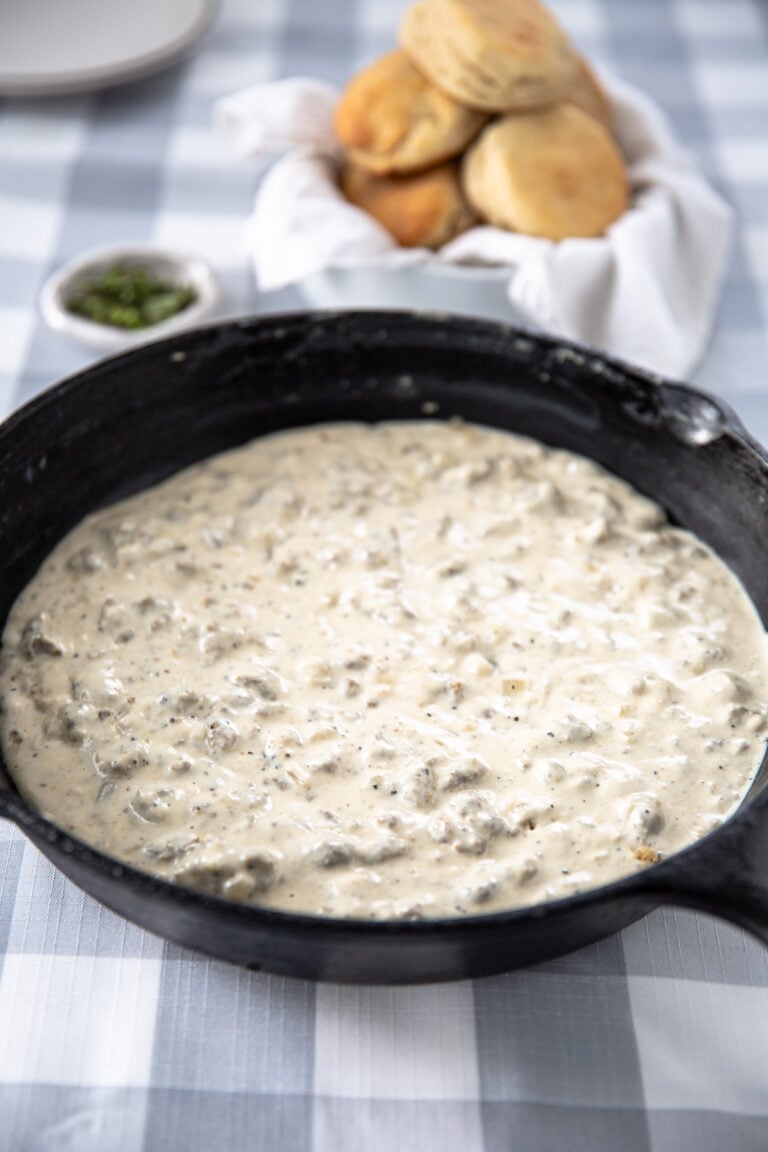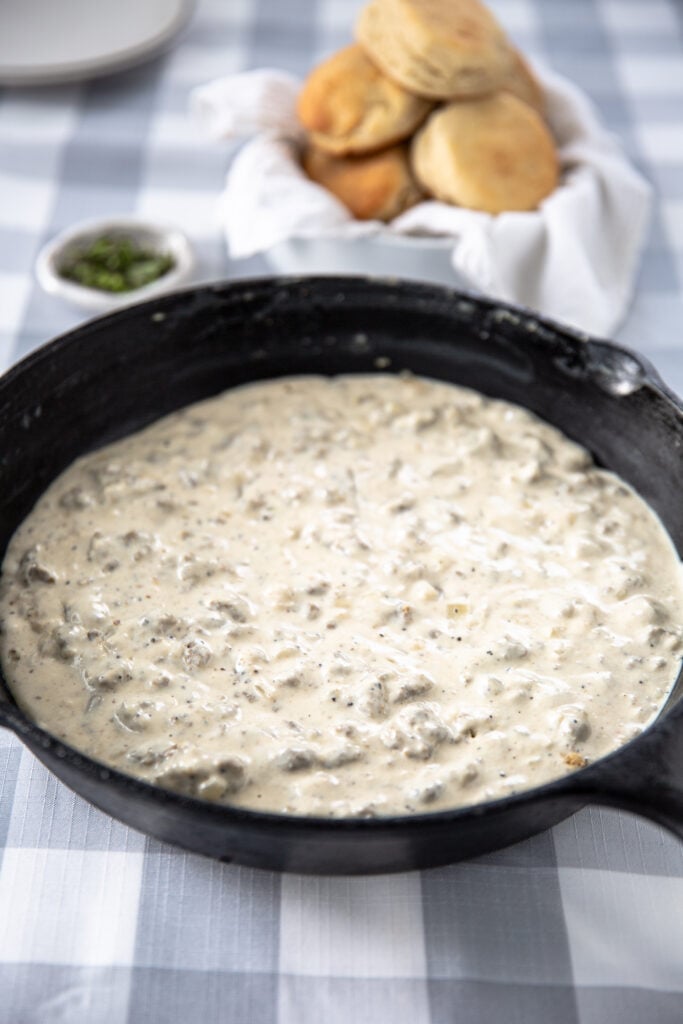 How To Make Southern Biscuits And Gravy
Bake up your homemade buttermilk biscuits in the oven
Mix together seasoning; salt, black pepper, garlic powder, and onion powder in a small bowl.
Melt butter in a large skillet over medium-high heat. Add in onions and saute for 3 minutes or until fragrant.
Add sausage and seasoning blend, and use a spoon to break meat into crumbles. Stir until the meat is browned.
Sprinkle flour over cooked sausage, stir and stir to coat. Slowly pour and whisk in Half and Half. Bring to a gentle boil, then reduce to a simmer for 10 minutes. Gravy should be smooth and coat a spoon.
Split the biscuits in half and serve sausage gravy over the top and garnish with cheese and green onions.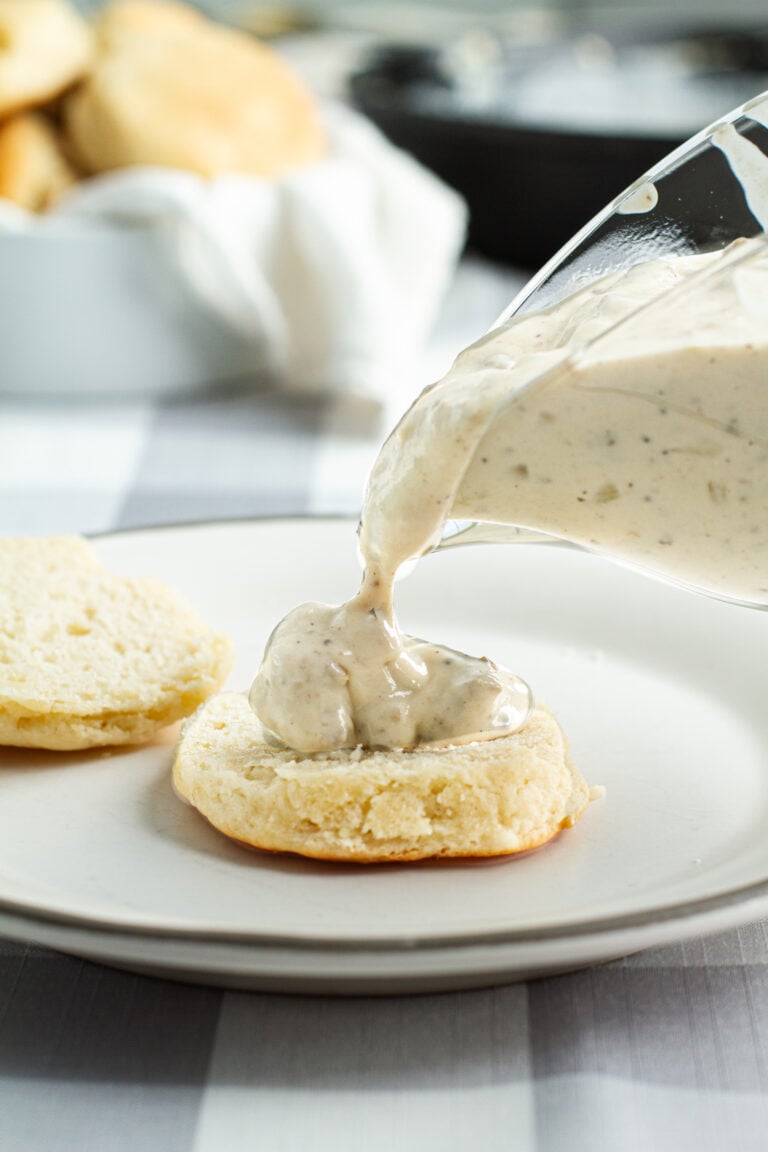 Add Some Flair
While biscuits and gravy are already a delicious and satisfying comfort food, there are a few simple tricks you can use to take your dish to the next level:
Add some spice: If you like a bit of heat, try adding some hot sauce, cayenne pepper or crushed red pepper flakes to your gravy for an extra kick. You could also try using spicy sausage instead of turkey sausage for a bolder flavor.
Get creative with your biscuit base: While traditional southern style biscuits are delicious, you could also experiment with different types of biscuits, such as cheddar biscuits or even sweet potato biscuits for a fun twist.
Add some veggies: While biscuits and gravy is already a pretty indulgent dish, you can add some nutritional value by incorporating some sautéed spinach or roasted mushrooms into your gravy.
Use Bacon grease: I do not eat pork but I have been known to sub in some beef bacon grease for butter in the gravy takes to the flavor up a few notches.
By adding some of these simple touches, you can turn a classic comfort food into a gourmet delight.
How To Troubleshoot Gravy Problems
Gravy can be a delicious addition to many meals, but sometimes it can be tricky to get it just right. Here are some common problems that you may encounter while making homemade gravy yourself, along with some tips for fixing them:
Lumps: Lumpy gravy can be caused by adding too much flour or not whisking enough. To fix this, try whisking vigorously or using an immersion blender to smooth out the lumps.
Too thin: If your gravy is too thin, try adding a slurry made of equal parts flour and water. Whisk the slurry into the gravy and cook for a few minutes until the gravy thickens.
Too thick: If your gravy is too thick, try adding more liquid, such as broth or milk, to thin it out. You can also add a little bit of water and whisk vigorously until the desired consistency is achieved.
Too salty: If your gravy is too salty, try adding a bit of sugar or vinegar to balance out the saltiness. Alternatively, you can dilute the gravy with more liquid to reduce the overall saltiness.
By using these tips and tricks, you can fix any gravy problems and still enjoy a delicious meal.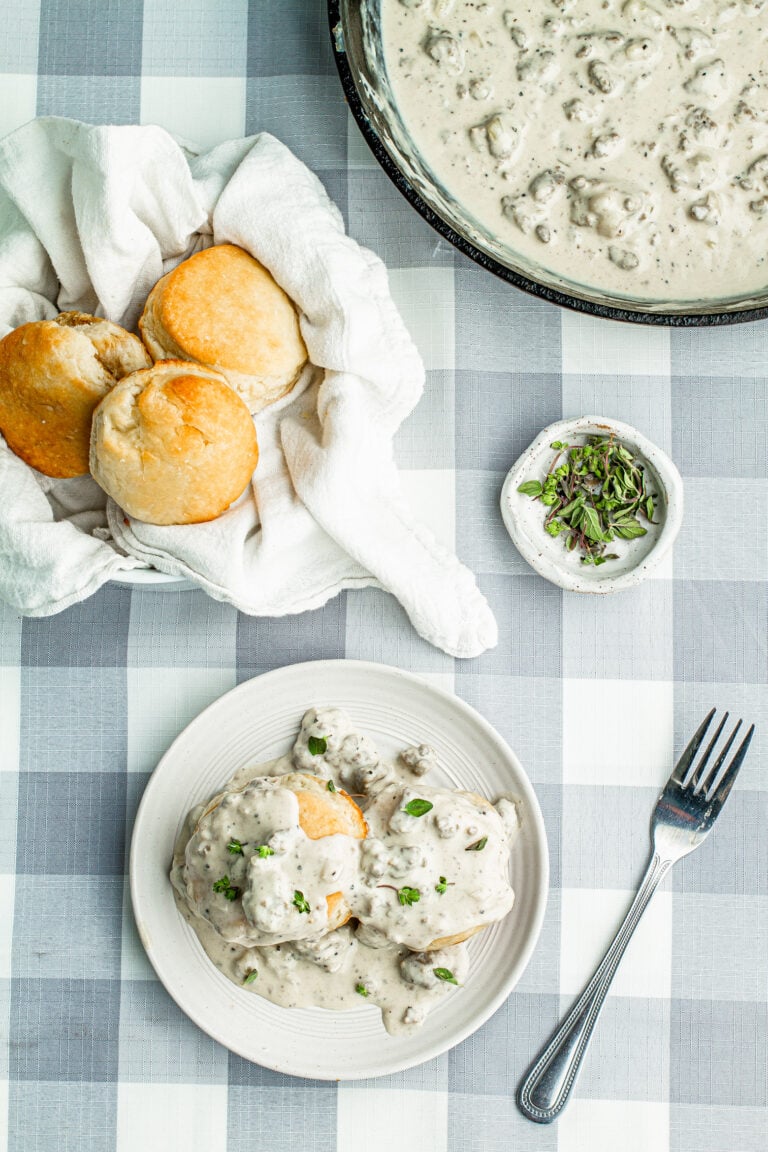 Make Ahead, Storing & Freezing
Biscuits and gravy can be made up to 3 days in advance, but it is recommended that you store leftovers them separately so that they don't get soggy.
To store, let the gravy cool completely then transfer it to an airtight container and store in the fridge for up to 3 days. When ready to serve, reheat over low heat until warmed through.
Store the biscuits in storage bags and refrigerate for up to 3 days or freeze for up to 2 months.
I recommend reheating the gravy on the stovetop for best results over low to medium heat first. If too thick, add half and half or milk 1 tablespoon at a time until it reaches your desired thickness.
You can quickly reheat the biscuits by adding them to the microwave for 30 seconds at a time until they reach your desired heat.
Frequently Asked Questions
How To Prevent Half & Half From Burning?
The key is to temper the Half and Half before adding it to the gravy, and this means that you will need to slowly pour the Half and Half into the gravy while whisking flour mixture vigorously.
Do I Have to Use Breakfast Sausage?
No, you can use any ground meat that you prefer. If vegetarian, you can even use chopped mushrooms in place of sausage.
How To Thin Gravy?
If your gravy is too thick, thin it out by whisking in additional Half and Half or milk 1 tablespoon at a time until it reaches your desired consistency.
Why does my gravy taste like flour?
You have to be sure to cook your flour a few minutes before adding in the milk. Usually about 2 to 3 minutes is enough. You don't want to let it get too brown, just long enough to cook out that flour taste.
More Brunch Yumminess
Before You Begin
Essential Tools
(Amazon affiliate links)- Check out all of my kitchen essentials here.
Food processor
Pastry Cutter
Biscuit cutter
Rolling pin
Parchment paper or Silpat
Baking sheet
Large skillet
Pastry brush
Silicone Spatula
Recipe Prep
Read through the recipe. This is the first time making a particular recipe; take a couple of minutes to read it through from start to finish. I promise it will help you move through the recipe quicker when you understand what's coming next.
Freeze butter and refrigerate tools
Gather & measure out all the ingredients.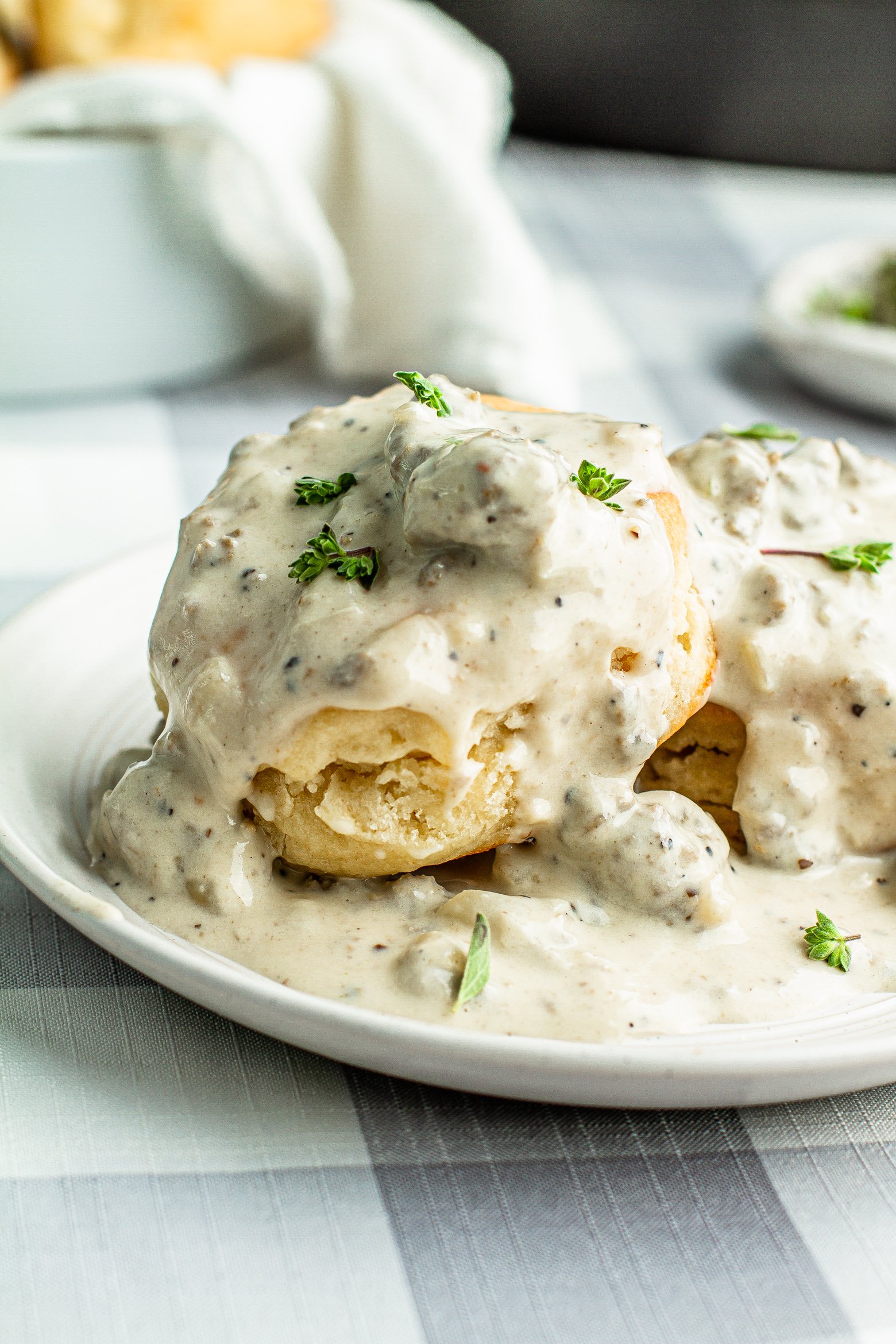 Ingredients
Buttermilk Biscuits:
3

cups

all-purpose flour

plus more for rolling

1

tablespoon

baking powder

3/4

teaspoon

baking soda

3/4

teaspoon

kosher salt

2

tablespoons

sugar

10

tablespoons

unsalted butter

chilled & divided

1 1/4

cup

buttermilk

chilled

2

tablespoons

unsalted butter

melted
White Sausage Gravy:
3

tablespoons

unsalted butter

divided

½

medium yellow onion

chopped

1

teaspoon

kosher salt

1

teaspoon

black pepper

1

teaspoon

garlic powder

½

teaspoon

onion powder

1

lb.

breakfast turkey sausage

¼

cup

unbleached all-purpose flour

2

cups

half and half

4

green onions

sliced
Instructions
To Make Buttermilk Biscuits:
Preheat oven to 450°F.

In a large bowl, whisk together dry ingredients: flour, baking powder, baking soda, salt, and sugar until thoroughly blended.

Cut 8 tablespoons of cold butter into cubes and add it to the flour mixture. Use your hands, a fork, or a pastry blender to create a crumble. Use cold hands and try to work quickly, so the butter doesn't melt.

Create a well in the middle of the bowl. Pour in chilled buttermilk in the center of the well. Use the rubber spatula to fold the ingredients together and incorporate the wet with the dry. Continue to fold until the dough pulls away from the edges of the bowl. The dough should be crumbly.

Pour the dough out onto a well-floured surface. Lightly flour your hands, then shape th no e dough into a rectangle approximately 10 inches long. Fold the rectangle in thirds, folding the left side into the middle, then the right side into the middle. Rotate the dough horizontally and repeat the folding in thirds again. Gather any crumbs, flatten the dough back into a rectangle and repeat the folding process 1-2 more times.

Roll or flatten the dough into a rectangle one final time,(1 ¼ to 1 ½ inches tall). Use a 2-inch cookie cutter to cut out 12-15 biscuits. Repeat the process if you have any excess dough.

Place the biscuits onto a prepared baking sheet or baking mat. Melt the remaining 2 tablespoons of butter and brush the tops of each biscuit. Place into oven and bake for 12-15 minutes or until golden brown. Serve warm.
To Make White Sausage Gravy:
Mix together seasoning; salt, black pepper, garlic powder, and onion powder in a small bowl.

Melt 1 tablespoon of butter in a large skillet over medium-high heat. Add in onions and saute for 3 minutes or until fragrant.

Add sausage and seasoning blend, and use a spoon to break meat into crumbles. Stir until the meat is browned.

Add 2 tablespoons of butter and stir until melted. Sprinkle flour over sausage, stir and stir to coat. Cook flour for 2 minutes, then slowly whisk in half and half. Bring to a gentle boil, then reduce to a simmer for 10 minutes. Gravy should be smooth and coat a spoon.

To serve, split the biscuits in half and pour over a generous amount of sausage gravy. Garnish with chopped green onions.
Notes
Biscuits are best 3 days after baking but will be fresh for 7 days in an airtight container in the fridge. Keep biscuits in a freezer storage bag for 3 months.
Keep sausage gravy in an airtight container for 7 days. Gravy is best 3 days after making it. To reheat gravy, place over a medium heat and cook until hot. Add additional liquid to thin out the gravy if needed.
Feel free to use chicken sausage as a swap in turkey sausage.
Nutrition
Calories:
583
kcal
|
Carbohydrates:
48
g
|
Protein:
20
g
|
Fat:
35
g
|
Saturated Fat:
20
g
|
Polyunsaturated Fat:
3
g
|
Monounsaturated Fat:
9
g
|
Trans Fat:
1
g
|
Cholesterol:
124
mg
|
Sodium:
1188
mg
|
Potassium:
376
mg
|
Fiber:
2
g
|
Sugar:
8
g
|
Vitamin A:
1036
IU
|
Vitamin C:
4
mg
|
Calcium:
229
mg
|
Iron:
3
mg
*Nutrition information is a rough estimate.
**The equipment section above contains affiliate links to products I use and love. As an Amazon Associate I earn from qualifying purchases.