Ready to level up your breakfast routine? Try these delicious Buttermilk Hoe Cakes. Picture this: crispy, golden brown on the outside with a rich, buttery flavor that will tantalize your taste buds. The fluffy, airy texture and crispy edges create a perfect combination of textures that will keep you coming back for more.
Need Meal Plan Ideas?
Here are some delicious dishes that pair perfectly with this recipe for Buttermilk Hoe Cakes.
Entree: Fried Chicken With Pepper Jelly Molasses
Veg: Southern Green Beans with Bacon
Drink: Southern Sweet Tea

Buttermilk Hoe Cakes Recipe – Just Like Grandma Made
I still remember waking up on the weekends to the smell of buttermilk hoe cakes frying in the kitchen. My great grandma Vera Mae would be up early, already starting on breakfast. By the time I made it to the table, a stack of warm and crispy cornmeal cakes would be waiting for me.
My sister and I would gather around the table, fighting over who got the ones with the crispy edges. We'd top them with butter, honey, maple syrup, and sometimes even bacon or eggs.
Nowadays, when I make hoe cakes for family or my friends, it's like bringing a piece of those memories back to life. It's a reminder of the warmth and love that was present in my grandma's kitchen. So trust me when I say, you won't regret giving these delicious cakes a try.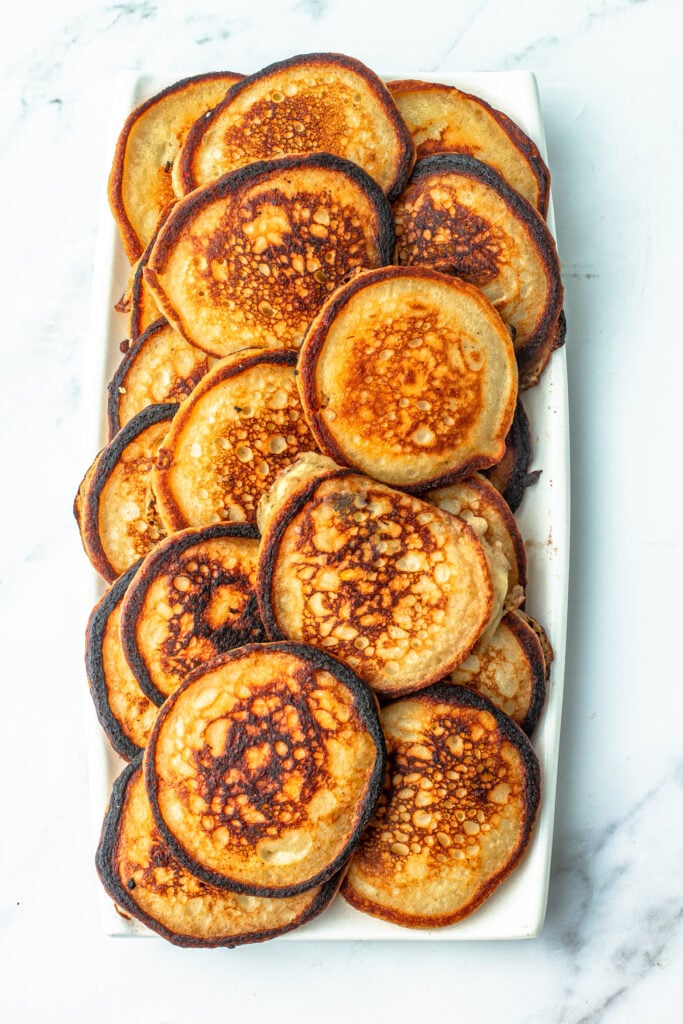 What You'll Need For This Recipe
Corn meal – I like to use yellow corn meal, but you can use white or blue corn meal.
All-purpose flour – This helps to bind the ingredients together.
Buttermilk – This adds tang and richness to the cakes
Baking powder – Helps the hoe cakes rise and be nice and fluffy.
Baking soda – This is another leavening agent that helps the hoe cakes to rise.
Salt – A little bit of salt to balance out the sweetness.
Eggs – This binds everything together.
Butter – You'll need this for the pan, and I like to add a bit to the cornmeal batter. I fry mine up in butter, but you can also use vegetable oil for frying.
Buttermilk – This adds tang and richness to the cakes
Honey – This is for topping the hoe cakes, but you could also use syrup.
How To Make Southern Hoe Cakes
Mix Dry Ingredients. Simply stir together cornmeal, flour, baking soda, baking powder, sugar, and kosher salt in a large bowl.
Mix Wet Ingredients. In a separate medium bowl, whisk together eggs, butter, and buttermilk. Then add the wet ingredients to the dry ingredients and mix until smooth. Let the batter rest for 5 minutes before using.
Cook in a hot skillet. Use a cast iron skillet or heavy bottom skillet over medium heat and add 1 tablespoon of butter. Pour ¼ cup of batter per hoe cake into the pan and cook for 3 minutes on each side until tiny air bubbles appear on the surface of the cakes. Repeat with the remaining batter.
Transfer the cakes to a paper towel lined plate. Serve hot with butter and top with jam or honey for sweet hoe cakes or cheese for savory hoe cakes.
Tip: Let the batter rest. Once you mix the wet and dry ingredients, let the batter rest for 5-10 minutes to thicken. This will help achieve light and fluffy hoe cakes.
Add A Little Flair – Recipe Variations
There are several ways to serve hoe cakes, and each variation is delicious and satisfying.
Serve them savory style by adding shredded cheddar cheese, chopped jalapeno, or herbs.
Add corn kernels or minced scallions to the cornmeal batter.
Top them with honey, maple syrup, or jam. Whether you prefer savory hoe cakes with a fried egg on top or sweet hoe cakes drizzled in syrup, there are endless ways to enjoy this versatile treat.
Unpopular opinion, but I love having them with my homemade apple butter.
Storage & Reheating
Refrigerate leftover hoe cakes by wrapping them well or storing them in an airtight container for up to four days. You can also freeze them for up to three months. For the best flavor and texture, thaw frozen leftovers overnight in the fridge before reheating.
They are best reheated in an air fryer at 400 degrees F for three to four minutes or on a baking sheet in a 400-degree oven for three to four minutes until they are warm and crispy. I don't recommend microwaving them.
How Hoe Cakes Got Their Name
The hoe cake is a classic soul food dish that has been enjoyed by Black people for generations. While there are several different names for this fried cornbread (hoe cakes, johnny cakes, corn pone, etc.), they all refer to the same delicious treat.
Many different cultures have contributed to its rich history. The hoe cake's origins can be traced back to indigenous Americans, who mixed ground corn and water, shaped it into cakes, and baked in as
Frequently Asked Questions
Why are they called hoe cakes?
The name hoe cake is thought to come from the fact that they were originally cooked on a garden hoe over an open fire.
What do hoe cakes taste like?
Hoe cakes taste like a crispy, fried cornbread pancakes. They're like the best of both worlds! They have a slightly sweet and nutty flavor from the cornmeal and a rich, buttery taste from the frying process.
Can I make hoe cakes without buttermilk?
Yes, you can make hoe cakes without buttermilk by using milk and vinegar. To do this, add 1 tablespoon of white vinegar to a measuring cup. Then, fill the rest with 1 cup of milk and let it sit for 5 minutes to curdle.
What's the difference between a hoe cake and a pancake?
The main difference between a hoe cake and a pancake is the ingredients. Hoe cakes are made with cornmeal, while pancakes are made with flour, and pancakes are also generally thinner than hoe cakes.
What can I serve hoe cakes with?
The answer to this question can vary depending on who you ask. Some enjoy hoe cakes served as a breakfast food and topped with honey or jam, and others enjoy them as a savory side to foods like bbq, collard greens, black-eyed peas, chili, or soup.
Can I use self-rising flour?
Yes, you can use self-rising flour instead of all-purpose flour and cornmeal. Simply omit the baking powder, baking soda, and salt from the recipe.
Prep Your Tools & Ingredients
Here is a quick list of things to do before the recipe to ensure everything goes smoothly. This list may contain affiliate links which won't change your price but will share some commission to help support this blog.
Gather Tools
cast iron skillet
assorted mixing bowl
Recipe Prep
Always read the recipe through at least 1 time before you start. It helps you move faster when you already know what step is coming next.
Measure out all of your ingredients.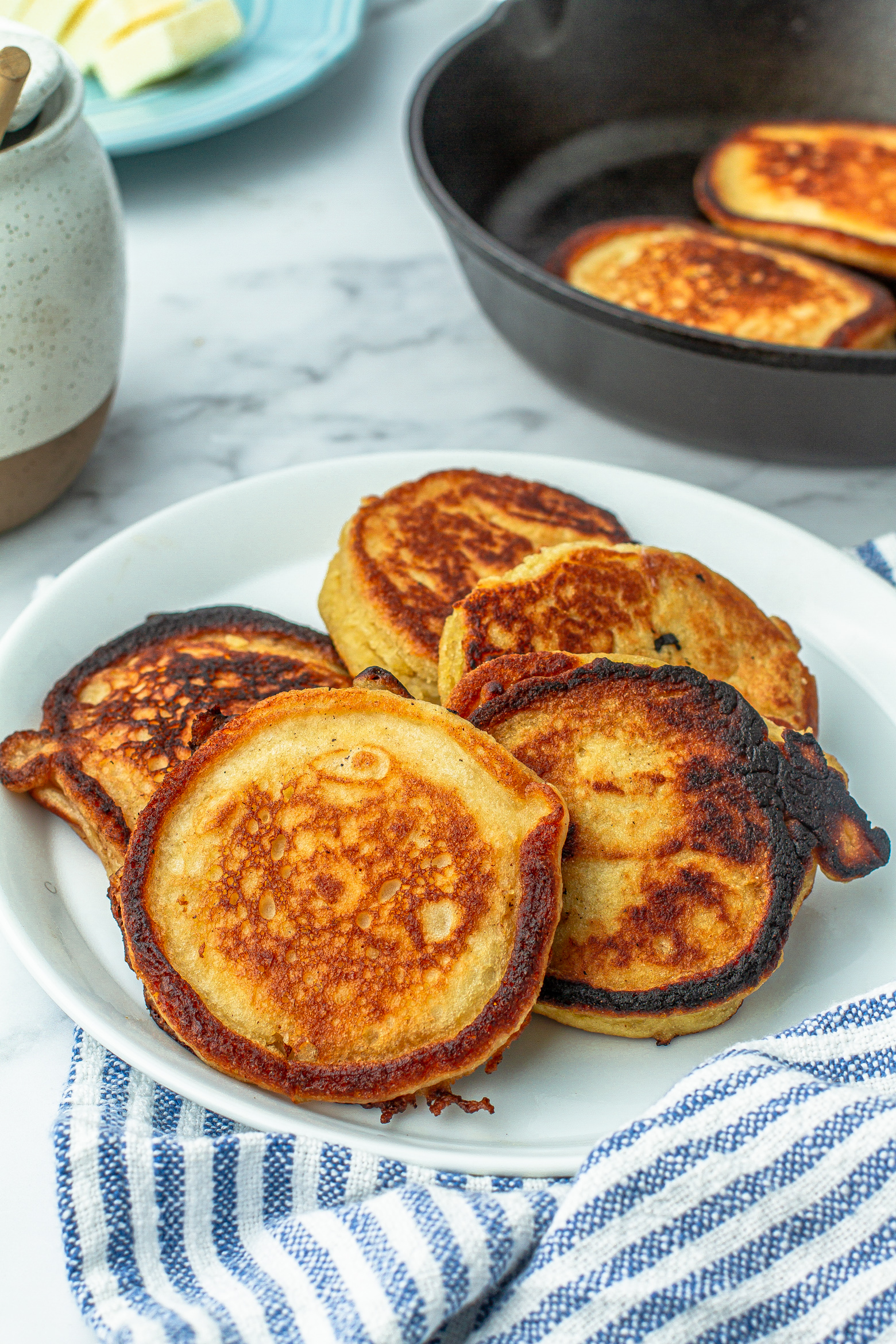 Ingredients
1

cup

fine cornmeal

1

cup

unbleached all-purpose flour

1

teaspoon

baking soda

1

teaspoon

baking powder

1/3

cup

granulated sugar

½

teaspoon

kosher salt

2

large eggs

4

tablespoons

melted unsalted butter

plus 4 tablespoons cold for cooking

1 ¼

cup

buttermilk
Optional Toppings
For sweet: sugar cane syrup, honey or maple syrup
For Savory: cheese, jalapenos, hot sauce, scallions
Instructions
In a large mixing bowl, stir together cornmeal, flour, baking soda, baking powder, sugar, and kosher salt.

In another medium bowl, mix eggs, butter and buttermilk together. Then add the wet ingredients to the dry ingredients, stir until smooth. Set aside for 5 minutes.

In a large skillet over medium heat, add 1 tablespoon of butter and pour ¼ cup of batter per hoecake, cook 3 at a time for 3 minutes, flipping halfway through until the top batter has small air bubbles. Serve hot with butter and sugar cane syrup.
Notes
STORAGE:
Hoecakes are best eaten immediately but they will remain fresh for 3 days in the fridge. Keep them in a freezer safe container and freeze for 2 months. Reheat the hoecakes in the microwave for 15 seconds.
Nutrition
Calories:
340
kcal
|
Carbohydrates:
49
g
|
Protein:
8
g
|
Fat:
12
g
|
Saturated Fat:
7
g
|
Polyunsaturated Fat:
1
g
|
Monounsaturated Fat:
3
g
|
Trans Fat:
0.3
g
|
Cholesterol:
80
mg
|
Sodium:
523
mg
|
Potassium:
198
mg
|
Fiber:
3
g
|
Sugar:
14
g
|
Vitamin A:
395
IU
|
Calcium:
112
mg
|
Iron:
2
mg
*Nutrition information is a rough estimate.
**The equipment section above contains affiliate links to products I use and love. As an Amazon Associate I earn from qualifying purchases.