This Stovetop Southern Candied Yams recipe is the epitome of soul food. These melt-in-your-mouth old-fashioned candied sweet potatoes are slow-cooked in a mixture of caramelized brown sugar, butter, vanilla, and warm spices. They are sweet, sticky, tender, and incredibly rich in flavor. So easy to whip up and makes for the perfect holiday or Sunday dinner side dish! Baked notes are also provided!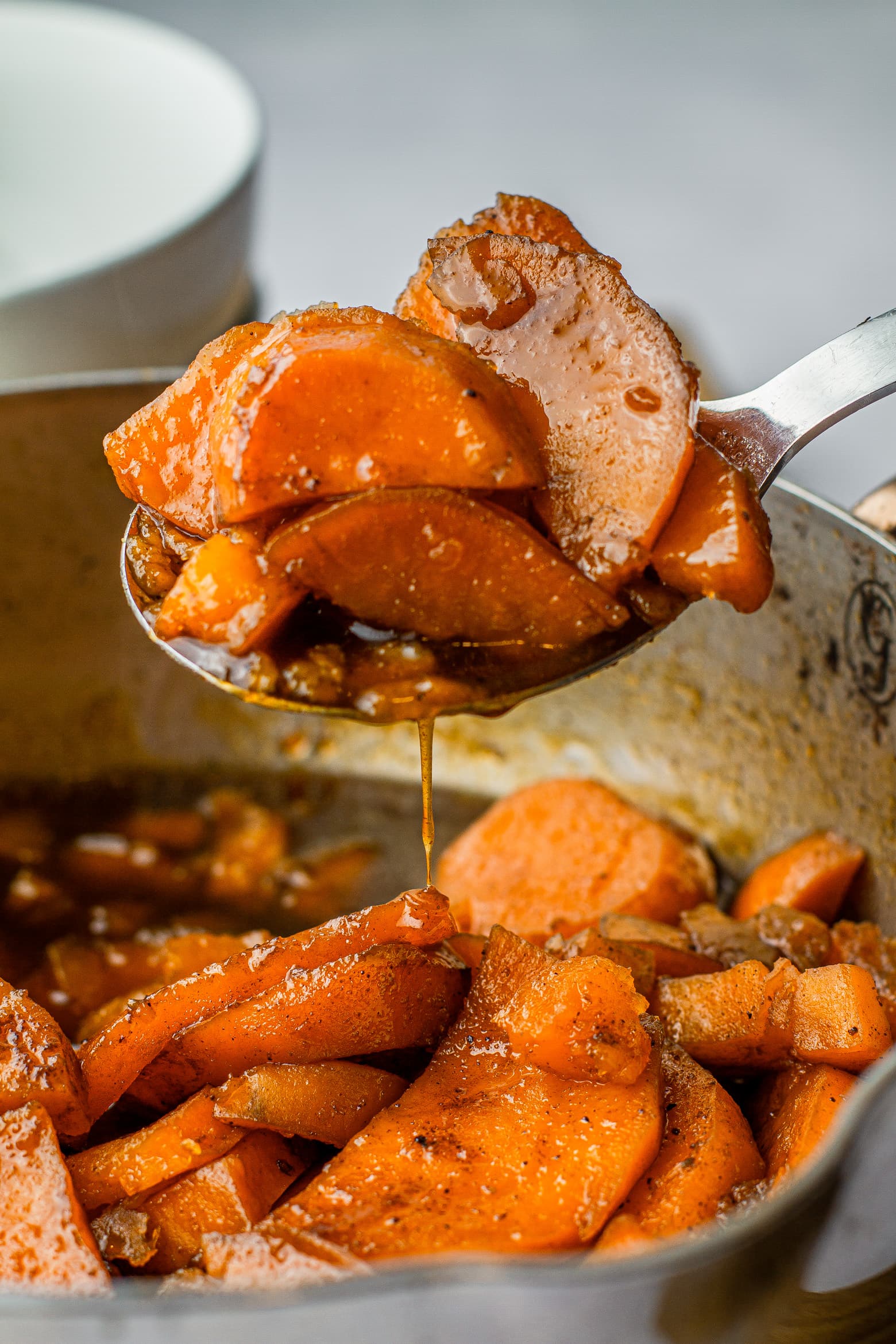 Southern Candied Yam Recipe From Scratch
Candied yams are a staple of Southern cuisine, and there's nothing quite like them. Proper candied yams are a classic example of soul food, taking familiar ingredients and transforming them into something that tastes like love. And that's what these southern candied yams taste like, fork-tender, slow-cooked sweet potatoes, smothered in a sweet and sticky syrup of butter and warm spices.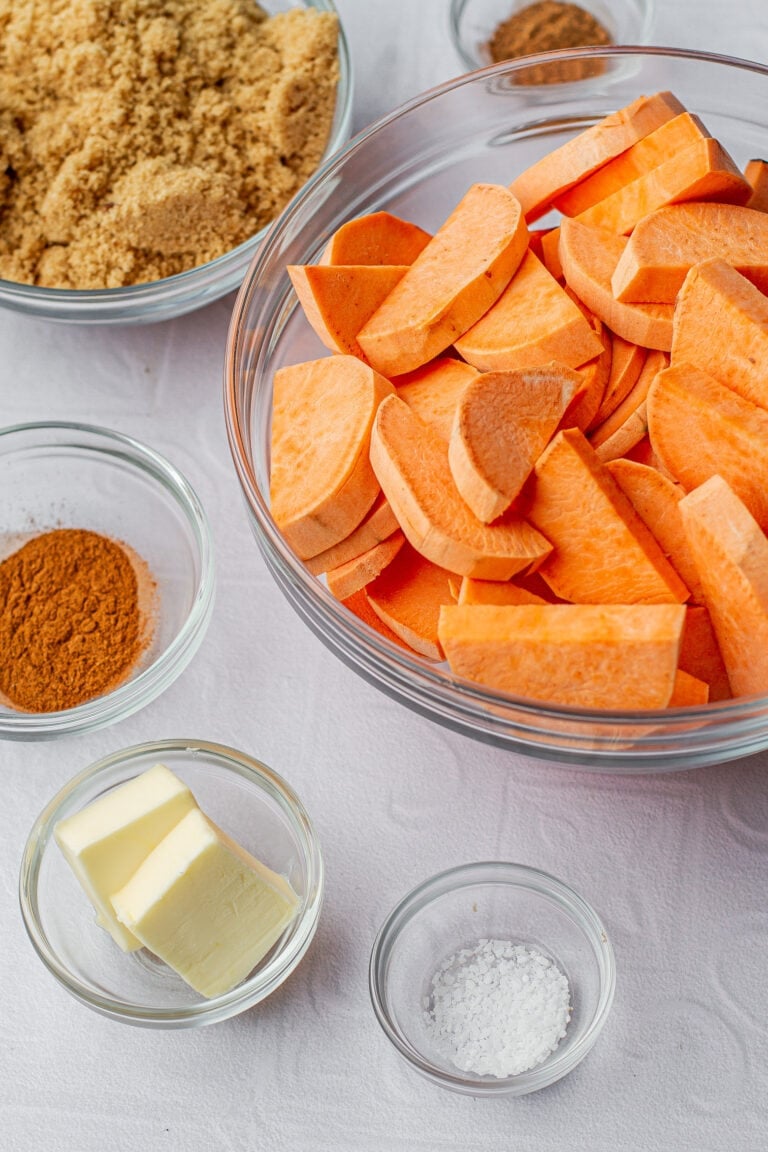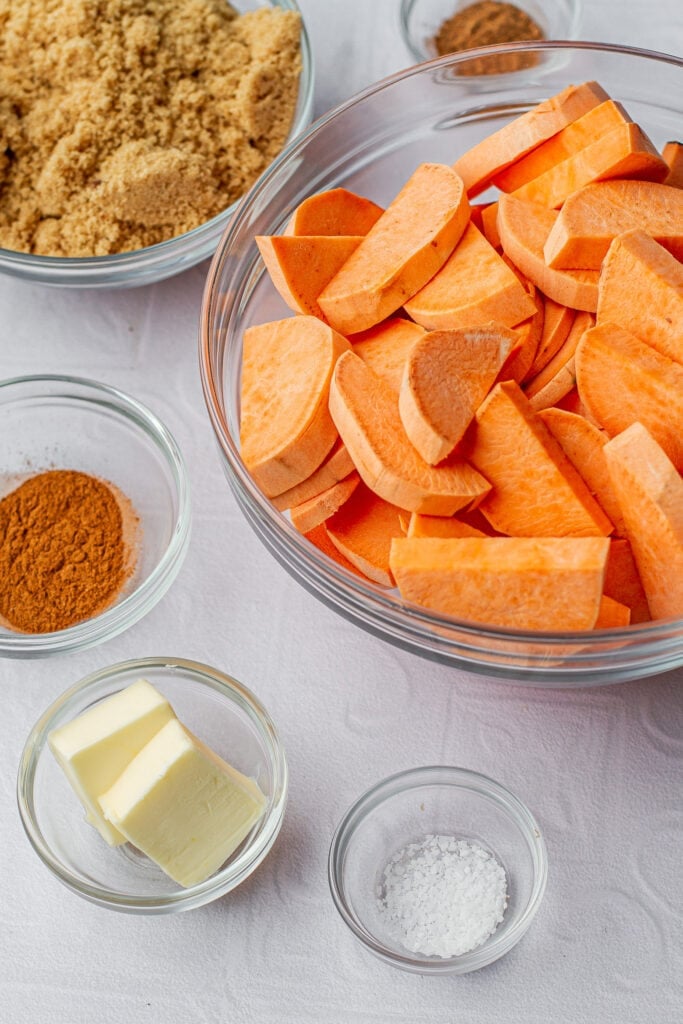 What You'll Need For This Recipe
Sweet potatoes – kitchen tip: ok, so boom, I select small to medium sweet potatoes and cut them into 1/2-inch, half moons so that they cook faster.
Brown sugar – I use dark brown sugar because it has a buttery toffee flavor and creates an extra sticky sauce to coat the potatoes. If you don't have any on hand, you can use granulated sugar as a substitute.
Butter – You don't want to be shy here. Unsalted butter helps round out the toffee-like flavor of the syrup that smothers the potatoes.
Kosher salt – a hint of salt always enhances the sweetness.
Warm spices – adding ground cinnamon, ground cloves, and ground nutmeg is a must in this recipe. They give the candied yams that quintessential warm fall flavor.
Vanilla extract – I use a good quality pure vanilla extract, but if you really want to jazz things up can use bourbon or rum.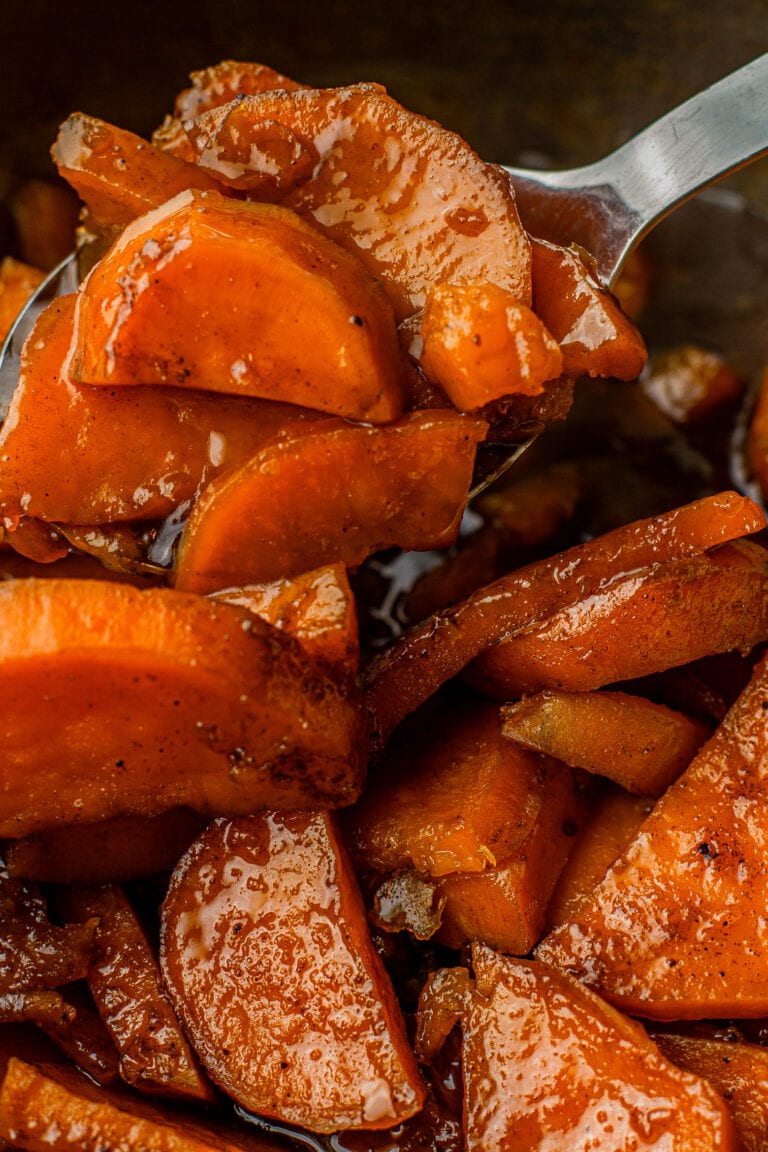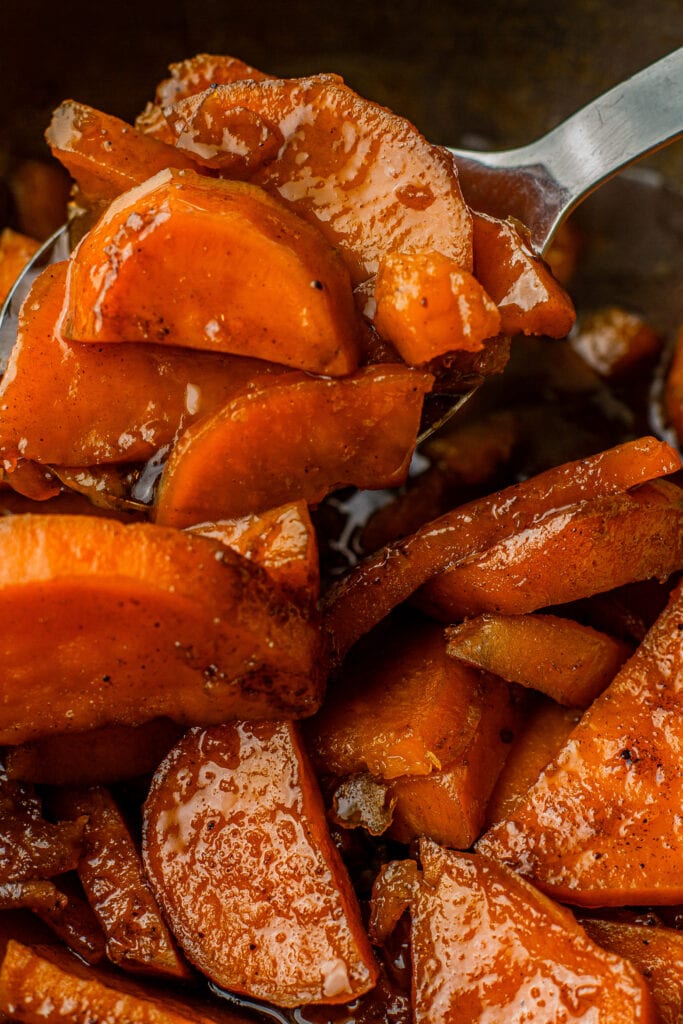 How To Make Southern Style Candied Yams
For the full recipe and detailed baking instructions, please see the recipe card at the end of this post.
Clean – yams or sweet potatoes are always pretty dirty, so clean them well before you cook them.
Cut – it's important to slice your sweet potatoes into consistent ½-inch thick rounds to cook evenly. I also like to cut them down the middle into half moons, which speeds up the cooking time.
Cook & Reduce – Boil the cover and cook all the ingredients (except the vanilla) until the sweet potatoes are tender and easy to pierce with a fork. Continue to cook uncovered to allow the syrup to reduce until it is thick and coats the candied sweet potatoes.
Southern Candied yams are best served warm, and you won't go wrong if you serve them beside collard greens, cornbread, and mac and cheese.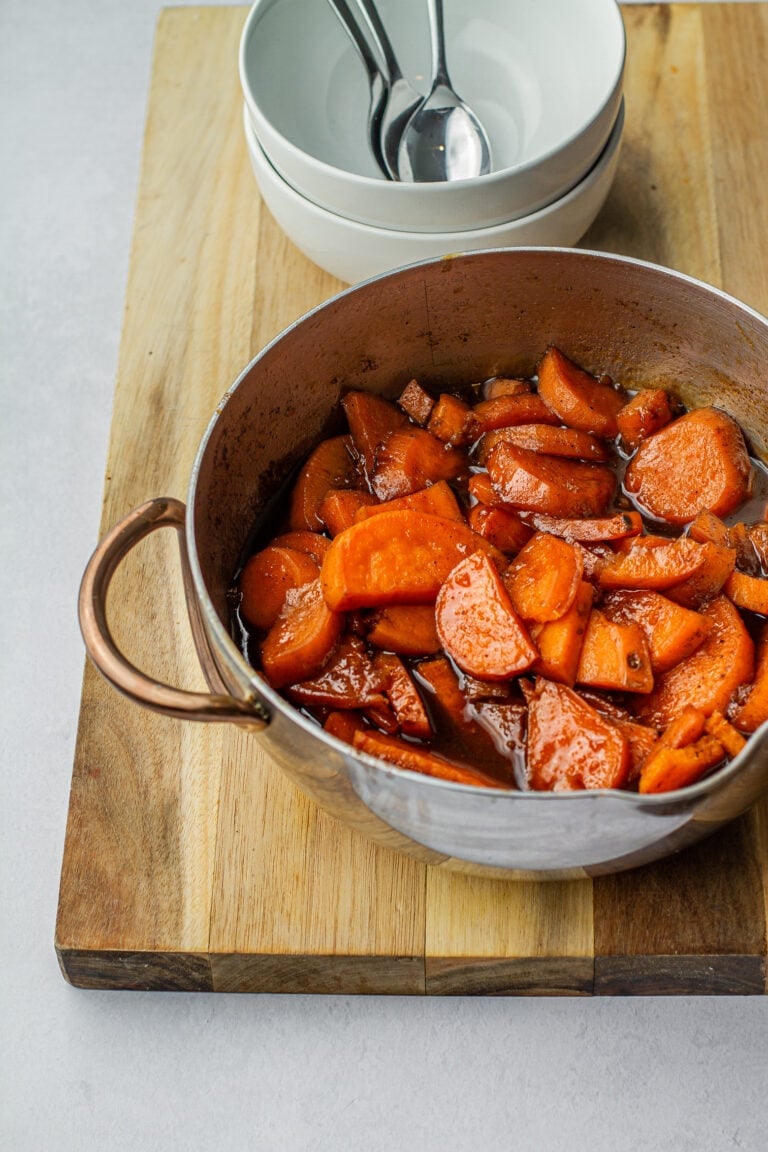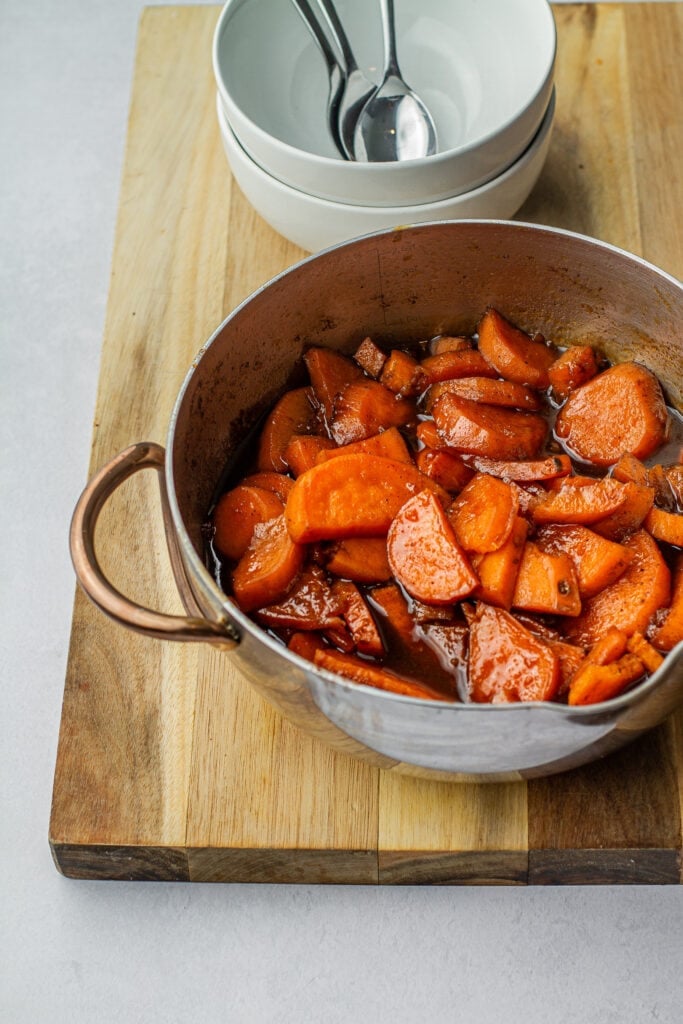 Recipe Customizations
There are all sorts of ways you can customize this candied yams recipe to make it your own.
Try using different juices or extracts – like almond, orange, or lemon.
Pour in some heavy cream or half-n-half for an ultra-rich and creamy candied yam.
Add some heat with a pinch of cayenne pepper or ground ginger.
Stir in some chopped pecans or walnuts for a little crunch.
Make them boozy by adding a splash of bourbon, rum, or brandy to the candied yam mixture.
Top with marshmallows for a candied yam casserole-style dish.
Alternative Method: Southern Baked Candied Yams
For the best baked candied yams, toss all ingredients together in a large bowl, then transfer the mixture into a single layer in a large baking dish or casserole dish. Bake in a preheated 375°F oven for 1 hour (stirring halfway through) or until the baked sweet potatoes are fork tender. Note: you will need to use melted butter instead of sliced butter for this method.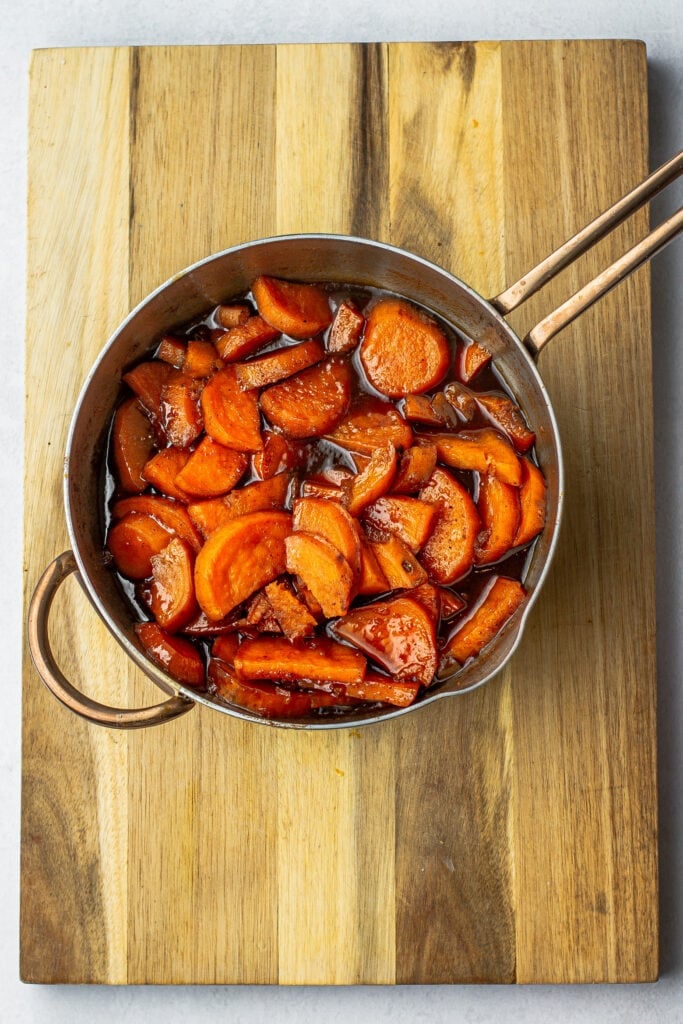 Beginner Tips For Picking and Prepping Sweet Potatoes
If you've never made candied yams, you're in for a treat. If you've never tasted them, the easiest to describe the flavor of candied yams is to imagine sweet potato pie but glazed still in a potato form. Sweet potato pie and candied yams share very similar flavor profiles.
There are a couple of ways to make them. Some prefer starting with canned sweet potatoes while others, like myself, prefer to use fresh spuds. Here are 3 things to pay attention to when working with fresh sweet potatoes for candied yams:
Select sweet potatoes that are small to medium in size with a similar thickness or diameter. This will better ensure that the sweet potatoes cook evenly.
When picking your sweet potatoes, ensure they are firm without bruising, cuts, or blemishes.
Give your sweet potatoes a thorough wash and peel before cooking.
Make sure you have a good vegetable peeler.
Slice the sweet potatoes into even slices, about 1/2 inch thick. Again, this will help with even cooking.
Optional step, but I like to cut my sweet potato slices into half moons to help cook a little faster.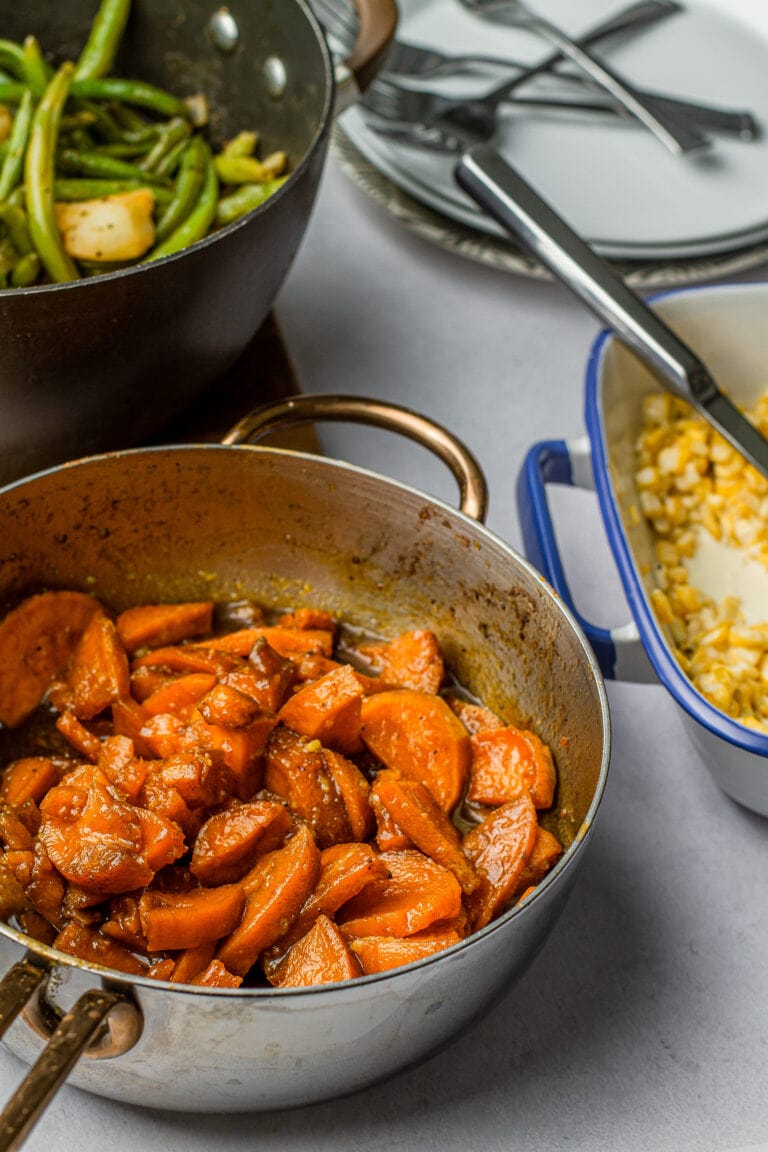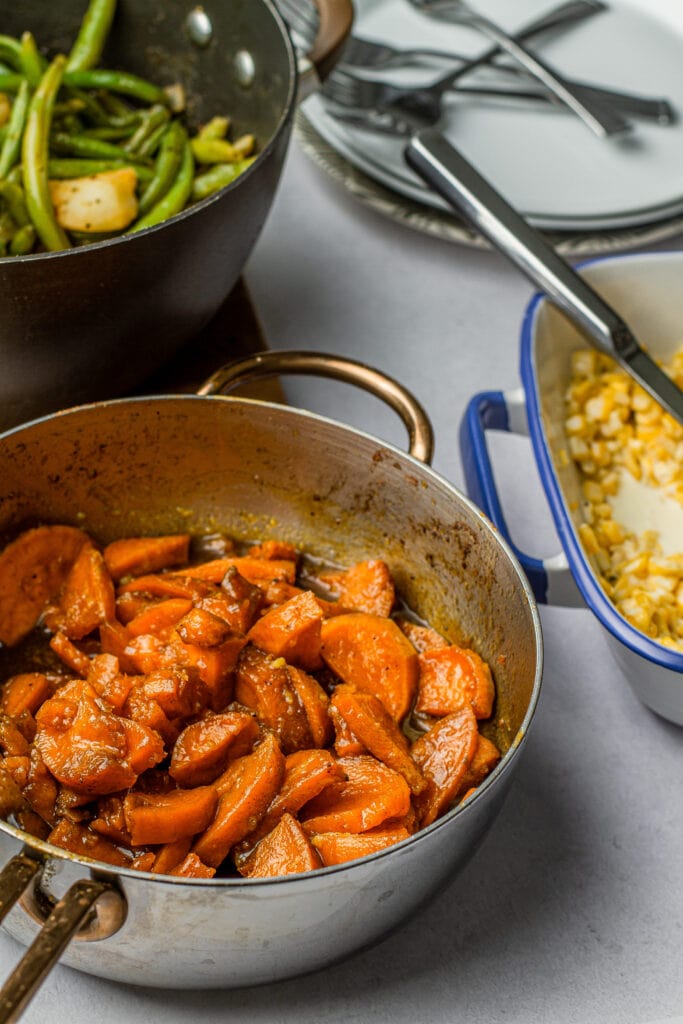 Make Ahead, Storing & Freezing
These candied yams are the perfect make-ahead dish for your holiday table because their flavor only improves as they sit.
You can prepare them up to 2 days in advance and let them cool to room temperature before wrapping them tightly and refrigerating them. Reheat on medium-low heat on the stove top until warmed through. To store leftovers, place the candied yams in an airtight container and keep them refrigerated for up to 5 days.
Remember when reheating that the yams may have a softer, more delicate texture because of the extended cook time.
FAQs
What are yams?
Good question considering this has no yams at all. The more appropriate name for this recipe would be southern candied sweet potatoes. In the U.S., we use the terms yams and sweet potatoes interchangeably. Truth be told, they are two completely different vegetables.
So now you're probably wondering why this dish is called candied YAMS? I know, I've got some splainin' to do. See below.
What's the difference between candied yams and sweet potatoes?
Yams are large stem tubers with rough brown exteriors and a white fibrous interior. They have a mild, neutral flavor and are native to tropical regions.
Sweet potatoes are root tubers with softer, reddish skin and a creamier orange, white or purple interior. They have a naturally sweet flavor. Most American supermarkets sell sweet potatoes, not yams.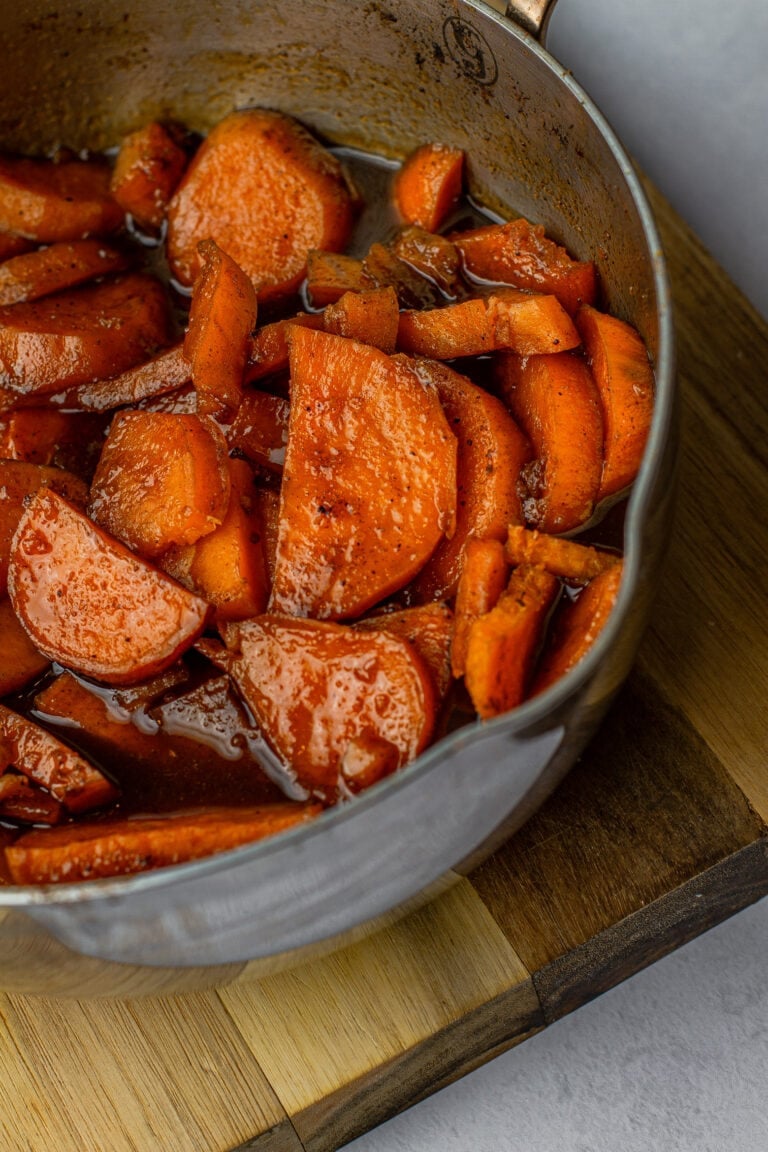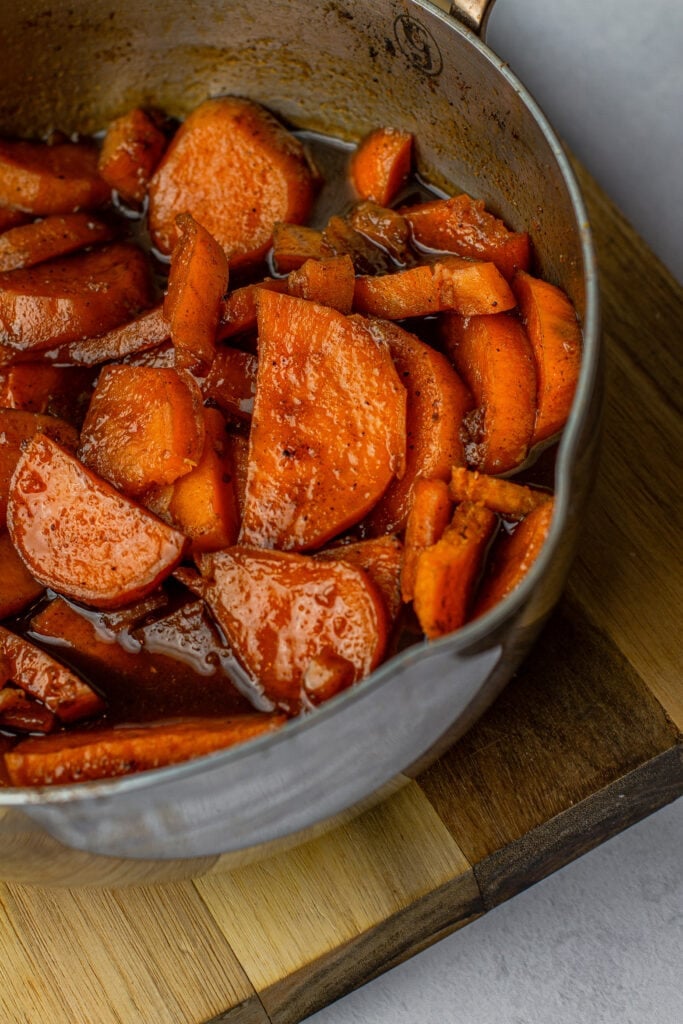 Are southern candied yams good for you?
While sweet potatoes by themself may be a pretty healthy food option, These bad boys are loaded with brown sugar and butter, so I'll step out and a ledge and say these candied yams are not "healthy." LOL. This is definitely a side dish for special occasions, so I recommend using portion discretion based on your own dietary needs.
How to tell when candied yams are done?
Cook until the sweet potatoes are soft when pierced with a fork.
Recipe Prep
Read Recipe: If it's your first time making this recipe, always make sure to read the full recipe from start to finish. This helps you prepare, avoid mistakes and potentially finish cooking faster.
Essential Tools
Vegetable peeler
8-quart pot
Ingredient Prep:
Gather and measure your ingredients in advance.
Scrub, peel, and slice sweet potatoes into 1/2-inch half moons.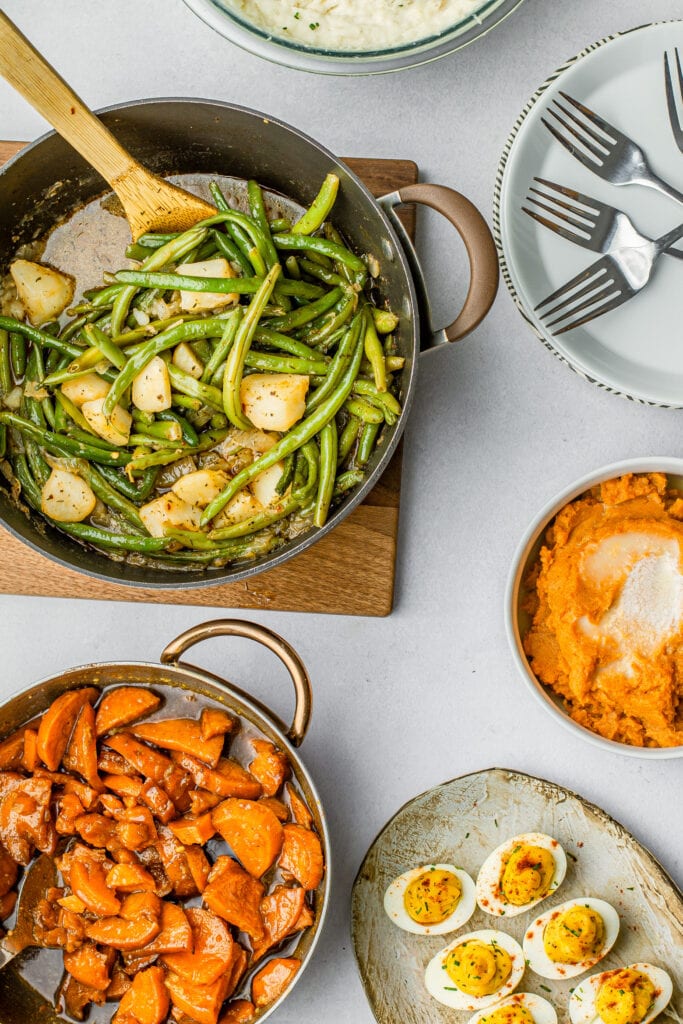 A Little About These Candied Yams
Ok, let's set the record straight. Candied yams don't have a lick of yams. The whole use of the term yam is a misnomer rooted in the ingenuity of black people.
As history goes, they were an essential ingredient in West African diets and traditions. For this reason, they were packed on Trans-Atlantic slave ships as a primary source of sustenance. Once reaching the mainland, those captives were introduced to the sweet potato, the closest thing to their beloved yam.
In time, the sweet potato became a transfer food used by enslaved peoples to preserve their food traditions. Later it was minified into a marketing ploy for corporations to stand out, leading to our collective confusion.
One thing is sure, its introduction into our vocabulary is a testament to the resourcefulness of black creativity and a clear indicator of the origins of African American foodways connecting back to the continent.
If you want to learn more, I found this article and this article super informative.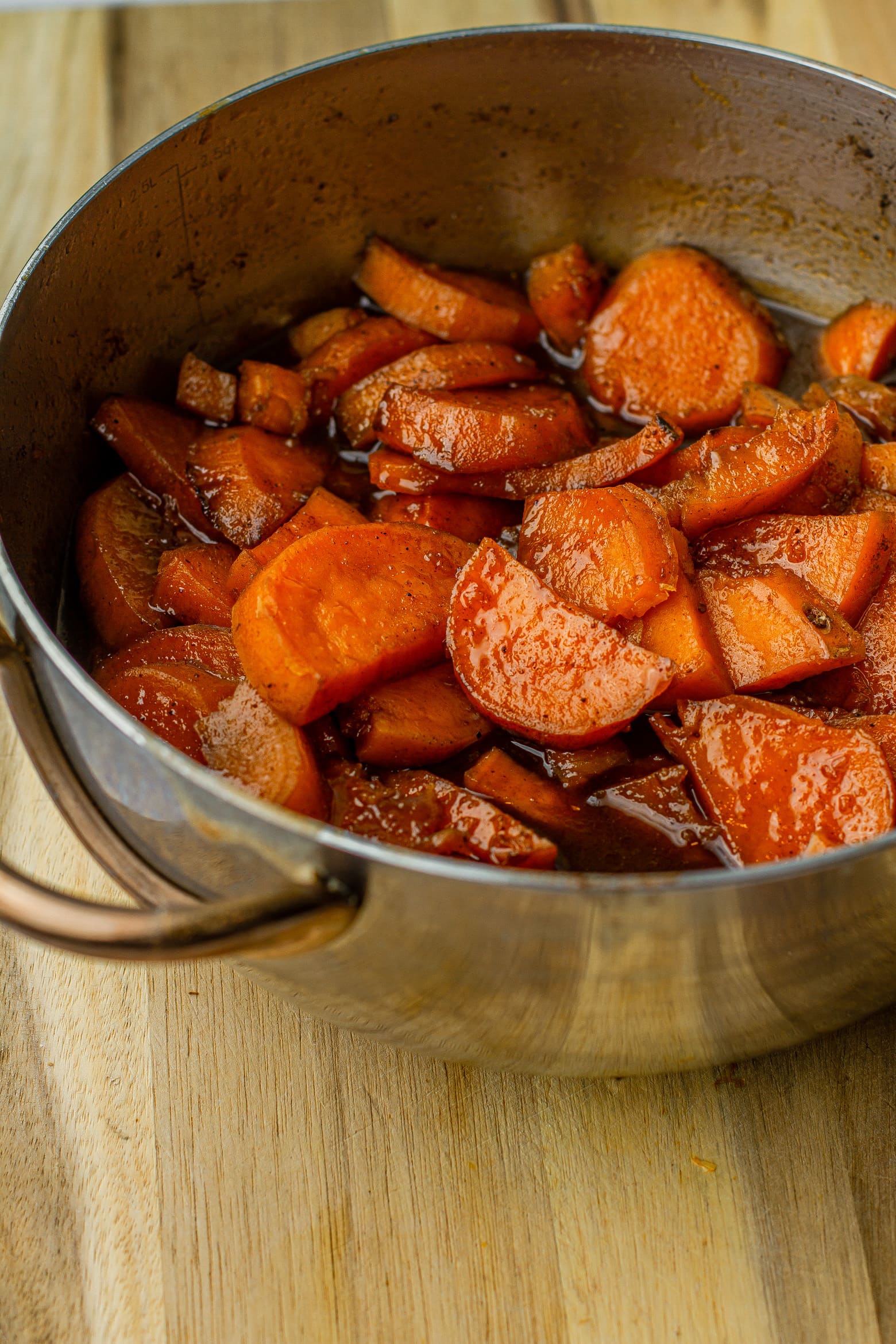 Ingredients
2

lbs

6 medium sweet potatoes, washed, peeled, sliced ½ inch thick

2

cups

water

2 ½

cups

dark brown sugar

1

stick unsalted butter

½

teaspoon

kosher salt

2

teaspoons

cinnamon

½

teaspoon

nutmeg

1/4

tsp

ground clove

2

teaspoons

pure vanilla extract
Instructions
Clean, peel and slice your yams into ½ inch rounds. Cut rounds down the middle into half moons.

In a large pot over medium-high heat, add sweet potatoes, water, brown sugar, butter, salt, cinnamon, nutmeg, and cloves and stir to coat and ensure potatoes are submerged.

Bring mixture to a boil, then cover and reduce heat to medium-low, and cook for 45 minutes, stirring occasionally.

Remove the lid and set heat to medium. Allow the mixture to continue to cook with the lid off for 10-15 minutes to allow the syrup to reduce. Once the syrup thickens, and the potatoes easily pierce with a fork, remove from heat and stir in vanilla. Serve warm
Nutrition
Calories:
162
kcal
|
Carbohydrates:
40
g
|
Protein:
1
g
|
Fat:
0.1
g
|
Saturated Fat:
0.1
g
|
Polyunsaturated Fat:
0.01
g
|
Monounsaturated Fat:
0.02
g
|
Trans Fat:
0.002
g
|
Cholesterol:
0.1
mg
|
Sodium:
102
mg
|
Potassium:
213
mg
|
Fiber:
2
g
|
Sugar:
32
g
|
Vitamin A:
7152
IU
|
Vitamin C:
1
mg
|
Calcium:
44
mg
|
Iron:
1
mg
*Nutrition information is a rough estimate.
**The equipment section above contains affiliate links to products I use and love. As an Amazon Associate I earn from qualifying purchases.