This guide will ensure that you have amazing southern style greens every time you make them. Regardless if you choose collards, mustard, or turnip green. You'll always have a delicious pot of greens.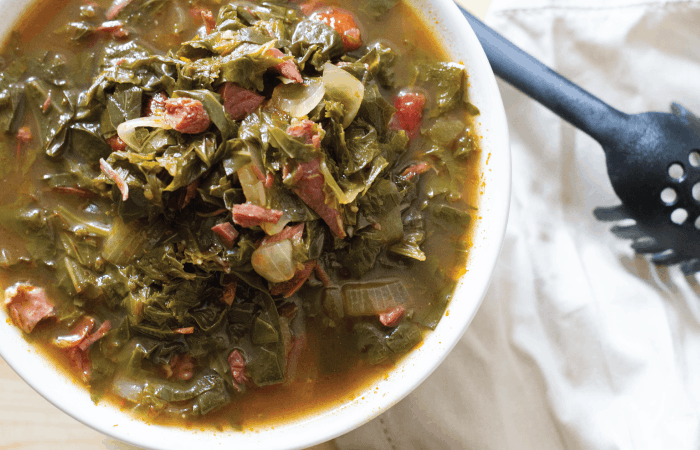 History Of Greens In Black Culture?
The origin of southern greens goes way back in the history of black culture. The early West African and European foodways were wisely adapted to the environment of their regions. Collard greens, in particular, have been used in southern cuisine for centuries.
However, the southern style of cooking the greens came with the arrival of slavery. Collard greens were one of the few selected vegetables they were allowed to harvest. So, over time, cooked greens gradually developed into traditional food.
The Different Types Of Southern Greens: Collard, Turnip & Mustard Greens
Collard Greens: Wide leaves and thick stalk with a bitter flavor
Turnip Greens: Slightly sweeter with tender leaves
Mustard Greens: Thinner texture, ruffled leaves with a peppery taste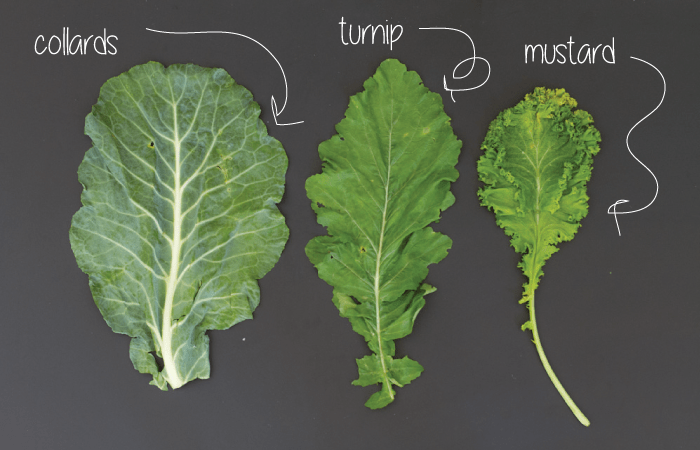 How To Pick Greens?
For starters, always buy the freshest produce. Using fresh greens in dishes add to the texture and taste. Use wilted leaves or stalks, and it will easily show in the results.
How do you know if the stalks are fresh? Use the good and the bad signs as indicators.
Good Greens
Vibrant dark green leaves
Crisp and full leaves
Is a seasonal purchase
Bad Greens
Limp or wilted
Have small brownish rust-like spots or holes
Have yellow or yellowing leaves
Are over-mature with prominent cracks or veins
Wilted greens will not revive or flourish again when placed in water.
How To Clean Greens?
Don't skip this step, I repeat, don't skip this step!
It is very imperative that you make sure that you are diligent about cleaning your greens. If you are buying them by the bunch instead of the pre-cut bag, I recommend you wash them 2-3 times.
Simply fill up a clean sink with water, submerge your greens in saltwater and inspect leaves for dirt and bugs. Repeat. The last thing you want is to have little critters floating around your bowl.
Why Are My Collard Greens Bitter?
Made mostly of water, collard greens can toughen up pretty quickly after the harvest, turning bitter in taste. The taste is a natural component of the greens' flavor.
You can remove it by boiling them for a long time, 1-2 hours, depending on the bunch's size. Do not worry about boiling the nutrients out of collard greens; it is nearly impossible to overcook them.
Once boiled thoroughly, add a teaspoon of salt and a teaspoon of lemon juice to each bunch of greens. Mix and taste to ensure the bitterness is gone. If not, add another teaspoon of salt and lemon juice. Repeat until the bitterness subsides completely.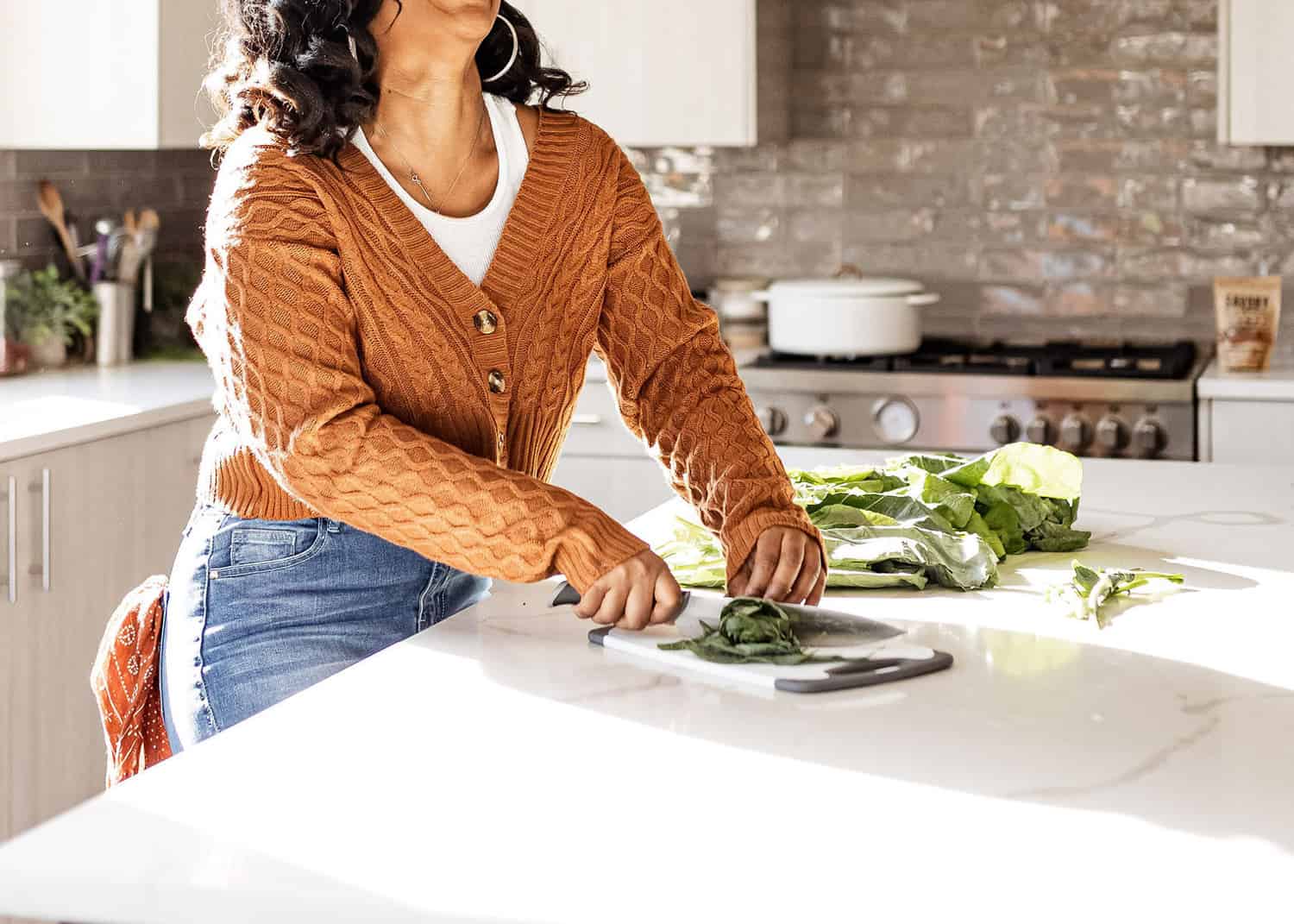 How to Cut Greens?
Greens, though only a bunch of tender leaves, can be tough to cut. Therefore, it is best to chop the tough (to eat and cut) stem off first.
If the stem runs through the leaf like in collard greens, run a knife or shears on either side to make the process quick (see the video). If you are a gadget-savvy chef, you can replace knives and shears with a unitasker tool.
For the green varieties with stems at the end, stack them together and roll lengthwise. Cut the bottom portion using a knife or tear with your hands. You can now cut the stem-less leaves in bite-sizes, slice them into shreds, or cook whole.
What is Pot Likka (Liquor)?
Pot liquor, also spelled potlikker, is the liquid in which greens, meat, vegetables, or fish have been boiled.
What Are The Best Types Of Meat To Season Southern Greens with?
You can use the following:
Smoked turkey (necks, legs, wings)
Ham hocks
Bacon
Salt pork
Country ham
How Long to Cook Greens?
The amount of time you cook your greens really depends on your preferred texture. I like a silkier finished green so I tend to cook mine longer. In my opinion it is very hard to over cook greens. When I cook them on the stove top I typically let them simmer for 3 hours and when I'm short for time I will use my instant pot and pressure cook them for 1 hour.
Stovetop (2-3 hours) – takes longer, but you can cook more at one time.
Instant Pot (30 min – 1 hour) – much quicker to cook but limited space.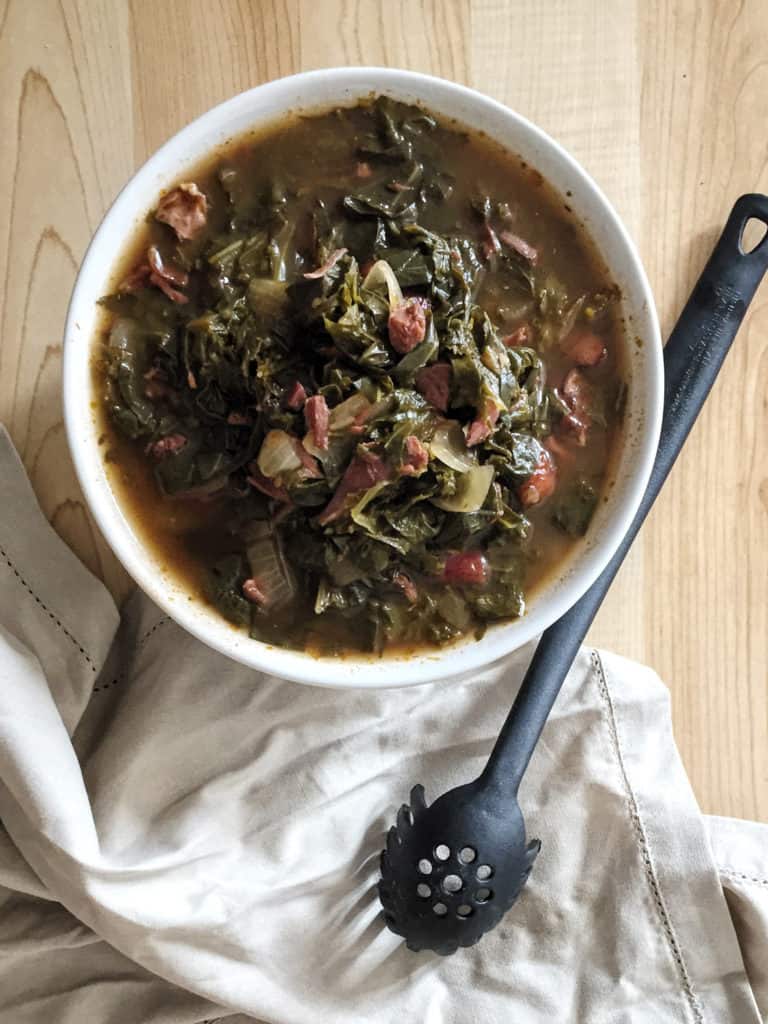 How Much Liquid is Needed to Cook Southern Greens?
You need 15-20 oz. of stock or water per pound of greens.
Should I Use Pre-Cut Greens?
Bagged pre-cut greens offer a great shortcut when you are in a time crunch. One thing to remember is that they still have the denser and more fibrous stem, making it more difficult for an even cook. If you don't mind biting into the stem then buying pre-cut greens from the supermarkets may convenient option for you.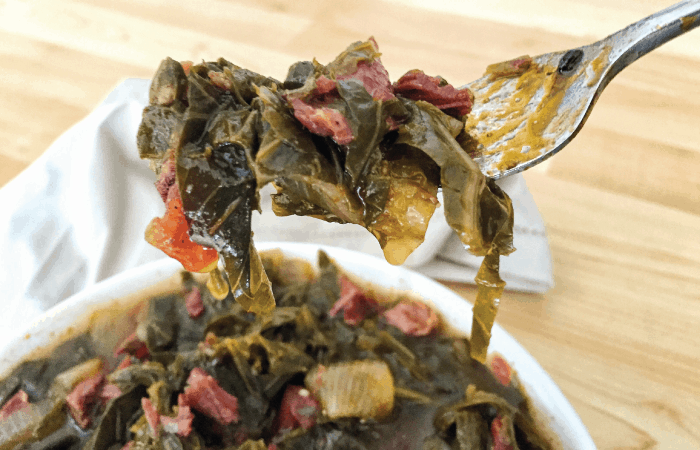 Can I Freeze Greens?
Yes. Freezing will keep greens safe for use almost indefinitely, although it is best to consume them within 12 months to ensure the best taste and quality.
What To Do with The Pot Likka?
You can use it to elevate the dish's flavor, serve it in a bowl, or soak it up with cornbread.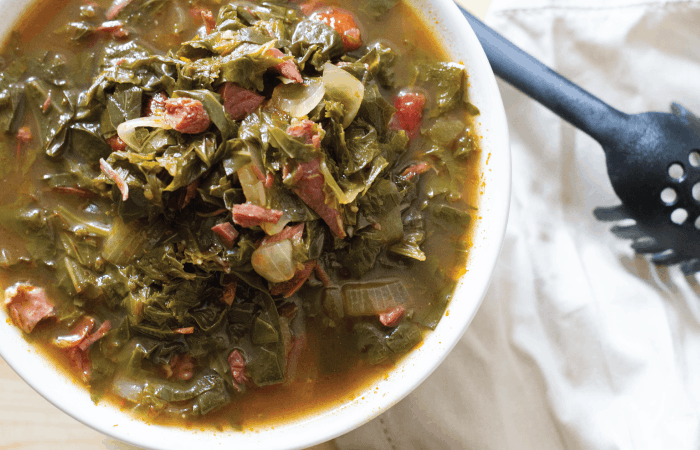 Ingredients
2

lb

collard greens

stem removed & chopped

1

lb

turnip greens

stem removed & chopped

1

lb

mustard greens

stem removed & chopped

1

medium

onion

chopped

2

cups

picante salsa

medium

⅓

cup

apple cider

or white vinegar

2

lb

smoked turkey legs

8

cups

unsalted chicken stock

3

tablespoons

Worcestershire sauce

2

tablespoons

honey

2

tablespoons

Louisiana hot sauce

1

tablespoon

kosher salt

2

cloves

garlic

chopped

1

tablespoon

liquid smoke

1

teaspoon

black pepper

¼

teaspoon

ground cumin

1½

teaspoons

red chili flakes

2

bay leaves
Instructions
Clean and the stems of the greens then roughly chop them.

**Optional** remove turkey meat from the bone and reserve the large bones. If your pot is big enough you can keep the smoked turkey leg whole.

Add the chicken stock to a large stockpot on high heat. Once you get to a rolling boil add in all the remaining ingredients (including the large turkey bones), cover, reduce heat to medium and let them cook down for 2-3 hours depending on how tender you like your greens. Make sure to stir occasionally.

Serve once the greens have reached your desired level of tenderness.
Notes
You will need a Large Stock Pot.
You can make these greens in an instant pot. I recommend using the 8 quarts so you can fit everything in one pot. Cook on high pressure for 1 hour.
Before I serve my greens I typically take a scan of the pot to remove any of the skin of the smoked meats. I personally don't find it enjoyable to eat but its totally optional and left to individual preference.
Nutrition
Calories:
237
kcal
|
Carbohydrates:
23
g
|
Protein:
24
g
|
Fat:
7
g
|
Saturated Fat:
2
g
|
Polyunsaturated Fat:
2
g
|
Monounsaturated Fat:
2
g
|
Cholesterol:
53
mg
|
Sodium:
1347
mg
|
Potassium:
1101
mg
|
Fiber:
8
g
|
Sugar:
9
g
|
Vitamin A:
11533
IU
|
Vitamin C:
96
mg
|
Calcium:
398
mg
|
Iron:
4
mg
*Nutrition information is a rough estimate.
**The equipment section above contains affiliate links to products I use and love. As an Amazon Associate I earn from qualifying purchases.