This Southern succotash recipe is an easy side dish featuring buttered summer favorites like sweet corn, bell peppers, lima beans, and okra. But this tasty, affordable, meatless version isn't just for summer and can be enjoyed all year long using frozen vegetables.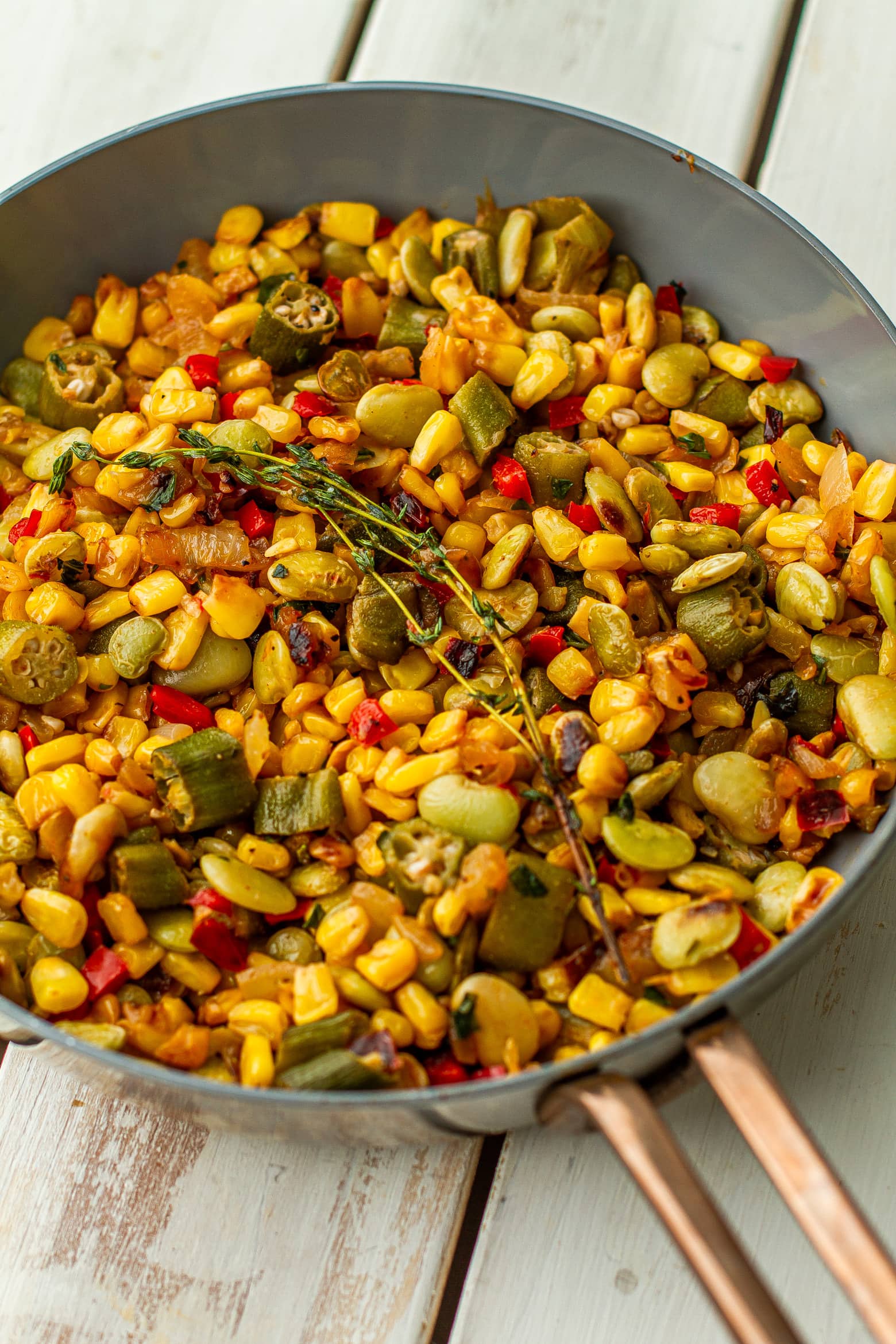 Hey Greedy! This week's recipe for Southern Succotash has some sentimental value. I've had a hate/hate (no love) relationship with lima beans my whole life except when I visited my great grandma Burney in Witchita. She or my uncle William would make this pan sauteed succotash with buttered up lima beans, corn, okra, and depending on the day. a slew of other veggies.
I would clean my plate every time she made them, unlike when I would hide lima beans my mom made in a napkin under my leg. They are NOT the same species. And this recipe is a tribute to my great-grandmother's recipe, which I loved so much. I hope you enjoy it as much as I do!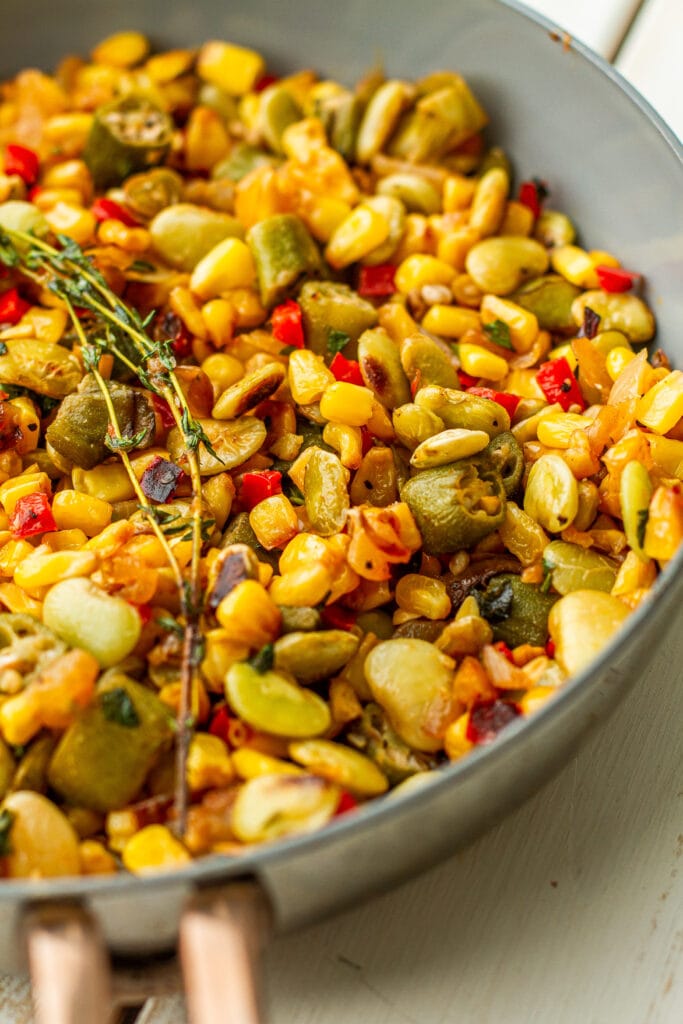 History of Southern Succotash | What is Succotash?
Succotash is a popular side dish in the South, especially during the summertime. I have many fond memories that start with a savory bowl of succotash on a hot summer day. While this vegetarian side dish is traditionally made with corn and lima beans, many recipes call for additional ingredients like onions, garlic, okra, bacon, herbs, and spices.
The dish originated from the Narragansett tribe in the New England region. In the 1600s, the Native Americans introduced succotash to colonists, and the dish quickly gained immense popularity around the country. Today, you'll see Southern succotash recipes in restaurants and households all over the South—we can't get enough of the stuff!
Here are some additional corn recipes to enjoy year-round >>>>> Corn Fritters, Fried Corn, Elote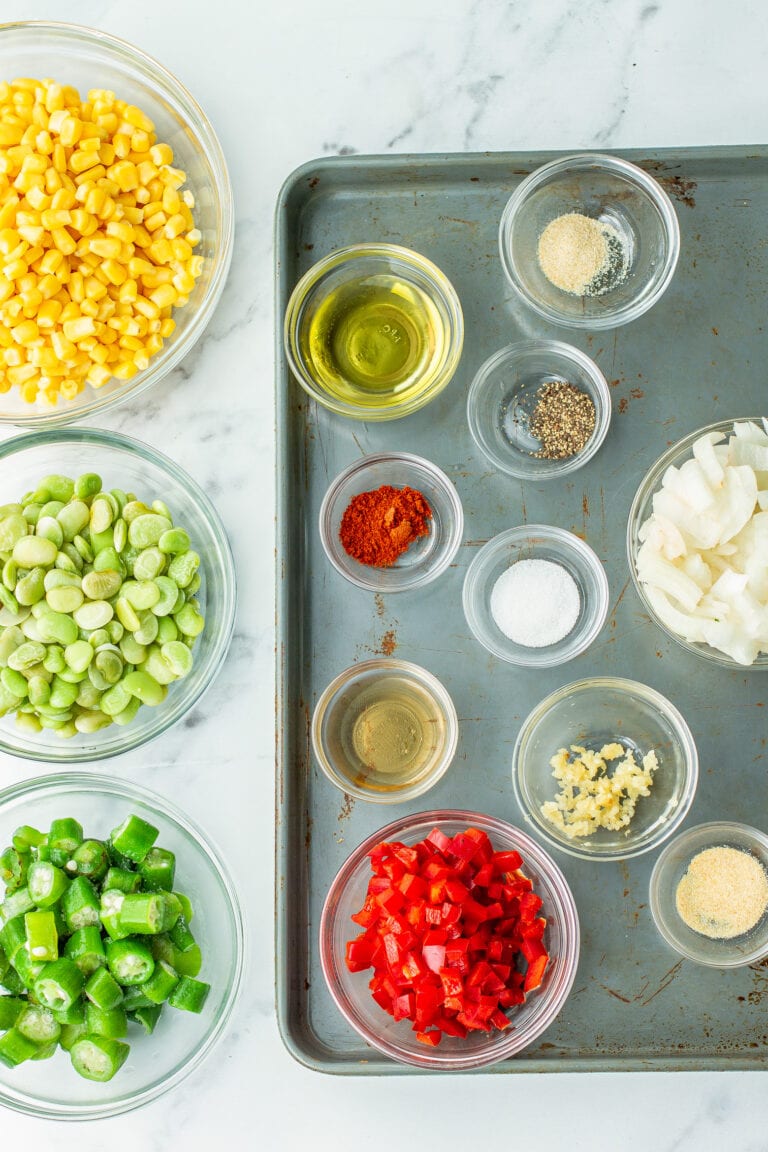 Key Ingredients
Here's a breakdown of the key ingredients you'll need to make this Southern succotash recipe.
Sweet Corn Kernels: You can use fresh corn kernels if you prefer, but I typically stick to frozen vegetables in this recipe for the sake of ease. Trust me, frozen corn tastes equally delicious in Southern succotash!
Lima Beans: You guessed it—we're using frozen lima beans. This is the easiest route, as fresh lima beans need to be shelled and the frozen ones come as shelled beans. Baby lima beans would also work fine.
Frozen Okra: If you can find fresh okra, feel free to use it. However, it's generally difficult to find at most grocery stores, and frozen okra works just as well here. So use fresh or frozen okra—either one is great!
Onions: There's a reason onion is a staple ingredient in almost every savory recipe out there! This veggie adds a ton of delicious sweet and savory flavors to the dish. I prefer to use a sweet onion, but any white or yellow onion works.
Red Bell Pepper: For added sweetness and a pop of color, I love adding red bell pepper to my Southern succotash. If you want less sweetness, you can swap it for green bell pepper instead.
Garlic: Fresh garlic adds an amazing aroma and flavor to the dish.
Unsalted Butter: Cooking this dish in a few tablespoons of unsalted butter transforms it by enhancing the flavor tremendously. You can swap for olive oil.
Herbs and Spices: To further enhance the flavor of our succotash, you will need salt, black pepper, cayenne, garlic powder, onion powder, fresh basil, and fresh thyme.
Did You Know?

Succotash was originally called "sohquttahhash," – now that's a mouth full. The original name means "broken corn kernels."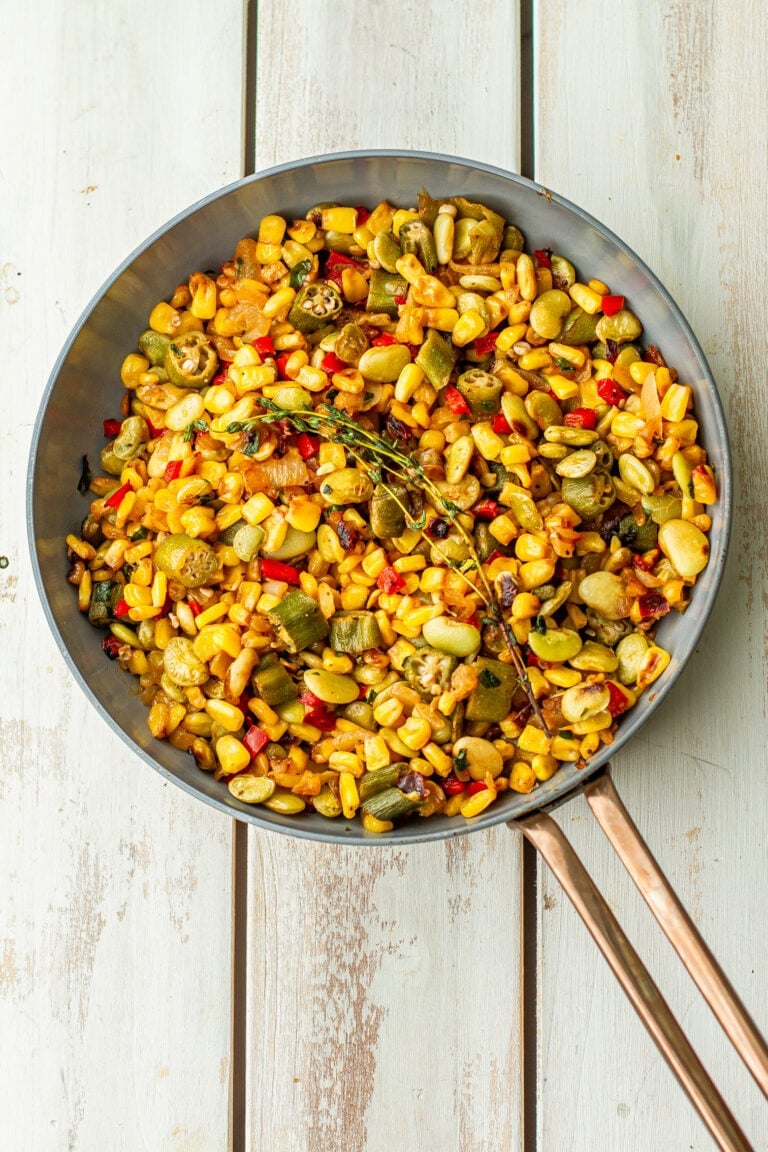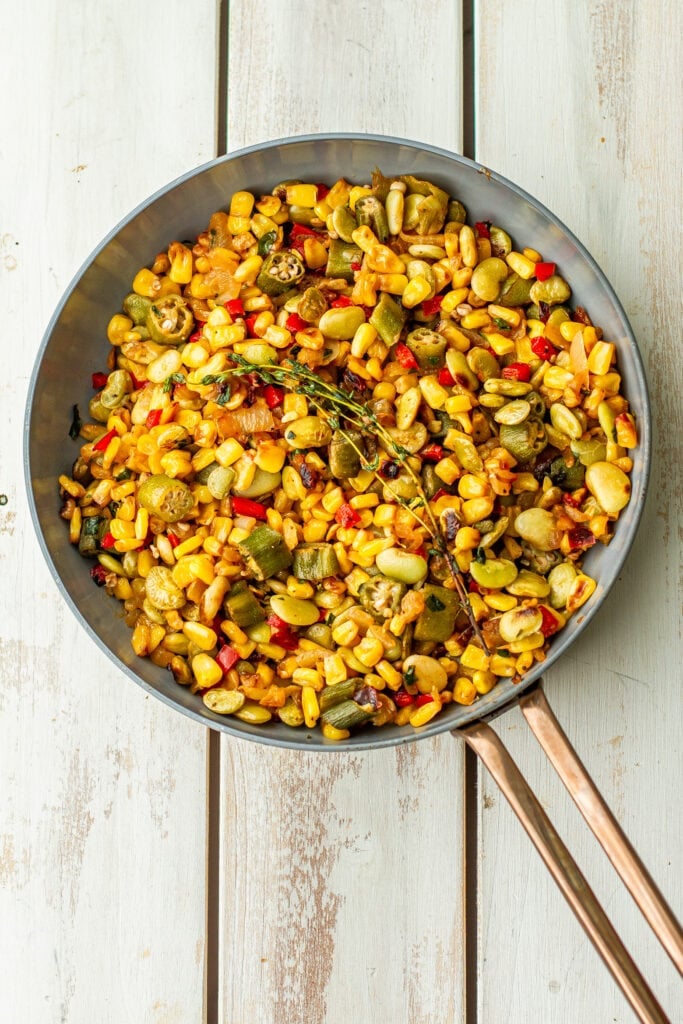 Southern Succotash Recipe
To bring this flavorful succotash recipe to life, follow the easy steps below.
Step 1: Boil the Lima Beans
In a medium saucepan, add water and a teaspoon of salt, then bring to a boil. Add the lima beans to the water, cover, and cook for 20 minutes on medium heat. Reserve 1/2 cup of the cooking water, then drain and set aside.
Step 2: Cook Fresh or Frozen Veggies
Five minutes before the lima beans are done, heat a large skillet over medium heat and add oil. Once hot, add onion and bell pepper, then cook for 5 minutes. Add garlic and cook for 1 minute. Add the remaining ingredients to the skillet, along with drained lima beans and reserved water, then cook for 8 minutes until lima beans are tender.
Step 3: Add Butter and Herbs
Remove the large skillet from the heat, then stir in the unsalted butter, fresh basil, and thyme. Taste and adjust the seasoning as needed. Serve immediately and enjoy!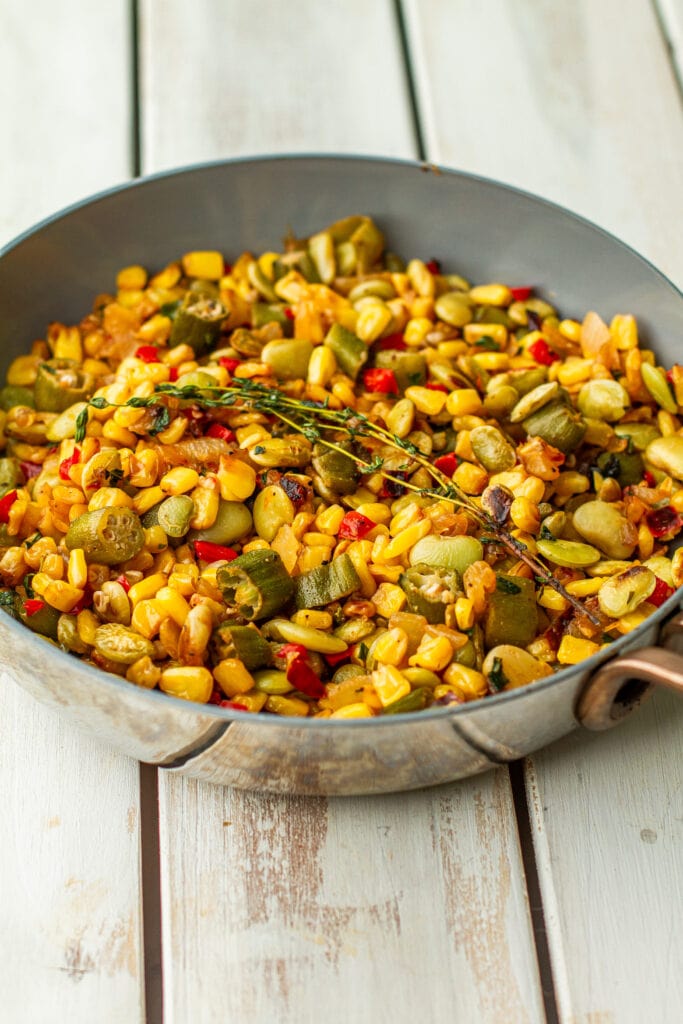 Recipe Notes and Variations
Here are some tips and variation ideas to help you make the best Southern succotash recipe:
Stock or Water: You'll need water or stock to make Southern succotash, but the choice is up to you. Chicken stock or vegetable stock is good for adding extra flavor, but water works just fine.
Succotash with Savory Bacon: To make a meaty version of this succotash recipe, fry up a few beef bacon slices and add the crispy bacon to your dish. Crumbled bacon adds a ton of delicious savory flavor. You could also use pork belly or corned beef.
Cajun Seasoning: You can swap out the spices for Cajun seasoning if preferred. Be sure to taste and add salt or pepper as needed.
Alternative Veggies: Feel free to add fresh veggies like diced tomatoes (cherry tomatoes and grape tomatoes both work well), green beans, and yellow squash.
Spicy Southern Succotash: If you prefer your meals on the spicy side, try doubling up on the cayenne pepper or adding finely chopped jalapeno peppers.
Creamy Southern Succotash: For a creamier succotash, try adding cheese or heavy cream to the dish.
Tip For Delicious Lima Beans Every Time

The key to perfect southern succotash is fork-tender lima beans. Achieve this by pre-boiling lima in salted chicken or vegetable stock to add flavor and tenderize the bean's rough exterior.
Make-Ahead and Storage Tips
If you're using frozen veggies like I do, then making this dish ahead of time really isn't necessary. However, if you're using fresh corn and lima beans (or fresh okra) you can cook them ahead of time and store them separately in the fridge until you're ready to prepare the dish.
To store leftover succotash, transfer the dish to an airtight container and keep it in the fridge for up to 3-4 days. Alternatively, you can store succotash in the freezer for up to 6 months in an airtight container or freezer-safe bag.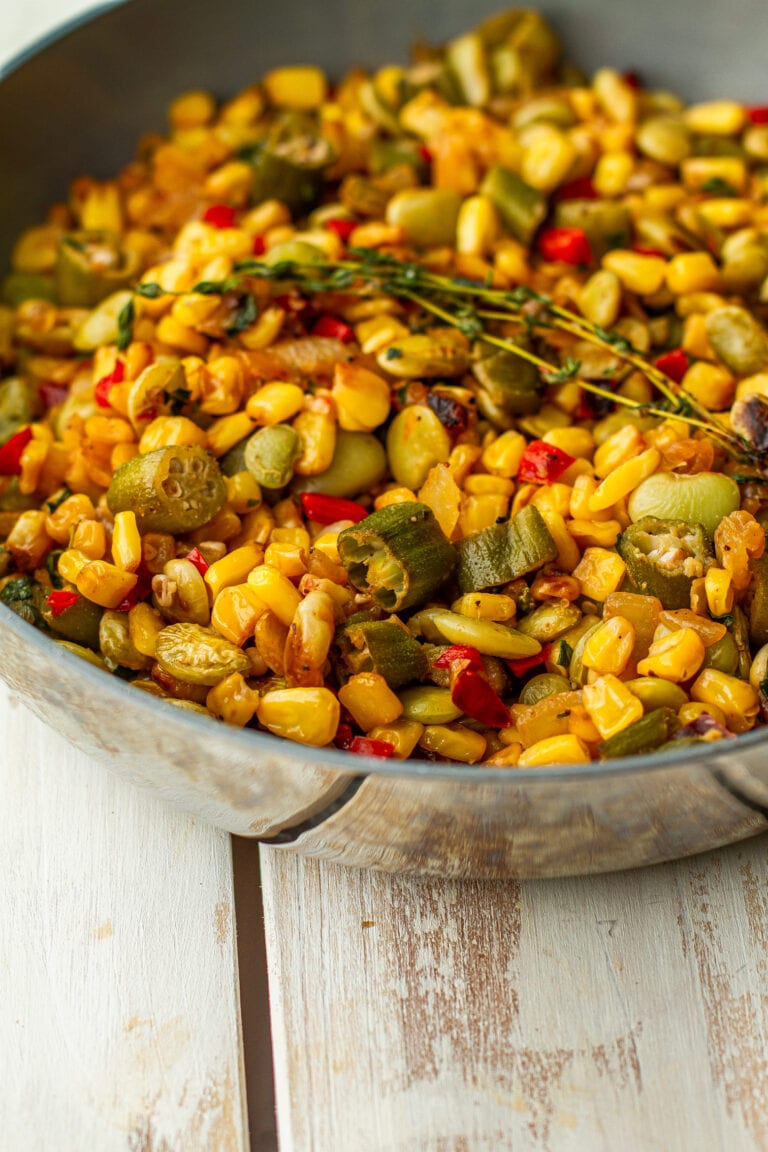 Southern Succotash FAQs
Here are the answers to some of the most common questions about this Southern succotash recipe:
What to serve with succotash?
This dish works great as a flavorful accompaniment with any of your favorite protein sources. I love serving this summer dish with meaty recipes like grilled chicken, grilled steak kabobs, or wet lemon pepper wings, but feel free to serve it with anything you like!
How do you reheat succotash?
To reheat Southern succotash, add it to a dry skillet and cook over medium-low heat, stirring frequently, until warmed through. This should only take around 5 minutes.
Do I have to rest the steak kabobs?
It is essential to let steak kabobs rest for 5 minutes before serving. This allows the juices to redistribute throughout the steak, making it more
What size should I cut my steak for kabobs?
You should cut your steak into uniform 1 1/2 inch cubes. This will help to keep them juicy and prevent them from drying out on the grill.
What can I use instead of lima beans?
If you can't find lima beans at the grocery store or simply want to try something else, you can swap them for edamame or fava beans. If you have a legume allergy or intolerance, feel free to leave them out altogether and serve this as a bean-free Southern succotash. Don't worry, it will still be delicious!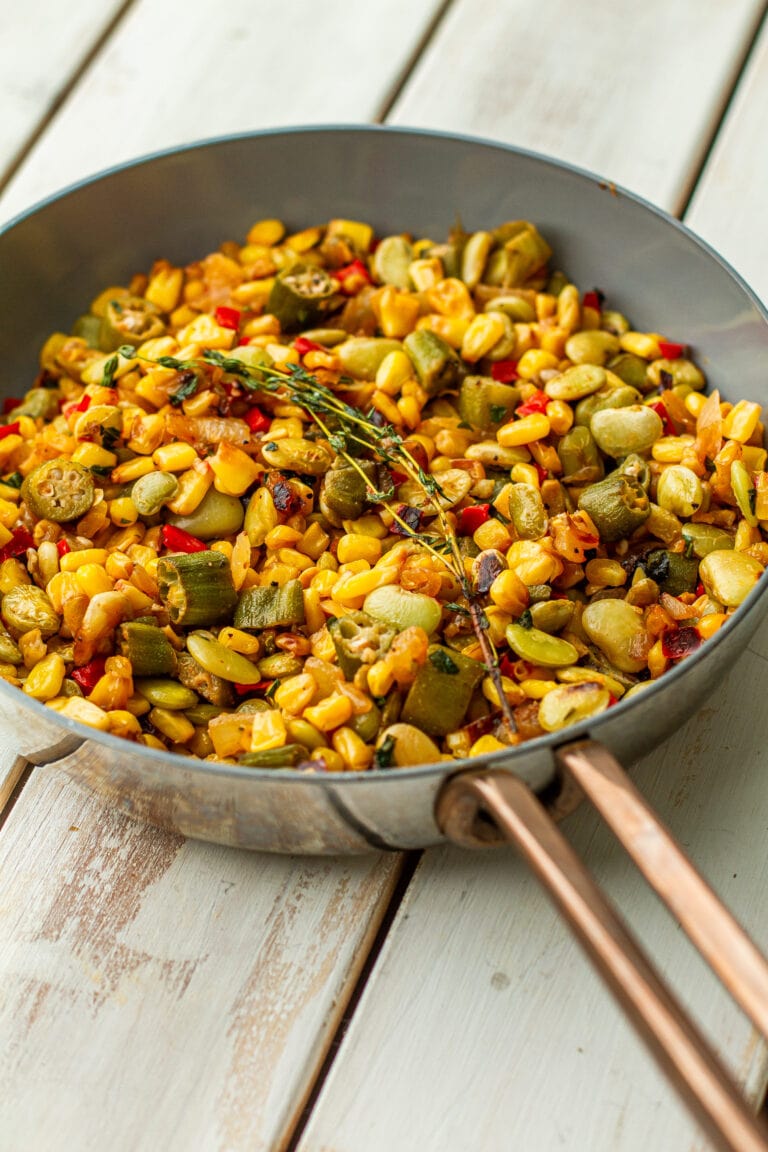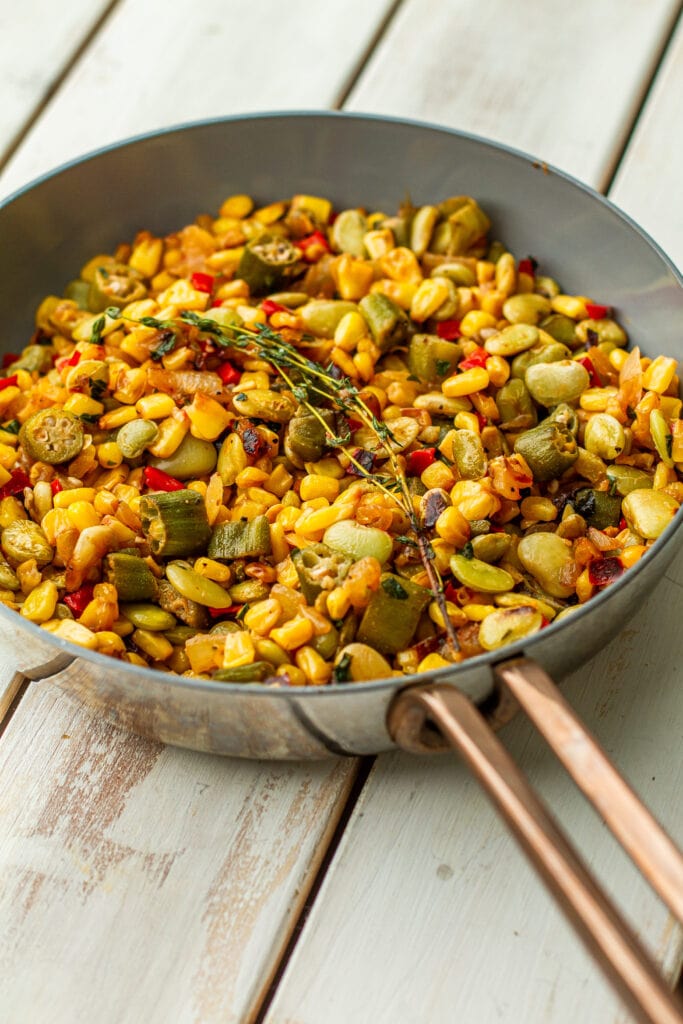 How To Get Started
Gather Your Tools
Recipe Prep
Shopping – To enjoy Southern-style succotash year-round or off-season organic frozen are delicious options because they are frozen at peak freshness. When in season, fresh organic veggies are recommended.
For succotash – Gather and measure all your ingredients as per the recipe.
Pre boil – Begin by boiling lima beans first, so they become tender once added to the remaining vegetables.
More Yummy Side Dishes Recipes
Ingredients
1

quart

water or stock

3

teaspoons

kosher salt

divided

1

cup

frozen lima beans

thawed

2

tablespoons

avocado oil

1

small onion

grated

½

small red bell pepper

chopped

3

garlic cloves

minced

2

cups

frozen corn

thawed

½

cup

frozen cut okra

thawed

1

tablespoon

apple cider vinegar

¼

teaspoon

black pepper

¼

teaspoon

sugar

¼

teaspoon

cayenne

¼

garlic powder

¼

teaspoon

onion powder

2

tablespoons

unsalted butter

2

tablespoons

fresh basil

chopped

3

sprigs fresh thyme leaves
Instructions
In a medium saucepan add water and 1 teaspoon of salt and bring to a boil. Add lima beans to water, cover, and cook for 20 minutes on medium heat. Reserve 1/2 cup water, drain and set aside.

Five minutes before lima beans are done, heat a large skillet over medium heat, add oil, and once hot, add onion and bell pepper; cook for 5 minutes. Add in garlic and cook for 1 minute. Add to the skillet the remaining ingredients, along with drained lima beans and reserved water, and cook for 8 minutes until lima beans are tender.

Remove from the heat; stir in butter, basil, and thyme, taste, and adjust the seasoning.
Nutrition
Calories:
143
kcal
|
Carbohydrates:
19
g
|
Protein:
3
g
|
Fat:
7
g
|
Saturated Fat:
2
g
|
Polyunsaturated Fat:
1
g
|
Monounsaturated Fat:
3
g
|
Trans Fat:
0.1
g
|
Cholesterol:
8
mg
|
Sodium:
1360
mg
|
Potassium:
282
mg
|
Fiber:
3
g
|
Sugar:
2
g
|
Vitamin A:
728
IU
|
Vitamin C:
18
mg
|
Calcium:
24
mg
|
Iron:
1
mg
*Nutrition information is a rough estimate.
**The equipment section above contains affiliate links to products I use and love. As an Amazon Associate I earn from qualifying purchases.