This Southern Sweet Tea Recipe is the ultimate summer sipper, y'all! Nothing tastes as good as freshly brewed sweet tea over ice on a scorching hot day. And the simple syrup method means you don't have to wait for it to cool down before taking a swig! This recipe makes a whole gallon the best sweet tea, so it's the perfect thirst quencher for the entire fam.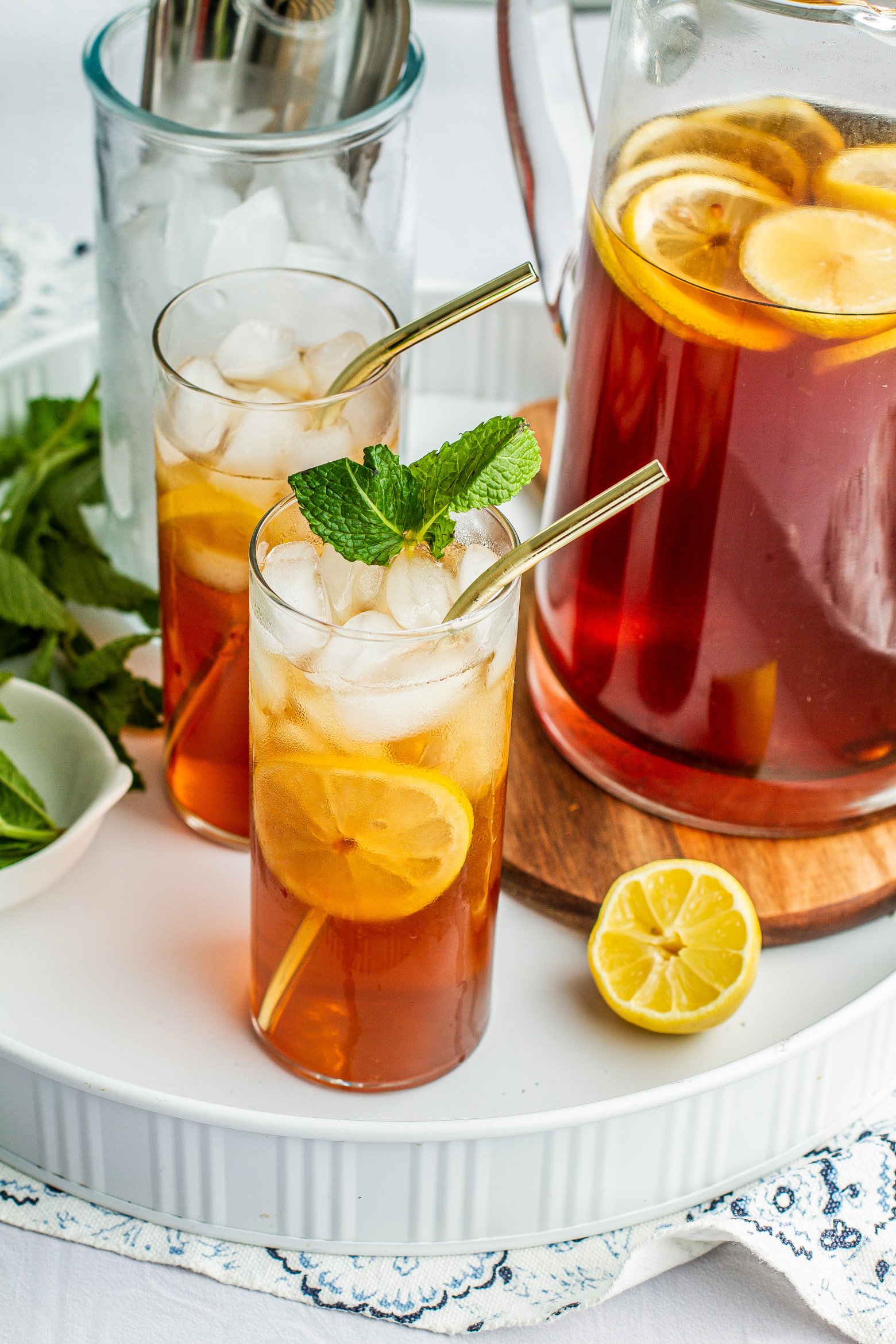 Y'all, one thing I've learned since living in Texas is that Southerners love their sweet tea. It's on every menu, at every gathering, and it's always refreshing. Growing up, my family occasionally made sun tea, but I didn't appreciate it as much as I do now. Something about the perfect balance of sweetness and tartness hits the spot on a hot summer day. That's why I'm excited to share my go-to recipe for Southern Sweet Tea that will have you sipping and saying "haaa" with satisfaction.
Why Do Southerners Love Sweet Tea So Much?
If you aren't from the South, you might be wondering, "What's the deal with Southerners and sweet tea?" For starters, it's the perfect thirst quencher on our hot and humid days, which are common here.
But did you know that making sweet tea actually has a rich history dating back to the early 1800s? Black tea became more affordable back then, and sugar was a cheap commodity due to the slave trade and plantation system. So it's no surprise that sweet tea quickly became a popular beverage for both the wealthy and the working class.
But sweet tea isn't just a drink; it's also a symbol of Southern hospitality and culture. It's a staple at family gatherings, church picnics, and community events. And let's not forget about all the pride we take in making our own family recipe! It's like a comforting and nostalgic part of our culinary heritage that we just can't get enough of.
Southern Sweet Tea Recipe
This recipe for Southern sweet tea has a little twist that makes it so much more convenient.
You know how some sweet tea recipes call for adding sugar to the hot tea and then stirring for what feels like forever until it finally dissolves? Well, this recipe is different. Instead of that tedious process, it uses a sweet tea simple syrup that concentrates the flavors of the tea and sugar.
So, when you add water and give it a quick stir, everything comes together seamlessly. Trust me, it makes a big difference in the taste. The tea is perfectly sweet without being too syrupy or cloying, and it has a smooth finish that I just can't get enough of.
I also love how easy it is to make a big batch of the simple syrup ahead of time and then mix up a pitcher of sweet tea whenever I'm in the mood. This recipe is a game-changer, y'all!
Sweet Tea Ingredients
Sugar: You can use granulated sugar or raw can sugar.
Water: You will need one gallon of water for this recipe, divided into two parts (hot water & chilled water). One part will be used to make the sweet tea simple syrup, and the other will dilute the tea after the simple syrup is added.
Iced tea bags: I'm partial to the Luzianne brand, but you can use any brand of iced tea bags, but make sure they are specifically labeled as "iced tea" bags. This will ensure the tea is strong enough to hold up to the simple sweet syrup.
Lemons & Mint: These are optional ingredients, but adding sliced lemon to your sweet tea is a classic Southern touch and mint adds a hint of freshness that is very complimentary to the tea.
Ice: You will need plenty of ice to serve with your sweet tea. Make sure you have enough on hand to keep your tea cold and refreshing.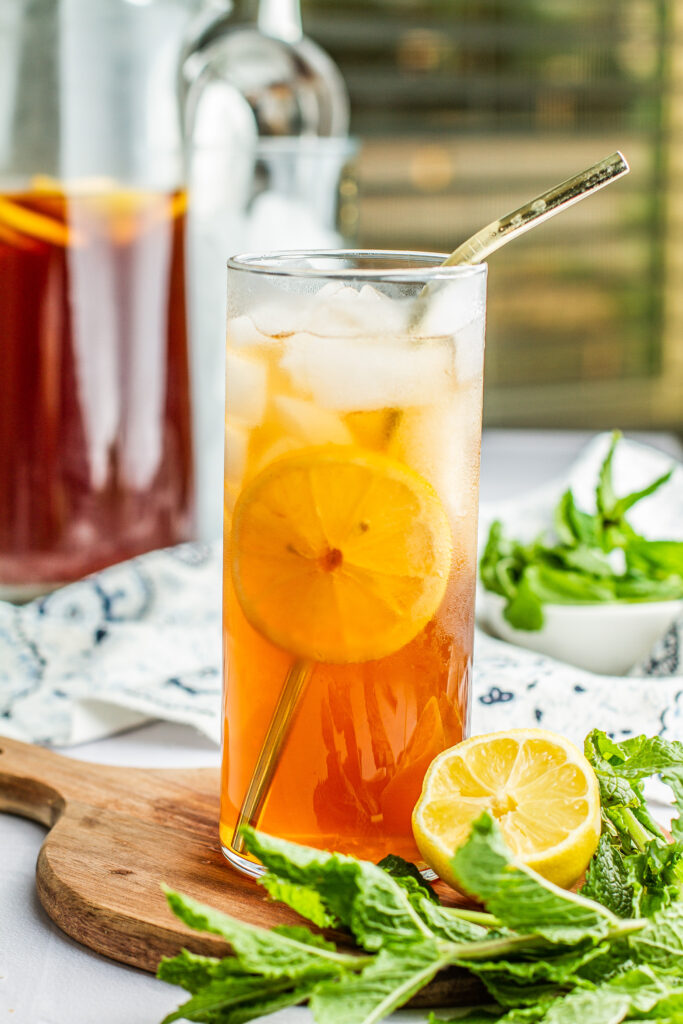 How to Make Southern Sweet Tea From Concentrate
Chill water: Fill a gallon pitcher with 8 cups of water and refrigerate it.
Make sweet tea Simple Syrup: Add sugar and 8 cups of water in a large pot. Bring it to a boil until the sugar is dissolved. Remove from heat, add tea bags, cover, and let it steep for 20 minutes.
Stir together ingredients: Remove tea bags – do not squeeze the tea bags, and pour the brewed tea into the chilled water pitcher. Stir and adjust the sweetness to your liking.
Serve. Pour sweet tea into tall glasses filled with ice, and garnish with a lemon slices and mint.
Sweet Tea Syrup 10/10 recommend
Let's say you're craving a refreshing glass of sweet tea but don't want to make a whole pitcher. With the simple syrup method, you can easily make a single serving of southern sweet tea whenever you like. Simply make a batch of the sweet tea simple syrup in advance and store it in the fridge. When you're ready for a glass, mix a tablespoon or two of the concentrate with cold water, add ice, and boom! You've got a perfectly sweet and delicious glass of sweet tea.
Ok friend, get your tea kettles and tea cups 'cause I'm spillin'. Don't tell anyone I told you this, but the sweet tea syrup is a perfect drizzle for your Southern fried chicken. Just pour a little bit over your chicken and enjoy the explosion of flavor. But shh, you didn't hear that from me.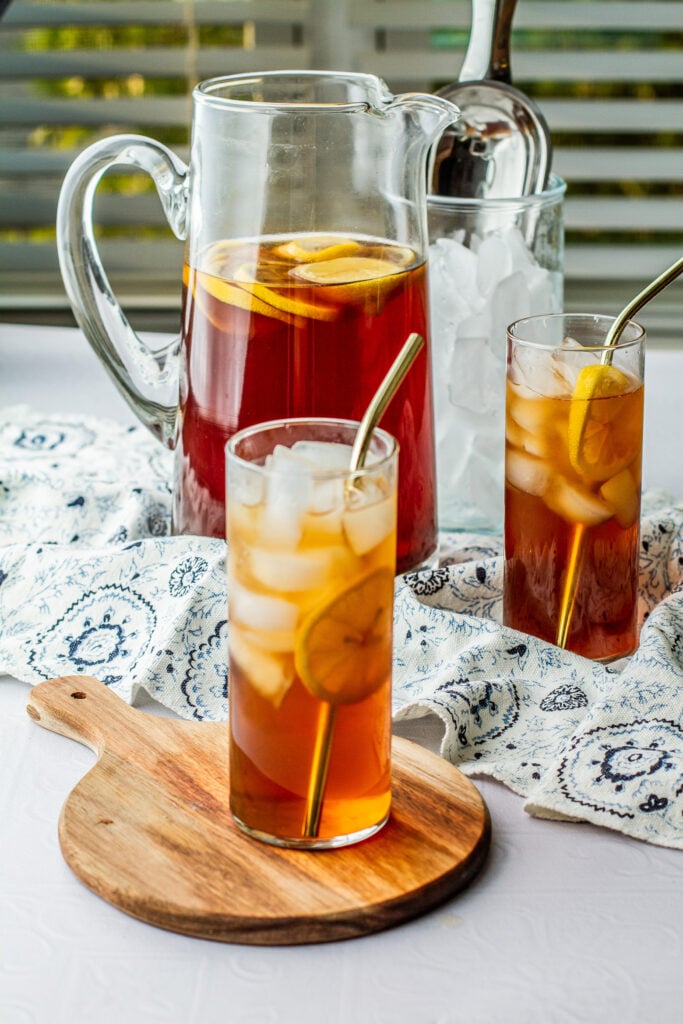 Resist The Squeeze
Squeezing your tea bags after steeping is a big no-no. Doing so can actually cause the release of bitter compounds, which can totally throw off the flavor of your tea. Instead, simply remove the tea bags from the water using a spoon or tongs and discard them.
In fact, many tea connoisseurs even recommend not stirring the tea while it steeps, as this can also lead to a bitter taste. Just let the tea steep undisturbed for the recommended time, and then remove the tea bags without squeezing.
You can savor a smoother and more balanced cup of tea by avoiding the squeeze. So now you know to resist the urge to squeeze tea bags and pimples!
Sweet Tea Recipe Variations
Try these variations can add a creative twist to your Southern Sweet Tea recipe.
Peach Sweet Tea: Add sliced peaches to the tea concentrate while it's steeping and serve over ice with fresh peach slices for garnish.
Mint Sweet Tea: Add a handful of fresh mint leaves to the tea concentrate while it's steeping for a refreshing twist. You can also muddle some fresh mint in the glass before pouring the tea over it.
Lemonade Sweet Tea (Arnold Palmer): Mix equal parts of Southern Sweet Tea and lemonade for a refreshing and tangy drink. You can adjust the sweetness to your liking by adding more simple syrup.
Raspberry Sweet Tea: Add fresh or frozen raspberries to the tea concentrate while it's steeping and serve over ice with a few extra raspberries for garnish.
Spiked Sweet Tea: Add a shot of your favorite spirit, such as bourbon or vodka, to a glass of Southern Sweet Tea for a boozy twist. You can also mix the spiked tea with lemonade or other juices for added flavor.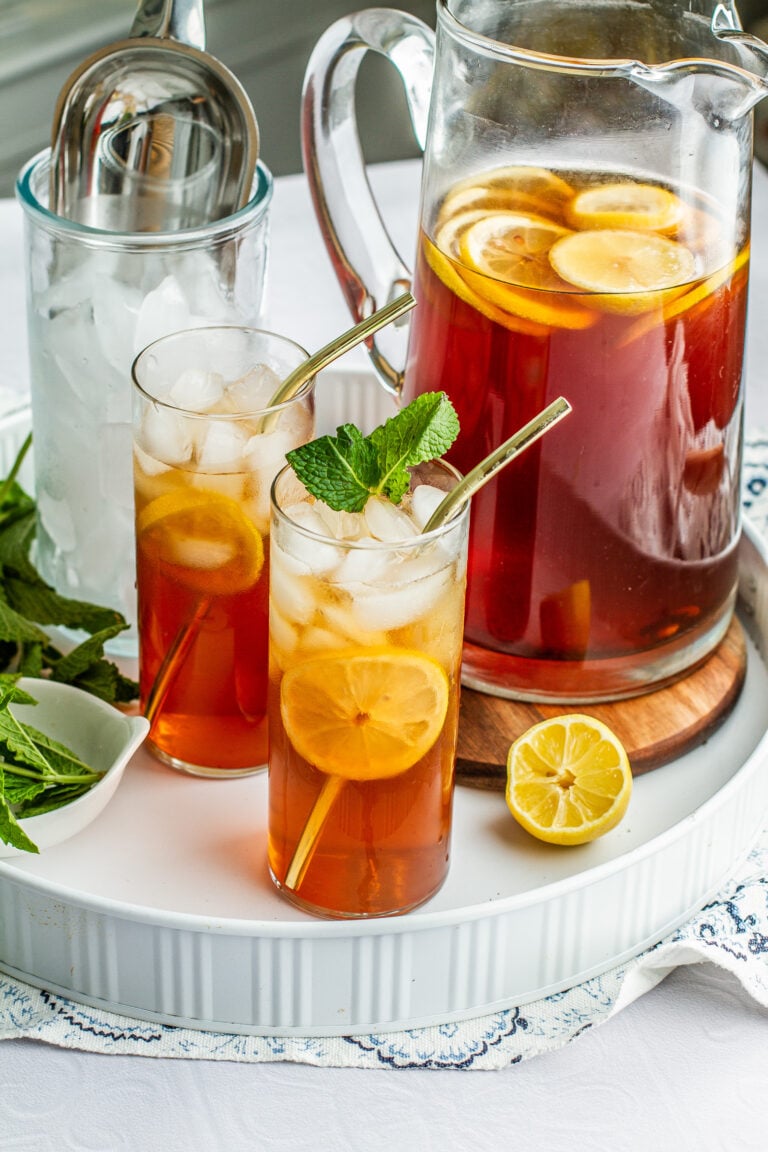 Frequently Asked Questions
Why do some people add baking soda to sweet tea?
Believe it or not, a pinch of baking soda can make a world of difference! It helps combat the bitterness of the tea and creates crystal clear tea every time. You don't need a lot, just a pinch.
How long should I steep tea for iced tea?
If you're using our recipe, you'll want to steep the tea for no more than 15 minutes. Any longer, and the tea can become too bitter from the tannins. Remember, less is more!
Can I make sweet tea with green tea?
I don't care what others say; this is a no-no. At least to call it sweet tea, made from black tea. You can add sweetener to green tea, but you can use green tea and call it sweet tea.
Why is my tea bitter?
There are a few reasons why tea can taste bitter, including steeping the tea for too long, using water that's too hot, or using too much tea leaves. Follow our recipe and adjust as needed to find the right balance of flavors.
What tea brand should I use for my sweet tea recipe?
Well, when it comes to making sweet tea at home, you can't go wrong with the tried-and-true Southern favorites: Luzianne and Lipton. Both of these tea brands are known for their smooth flavor and affordable price. So grab a box of either one, follow our recipe, and get ready to sip on some sweet southern goodness!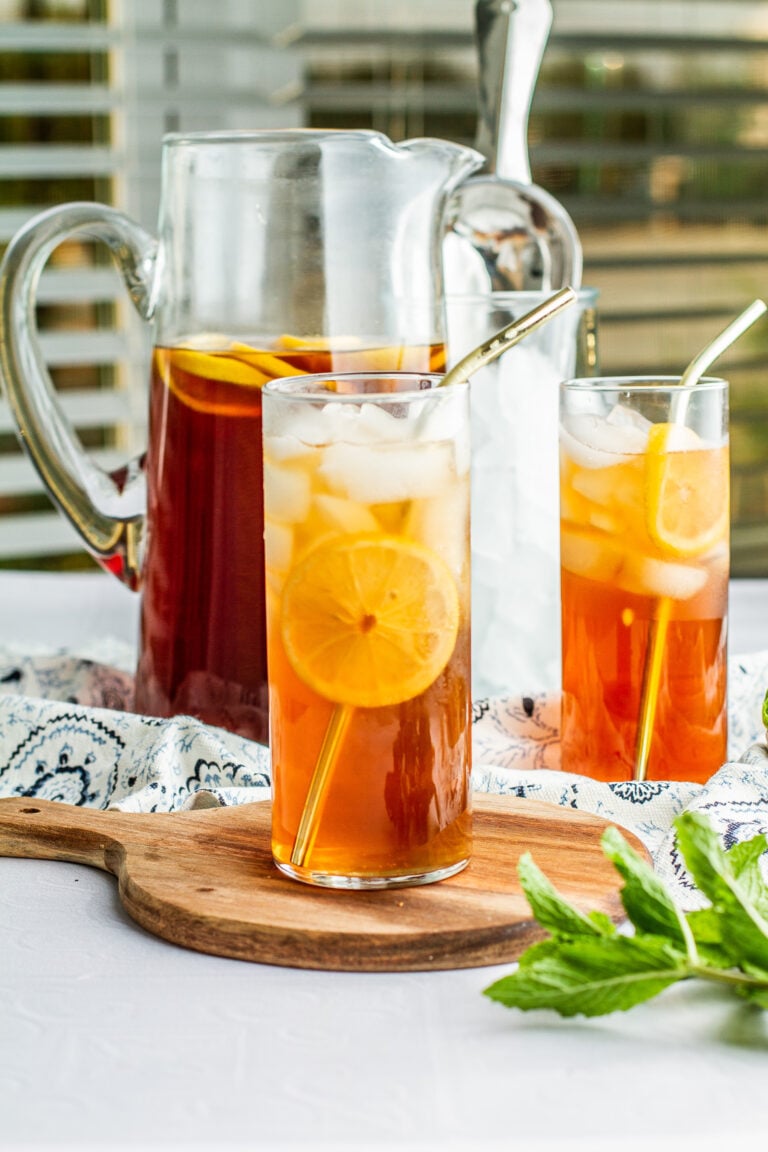 Prep Your Tools & Ingredients
Here is a quick list of things to do before the recipe to ensure everything goes smoothly.
Gather Your Tools:
Recipe Prep::
Add your pitcher of water to the fridge first so that it's cold when the sweet tea syrup is ready.
Slice your lemons so that they are prepared to garnish.
Listen, if you haven't made this Southern Sweet Tea recipe yet, you are seriously missing out. My Goodness! It's the perfect blend of sweet and refreshing, and it's so easy to make. Just follow the simple steps, and you'll have a pitcher of deliciousness in no time. Trust me, your taste buds will thank you!.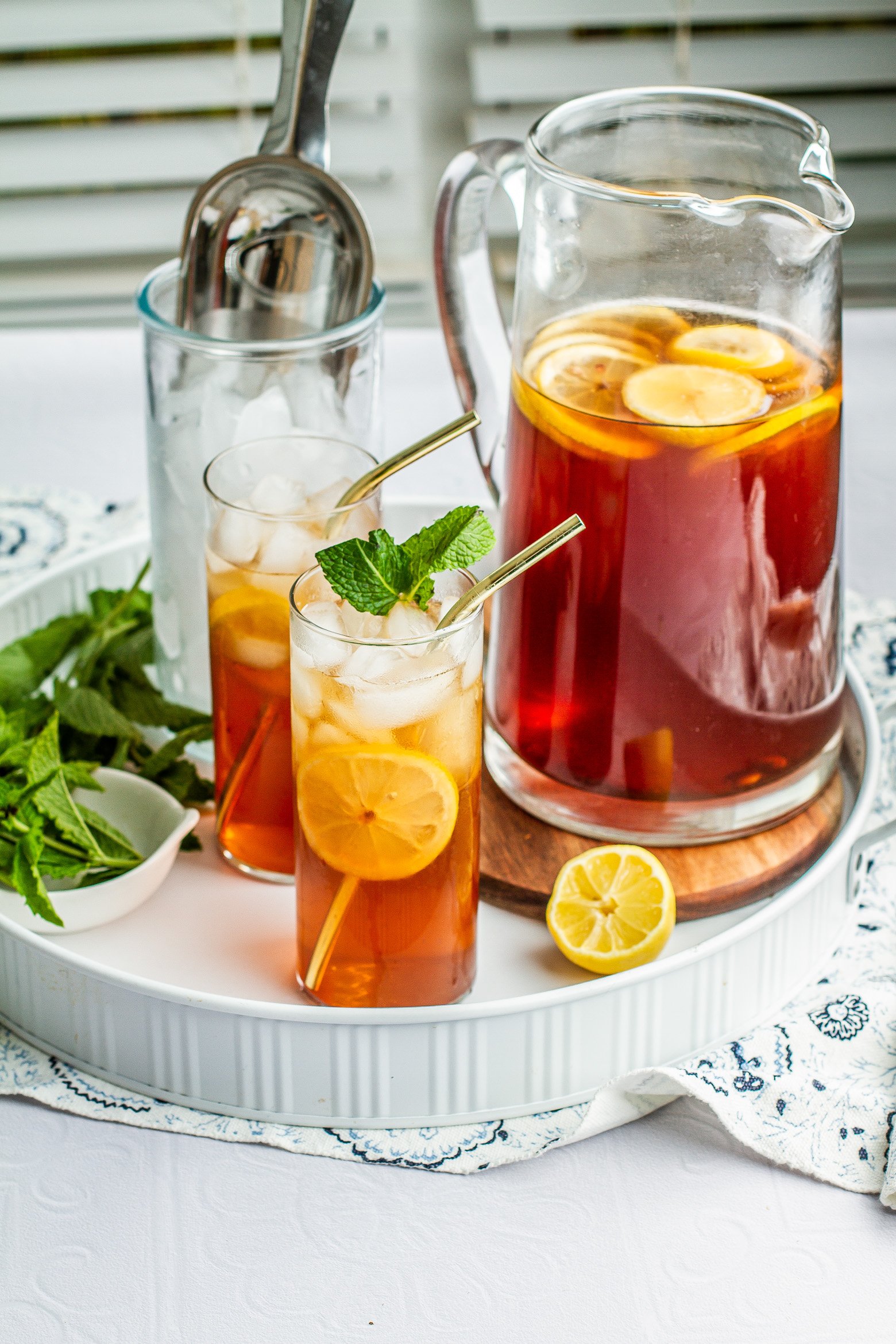 Servings:
16
servings (makes 1 gallon)
Ingredients
3

cups

sugar

1

gallon

water

divided

4

ice tea bags

1

lemon

sliced for garnish

mint

for garnish

Ice optional
Instructions
Add 8 cups of water to the gallon pitcher and refrigerate.

To a large pot over medium heat add the sugar, remaining 8 cups of water and bring to a boil. Once sugar is dissolved, remove from heat, submerge tea bags, cover and let the tea steep for 15 minutes. Remove tea bags and discard.

To the chilled pitcher of water add brewed tea, and stir. Taste and adjust sweetness. Serve in individual tall glasses filled with ice and garnish with lemon slices and mint.
Notes
I recommend adding the water to be chilled in the fridge the night before or at least an hour before the recipe so that you can enjoy the sweet tea right away.
Sweet tea will last up to one week when refrigerated
I recommend adding ice to each glass instead of to the pitcher. This way you don't dilute all the tea.
Additionally if you don't plan do drink the tea all in one day, I would add lemon slices to each glass instead of the pitcher. Lemon rind tends to add a more bitter flavor to the tea over time.
If you have leftover tea add it to a popsicle mold and make sweet tea popsicles.
Nutrition
Calories:
145
kcal
|
Carbohydrates:
37
g
|
Protein:
0.01
g
|
Fat:
0.1
g
|
Saturated Fat:
0.001
g
|
Polyunsaturated Fat:
0.001
g
|
Sodium:
12
mg
|
Potassium:
3
mg
|
Fiber:
0.01
g
|
Sugar:
37
g
|
Vitamin A:
0.1
IU
|
Vitamin C:
1
mg
|
Calcium:
8
mg
|
Iron:
0.02
mg
*Nutrition information is a rough estimate.
**The equipment section above contains affiliate links to products I use and love. As an Amazon Associate I earn from qualifying purchases.