This Spaghetti with Pink Pasta Sauce is unlike any other. It incorporates a vibrant and flavorful beet pesto to get its signature bold color. The pink spaghetti is stunning by itself, but I like to top it with a mountain of finely shredded parmesan cheese and chives. It's so delicious and a fun way to incorporate more veg into your dinners.
A Pink Pasta Sauce Unlike Any Other
It's so funny how our tastebuds change as we get older. I couldn't stand beets growing up. Maybe because my grandma always served the ones in a can that always tasted like dirt to me.
Fast forward to now, I'm trying to figure out how many ways I can flip all the amazing varieties of beets. One way that I love to use beets is in a pink spaghetti but probably not the way that you think. In this dish I roast fresh beets until fork tender and process them with traditional pesto ingredients to make the most amazing Fuschia-colored pesto sauce.
Word of caution when making this, don't wear white if you want it to stay white. I had to learn that the hard way. LOL.
Key Ingredients For Pink Pasta Sauce (aka Beet Pesto)
To bring this pink pasta sauce to life, you will need the following key ingredients:
Beets. These delicious veggies are packed with fiber and nutrients that offer a wide range of health benefits. They also give us that incredible pink color! Make sure to thoroughly wash and dry your beets before cooking them.
Fresh basil. This herb is a staple in any pesto recipe. Always, always use fresh basil when making pesto, rather than the dried kind.
Almonds. You can use pine nuts or walnuts if you'd like, but I personally prefer almonds. These add a delicious nutty flavor and a ton of heart-healthy fats.
Parmesan cheese. Another classic pesto staple, parmesan cheese, adds a ton of fantastic flavor to this dish. For a vegan beet pesto, feel free to swap this out for a plant-based alternative.
Olive oil. For the best results, make sure to use high-quality extra virgin olive oil.
Lemon juice. The acidity in fresh lemon juice really brightens up this dish and helps to enhance the rest of our amazing flavors.
Garlic. The fresher, the better! Garlic cloves add a ton of incredible flavor to our homemade pesto.
How to make Spaghetti with Pink Pasta Sauce?
Beet pesto gives this pink spaghetti its signature bold color. Not only is homemade Beet Pesto Pasta crazy delicious and beyond photo-worthy, but it's also super easy to make! All you have to do is follow these simple steps:
Preheat the oven to 375°F. Wrap each beet in foil and place them on a baking sheet—roast for 40 minutes, or until the roasted beets can be easily pierced with a knife.
Remove beets from the foil and let them cool for 5 minutes. Once cooled, use a towel or spoon to peel away the skin. Then, chop the beets to medium size.
To a food processor, add the cooked beets, garlic, almonds, parmesan, black pepper, and basil. Pulse 3 times, then slowly drizzle in the olive oil as you continue to pulse. Stop when you've reached your desired consistency.
Pour beet pesto over cooked pasta and toss to combine. Garnish with parmesan and fresh basil; enjoy!
Ways to serve Beet Pesto Pasta:
This mouth-watering dish is as bold in flavor as it is in color. You can pair it with anything that you would normally pair your favorite pasta dishes with. Side salads, grilled meats, cooked veggies, and bread all work great.
If you want some inspiration, here are some of my favorite ways to serve Spaghetti with Pink Pasta Sauce:
Ready for dessert? After this savory dish, serve up something sweet like my No Churn Peach Frozen Yogurt or Pumpkin Spice Latte Pie.
Frequently Asked Questions
Here are the answers to some of the most frequently asked questions about this vibrant and healthy sauce recipe: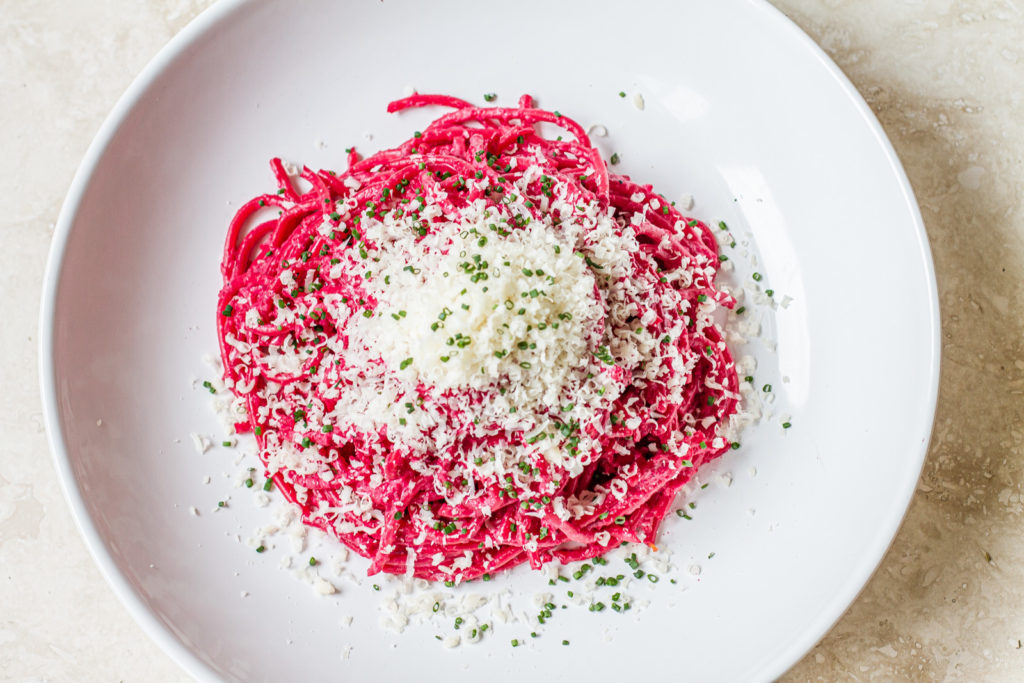 What is pink pasta sauce made of?
That depends on who you ask. Some people will say that pink sauce is a combination of mayonnaise and ketchup. Others will say it's a creamy tomato sauce. In this case, pink sauce is a delicious homemade pesto made from beets, fresh basil, parmesan cheese, olive oil, lemon juice, and other classic pesto flavors.
Is this dish healthy?
Yes! Homemade beet pesto (pink pasta sauce) is made with nutrient-rich beets and packed with healthy fats, antioxidants, vitamins, and minerals. As long as you enjoy pasta in moderation (aka try to avoid eating 10 bowls a day), this dish is perfectly healthy.
What to serve with pink spaghetti?
Just like traditional pesto, you can serve beet pesto with a wide variety of foods. My go-to is typically serving it over a big bowl of pasta. Other great options include serving it drizzled over roasted veggies, as a salad dressing, as a dip for chips and raw veggies, and on a sandwich or wrap.
Now it's your turn!
Beet pesto is a quick and easy way to add lots of flavor, color, and texture to any dish. This recipe for Spaghetti with Pink Pasta Sauce has all the classic flavors you'd expect from traditional basil pesto recipes with an added twist–beets! The beet pesto gives the pasta a beautiful pop of pink that will make your dinner table look so pretty.
If you enjoy the recipe, please share it with your friends and family. And don't forget to give me some five-star love down below. And if you have any comments or questions, leave them below too, and I'll be sure to get back to you as soon as possible.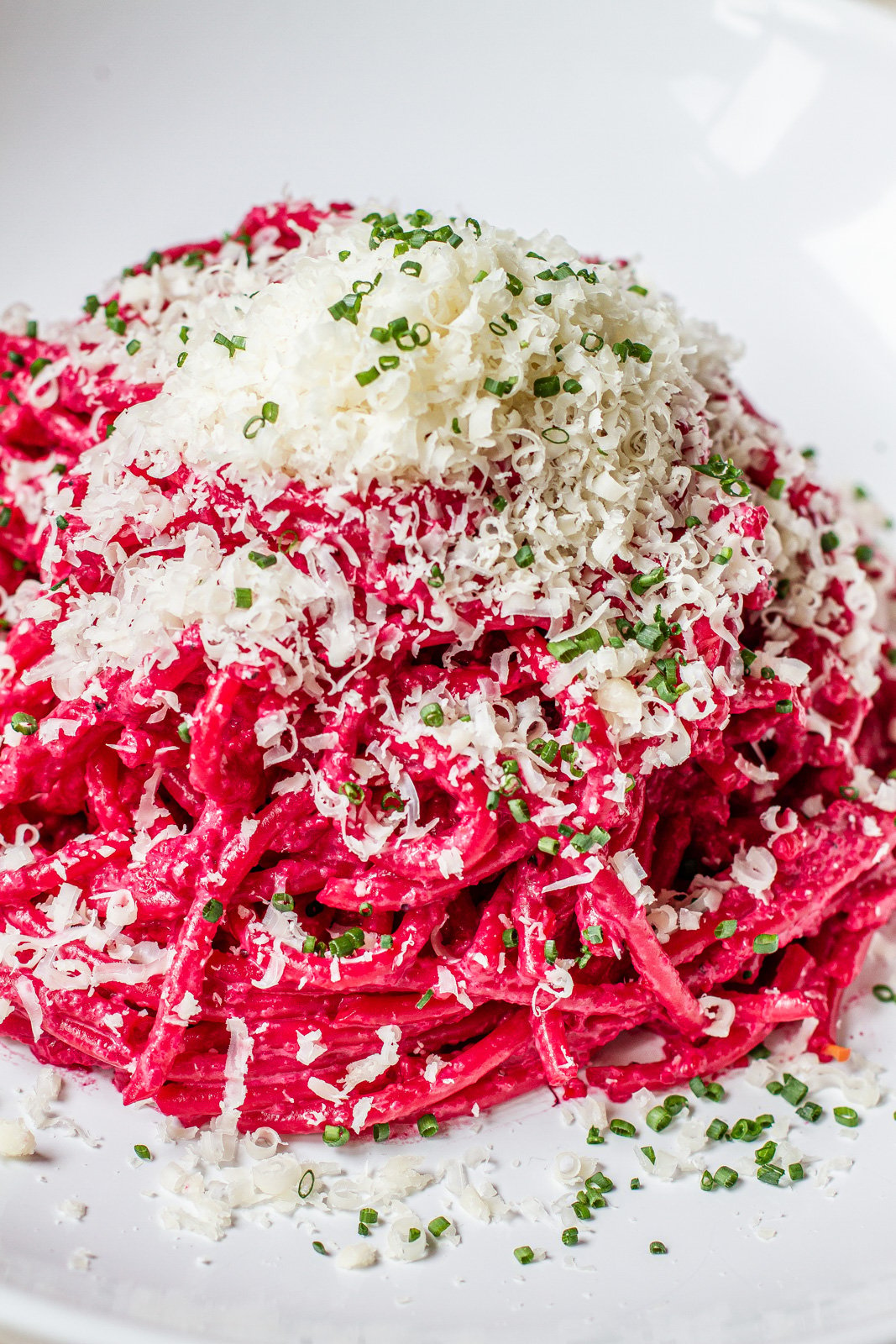 Ingredients
1

cup

of red beets

washed and cubed

4

cloves

garlic

smashed

¼

cup

almonds

½

cup

shredded parmesan plus more for garnish

10

fresh basil leaves plus more for garnish

Juice of ½ lemon

2

tablespoons

balsamic vinegar

½

cup

olive oil

1

lb.

spaghetti

cooked

1

teaspoon

kosher salt
Instructions
Preheat the oven, wrap each beet in foil and place on a baking sheet. Place in the oven and cook for 40 minutes or until beets can be easily pierced with a knife. Remove beets from foil and let cool for 5 minutes. Once cooled, use a towel or a spoon to peel away the skin. Chop beets to medium size.

In a food processor add the beets, garlic, walnuts, shredded parmesan, black pepper, and basil. Pulse 3 times. Cut the processor on high and slowly drizzle in olive oil. Pour beet pesto over cooked spaghetti, toss to combine.

Divide pasta amongst 6 plates, garnish with more parmesan and fresh torn pieces of basil.
Notes
*Making the pesto while the beets are still warm helps to bring out the gorgeous pink color.
Nutrition
Calories:
528
kcal
|
Carbohydrates:
62
g
|
Protein:
15
g
|
Fat:
25
g
|
Saturated Fat:
4
g
|
Polyunsaturated Fat:
3
g
|
Monounsaturated Fat:
16
g
|
Trans Fat:
1
g
|
Cholesterol:
7
mg
|
Sodium:
539
mg
|
Potassium:
313
mg
|
Fiber:
4
g
|
Sugar:
5
g
|
Vitamin A:
115
IU
|
Vitamin C:
3
mg
|
Calcium:
134
mg
|
Iron:
2
mg
*Nutrition information is a rough estimate.
**The equipment section above contains affiliate links to products I use and love. As an Amazon Associate I earn from qualifying purchases.