Spicy Mango Chicken Sausage Tacos with Blackberry and Cucumber Salsa is an easy Mexican-inspired dish. These chicken sausage tacos are hitting all the right notes, refreshing, sweet, and spicy.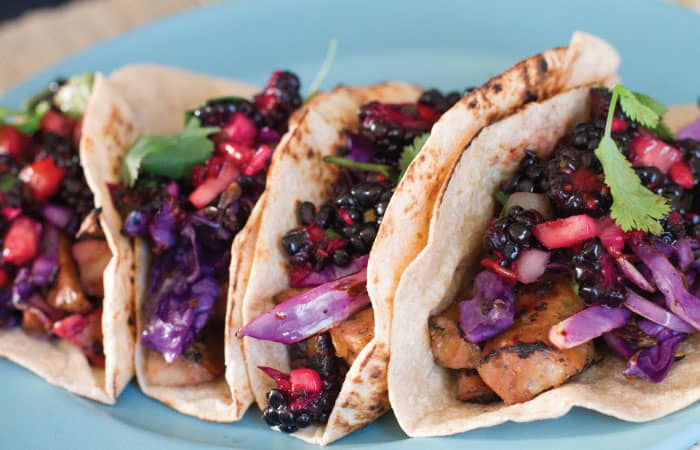 What a week! So if you didn't read my previous blog post, I'll catch you up on the week's festivities. After being swept away by the Kendrick Lamar Grammy performance, I decided to restructure my content and recipe development this week to pay homage to his song "The Blacker The Berry." As a result, blackberries took the spotlight this week, and boy did they shine in these four new recipes.
I'm a huge fan of tacos; they are probably the one food type that I eat most often out of anything else. I love coming up with new taco combinations, so using tacos for this challenge was right up my alley. For this occasion, I used Aidells Spicy Mango with Jalapeno Chicken Sausage and topped it with bright blackberry and cucumber salsa.
What makes salsa, salsa?
Well, that's a tricky question as the word salsa translates to sauce in English. So, what makes what we know as salsa from the TexMex community different from any other sauce? Salsa usually includes tomatoes or tomatillos, jalapenos, onions, and maybe cilantro. It's also traditionally served cold or room temperature as a dip or condiment. However, in this dish, we will be subbing our tomatoes for blackberries!
What is the difference between Mexican crema and sour cream?
There are a few differences between Mexican crema and sour cream—first, the fat content. Sour cream has a fat content of about 20%, whereas Mexican crema is about 30%. Because of the low-fat content of sour cream, it's more susceptible to curdling than crema. Another pretty noticeable difference is the texture. Mexican crema is a lot thinner and even runny compared to the thicker sour cream. There is also a difference in taste. Crema tends to be mildly sweet, while sour cream is more tart or sour, as the name implies. Though the two are prepared using different ingredients, they both generally have the same concept of adding good bacteria to heavy cream or milk preparation. They are interchangeable in this chicken sausage taco recipe.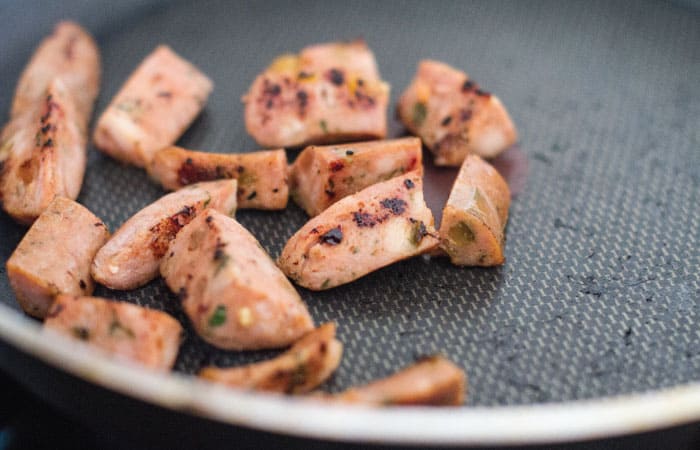 What Is Tajin Seasoning?
Tajin seasoning is a brand of seasoning made by a Mexican company. There are various types of Tajin seasonings in their line, but the most popular one and the one that we are using for this chicken sausage taco recipe is the Tajin Classic. This seasoning is made of dried and ground red chilis, sea salt, dehydrated lime juice, and a little anti-caking agent. This seasoning can be used to bring a kick to your fruits, meats, fish, vegetables, and even to coat the rim of your drinks like Bloody Marys.
How to pick the perfect mango?
You can tell if a mango is ripe by giving it a bit of a squeeze. The softer the fruit, the riper it is. You can also give it a sniff at the stem; if it smells sweet and fruity, it's ready. Though you can find mangos year-round, mango season is May – September, with the peak of the season being in June and July.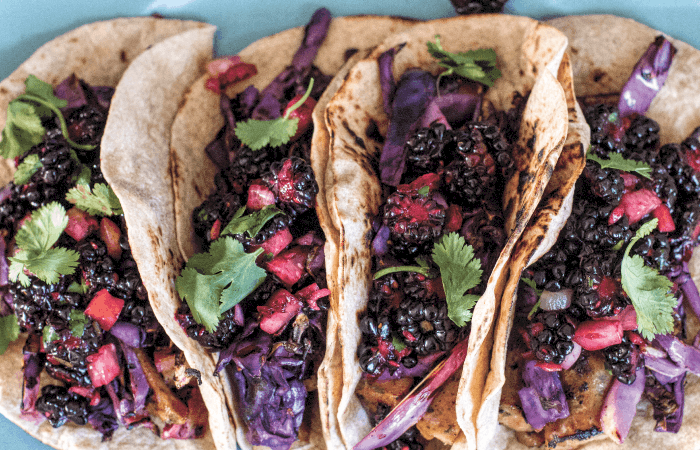 How to store and reheat chicken sausage tacos?
Well, if you even have leftovers of these delicious chicken sausage tacos, I would suggest storing each topping separately in airtight containers in the fridge. To enjoy later, just reheat the cabbage and the chicken sausage on the stove or in the microwave before assembling your tacos.
More Delicious Taco Recipes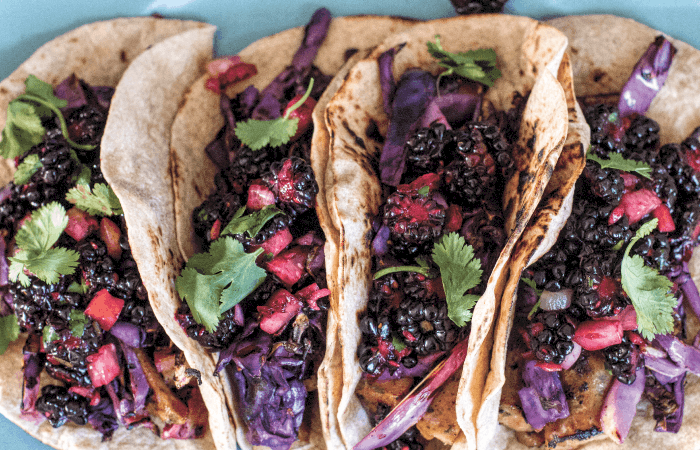 Ingredients
Taco
2

Aidells Spicy Mango w/ Jalapeno Smoked Chicken Sausage

chopped (alternative chicken apple sausage)

2

flour tortillas

wheat or white

2 ½

tablespoons

Mexican crema

can alternate with sour cream

¾

cup

red cabbage

chopped

½

teaspoon

olive oil

pinch

red pepper flakes

pinch

salt

pinch

pepper

pinch

Tajin Classic seasoning
Blackberry Salsa
1¼

cups

blackberries

sliced

¼

cup

cucumber

peeled & chopped

2

tablespoons

cilantro

chopped

1

tablespoon

red onion

minced

1

tablespoon

lime juice

1

tablespoon

grape jelly

melted (alternative honey)

1

teaspoon

habanero

deseeded & chopped

salt

to taste
Instructions
In a bowl mix all salsa ingredients then refrigerate.

Put olive oil in pan on medium high heat. When hot add in red cabbage and stir occasionally. Cook cabbage until the edges start to char and get crispy, about 5-7 minutes, then remove from heat.

In pan, cook sausage on medium high heat (5-7 minutes) and heat tortillas until soft and pliable.

To layer taco, put chicken sausage on tortilla first; followed by the crispy cabbage and top with blackberry cucumber salsa. Drizzle crema over the top and serve.
Nutrition
Calories:
193
kcal
|
Carbohydrates:
20
g
|
Protein:
9
g
|
Fat:
9
g
|
Saturated Fat:
2
g
|
Polyunsaturated Fat:
1
g
|
Monounsaturated Fat:
1
g
|
Cholesterol:
35
mg
|
Sodium:
584
mg
|
Potassium:
165
mg
|
Fiber:
3
g
|
Sugar:
7
g
|
Vitamin A:
508
IU
|
Vitamin C:
23
mg
|
Calcium:
55
mg
|
Iron:
1
mg
*Nutrition information is a rough estimate.
**The equipment section above contains affiliate links to products I use and love. As an Amazon Associate I earn from qualifying purchases.