Strawberry Cornbread Skillet Cobbler – Juneteenth is normally celebrated with a menu of red foods to represent the perseverance of the enslaved. This Juneteenth I honor that tradition with my Strawberry Cornbread Skillet Cobbler, a bright crimson blend of juicy summer strawberries, mint, and citrus nestled under a bed of pillowy golden cornbread. This cobbler is delicious and ridiculously easy to dish up making it the perfect contribution for all summer gatherings.
I'm participating in the 2020 Juneteenth Cookout Takeover. This initiative was established to encourage the celebration of Juneteenth – a jubilee of freedom to commemorate the end of slavery – and to amplify the food traditions of black culinary creatives.

Juneteenth (a merge of the words/date June Nineteenth) marks the date in 1865 that the last enslaved people learned of their freedom.

And for over 150 years since, Black American families, home-cooks, chefs, and culinarians have commemorated the summer holiday with a wide range of food traditions that tell a story of the perseverance of a people.
What Is Juneteenth?
Today I'm sharing my recipe for Strawberry Cornbread  Skillet Cobbler in celebration of Juneteenth. You may not be aware that our nation celebrates two independence days, the most common being 4th of July. The one you may not know about is Juneteenth, the oldest known celebration honoring the end of slavery in the United States. The origin of its name was contrived from the date June 19th, 1865, the day the last 250,000+ were told that they were free. 
At this point, you may be scratching your head because in school you were taught that Abraham Lincoln decreed the Emancipation Proclamation in January 1863 … that's almost a two and a half year difference. But what isn't often taught is the fact that man slaves remained in slavery long after that decree because the news of their freedom was suppressed to preserve free labor. Can you imagine?
It wasn't until June 19, 1865 that General Gordon Granger revealed the news of emancipation to the group of slaves located in Galveston, Texas. And that's the story of the second Independance Day, Juneteenth, a holiday that the black community has celebrated for the last 150 years to honor the sacrifice of those who fought for our freedom.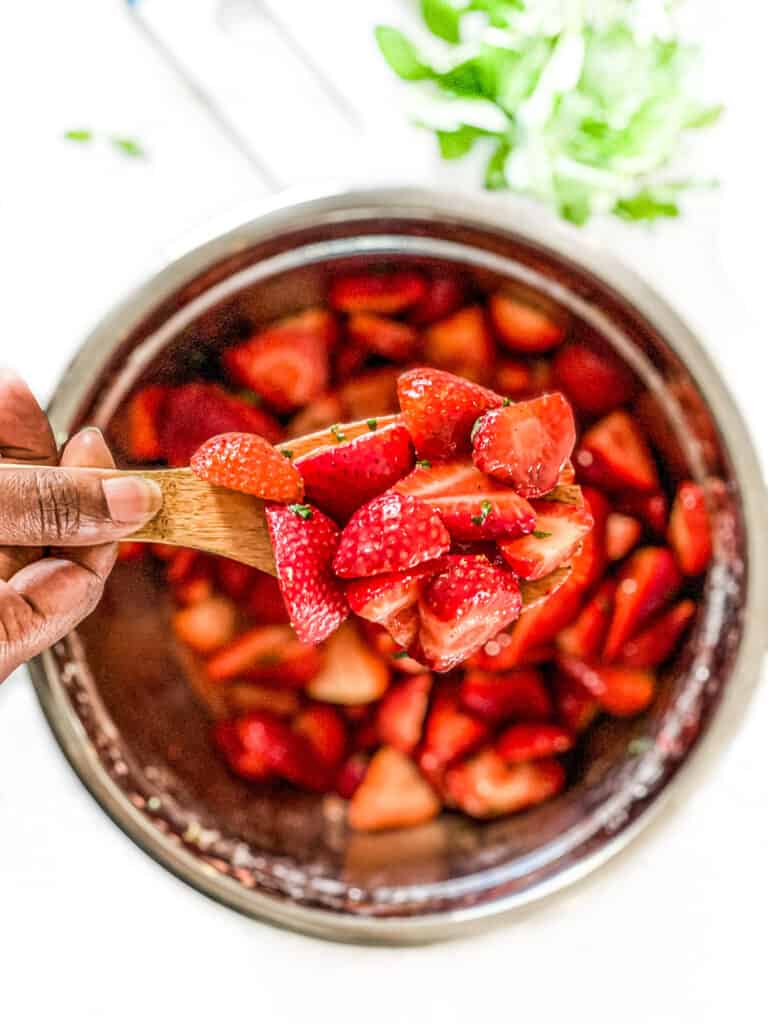 The History of Red Foods During Juneteenth
The color red reaches far back to our ancestral roots but in a nutshell, it signifies overcoming suffering and persevering through slavery. The celebration often involves red foods and beverages like watermelon, red juices and sodas, hot links, barbeque, red velvet cakes and crimson berry pies.
As a matter of fact, my recipe for Strawberry Cornbread Skillet Cobbler is a nod to this commemorative color and foodways that preserve our story of resilience.
How To Make Strawberry Skillet Cobbler?
First, consider making this recipe when strawberries are in season to get the best results. If that is not the case, you can always use frozen strawberries because they are picked and frozen in peak season result a sweeter berry than what you would get out of season.
The great part is that this recipe is super easy to make so much so, that its borderline a dump recipe. 
After prepping all strawberry filling ingredients add them to a bowl and mix until sugar is dissolved. 
Add fruit mixture to a greased skillet on medium-high heat for five minutes. 
While the fruit is cooking, mix together the cornbread topping ingredients then spoon on top of the fruit. 
Add cobbler to oven and bake for 30-35 minutes or until the top is golden brown. Serve warm icecream or fresh whip cream.
Best Season for Fresh Strawberries?
Strawberry seasons vary by location. For instance, the best time for me to get fresh strawberries here in the southwest is February thru early June. Make sure to check with your local farmers to determine strawberry season in your neck of the woods. 
Cobbler vs Crisp vs Crumble
Though these three are deliciously similar baked fruit toppings. There are some significant differences.  Crisp and Crumbles are the most alike; both are streusels, but the crisp usually has oats where crumbles do not. The Cobbler, however, has a biscuit-style topping.
Cast iron skillets are the best, hands down, because of how it evenly distributes heat. However, any oven-safe skillet works. Usually, there's a special oven symbol underneath the skillet.
This recipe is so simple you can definitely mix it up. Try using a different fruit if strawberries are out of season or adding a nutty topping.
2020 Juneteenth Cookout Takeover Lineup
Ingredients
Strawberry Filling
3

lb.

strawberries

hulled and sliced

3/4

cup

granulated sugar

1/4

teaspoon

black pepper

1/4

teaspoon

kosher salt

2

tablespoons

cornstarch

2

tablespoons

lime juice

10

sprigs of mint

julienned + extra for garnish

2

teaspoons

vanilla extract

cooking spray
Cornbread Topping
1

cup

all-purpose flour

1/2

cup

cornmeal

1/2

cup

granulated sugar

1/2

cup

powdered sugar

1 1/2

teaspoons

baking powder

3/4

teaspoon

kosher salt

1/2

cup

unsalted butter

melted and cooled

1

cup

buttermilk, heavy cream or non dairy milk
Instructions
Preheat oven to 400 degrees. Evenly spray 10-inch cast-iron skillet or baking dish with cooking spray.
To make strawberry filling
In a large bowl combine strawberries, sugar, pepper, salt, corn startch, lime juice, mint and vanilla extract. Stir together until sugar is dissolved and transfer to skillet.

Cook strawberries over medium high heat for 5 minutes, stirring occationally then remove from heat.
To make cornbread topping
Whisk together flour, cornmeal, granulated sugar, powdered sugar, baking powder, and salt.

Stir in the cooled melted butter and chilled buttermilk. Stir until combined and forms wet batter.

Drop heaping spoonfuls of batter over the top fo the strawberries in the skillet. This does not have to be spread even. .

Bake in preheated oven for 30-35 minutes until crust is golden brown. Serve warm with vanilla ice cream.
*Nutrition information is a rough estimate.
**The equipment section above contains affiliate links to products I use and love. As an Amazon Associate I earn from qualifying purchases.