Sunshine Clementine Smoothie Bowl – Shake up your morning routine with this sweet and tangy, nutrient-packed smoothie bowl. This refreshing smoothie bowl is packed with Darling clementines, bananas, sweet mango, turmeric, and honey this smoothie bowl is super thick and creamy.
---
THIS RECIPE IS SPONSORED BY DARLING CITRUS
---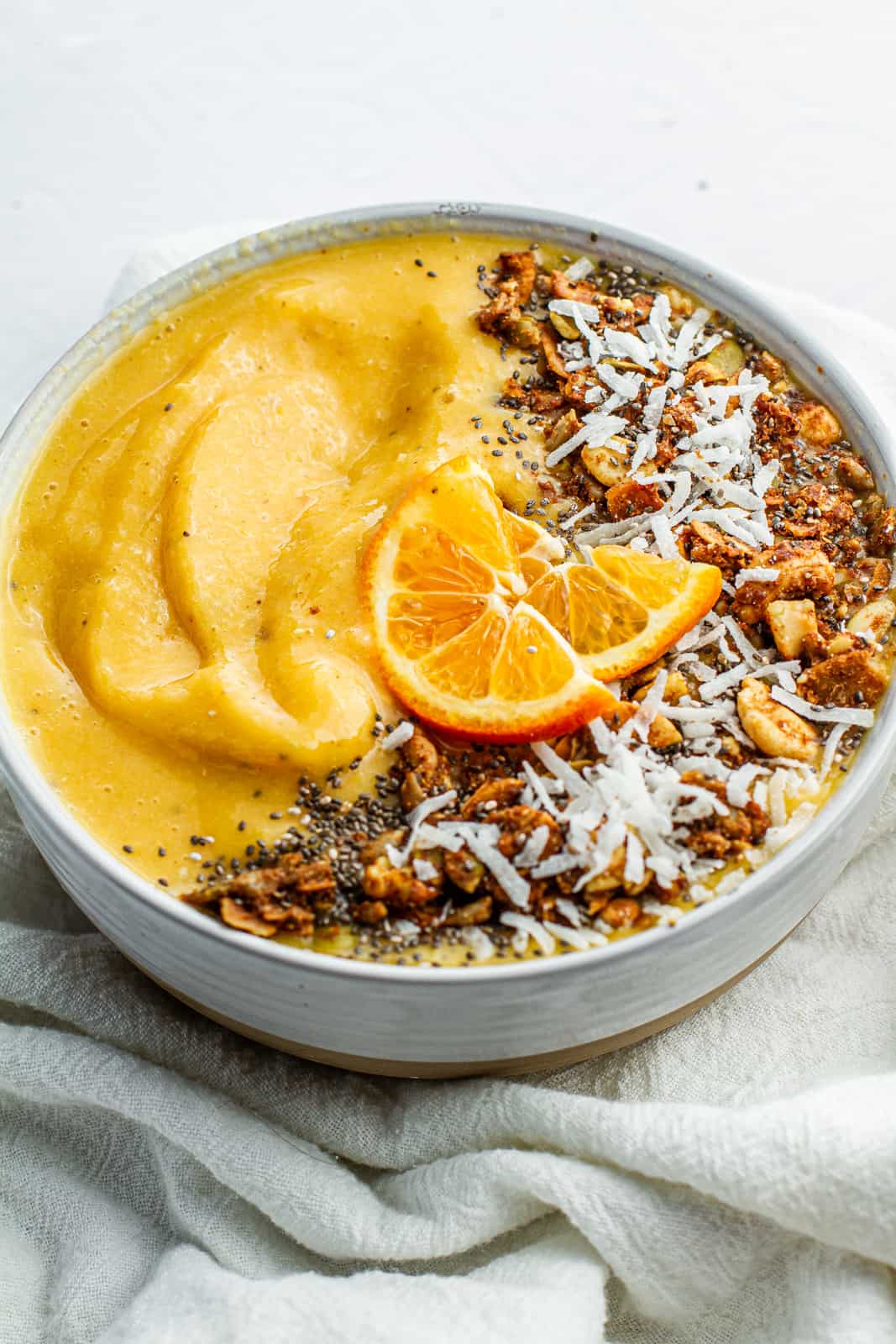 Sunshine Clementine Smoothie Bowl
Winter mornings. The days are shorter, the clouds hang low blocking any elusive rays of sunshine, and it's just cold. Admittedly not my favorite season and I find myself needing an extra boost to start my day off right.
Luckily it's citrus season and I'm getting life from all nature's seasonal candy. And my new favorite breakfast right now is Sunshine Clementine Smoothie Bowls! With just a few ingredients and a good blender, this thick and creamy smoothie bowl becomes a nutrient-packed powerhouse that can help you get through this gloomy time of year.
It's bright in color and flavor, and dense in nutrients from the Darling clementines, bananas, mangos, and turmeric. I keep it plant-based by using just a bit of almond milk and I add honey and salt to bring out the flavor. It really is the perfect morning pick-me-up.
Key Ingredients
To bring this tropical smoothie to life, you will need the key ingredients listed below.
Clementines: Sweet and tangy clementines are not only delicious but are also loaded with antioxidants. This means they're great for preventing and reducing inflammation in the gut. Personally, I'm a huge fan of Darling Clementines because they're incredibly juicy and always ripe!
Mangoes: Frozen fruit is the key to getting a really creamy smoothie, so freeze your mango chunks after chopping them or buy a pre-chopped frozen bag.
Bananas: Just like the mangoes, you're going to want to opt for frozen bananas. These add a wonderful flavor, texture, and tons of nutrients to the smoothie bowl.
Almond Milk: You'll need a little bit of milk to thin out the mixture and allow it to properly blend. I love using almond milk, but any type of plain milk will work well.
Honey: Small amounts of honey go a long way in enhancing all the beautiful flavors of the tropical fruit. This is optional, but I highly recommend it for the most delicious clementine smoothie bowl possible.
Turmeric: In addition to adding a pop of color and a ton of amazing health benefits, turmeric features an earthy flavor that brilliantly balances out the sweeter flavors of the fruit.
How to Make a Sunshine Clementine Smoothie Bowl
Ready to make the best clementine smoothie bowl you've ever tried? All you have to do is follow these two simple steps:
Add the smoothie ingredients to a high-powered blender and blend until smooth. Use the tamper to move ingredients around if they get stuck. The mixture should be thicker than the kind of smoothie you would drink with a straw.
Pour the smoothie into a serving bowl and add desired toppings. Serve immediately while cold and enjoy!
Smoothie Bowl Topping Ideas
When it comes to making smoothie bowls, let's be real. The best part is loading up your bowl with plenty of glorious toppings! While this smoothie bowl recipe is fantastic all on its own, I love adding a few different toppings for more flavor and tons of color.
Not sure what to top a smoothie bowl with? Don't worry, pretty soon you'll have a totally photo-worthy bowl. Here are some of the best smoothie bowl topping ideas to try out:
Sliced bananas
Granola
Shredded coconut
Seeds: Chia seeds, hemp seeds, or pumpkin seeds
Nuts: Sliced or chopped almonds, pecans, or cashews
Golden raisins
Bee pollen
Nut butter: Peanut, almond, cashew, or sunflower seed butter
Cacao nibs
Mint leaves
Clementine Smoothie Bowl Flavor Enhancers
When I say this is the best clementine smoothie bowl—I mean it. But let's break down what exactly makes it the best. Aside from using the freshest ingredients you can find, there are a few not-so-secret ingredients I always add to my tropical smoothie bowls to take them to the next level.
Honey: This is a delicious (and nutritious) way of enhancing the sweetness of the fruits in your smoothie bowl. Try your mixture without honey, then add in a tablespoon or two and blend it again. I guarantee you will taste the difference and fall in love!
Turmeric: With so many sweet components, adding an earthy ingredient like turmeric is wonderful for balancing out the smoothie bowl to make it even tastier. Not only that, but turmeric is one of the most nutritious spices on the planet.
To really amp up the health benefits turmeric offers, try adding just a tiny pinch of black pepper to the mix. Black pepper enhances the body's absorption of circumin, the active compound in turmeric and an incredible antioxidant.
Frequently Asked Questions
Here are some of the most frequently asked questions about this clementine smoothie bowl recipe:
What is the difference between a smoothie and a smoothie bowl?
While the ingredients used are often the same, the key difference between a smoothie and a smoothie bowl is that smoothie bowls tend to be thicker in consistency. This allows you to enjoy it with a spoon (as opposed to a straw) and add tasty toppings.
How do you thicken a smoothie bowl?
Frozen Fruit: The best way to thicken a smoothie bowl is to use only a small amount of liquid and to add frozen fruit, as opposed to fresh fruit. You can still purchase your fruit fresh from the store; just make sure to chop and freeze it before using it.
Use Tamper: A tamper is a stick-like tool that comes with your blender and is used specifically for thick consistencies like this. While your blender is running you can use the tamper in the top spout to help move ingredients around. If you still find it difficult to blend add additional liquid 1-2 tablespoons at a time.
Natural Thickeners: Adding ingredients like protein powder, extra ice, nuts seeds or nut butters, helping to solidify your viscosity sometimes absorbing liquid and naturally thickening the smoothie.
What is the best blender for smoothie bowls?
You really can't go wrong with any quality blender for smoothie bowls, but many people swear by the Vitamix Blendtec, and Ninja brands. Personally, I love my Breville Super Q. FYI this is an affiliate link which means I would get a small commission on your purchase.
More Healthy Breakfast Recipes
If you liked this clementine smoothie recipe, try these dishes next:
Now it's your turn!
This Sunshine Clementine Smoothie Bowl recipe is bright in color, flavor, and nutrients! I hope you give it a try and that it brightens up your winter mornings.
If you enjoy the recipe, please share it with your friends and family. And don't forget to give me some five-star love down below. And if you have any comments or questions, leave them below too, and I'll be sure to get back to you as soon as possible.
Ingredients
⅓ – ½

almond milk or preferred milk

5

clementines

peeled & segmented (see note 2)

2

tablespoons

honey

optional

2

bananas

sliced & frozen

½

cup

mango chunks

chopped & frozen

¼

teaspoon

ground turmeric

¼

teaspoon

kosher salt
Optional toppings:
fresh clementines

granola

mango chunks and/or pineapple chunks

banana

sliced

coconut

shredded

chia seeds
Instructions
All the smoothie ingredients to a high-powered blender and blend until smooth. Use the tamper to move ingredients around if they get stuck. The mixture should be thicker than a smoothie you would drink.

Pour smoothie into a serving bowl, add desired toppings and serve immediately while cold!
Notes
A high-powered blender and tamper are essential in properly breaking down frozen fruits.

For a looser consistency use fresh peeled and segmented clementines. And for an extra thick consistency use frozen peeled and segmented clementines.
Nutrition
Calories:
481
kcal
|
Carbohydrates:
99
g
|
Protein:
9
g
|
Fat:
10
g
|
Saturated Fat:
1
g
|
Polyunsaturated Fat:
6
g
|
Monounsaturated Fat:
1
g
|
Trans Fat:
1
g
|
Sodium:
303
mg
|
Potassium:
1106
mg
|
Fiber:
17
g
|
Sugar:
62
g
|
Vitamin A:
629
IU
|
Vitamin C:
132
mg
|
Calcium:
237
mg
|
Iron:
3
mg
*Nutrition information is a rough estimate.
**The equipment section above contains affiliate links to products I use and love. As an Amazon Associate I earn from qualifying purchases.