Hey now, this Sweet Potato Breakfast Hash is the solution for easy and filling breakfast/brunch ideas. Made with just a few simple ingredients – including sweet potatoes, bell pepper, and red onion – this skillet-cooked hash comes together quickly and has an irresistible, savory with a hint of sweet flavor. Best of all, it takes less than 30 minutes to make from start to finish, making it a great option for busy mornings when you need something quick yet delicious and nutritious.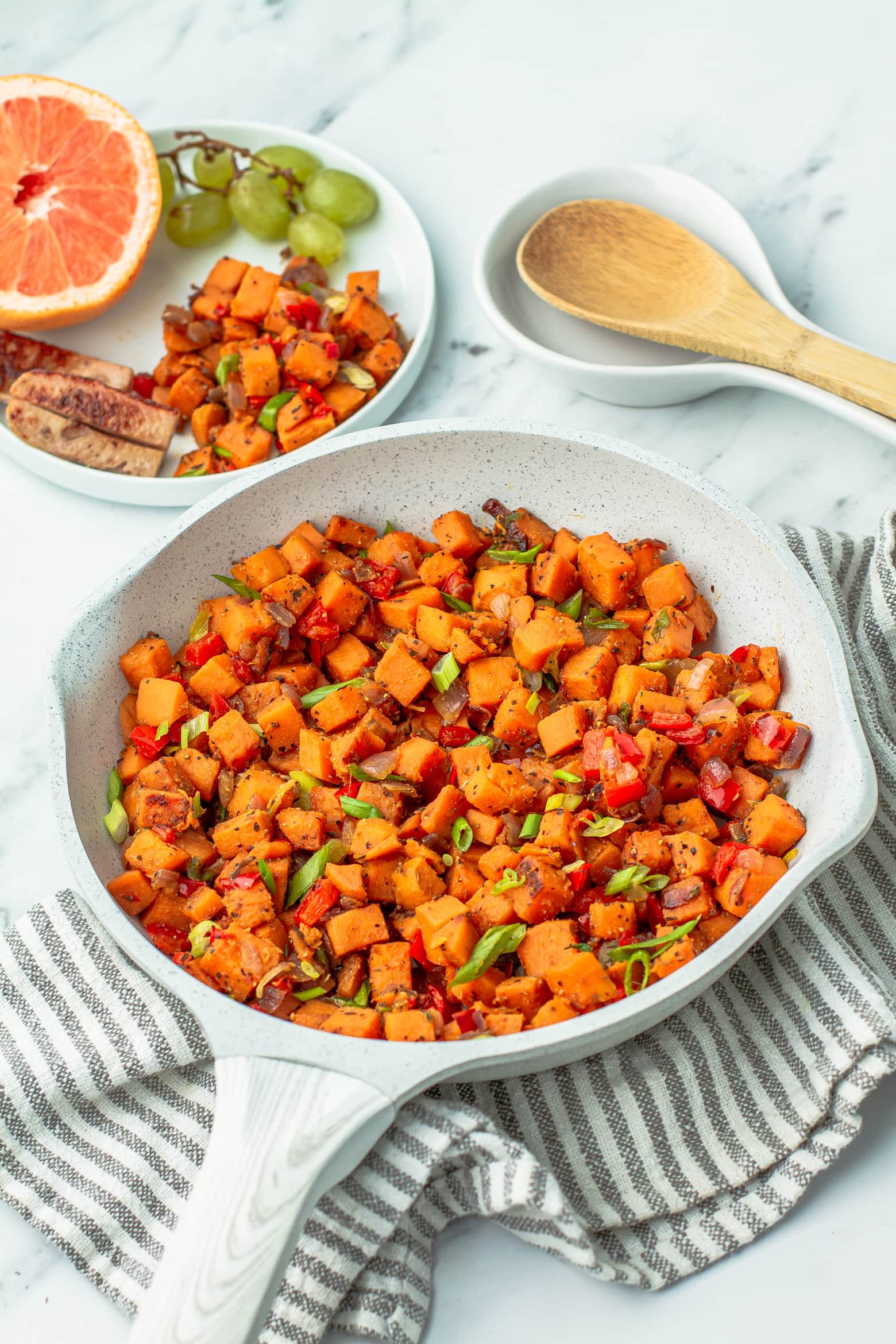 Sweet Potato Breakfast Hash Recipe
I love sweet potatoes yall. Like, I really love them. I could eat them for breakfast, lunch, and dinner and be perfectly content. In fact, if you make me this sweet potato hash, we OFFICIALLY GO TOGETHER. Periodt!
These savory sweet potatoes are loaded with delicious hearty flavor. Give me 30 minutes, and I'll give you the perfect sweet potato hash for breakfast, brunch or meal prep. Let's get into this recipe.
Sweet Potato Breakfast Hash Ingredients
Seasoning Blend – to season I use kosher salt, black pepper, garlic powder, granulated sugar, Cajun seasoning, and dry thyme, but you can sub in your favorite spices.
Sweet Potato Breakfast Hash
Butter & oil – because it's butter! Add a lil avocado oil or olive oil to get a higher smoke point and crispy edges.
Diced sweet potato – it's important to cut the sweet potato into even pieces so they cook evenly. I usually cut them into 1/2″ cubes.
Diced Red bell pepper – I used red bell peppers, but feel free to use any color you like or have on hand.
Diced red onion – again, any color onion will work fine here.
Green onions – for a little bit of green onion flavor, but you could also use chives.
Eggs – for serving, but it's optional. I like to fry my eggs so they get all nice and runny and mingle with the hash. You could also scramble your eggs or even do poached eggs.
How To Make Sweet Potato Hash Recipe
For the full recipe and detailed baking instructions, please see the recipe card at the end of this post.
Combine Seasonings In a small bowl, whisk together salt, pepper, garlic powder, Cajun seasoning, and dry thyme.
Cook Sweet Potato Hash: Add oil, butter, potatoes, and half the seasoning to the skillet as instructed, and cook. Add in onion and bell pepper, and remaining seasonings, and continue to cook until potatoes are tender.
Serve & Garnish: Remove from heat and garnish with chopped green onions.
Alternative Cooking Methods/Customizations
Swap potatoes. If you don't have sweet potatoes, you can swap in red potatoes, russet potatoes, purple potatoes, whatever you like.
Add different herbs like rosemary, sage, or basil.
Add some meat like sausage, soy chorizo or lean ground turkey.
Add veg like kale, mushrooms, or zucchini.
Make it spicy with some red pepper flakes, jalapenos or hot sauce.
Serve with avocado, sour cream, or cheese.
Different Ways To Serve Sweet Potato Hash
Breakfast: Serve with eggs any style, toast, or a side of fruit.
Brunch: Serve with mimosas and avocado toast.
Side dish: this dish is perfect as a side to grilled chicken, steak or fish. It would also be great as a side for your holiday meal.
Main dish: if you want to turn this into a main dish, add some protein like grilled chicken, shrimp, or tofu. You could also add some black beans or lentils to make it a little heartier.
Meal prep: this dish reheats well, so it's perfect for meal prep. Make a big batch on the weekend and enjoy all week long!
Wrap filling: use this hash as a filling for tacos, burritos, or wraps.
Make Ahead, Freezing, Storing
Make Ahead & Store:
The great thing about this dish is you can make it ahead of time. Just cook as directed, allow to cool and then store in the fridge for up to 4 days or in the freezer for 2-3 months.
Reheat: When you're ready to eat, just thaw in the fridge (if frozen), and reheat on the stove over medium heat until warmed through.

>>> Tips for Crispy Sweet Potato Breakfast Hash
While sweet potatoes typically don't get as crispy as white potatoes in dishes like sweet potato hash, you can use a few tricks to improve their texture.
Use oils with high heat points - like avocado oil or peanut oil.
Don't overcrowd the pan - use a large pan so that you don't steam the potatoes and prevent them from getting crispy. Give them plenty of space to cook undisturbed.
Leave the hash alone. Don't stir the sweet potatoes too often. This will allow the potatoes to get crispy on the outside.
Use small or medium-sized sweet potatoes. If your sweet potatoes are too large, they'll take longer to cook and may not get as crispy. Cut them into small or medium-sized pieces for best results.

Frequently Asked Questions
What should I serve with sweet potato hash?
Sweet potato hash is delicious on its own or you can serve it with eggs, avocado, hot sauce or salsa. It would also be great with a side of greens like kale or spinach.
Can I leave the skin on the sweet potatoes?
Yes, you can leave the skin on for this recipe. I prefer to peel them, but it's not necessary.
Can I use frozen sweet potatoes for this recipe?
If you want a crispy hash, I wouldn't recommend starting with frozen sweet potatoes. If crispiness isn't a requirement, I can't see why this wouldn't work, but I haven't tested it.
Before You Begin
Essential Tools
cast iron skillet
chef's knife
whisk
Recipe Prep
Read through the recipe. This is the first time making a particular recipe; take a couple of minutes to read it through from start to finish. I promise it will help you move through the recipe quicker when you understand what's coming next.
Chop sweet potatoes and vegetables evenly into 1/2″ pieces.
Sweet Potato Breakfast Hash Sweet Potato Breakfast Hash is the perfect savory dish for those mornings when you need something quick yet delicious and nutritious. This recipe is loaded with flavorful ingredients and can be customized to fit your preferences. Whether you're serving it for breakfast, brunch, or as a side dish, this Sweet Potato Breakfast Hash is sure to please.
Ingredients
2

tablespoons

oil

2

tablespoons

butter

2

lbs.

sweet potato

peeled, chopped medium

1

medium red onion

chopped medium

1

medium red bell pepper

chopped medium

1

bunch green onions

sliced
Instructions
In a small bowl combine salt, pepper, garlic powder, Cajun seasoning and dry thyme.

In a large skillet over medium heat add oil and butter, once butter has melted add sweet potatoes and half the season mix, cook for 3 minutes. Add red onion and bell pepper cook for 6 minutes. Add the remaining seasoning mix and half the green onions, cook for 1 minute. Remove from the heat and serve hot with remaining green onions.
Nutrition
Calories:
1308
kcal
|
Carbohydrates:
201
g
|
Protein:
17
g
|
Fat:
51
g
|
Saturated Fat:
7
g
|
Polyunsaturated Fat:
14
g
|
Monounsaturated Fat:
29
g
|
Trans Fat:
0.1
g
|
Sodium:
774
mg
|
Potassium:
3514
mg
|
Fiber:
32
g
|
Sugar:
48
g
|
Vitamin A:
133552
IU
|
Vitamin C:
185
mg
|
Calcium:
323
mg
|
Iron:
6
mg
*Nutrition information is a rough estimate.
**The equipment section above contains affiliate links to products I use and love. As an Amazon Associate I earn from qualifying purchases.