Inspired by Moroccan flavors, these boldly spiced turkey kefta kebabs with grilled peaches are sure to satisfy your summer street food cravings.
THIS RECIPE IS SPONSORED BY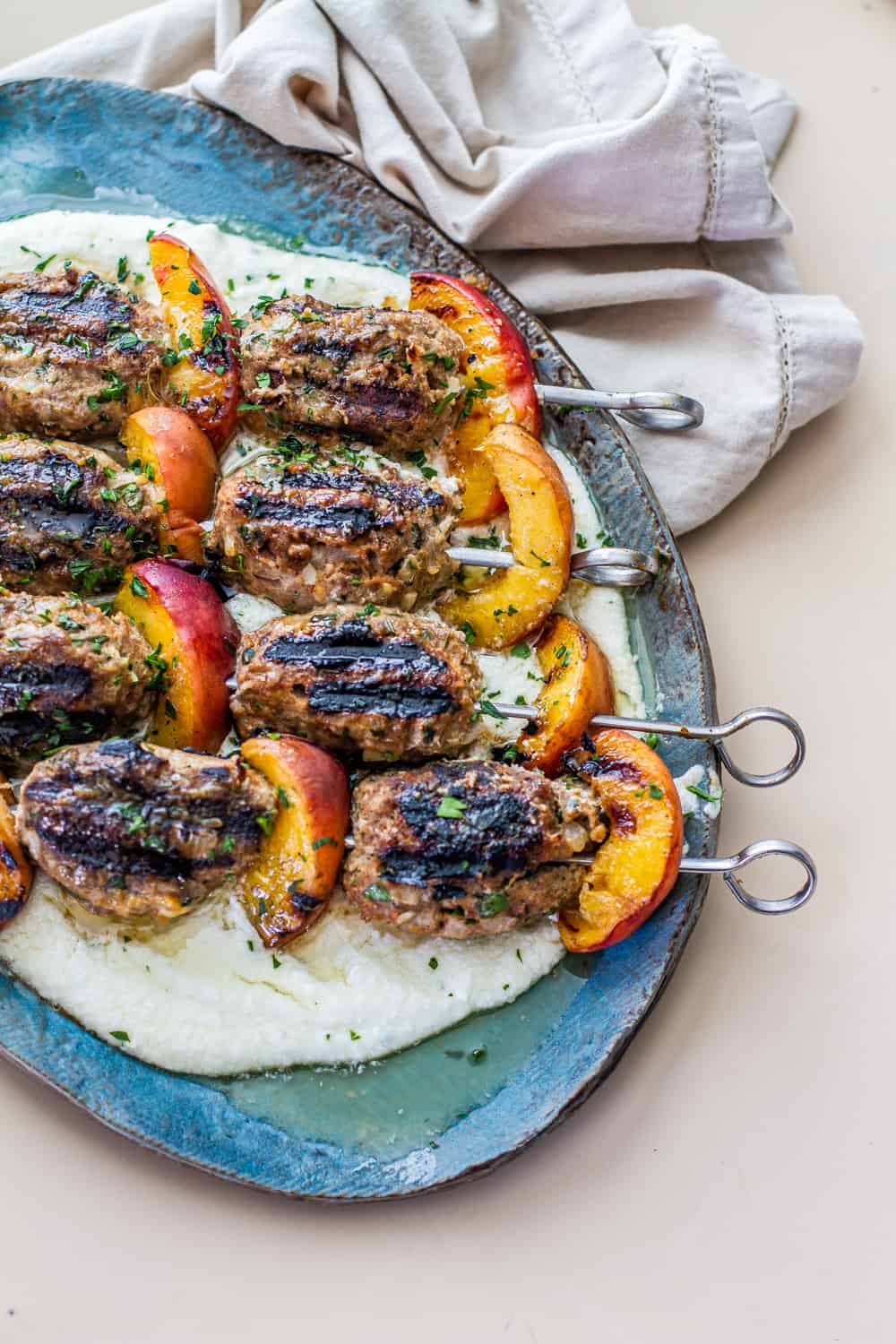 Don't you miss traveling? Nowadays the extent of my traveling includes looking at exotic recipes in cookbooks. Just the other day I was checking out this amazing cookbook, Casablanca – My Moroccan Food by Nargisse Benkabbou. The recipes are incredible. I stopped in my tracks when I saw the recipe for Kefta & Lentil Shakshuka. It reminded me of the delicious keftas I ate along the streets of Israel and Turkey.
Inspired by the flavor profiles, I jumped into action using what I had to make these Turkey Kefta & Grilled Peach skewers. These Moroccan-spiced turkey brochettes lacquered with peach preserves and nestled between juicy grilled peaches = mouthgasm!
The other day I bought a ton of yellow peaches to make my semi-homemade peach cobbler. Well, I had a ton of leftover peaches and promised myself I WOULD NOT let the excess peaches go bad and instead would find delicious ways to incorporate them into my meals. Let me tell you, this Turkey Kefta absolutely delivered on deliciousness.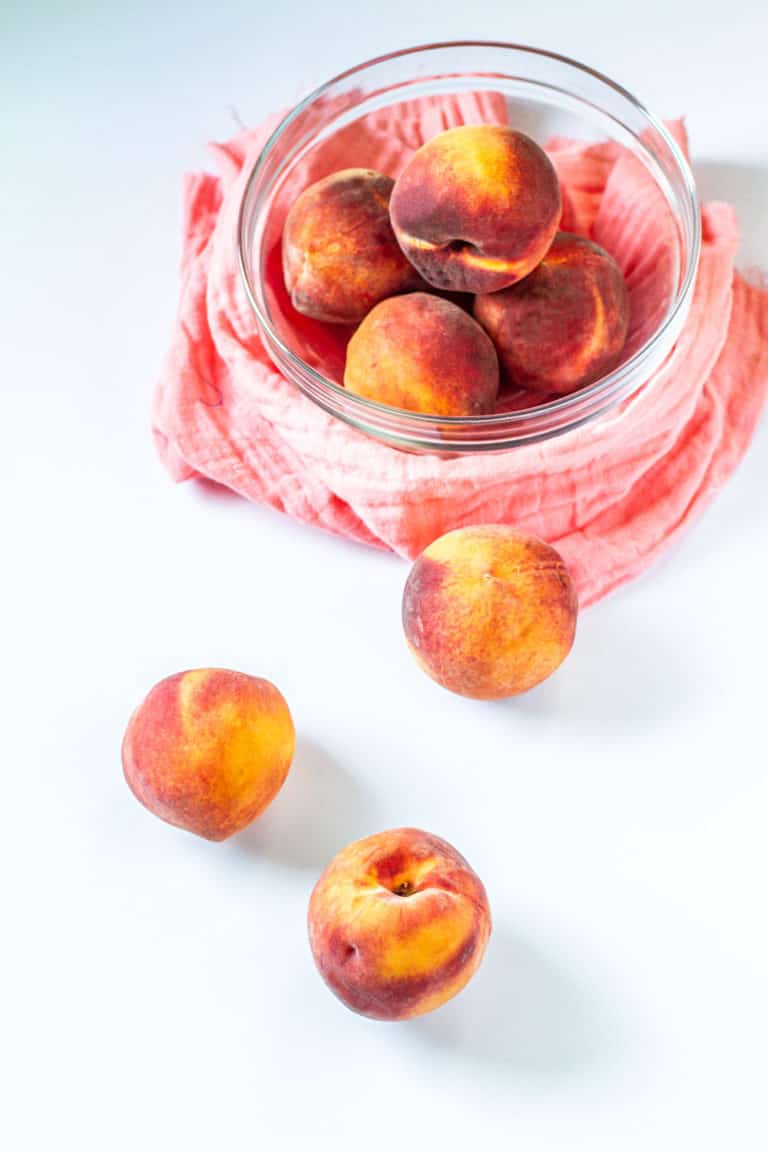 What is kefta or kofta?
Kefta are meatballs or patties traditionally made of ground lamb, beef or veal mixed with herbs and spices. The dish is common across the Middle East, North Africa, and India and there are slight variances in the way you pronounce the name depending on where you are from like kefta, kofta, kafta, kofte.
This is the kind of recipe that makes you forget about all the street food you planned on devouring during your covid-canceled summer vacation.
Morrocan kefta is traditionally made with ground beef or lamb. Flavoring typically includes a combination of warm spices & herbs like cinnamon, turmeric, nutmeg, cardamom, ginger, allspice, cloves, cayenne, and my favorite mint. To pair well with my peaches I substituted ground turkey and used an 85/15 blend to ensure they stayed moist after grilling.
How to make Turkey Kefta?
You can basically narrow prep into 3 steps:
Blend veg and spices in food processor
Add spice blend to ground turkey and breadcrumbs
Mold the turkey blend onto prepared skewers with peaches
If using wooden skewers, soak them in water for 30 minutes before grilling. To mold the kebabs I take 2 heaping tablespoons of the turkey blend and use my hands to form into a firm, football-like shape. Then I take the pointed end of a skewer and pierce it through the end making sure the oblong meatball is cuffed within my alternate hand to maintain its shape. I like to wet my hands with water in between handling the meat because it keeps it from sticking.
Once skewered they are all ready to place on a grill – indoor or outdoor, it's totally up to you. Brushing sweet peach jam over the top takes the taste up a few more notches. I brushed the Smoked Peach Jam gifted to me by Trade Street Jam Co. I've been waiting for something really good to use it on. Ashley the founder has created an exceptional range of jams with fun and unique flavor combos. Plus it's a black female-run business, yas queen!
Can you use different types of meat for Kefta?
This recipe is very flexible and you can substitute in ground beef, ground chicken, ground lamb and/or ground veal. If you can't choose, no worries. It is common for you to make a mix of both ground beef and lamb traditional keftas.
Do you need skewers to make kefta?
No skewers? No problem! Shhhh little secret, you can also bake these beauties. Just preheat the oven to 350°F. Arrange kefta on a lined baking sheet (with or without skewers) and bake for 30 minutes, turning and glazing halfway through and glazing again at the end.
I love food that takes you or a journey with each bite. There's just something so special about this combination of spices and herbs that instantly transports you to the sand dunes of North Africa.
Don't get comfortable because the flavor train doesn't stop there. I served mine on a bed of whipped feta – whipped yeah, I said it! I had to do a lil kitchen twerk for this clever pairing.
Now listen, this next step is very, very important. To get the perfect bite you have to be strategic my friend. You have to cut a piece of turkey kefta, plus a piece of the peach, and if you made the whipped feta drag your fork through that too. Take a bit and enjoy a little piece of heaven
What to serve kefta with?
warm pita
hummus
tzatziki sauce
tomatoes
cucumbers
olives
sliced red onions
toum – garlic spread
fresh salad
couscous
rice
More Delicious Peachy Recipes
Ingredients
1

lb

85/15 ground turkey

¼

onion

grated or finely minced

2

cloves

garlic

finely minced

¼

cup

bread crumbs

½

teaspoon

ground cumin

½

teaspoon

ground coriander

⅛

teaspoon

cayenne pepper

¾

teaspoon

ground cinnamon

¼

teaspoon

ground nutmeg

¼

teaspoon

smoked paprika

1

teaspoon

kosher salt

½

teaspoon

black pepper

1

tablespoons

mint sprigs

chopped

¼

cup

flat-leaf parsley or cilantro

chopped

3

tablespoons

peach jam

melted
Instructions
Lightly oil the grates of grill or grill pan and preheat it to medium-high.

In a food processor combine ground turkey, onion, garlic, bread crumbs, cumin, coriander, cinnamon, nutmeg, smoked paprika, mint, salt, and pepper, parsley in a food processor and blend until everything is combined.

Take about 2 tablespoons of the mix and mold into approximately cylinders or sausage shapes. Skewer the meat, squeezing it to mold it to the skewer. Thread peach slice followed by kefta, repeat once more and end with a peach slice if space permits. Secure kefta by pressing them tightly in place. Brush on peach jam across the kefta and peaches on all sides.

Grill 5-6 minutes each side, turning them to cook evening or until the interior temperature registers 165 degrees on an instant-read thermometer.
Notes
If using wooden skewers, soak them in water for 30 minutes before grilling.
If using lean meat add some olive oil to ground turkey to keep moist.
Keep a bowl of what nearby to reduce the stickiness and help you mold the kefta.
Nutrition
Calories:
138
kcal
|
Carbohydrates:
12
g
|
Protein:
19
g
|
Fat:
2
g
|
Saturated Fat:
1
g
|
Polyunsaturated Fat:
1
g
|
Monounsaturated Fat:
1
g
|
Trans Fat:
1
g
|
Cholesterol:
42
mg
|
Sodium:
465
mg
|
Potassium:
280
mg
|
Fiber:
1
g
|
Sugar:
5
g
|
Vitamin A:
327
IU
|
Vitamin C:
5
mg
|
Calcium:
27
mg
|
Iron:
1
mg
*Nutrition information is a rough estimate.
**The equipment section above contains affiliate links to products I use and love. As an Amazon Associate I earn from qualifying purchases.