Looking for a delicious, healthy way to enjoy Southern cuisine? This Vegetarian Southern Greens recipe will leave you feeling satisfied and content. A combination of collard greens, mustard greens, and turnip greens for that classic Southern flavor without any of the meat. You'll love this dish whether you're a vegetarian or not!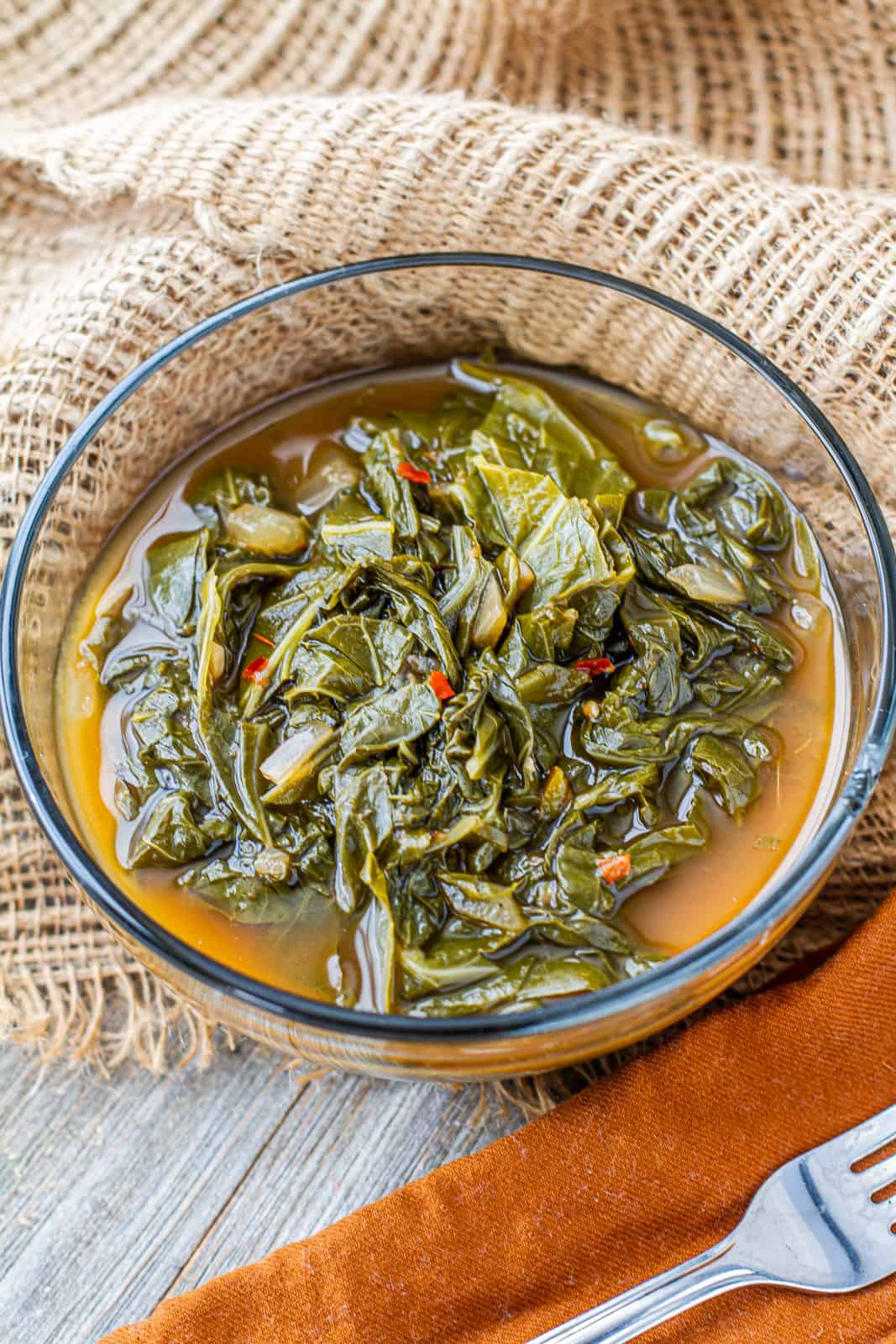 Vegetarian Southern Greens
I've said it a million times, and I'll say it again, I LOVE LOVE LOVE greens. I wrote a complete greens guide to share my love with you. And like with most black people, greens are a must at every family function. We have to make two versions in our family, my fave with smoked turkey and a second vegetarian blend for my sister Marsaidees.
She grew up loving greens as much as me, but when she decided to go vegetarian, that was the first recipe we collaborated to make a delicious plant-based version. Surprisingly, meatless greens are just as incredible. Most recipes call for smoked meats for flavor, but I have some great plant-based friendly ingredient additions that help impart tons of flavor, so you don't really miss the meat at all.
Key Ingredients
To make this delicious Southern side dish, you'll need the key ingredients below.
Greens: I like to use a combination of collard greens, mustard greens, and turnip greens. Make sure to remove the stems before chopping your greens into smaller pieces.
Picante salsa: You can use your favorite store-bought Picante salsa or make your own from scratch. This adds a ton of great flavor and a little bit of a kick. Totally up to you!
Broth: You will need equal parts mushroom broth and vegetable broth for this dish. Make sure you get the unsalted version of both.
Vinegar: You can use either apple cider vinegar or white vinegar. Both will add a tanginess that balances out the dish and enhances the rest of the flavors.
Worcestershire sauce: This ingredient is often used to enhance the flavor in meaty dishes; this ingredient imparts deeply savory umami flavors into the dish.
Liquid smoke: A little liquid smoke goes a long way in imparting a deeply rich flavor and smokiness to this delicious dish.
Hot sauce: Louisiana hot sauce is the perfect way to add a bit of a kick to the dish in true Southern fashion! If you're worried about it being too spicy, feel free to cut back on the amount or leave it out altogether.
How to make Vegetarian Southern Greens
This cozy side dish is perfect for holiday feasts and casual family dinners alike. To make Vegetarian Southern Greens, follow these simple steps:
Thoroughly clean the greens, then remove the stems and roughly chop collard greens, mustard greens, and turnip greens.
Add the wet ingredients to the Instant Pot and stir. Then, add the onion, salt, garlic, pepper, cumin, chili flakes, and bay leaves, and stir again.
Add the greens and press them down to ensure everything fits in the liquid. Seal the lid, then set the pressure cooker to high. Cook greens for 30 minutes.
When the timer goes off, release the steam and taste the greens. Adjust the seasoning as needed, then serve the greens with additional hot sauce and vinegar.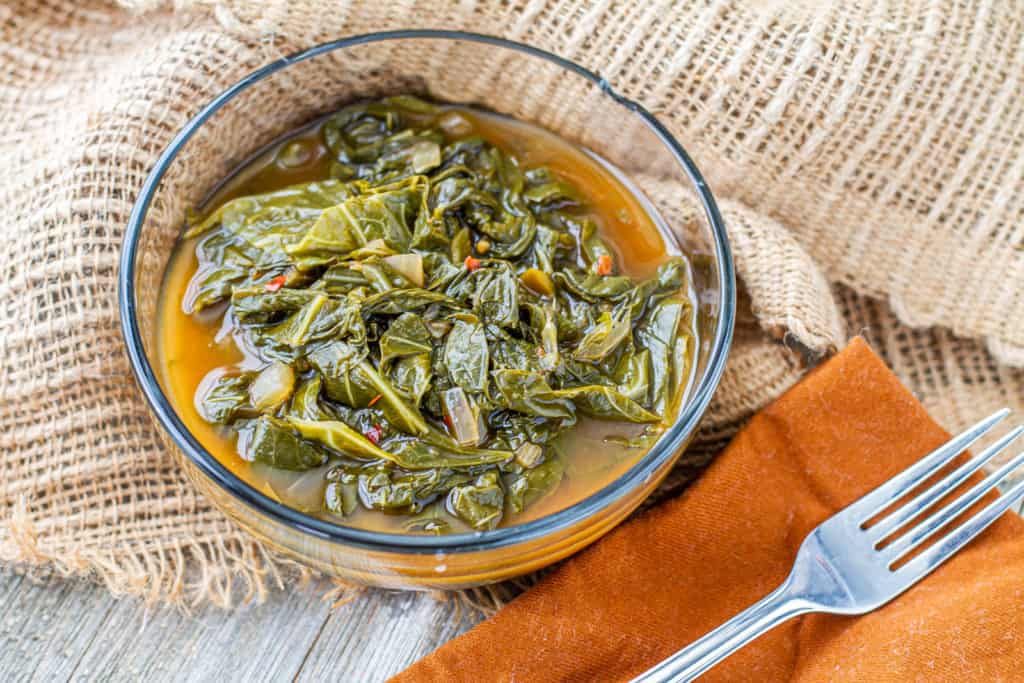 What is Pot Liquor?
Pot liquor, also called pot likker, is the liquid that gets left behind after greens, beans, or meats are simmered. The leafy greens give the broth it's signature dark green color. Because pot liquor is loaded with vitamins absorbed from the greens, many people in the South used to drink it as a health tonic.
Pot liquor (pot likker) is often referred to as a Southern superfood because it's both nutritious and incredibly flavorful. Nowadays, Southern chefs often use it to enhance the flavors of other dishes. Yum! I highly recommend saving your pot likker and using it as a base for soup or dipping your cornbread in it.
Southern Greens Without the Meat: Why it Works
While the average Southern greens side dish calls for the addition of meat and meat broth for rich, savory flavors, this vegetarian recipe leaves those out for a more inclusive dish that everyone can enjoy. Instead, I replicate those rich and savory flavors by adding liquid smoke and liquid aminos.
In place of the beef or chicken broth typically used, I use a combination of mushroom broth and vegetable stock. The end result? Vegetarian Southern Greens that are absolutely drool-worthy and, trust me, nobody will miss the meat.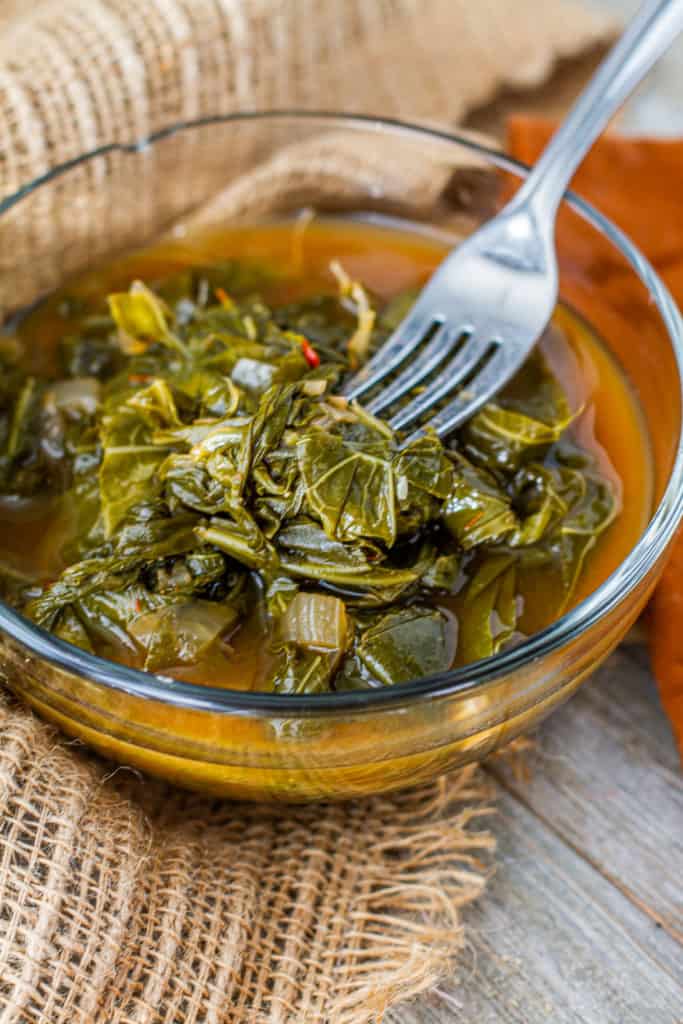 How to Make Vegan Southern Greens
Looking for a comforting vegan side dish? You can easily turn this recipe into a Vegan Southern Greens dish by swapping out the honey for agave syrup. Simply follow the recipe as instructed, adding the same amount of agave in place of honey.
How to Clean Collard Greens
It's absolutely essential to clean your greens before cooking them to eliminate any dirt, sand, and bugs that might be clinging to the leaves. To clean your collard greens (and any other leafy greens), I recommend soaking them in a bowl of saltwater.
To do this, simply fill a large bowl with water and add kosher salt. Submerge your greens and allow them to soak in the saltwater for around 5 minutes, using your hands or a spoon to swish them around in the water once or twice.
Then, pour out the dirty water, replace it with clean water, and then swish the leaves around once more before removing and drying them. Voila!
How to Store This Dish
To reheat the dish, heat the greens on a pan over medium heat until warmed through, about 5-7 minutes. To store leftover greens, allow them to cool completely before transferring them to an airtight container. Once properly stored, you can keep them in the fridge for up to 3-4 days.
Now it's your turn!
This Vegetarian Southern Greens recipe is the perfect way to enjoy your greens without all of the guilt! A combination of collard greens, mustard greens, and turnip greens will leave you feeling satisfied and content. Also, check out The Southern Style Greens Guide on tips on how to pick, clean, and cut your greens properly.
If you enjoy the recipe, please share it with your friends and family. And don't forget to give me some five-star love down below. And if you have any comments or questions, leave them below too, and I'll be sure to get back to you as soon as possible.
More Instant Pot Recipes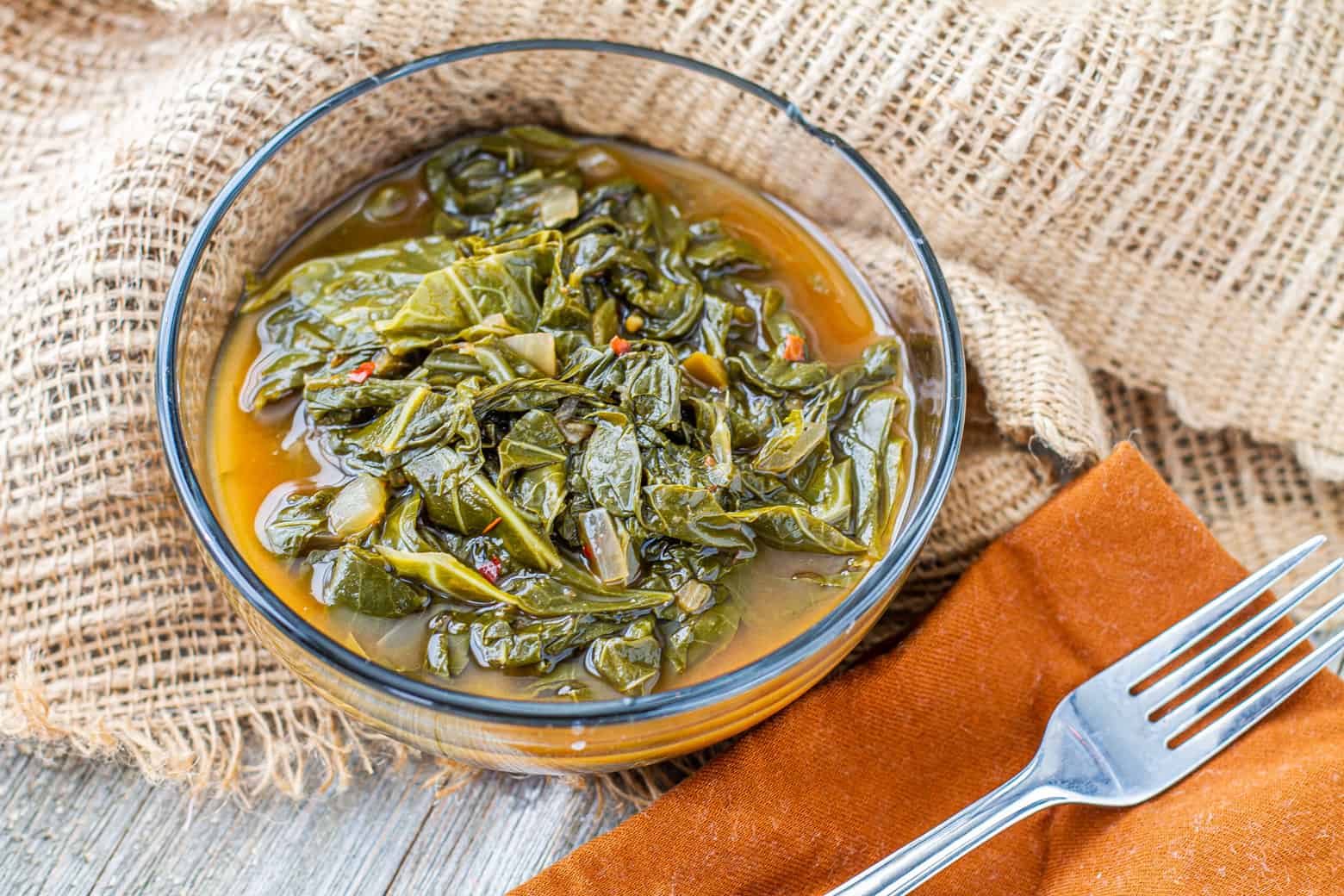 Ingredients
2

lb

collard greens

stem removed and chopped

1

lb

mustard greens

stem removed and chopped

1

lb

turnip greens

stem removed and chopped

1

medium onion

chopped

2

cups

16 oz picante salsa, medium

1/3

cup

apple cider or white vinegar

2

cups

unsalted vegetable stock

2

cups

unsalted mushroom broth

3

tablespoons

worcestershire sauce

2

tablespoons

honey

2

tablespoons

Louisiana hot sauce

1

tablespoon

kosher salt

Plus more to taste

2

garlic cloves

chopped

2

tablespoons

liquid smoke

2

tablespoons

liquid aminos

1

teaspoon

black pepper

1 /4

teaspoon

ground cumin

1 1/2

teaspoons

red chili flakes

2

bay leaves
Instructions
Thoroughly clean the greens to remove dirt and bugs. Remove the stem of the greens then roughly chop them.

Add all the wet ingredients (vegetable stock, picante salsa, vinegar, Worcestershire sauce, honey, hot sauce, liquid smoke)to the instant pot and stir.

Next add the onion, salt, garlic, pepper, cumin, chili flakes, and bay leaves and stir.

Finally, add in all the greens. Press down so that everything fits and seal the instant pot lid on top.

Place the lid on the pot and seal.

Manually set the pressure cooker level to high for 30 minutes.

Carefully instant release pressure cooker steam, then open lid and taste collards; adjust seasoning as needed. Serve greens with additional hot sauce and vinegar.
Nutrition
Calories:
1036
kcal
|
Carbohydrates:
211
g
|
Protein:
63
g
|
Fat:
11
g
|
Saturated Fat:
1
g
|
Polyunsaturated Fat:
4
g
|
Monounsaturated Fat:
1
g
|
Sodium:
16186
mg
|
Potassium:
7311
mg
|
Fiber:
81
g
|
Sugar:
86
g
|
Vitamin A:
116326
IU
|
Vitamin C:
955
mg
|
Calcium:
3779
mg
|
Iron:
24
mg
*Nutrition information is a rough estimate.
**The equipment section above contains affiliate links to products I use and love. As an Amazon Associate I earn from qualifying purchases.