Summer never tasted so good with this refreshing and easy watermelon salsa. Serves great with chips or over grilled seafood and poultry. Serves up in just ten minutes.
Inspired by the great words of Auntie Maxine, I declare today, that I am RECLAIMING MY BLOG. To say that I have had a love hate relationship with consistency on the blog this year is an understatement. 2017 launched with so many competing priorities that it has been difficult to give everything the attention it needs.
As a result MATD unfortunately, has been a bit neglected over the last few months but it has never left my heart. I am always thinking of new ways to offer more value to those of you subscribers but as the ideas flow in I sometimes get overwhelmed with the load of work that accompanies it.
I have to also confess that the time away has also driven a bit of anxiety and insecurity about where my blog is compared to where I think it should be. I had some one-on-one convos with other entrepreneur friends who said these feelings were normal and apparently what I had signed up for when I decided to become a solopreneur. I don't know honey, that must have been in the fine print.

Regardless, taking some time away has allowed me to focus in on where I want to take the blog which will involve a visual refresh, some narrowing of content as well as some new perks for loyal subscribers. I'll talk to you more about the details of the changes over the next few weeks but just know that I am still here, not perfect, but still fighting the good fight.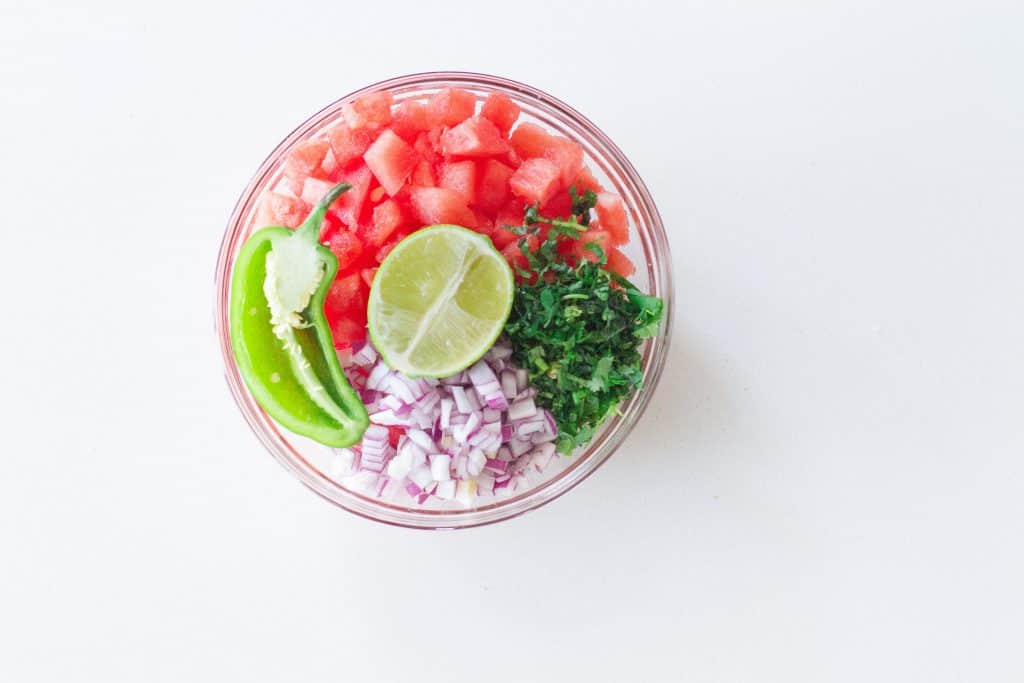 Watermelon Salsa Ingredients?
Watermelon- is a yummy, light, and refreshing alternative to traditionally used tomatoes. It mingles well with herbal and savory flavors.  
Fresh lime juice- adds a bit of zing and also preserves your salsa's refrigerated life. 
Honey- enriches the salsa with is floral sweetness
How to Choose Watermelon?
Oval (elongated) watermelons tend to be watery whereas round watermelons are sweeter.
The watermelon should be heavy for its size.
Look for the ground spot, a creamy yellow splotch. This splotch develops where the watermelon rested on the ground. When the splotch is a creamy yellow color, it's ripe.
Give the melon a tap or knock. A ripe watermelon will have a hollow sound, which indicates it is ready to eat. 
Cut both sides of the watermelon where the stem is and the opposite end using a chef's knife. Then place the watermelon on one of the flat sides. Vertically cut along the edge separating the rind from the flesh. 
After the rind has been removed from around the entire watermelon cut it in half and place it on the flat side. Make several horizontal cuts followed with vertical cuts creating long cubes that can be diced.
What do I Serve with Watermelon Salsa?
This light, refreshing, and flavorful salsa serves well with tortilla chips or grilled seafood and poultry.
Watermelon Salsa Recipe Video
As a matter of fact, the other day I was testing out new recipes and decided I would share one of them with you to get things back rolling.
Summer is my favorite season for many reasons but one of those reasons is that its peak season for watermelon. Since I was a kid I haven't been able to resist a big ole slice of juicy watermelon. Today isn't any different, only now I try to jazz it up in recipes like this delicious watermelon salsa. It is so refreshing and light that it disappears almost as quickly as you put it down.
Once you get past cutting through the mammoth fruit the rest is easy-peasy. Just chop up a few simple ingredients: cilantro, jalapeno, red onion and toss with honey and lime and you will be introducing your taste buds to your new summer snack.
Don't wait too long to give this recipe a try, you definitely want to do it now that watermelon are in their prime because peak season ends at the end of August. Go ahead and check out the recipe below and don't forget to tag @MeikoAndTheDish on social media.
Refrigerate leftover for up to 3 days in an airtight container
Shallots can be used to substitute red onions, they have a milder flavor.
Pre-cubed watermelon from the grocery store can save you some time.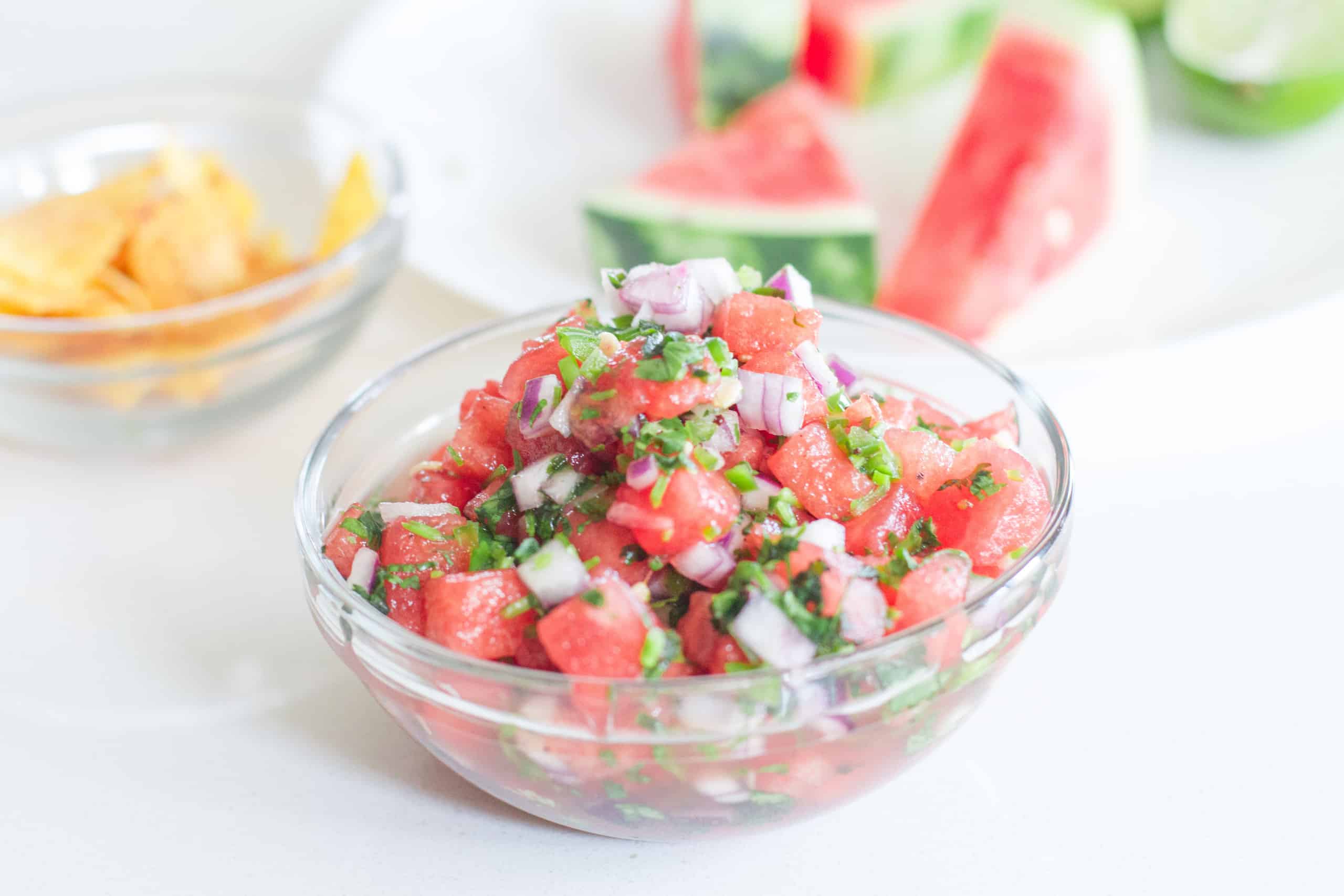 Ingredients
4

cups

watermelon

seeded & diced

1-2

fresh

jalapeno(s)

seeded & finely diced

⅖

cup

fresh cilantro leaves

chopped

⅓

cup

red onion

diced

1 ½

tablespoons

honey

2

limes

juiced

½

teaspoon

kosher salt

½

teaspoon

black pepper
Instructions
Whisk lime juice, honey salt and pepper in a bowl until mixed.

Combine all the remaining ingredients into a large bowl and drizzle over the lime/honey mixture. Toss and serve or refrigerate in airtight container.
Nutrition
Calories:
58
kcal
|
Carbohydrates:
15
g
|
Protein:
1
g
|
Fat:
1
g
|
Saturated Fat:
1
g
|
Sodium:
197
mg
|
Potassium:
159
mg
|
Fiber:
1
g
|
Sugar:
11
g
|
Vitamin A:
733
IU
|
Vitamin C:
19
mg
|
Calcium:
17
mg
|
Iron:
1
mg
*Nutrition information is a rough estimate.
**The equipment section above contains affiliate links to products I use and love. As an Amazon Associate I earn from qualifying purchases.