Get ready to drizzle, pour, dip and spread this Homemade Caramel Sauce on just about everything. Picture this velvety, liquid gold over vanilla ice cream, cakes, and pancakes, or stir it into iced coffee for an irresistible treat. This not so modest, 5 ingredient, creamy caramel sauce recipe is rich and buttery with hints of deep, molasses-kissed sweetness. Store-bought versions pale in comparison.
Need Some Serving Suggestions?

Craving a little inspiration on how to make the most of your Homemade Caramel Sauce? Look no further, because I've got your back. Here are some heavenly pairing ideas for your Homemade Caramel Sauce:

Pour it over some ice cream for a delicious sundae.
Drizzle it over fresh fruits like apples, bananas, or strawberries.
Top off a warm slice of apple pie, brownies or cake.
Use it as a pancake or waffle topping.
Enjoy it with popcorn.
Add a dollop to your morning coffee.
Blend it into milkshakes.
And don't forget, it makes a great gift!
Let me tell you, when it comes to caramel, you should be making it at home. I mean, we've all heard it a million times, but trust me, it's SOOOOO true!
Sure, you could grab a jar from the grocery store, but let me be real with you—that often means you're also taking home high fructose corn syrup, or artificial colors and flavors. When you make your own caramel sauce from scratch, using just five simple ingredients: sugar, cream, butter, water, salt and if you're feeling fancy, a little splash of vanilla extract.
Now, I know making caramel sauce might sound intimidating, but trust me, it's totally doable for cooks of all levels. Oh, and here's the best part—you don't even need a candy thermometer to make it!
What You'll Need For This Caramel Sauce Recipe
Granulated sugar: When heated, it melts and transforms into a rich, golden caramel goodness that will make your taste buds sing.
Water: A splash of water is all you need to kickstart the caramel-making process. It helps dissolve the sugar and ensures a smooth and even caramelization.
Kosher salt: We're bringing a hint of saltiness to the party with kosher salt. It may seem counterintuitive, but trust me, a touch of salt beautifully balances the sweetness of the caramel, creating a flavor sensation that will leave you wanting more. I
Heavy cream: This luscious ingredient adds a luxurious creaminess to our caramel sauce. When it combines with the melted sugar, it creates a velvety smooth texture that will make you weak in the knees.
Cold unsalted butter: Ah, butter, the magical ingredient that adds richness and depth to our caramel sauce. Once it's whisked into the mixture, it imparts a velvety mouthfeel and enhances the caramel's flavor profile.
How To Make Easy Caramel Sauce Recipe
Here's how you whip up your very own Homemade Caramel Sauce in a snap: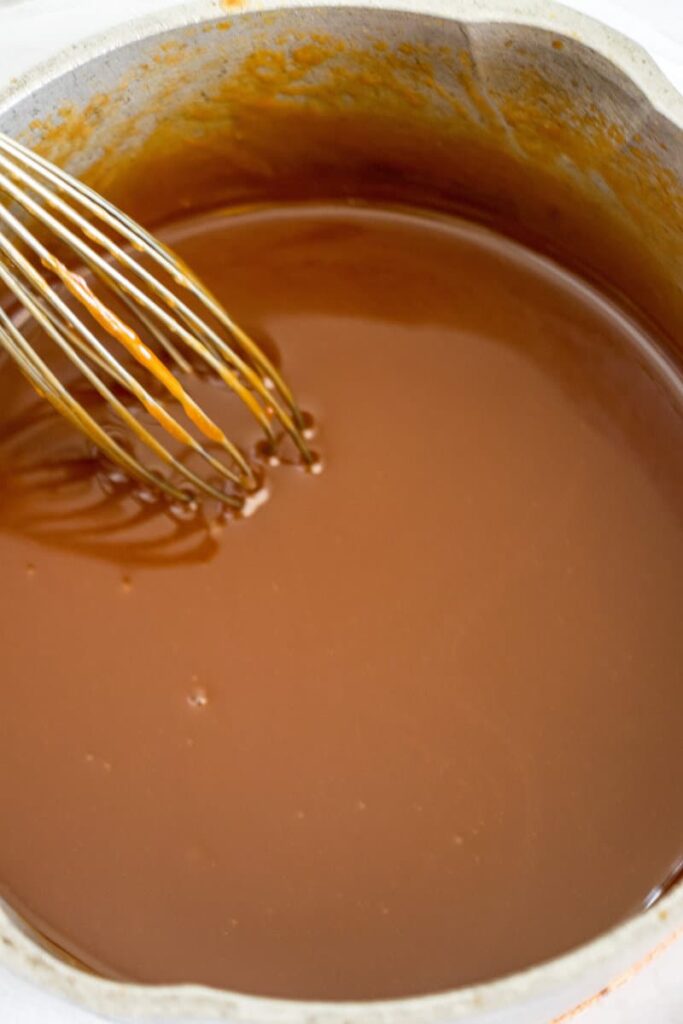 Storage & Reheating Recommendations
Storing Caramel Sauce:
Once the caramel sauce has cooled to room temperature, transfer it to a lidded glass jar or heat safe container.
Keep the jar tightly sealed and store it in the refrigerator for up to 3 weeks, or in the freezer for up to 2 months.
When freezing, make sure to leave some headspace in the container as the sauce may expand.
Reheating Caramel Sauce:
Due to the caramel solidifying in the refrigerator, it may become stiff. But don't worry, you can easily bring it back to a pourable consistency.
To reheat the caramel sauce, there are a couple of methods you can use:

Stovetop Method: Place the heat safe jar of caramel sauce in a small saucepan with hot water. The water level should be enough to cover the jar halfway, but ensure no water gets into the sauce. Let the jar sit in the hot water for about 15 minutes.
Microwave Method: Transfer a portion of the caramel sauce to a microwave-safe bowl. Heat it in short in 15-second bursts, stirring in between, until the desired consistency is achieved. Be cautious not to overheat and scorch the sauce.
Meiko's Pro Recipe Tips

Choose the right tools: Grab a metal whisk to whip up this sauce and opt for a heavy-bottomed pan to ensure even cooking.
Resist the stir: Avoid stirring the sugar and water as it heats up. Stirring leads to grainy texture. Instead, gently swirl the pan, ensuring the caramel doesn't climb too high. We want smooth and creamy, not grainy.
Crystallization savior: If crystallization strikes, no need to panic. Simply add a scant 1/4 cup of water and gently bubble the sugar. This dissolves the crystals, allowing you to proceed with the recipe.
Butter power: Whether you crave salted or unsalted caramel, opt for unsalted butter instead of salted butter. It grants you better control over the final saltiness.
Use cold butter: Adding cold butter to the caramel sauce helps to emulsify the ingredients and create a smooth and creamy texture.
Patience pays off: Keep a watchful eye while the caramel cooks. It takes around 8-12 minutes to thicken and transform into that gorgeous amber color. Stay attentive and never stray from the stove because the sauce swiftly transitions from clear to golden amber brown. One moment it appears stagnant, then suddenly it deepens in a blink.
Thin or thick: Adjust the sauce consistency to your liking. For a thinner sauce, use 1 cup of water. For a thicker texture, cook the caramel longer after adding the cream.
Flavor booster: Elevate your caramel sauce with a touch of vanilla extract for an extra burst of flavor.
Handle with care: Hot caramel is a no-no for your skin. If any contact occurs, immediately rinse the area with cold water.
Frequently Asked Recipe Questions
Do I need a candy thermometer?
Nah, No need for a thermometer here. Trust the color. If you wanna get fancy, the target temp is between 338-350°F.
Does homemade caramel sauce need to be refrigerated?
Yep! Since it has cream and butter, stick it in the fridge once it cools. Just warm it up when you want to use it.
Can you use brown sugar?
I don't recommend it. Brown sugar gives a different flavor and needs different measurements. Find a recipe made for brown sugar instead.
What if the mixture seizes?
Don't worry if it seizes when you add cream and butter. It's normal. Keep stirrin' and it'll smooth out in a minute or two. If not, lower the heat and stir a bit more.
Does homemade caramel sauce need to be refrigerated?
Yep! Cream and butter need refrigeration. It'll get thick when cooled, so reheat for drizzling consistency.
Prep Your Tools & Ingredients
Here is a quick list of things to do before the recipe to ensure everything goes smoothly. This list may contain affiliate links which won't change your price but will share some commission to help support this blog.
Gather Your Tools:
Heavy bottom sauce pan or skillet
Metal whisk
Glass jar or heat safe storage contain with lid.
Recipe Prep
Always read the recipe through at least 1 time before you start. It helps you move faster when you already know what step is coming next.
Measure out all of your ingredients.
Servings:
10
3 tbsp-size servings (makes 2 cups)
Ingredients
1 ½

cups

granulated sugar

½

cup

water

¼

teaspoon

kosher salt

¾

cups

heavy cream

1

tablespoon

cold unsalted butter
Instructions
Melt sugar. In a medium saucepan over high heat, combine sugar, water, and salt. Cook for 5 minutes uninterrupted or until the sugar melts and transforms into a light caramel color.

Add cream. Take it off the heat and add the cream (be prepared for some steam and bubbling action). Bring the mixture to a boil over low heat, whisking until the sauce becomes smooth and velvety.

Add butter. Remove from heat and whisk in cold butter until everything becomes beautifully smooth and creamy.

Serve. Let it cool before transferring to an airtight container or adding on your favorite desserts and pastries.
Nutrition
Calories:
186
kcal
|
Carbohydrates:
30
g
|
Protein:
1
g
|
Fat:
8
g
|
Saturated Fat:
5
g
|
Polyunsaturated Fat:
0.3
g
|
Monounsaturated Fat:
2
g
|
Trans Fat:
0.05
g
|
Cholesterol:
23
mg
|
Sodium:
64
mg
|
Potassium:
18
mg
|
Sugar:
30
g
|
Vitamin A:
297
IU
|
Vitamin C:
0.1
mg
|
Calcium:
13
mg
|
Iron:
0.03
mg
*Nutrition information is a rough estimate.
**The equipment section above contains affiliate links to products I use and love. As an Amazon Associate I earn from qualifying purchases.