We're serving up a colorful Louisiana classic, Quick Stovetop Cajun Corn Maque Choux. Imagine vibrant corn kernels, sautéed with a trinity of bell peppers, celery, and onions until they're singing in harmony with that fiery Cajun spice. This ain't just a side dish, it's a showstopper.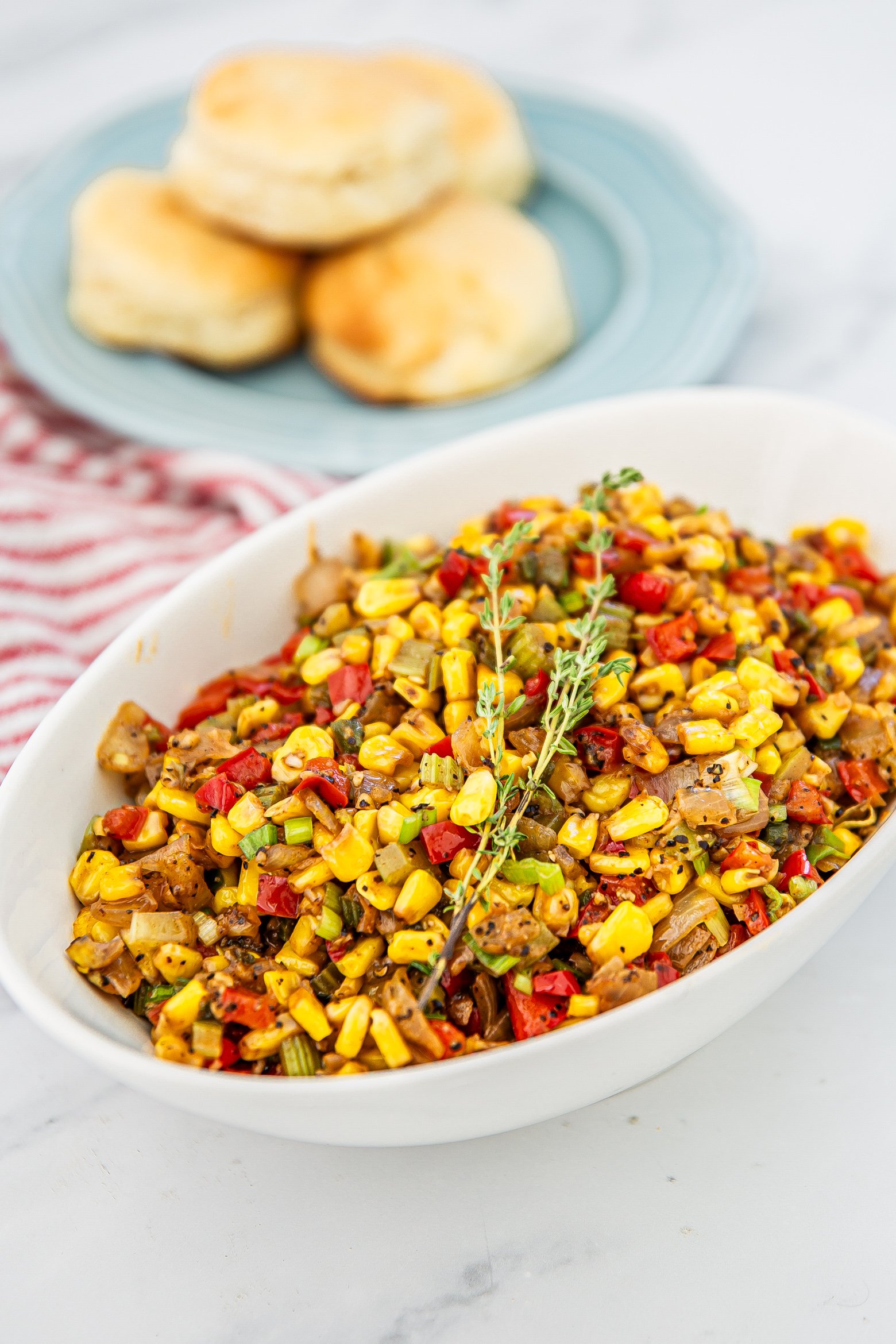 Need Help With A Meal Plan?

Alright, besties! If you're sitting there thinking, "this Cajun Corn Maque Choux sounds lit, but what do I pair it with?" – I got you! Here are some flavor-packed dishes that will round out your meal and make this stovetop sensation shine even brighter. Let's dig into this menu:

Entree: Cajun Chicken and Turkey Neck Boil – This entree is a two-step of flavors that's guaranteed to lead your taste buds on a merry dance.
Veg: Smothered Green Beans and Potatoes – These veggies have been slow-simmered to perfection and are all set to go toe-to-toe with our flavor-packed entree.
Bread: Cast Iron Cornbread – Crunchy on the outside, soft on the inside, and just begging to be used to sop up all the Cajun goodness on your plate.
Drink: Lemon Basil Mojito – Now we're talking! This drink is a refreshing, herbaceous antidote to the heat, making it the perfect partner for our spicy Cajun feast.
Belle of the Bayou: Cajun Corn Maque Choux
Listen, I have to spill the tea on this gem of a dish that had me shook the first time I tasted it. I thought I knew my corn dishes – I mean, I was raised on good ole succotash, and that was pretty much my gold standard. But then, my hubby – who hails from the vibrant, soulful city of New Orleans – introduced me to this Louisiana classic, Cajun Corn Maque Choux. Whew, let me tell ya, it was love at first bite.
Imagine plump corn kernels, fresh off the cob, dancing in a pan with crisp bell peppers, celery, and onions. They sizzle and sauté, their flavors melding together, creating a symphony of tastes. Then, you've got the Cajun spices hitting the pan – fiery, robust, and oh-so-aromatic. I ain't gonna lie, the sizzle and pop of that pan is music to my ears, a culinary song that promises a whole lot of deliciousness. It's sweet, it's spicy, it's savory – it's the trifecta of flavor that'll make you say, "Damn, that's good!"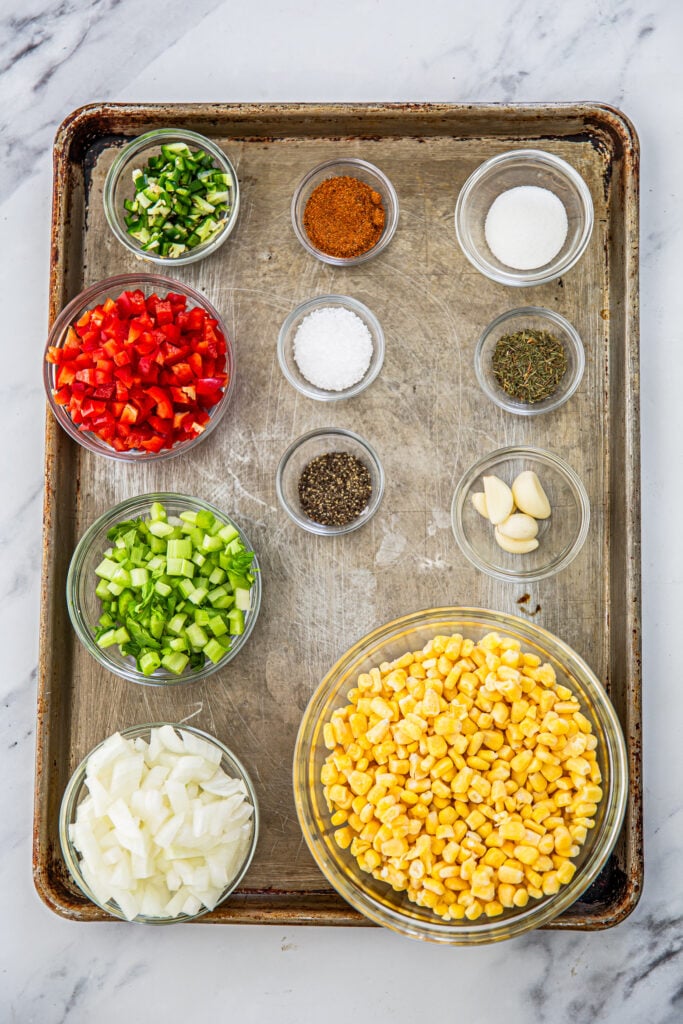 Key Ingredients
Avocado Oil and Unsalted Butter: The dynamic duo behind our sauté. The avocado oil's high smoke point allows for some serious heat, while the butter adds a rich, creamy flavor. You can also use bacon grease.
Frozen Corn: I use frozen corn because this convenient option ensures that you're getting corn with optimal flavor and texture. But don't fret, if you prefer fresh corn or canned corn, feel free to make the swap.
Onion, Red Bell Pepper, and Celery: The holy trinity in Cajun cooking! They bring a balanced mix of sweetness, tang, and crunch, setting up a delectable backdrop for our main star – corn.
Jalapeno: Ready to spice things up? Our Jalapeno adds just the right amount of heat to this flavorful ensemble.
Garlic Cloves: These finely chopped cloves will infuse our dish with a savory depth that's hard to resist.
Low-Sodium Chicken Stock: This stock lets you capture all the goodness at the bottom of the pan.
Granulated Sugar: Just a touch of sweetness to balance our savory elements and enhance the natural sweetness of our corn and bell peppers.
Dry Thyme, Savory Cajun Seasoning, Kosher Salt, and Black Pepper: Our power-packed quartet of flavor. They combine to give us a symphony of heat, sweetness, herbaceous notes, and just the right amount of saltiness.
Green Onions: A final flourish of freshness and color. Their oniony crunch brings a beautiful contrast to our simmered ingredients.
Meiko's Pro Tip: If you're using frozen corn, haw it before adding it to the dish. This ensures even cooking and prevents excess moisture from diluting the flavors.
How To Make Corn Maque Choux Recipe
Heat oil and butter in a large skillet over medium heat, and then add corn and all the chopped veg and cook for 5 minutes.
Mix all the spices and add half the spices to the corn mix and cook for 1 minute.
Add garlic and remaining seasoning mix. Cook for 30 seconds. Stir in stock and cook for 8 minutes.
Garnish with green onions and serve.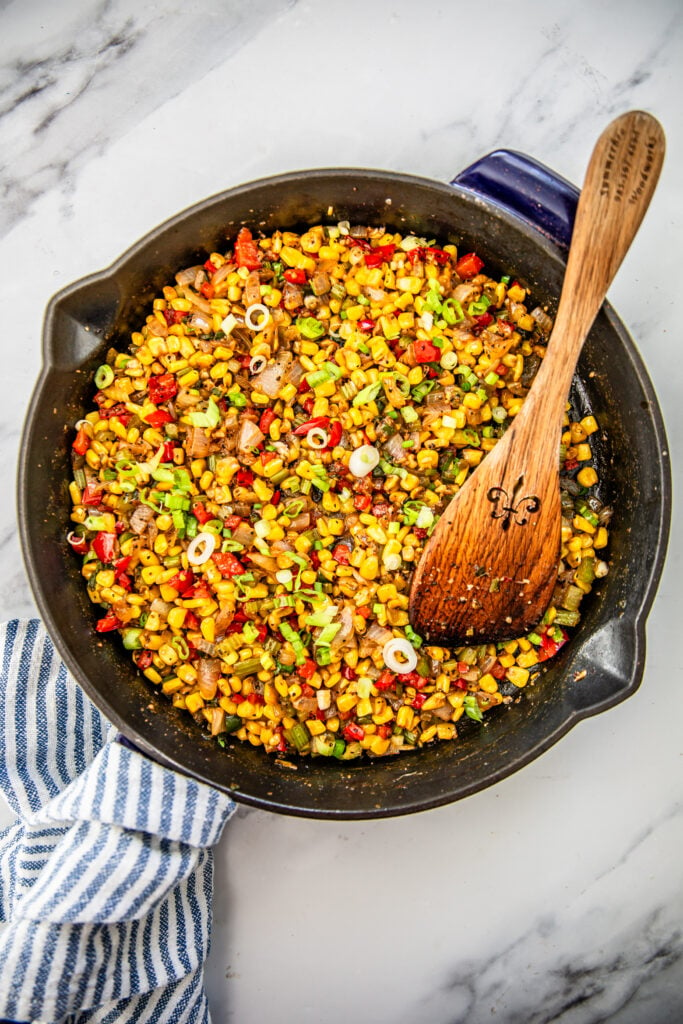 What Is Corn Maque Choux?
Maque Choux (pronounced "Mock Shoe") is a classic cajun side dish with its roots in Louisiana Creole cuisine. This flavor-packed dish typically consists of corn, bell peppers, onions, and various seasonings. Drawing from a rich culinary heritage, Maque Choux reflects the diverse influences of Native American, African, and French cooking traditions. It's a harmonious fusion that embodies the essence of Louisiana cuisine's cultural tapestry.
While its exact etymology remains elusive, various theories shed light on its possible roots. In Cajun French, the phrase may have been influenced by the Spanish word "machica," referring to a toasted cornmeal dish. Somes suggest a connection to the Cajun French term "maigrchou," meaning "thin child," alluding to a variation of maque choux that incorporates milk or cream. Another origin lies in the French phrase "moque-chou," meaning "mock cabbage," which hints at the inclusion of cabbage in early renditions of the recipe.
When it comes to flavor, Maque Choux brings a harmonious blend of sweet, savory, and spicy notes. The fresh corn kernels provide a natural sweetness, while the bell peppers and onions contribute layers of savory goodness. Cajun seasonings infuse the dish with a delightful kick, adding depth and complexity.
Maque Choux can be served in various ways. Some folks even enjoy it as a standalone vegetarian main dish. Some variations include the use of bacon grease and bits of bacon for added richness and smoky flavor. On the other hand, a touch of heavy cream can be incorporated to create a creamier and more indulgent version.
Add Some Flair: Recipe Variations & Customization Ideas
Pepper Power: Play with the bell peppers by using either green or red varieties, or even a combination of both. Each option brings its own unique flavor profile and adds a vibrant burst of color to the dish.
Cabbage Craze: Give your Maque Choux an extra pop of color and texture by stirring in shredded red cabbage towards the end of the cooking process. Not only does it add visual appeal, but it also offers a delightful crunch.
Creamy Dreamy: Craving a creamier version? Add a touch of heavy cream to your Maque Choux. This velvety addition brings richness and indulgence to the dish, taking it to a whole new level of decadence.
Corn on the Cob: If you opt for fresh corn cobs, make the most of it by using the corn milk along with the fresh corn kernels. The corn milk adds a subtle sweetness and enhances the overall flavor of the dish.
Spice it Up: For those who love a little extra heat, feel free to turn up the spice levels. Add more cayenne pepper or jalapeno to amp up the fiery factor and give your taste buds a delightful kick.
Creole Twist: Want to add a touch of Creole flair? Incorporate chopped tomatoes into your Maque Choux. This tangy and juicy addition brings a burst of freshness and complements the other flavors beautifully.
Bacon Bonanza: For those who enjoy a smoky and savory twist, consider adding crispy bacon to your Maque Choux. Simply cook some beef bacon until crispy, then crumble it over the dish before serving. Sausage Sensation: To infuse your Maque Choux with a hearty and robust flavor, incorporate some sliced chicken andouille or smoked sausage. The smoky and spicy notes from the sausage will elevate the dish, giving it a satisfying and meaty twist.
Thaw it Out: If you're using frozen corn, a pro tip is to thaw it before adding it to the dish. This ensures even cooking and prevents excess moisture from diluting the flavors. Simply place the frozen corn in a colander and run it under cool water until fully thawed. Then, pat it dry before incorporating it into your Maque Choux for optimal texture and taste.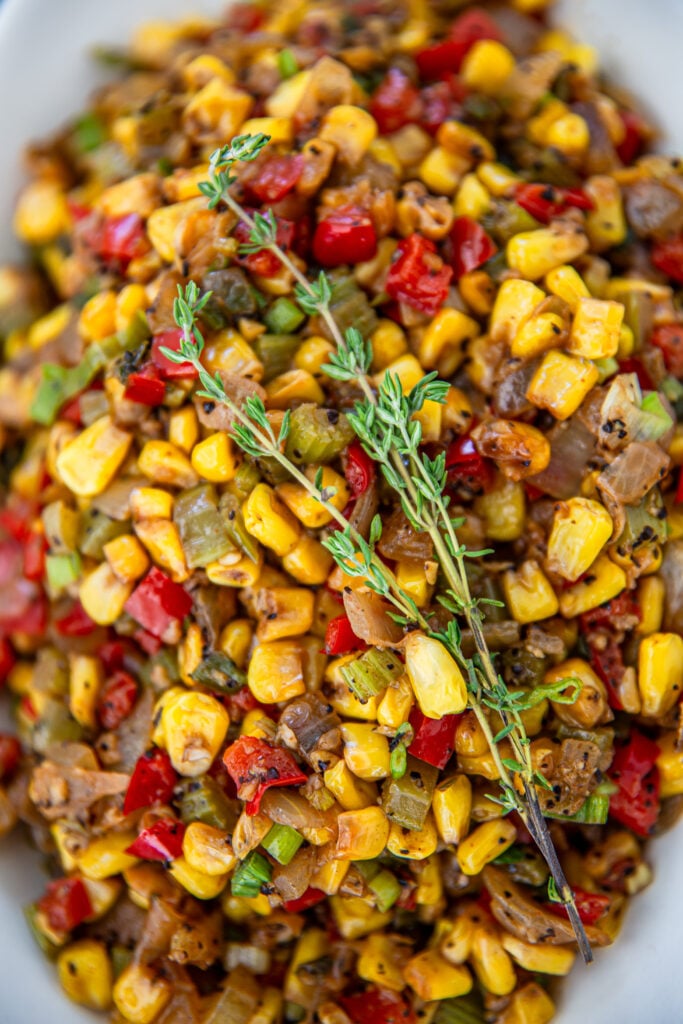 Frequently Asked Recipe Questions
How do you say corn maque choux?
You can say maque choux as "mahk shoo" or "mock-shoe." It's got that Cajun charm, y'all!
Can I use canned corn instead of frozen corn?
You can swap in canned corn if that's what you have on hand. Just make sure to drain it before adding it to the skillet.
Can I make Maque Choux ahead of time?
Sure thing! Maque Choux is a great make-ahead dish. Simply store it in the fridge in an airtight container.
Is Maque Choux spicy?
Well, that's totally up to you! Maque Choux can have a kick of heat if you want it to. Adjust the cayenne pepper or jalapeno to turn up the heat or keep it milder.
Can I add meat to Maque Choux?
If you're in the mood for some meaty goodness, go ahead and add cooked bacon, Andouille sausage, or smoked sausage. They'll bring a smoky and savory twist.
Q: Can I make Maque Choux vegan?
Maque Choux can be easily adapted to a vegan-friendly version. Just skip the butter and use a plant-based oil, like olive oil. And swap the chicken stock with vegetable stock.
Prep Your Tools & Ingredients
Here is a quick list of things to do before the recipe to ensure everything goes smoothly. This list may contain affiliate links which won't change your price but will share some commission to help support this blog.
Gather Your Tools:
Recipe Prep
Always read the recipe through at least 1 time before you start. It helps you move faster when you already know what step is coming next.
Measure out all of your ingredients.
Now It's Your Turn!
This vibrant dish brings together the flavors of fresh corn, bell peppers, and a fiery Cajun spice blend. The best part? It's quick, easy, and oh-so-satisfying. Once you've given it a go, don't forget to rate the recipe and leave a comment below. I'd love to hear about your delicious adventures! And if you share your creations on social media, don't forget to tag @meikoandthedish—I can't wait to see your mouthwatering Maque Choux masterpieces.
Servings:
8
side servings
Ingredients
2

tablespoons

avocado oil or neutral

3

tablespoons

unsalted butter

10

oz.

bag frozen corn

1

medium onion

chopped medium

1

red bell pepper

chopped medium

2

celery stalks

chopped medium

1

jalapeno

chopped medium

5

garlic cloves

minced

½

cup

low-sodium chicken stock

2

teaspoons

granulated sugar

½

teaspoon

dry thyme

1

tablespoon

Cajun Seasoning

(I use Savory Cajun Seasoning)

1

teaspoon

kosher salt

1

teaspoon

black pepper

5

green onions

sliced
Instructions
In a cast iron or heavy bottom skillet over medium heat, heat oil and melt the butter. Add the corn, onions, bell pepper, celery, and jalapeno. Cook for 5 minutes.

In a small bowl, mix sugar, thyme, Cajun seasoning, salt, and black pepper. Season corn with half of the mixture and cook for 1 minute.

Add garlic and remaining seasoning mix. Cook for 30 seconds. Stir in chicken stock and cook for 8 minutes.

Taste and adjust seasonings as needed. Serve hot, garnished with green onions.
Nutrition
Calories:
128
kcal
|
Carbohydrates:
14
g
|
Protein:
2
g
|
Fat:
8
g
|
Saturated Fat:
3
g
|
Polyunsaturated Fat:
1
g
|
Monounsaturated Fat:
4
g
|
Trans Fat:
0.2
g
|
Cholesterol:
11
mg
|
Sodium:
302
mg
|
Potassium:
229
mg
|
Fiber:
2
g
|
Sugar:
3
g
|
Vitamin A:
1135
IU
|
Vitamin C:
27
mg
|
Calcium:
21
mg
|
Iron:
1
mg
*Nutrition information is a rough estimate.
**The equipment section above contains affiliate links to products I use and love. As an Amazon Associate I earn from qualifying purchases.