Let me tell you about this gluten-free Texas sheet cake that will have you droolin'. Not only is it delicious and moist, but it's also super easy to whip up. No need to spend hours in the kitchen, this cake comes together in just a few simple steps. Don't let the gluten-free label fool you; your taste buds won't even know. This cake is the real deal.
---
Ok so boom, this has to be the world's easiest Texas Sheet Cake. I admit I cheated. Bob's Red Mill sent me some Grain Free Chocolate Cake Mix, and I used it as a major shortcut for this cake, but I'd do it again in a second. Hands down the easiest gluten-free texas sheet cake method around. And while they are a sponsor, all thoughts expressed here are 100% my own.
---
Gluten-Free Texas Sheet Cake
Hey y'all! If you're from Texas, chances are you've heard of the famous Texas Sheet Cake. This delicious dessert has become a staple in many households across the Lone Star State, and for good reason. Not only is it easy to make, but it's also super tasty and always a hit at parties and gatherings.
So, what is a Texas Sheet Cake, you might ask? It's a chocolate cake that is baked in a large, shallow pan (hence the "sheet" in the name) and topped with a rich, creamy chocolate icing. It's typically made with buttermilk and pecans, which give it a unique and distinct flavor.
>>>Speaking of gluten-free, these Brown Butter Almond Flour Chocolate Chip Cookies are another bomb gluten-free dessert using my fave Bob's Redmill GF Flour.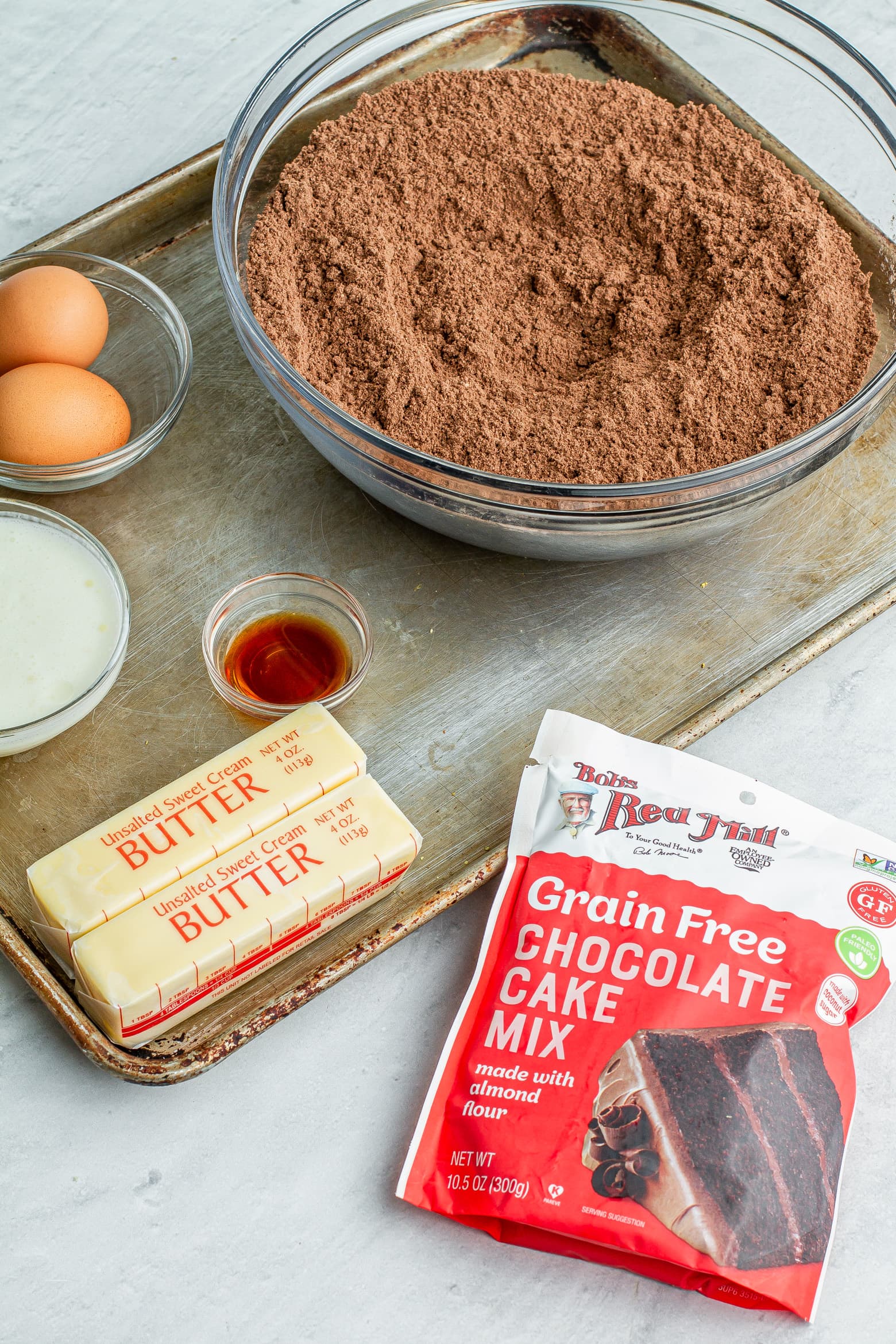 Key Ingredients For SUPER EASY Texas Sheet Cake
Unsalted butter – adds a rich, creamy flavor and moist texture to the texas sheet cake.
Eggs – help to bind and structure the cake, as well as add richness.
Buttermilk – gives the cake a tangy and moist texture.
Vanilla extract – adds a sweet and aromatic flavor to the cake.
Bob's Red Mill Grain Free Chocolate Cake Mix – is a pre-made mix that simplifies the process of making the cake and ensures it is gluten-free.
For The Frosting:
Milk – milk helps to thin out the frosting and make it easier to spread over the cake.
Unsweetened Cocoa Powder – Cocoa powder provides a deep chocolate flavor and color to the frosting.
Powdered Sugar – gives the frosting a sweet and smooth finish.
Chopped Pecans (optional): adds a crunchy and nutty texture to the frosting. Adding pecans is a great way to add some extra flavor and texture to the frosting, but they're not essential.
Texas Sheet Cake Vs Regular Sheet Cake
Simply put, sheet cakes are single layer fluffy cakes most commonly baked in a 9×13 rectangular pan, while Texas sheet cakes are very thin fudgy cakes commonly topped with thin frosting and pecans.
One of the best things about Texas Sheet Cake is how simple it is to make. All you need is a mixing bowl, a large baking sheet, and a few basic ingredients. The cake takes about 20 minutes to bake, and the icing takes a few more minutes to prepare. It's the perfect dessert for parties and potlucks.
But don't let the simplicity fool you – this dessert packs a punch when it comes to flavor. The rich chocolate taste is perfectly balanced by the tangy buttermilk, and the pecans add a nice crunch. And let's not forget about that creamy chocolate icing – it's the cherry on top (literally!) of this amazing dessert.
How To Make GF Texas Sheet Cake
For the full recipe and detailed baking instructions, please see the recipe card at the end of this post.
In a bowl: whisk cake mix, water, & butter.
In a separate bowl: mix eggs, buttermilk & vanilla.
Mix together: whisk in the egg and buttermilk mixture to the cake mix until smooth.
Pour into sheet pan: pour batter into prepared pan and spread it to the edges with a spatula.
Bake at 350°F: bake for 15-20 minutes or until set.
How To Make Texas Sheet Icing
Begin making the frosting with 6 minutes left on the baking clock. Pour the frosting on while the cake is still warm.
In a saucepan: over medium-low heat, melt butter, milk, and cocoa powder and whisk until combined.
Whisk in: powdered sugar and vanilla until the clumps are gone and smooth. Remove from the heat, and if adding, stir the pecans into the frosting.
Pour over frosting: pour hot frosting over warm cake and use an offset spatula to evenly spread the frosting over the cake. Allow frosting to set for about 20 minutes.
Slice & Serve!
TIP: Before you start making your frosting, ensure all of your ingredients are prepped and ready to go. Working quickly is key here, as you don't want the icing to cool too much before spreading it over the warm cake. Trust me, you don't want it to harden into a fudge-like consistency! So stay on top of things, and you'll have a perfectly frosted cake in no time."
Storage
To keep your sheet cake fresh, simply cover the top of the pan with plastic wrap and store it either at room temperature for up to three days or in the fridge for up to four or five days.
Frequently Asked Questions
Why is it called Texas sheet cake?
Well, the origins of the name are a bit unclear. Some say it's because the cake is so big and generous, just like the state of Texas. Others say it's because the cake was invented in Texas and became a popular dessert in the state. Whatever the reason, one thing is for sure – it's delicious!
What makes a Texas Sheet Cake different from other chocolate cakes?
It's like a regular chocolate sheet cake, but it's a little bigger, and it's made in a pan that's 13 x 18 inches. Most recipes call for buttermilk. It's also alot thinner than most sheet cakes, with just a one-inch layer of both cake and frosting. The frosting on a Texas sheet cake is really unique too – it's got a thin, candy-like texture that's more like royal icing than it is like regular buttercream frosting.
Can I make Texas Sheet Cake in a different size pan?
Sure I guess if you just want chocolate cake. The batter itself can be baked in a variety of pan sizes. However, keep in mind that the baking time may need to be adjusted, and the thickness of the cake may vary.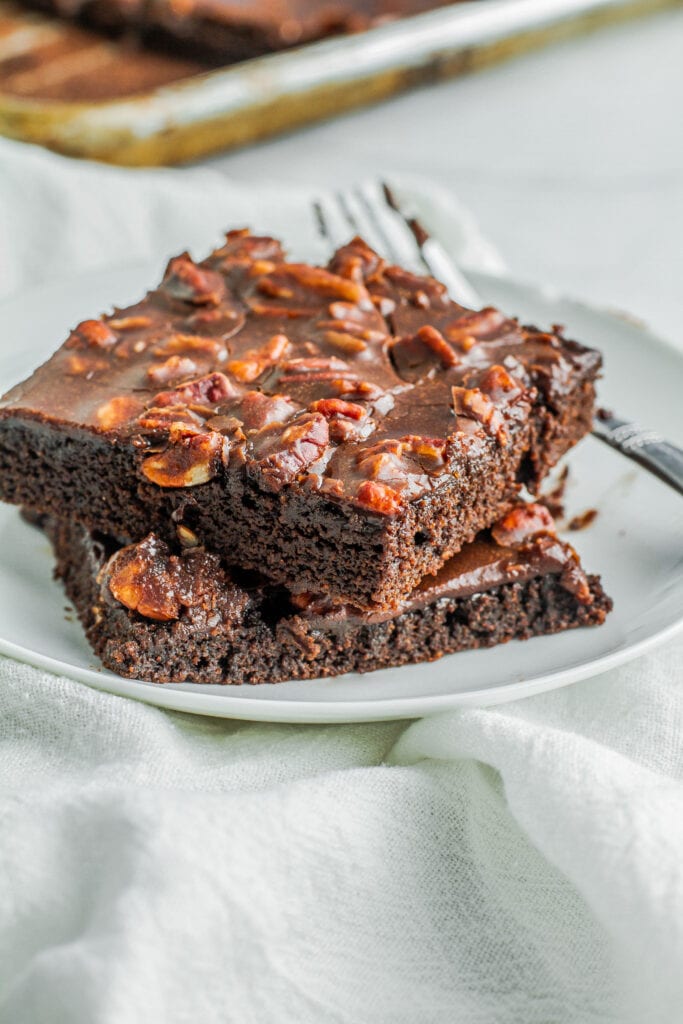 Do I have to add nuts to Texas Sheet Cake?
No, you do not have to add nuts. The traditional recipe for Texas sheet cake does not include nuts. Adding nuts is a personal preference and totally optional.
Oh no, my frosting hardened before getting in on the cake?
You can try adding heating the frosting on low and string in milk a tablespoon at a time, but honestly, I would probably just start over if that doesn't work.
What size pan do you need for a Texas sheet cake?
Most Texas sheet cakes are made in a 13 x 18-inch sheet pan or a similarly sized jelly roll pan.
How To Get Started (Mise En Place)
Essential Tools
Sheet pan 18×12 or 18×13
Mixing bowls
Rubber spatula
Large saucepan
Recipe Prep
Read through the recipe. This is the first time making a particular recipe; take a couple of minutes to read it through from start to finish. I promise it will help you move through the recipe quicker when you understand what's coming next.
Preheat your oven to the temperature specified in the recipe.
Gather all of your ingredients and equipment for the cake and frosting, including mixing bowls, measuring cups and spoons, a whisk, and a sheet pan.
Grease and flour your sheet pan to ensure the cake won't stick when it's finished baking.
Ingredients
Gluten-Free Texas Sheet Cake
2

10.5 oz packets Bob's Red Mill Grain Free Chocolate Cake Mix

1

cup

unsalted butter

2/3

hot water

4

large eggs

1/2

cup

buttermilk

1

teaspoon

vanilla extract
Texas Sheet Cake Frosting:
1/2

cup

1 stick unsalted butter

6

tablespoons

milk

3

tablespoons

unsweetened cocoa powder

3 ½

cups

16 oz powdered sugar

2

teaspoons

vanilla extract

¾

chopped pecans

optional
Instructions
Texas Sheet Cake
Preheat the oven to 350ºF (180ºC). Grease a 13″ x 18″ sheet pan with butter or spray oil.

In a large bowl, whisk Bob's Red Mill Grain Free Chocolate Cake Mix with water and butter. It'll be thick and a bit dry. Set aside.

In a small bowl, combine eggs, buttermilk, and vanilla until smooth.

Add eggs & buttermilk mixture to the cake mix and whisk until it's smooth.

Pour the batter into the prepared sheet cake pan. With a rubber spatula, gently smooth and spread the batter to the pan's edges.

Transfer to the oven and bake for 15-20 minutes or until a toothpick inserted into the center comes out clean.
Texas Sheet Cake Frosting
Prepare the icing when the cake has approximately 6 minutes left to bake.

To a saucepan over medium-low heat, add butter and milk until butter is melted. Whisk in cocoa powder until combined, and immediately remove the saucepan from the heat. Continue to whisk in powdered sugar and vanilla extract until smooth. If adding pecans, stir in now.

Pour hot icing over the warm cake. Use an offset spatula or knife to quickly spread the icing over the entire surface of the cake before it sets. Allow frosting to set and harden (20-60 min), then slice and serve!
Nutrition
Calories:
227
kcal
|
Carbohydrates:
22
g
|
Protein:
2
g
|
Fat:
15
g
|
Saturated Fat:
9
g
|
Polyunsaturated Fat:
1
g
|
Monounsaturated Fat:
4
g
|
Trans Fat:
1
g
|
Cholesterol:
71
mg
|
Sodium:
24
mg
|
Potassium:
44
mg
|
Fiber:
0.3
g
|
Sugar:
21
g
|
Vitamin A:
490
IU
|
Vitamin C:
0.001
mg
|
Calcium:
23
mg
|
Iron:
0.3
mg
*Nutrition information is a rough estimate.
**The equipment section above contains affiliate links to products I use and love. As an Amazon Associate I earn from qualifying purchases.