This quick and effortless salad featuring shaved rainbow carrots and a delightful ponzu vinaigrette has become a beloved seasonal favorite.
Rainbow Brightness in a Bowl: Shaved Carrot Salad with Ponzu Dressing
If you're looking for a simple and delicious salad that celebrates the flavors of the season, look no further than this 15 Minute Shaved Carrot Salad with Ponzu Vinaigrette! Made with vibrant and colorful rainbow carrots, this salad is a feast for the eyes as well as the taste buds.
The real star of the show, though, is the ponzu vinaigrette. This tangy and flavorful dressing is the perfect complement to the sweetness of the carrots, and it's so easy to whip up that you'll wonder why you ever settled for store-bought dressings.
Best of all, this salad comes together in just 15 minutes, making it the perfect choice for busy weeknights or impromptu dinner parties. So why not give it a try and taste the rainbow? Your taste buds will thank you!
Fun Facts & Culinary History – Carrots are a highly popular vegetable due to their versatility and high nutritional content, which includes fiber, vitamin K, and beta-carotene. With a long culinary history, carrots can be consumed in various forms, including raw, cooked, or juiced, and are a nutritious and flavorful addition to many dishes.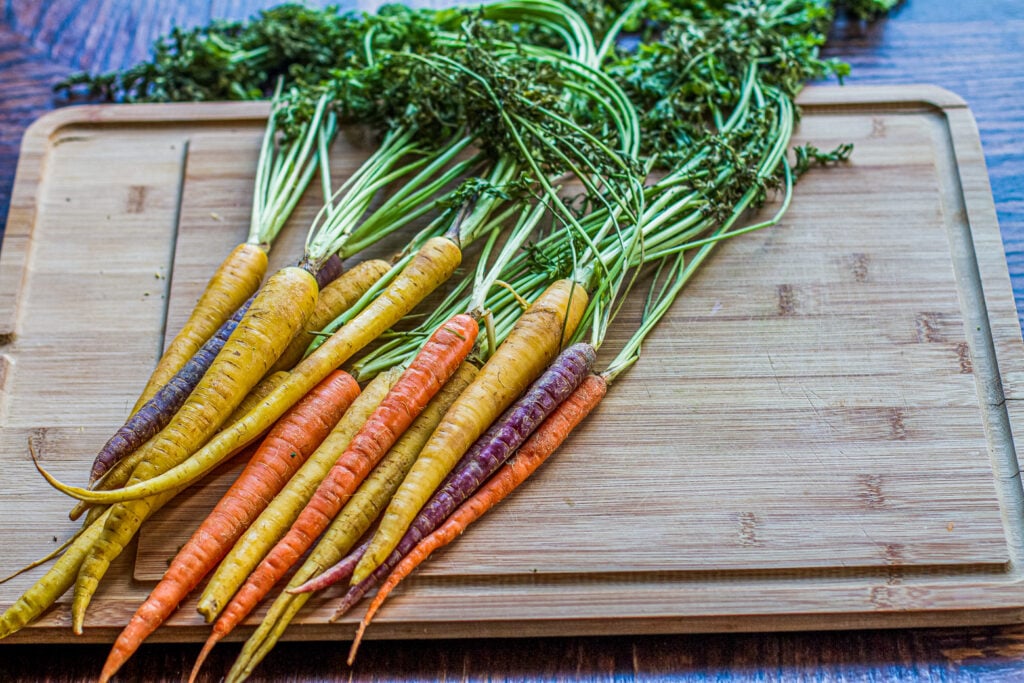 Ingredients Needed
Shaved Carrot Salad
16 Carrots – both flavorful and nutritious, making them a versatile and healthy ingredient to include in any salad recipe.
Panko Crumbs – typically have a mild, neutral flavor that allows them to complement and enhance the flavors of the other ingredients and adds a nice crunch.
Scallions– also known as green onions, can add a delicious and unique flavor to salads. Their mild onion-like flavor adds a fresh and slightly pungent taste that can enhance the overall flavor of a salad.
Carrot Stalks – also known as carrot greens, are edible and can be used in salads. The greens are similar to other leafy greens, such as arugula or kale, and can add a unique flavor and texture to a salad.
Sea Salt – seasoning to enhance the flavor of the ingredients.
Black Sesame Seeds -a great addition to salads as they add a nutty and slightly sweet flavor, as well as a unique texture to the dish.
Ponzu Dressing
Safflower Oil – has a neutral flavor that won't overpower other ingredients in the dressing, making it a versatile choice that can work with many different salad types.
Agave – provides a sweetener in the dressing, providing a natural alternative to refined sugars or artificial sweeteners.
Ponzu – provides a unique tangy and citrusy flavor.
Fish Sauce – a tasty addition that adds a savory and umami flavor that can elevate the overall taste of the dish.
Powdered Ginger – a common spice that adds a warm and slightly spicy flavor to the dressing
Rice Wine Vinegar – adds a tangy and slightly sweet flavor. It pairs well with ginger, garlic, and sesame.
Garlic – adds a pungent and slightly spicy taste.
Common Recipe Questions
How To Make Salad with Shaved Carrots?
In just 15 minutes, you can create a refreshing salad that is both quick and easy to prepare. By blending the vinaigrette ingredients in a food processor or blender for 20 seconds, you can create a delicious dressing. After pouring the vinaigrette over a bed of shaved carrots in a large bowl, simply toss the ingredients together. In a separate medium bowl, combine panko crumbs, scallions, carrot stalks, and sea salt, and then sprinkle the mixture over the carrots to add a satisfying crunch. For an extra layer of texture, add some breadcrumbs just before serving.
Best Tools to Shave Carrots?
A vegetable peeler, mandolin, or box grater are all great tools for shaving carrots.
What is ponzu?
Ponzu is a Japanese citrus-based sauce that can be used in a salad as a dressing or as a marinade for proteins like chicken or fish. It is typically made with soy sauce, rice vinegar, mirin, and a variety of citrus juices like lemon, lime, or yuzu.
Can you make it ahead?
Absolutely! Allowing the flavors to meld together is key, so it's a good idea to save some of the dressing to mix in just before serving the salad. It's also important to hold back some breadcrumbs until serving time to ensure that they remain crisp and add a satisfying crunch to the dish.
Tips/Hacks
This delicious and flavorful salad can be stored in the refrigerator for up to three days, making it a convenient option for meal prep or leftovers.
Any leftover ponzu vinaigrette can also be refrigerated and repurposed as a dressing or marinade for future meals.
Don't forget about the versatility of carrot stalks! These nutrient-dense parts of the carrot can be used in a variety of ways to add flavor and nutrition to your dishes. Get creative and try using them in salads, stir-fries, soups, or as a crunchy snack. The possibilities are endless!
More Savory Salad Recipes
Still craving more? Check out these salad recipes next:
Ingredients
16

carrots

I used rainbow carrots

¼

cup

panko crumbs

¼

cup

scallions

chopped

¼

cup

carrot stalks

chopped (or replace with equal parts scallions or parsley)

¼

teaspoon

sea salt

2

teaspoons

black sesame seeds
Ponzu Vinaigrette
¼

cup

safflower

or olive oil

3

tablespoons

agave

or honey

2

tablespoons

ponzu

½

tablespoon

fish sauce

¼

teaspoon

powdered ginger

cup

rice wine vinegar

½

tablespoon

garlic
Instructions
Ponzu Vinaigrette Preparation
Add all vinaigrette ingredients to a blender or food processor and blitz until emulsified, approximate 20 seconds. Refrigerate until ready to use.
Shaved Carrot Salad Preparation
Shave carrots thin with a vegetable peeler or mandolin and add to a large bowl. Pour vinaigrette over the carrots and toss.

In a separate medium bowl add panko crumbs scallions, carrot stalks and sea salt and toss thoroughly. Sprinkle the crumb mixture over the carrots and toss again until they are spread throughout the salad. OPTIONAL: Sprinkle the top of the salad with black sesame seeds and a bit of more panko crumbs if available.
Notes
Wait to add the panko crumb mixture until right before you are ready to serve in order avoid sogginess.
*Nutrition information is a rough estimate.
**The equipment section above contains affiliate links to products I use and love. As an Amazon Associate I earn from qualifying purchases.