A southern twist on classic hummus this Black-Eyed Pea Hummus is super easy to prepare, creamy, thick and perfect for dipping with crackers, veggies, chips & so much more. A satisfying dip that is great for a go to snack or delicious enough for a party appetizer. Gluten Free, Vegan & Paleo.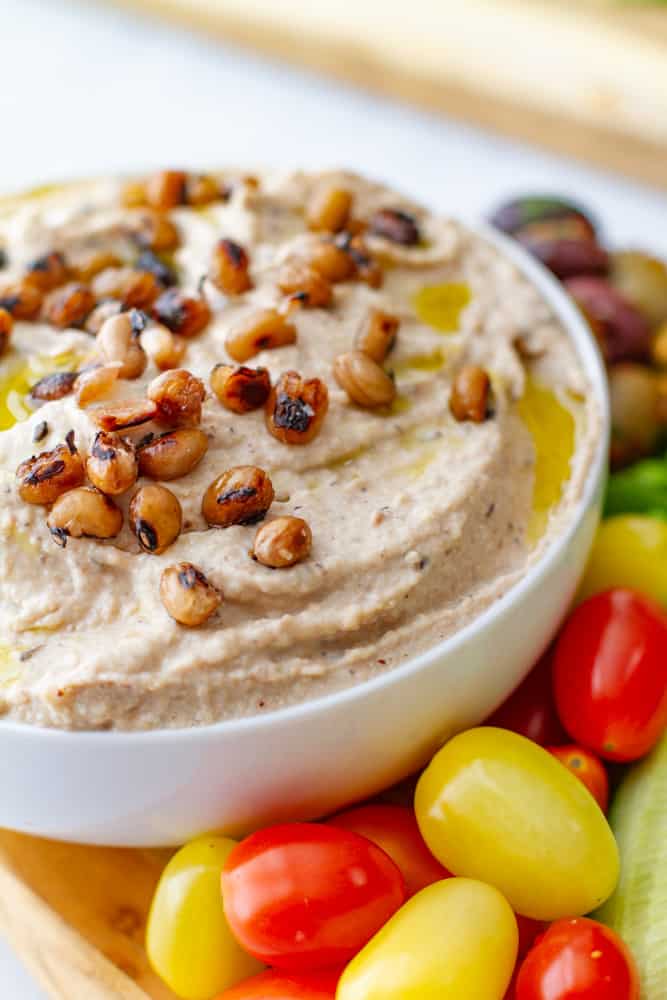 It is still February, Black History Month and I was inspired to continue to highlight professional black foodies beyond the Black History Month Virtual Potluck that I help orchestrate each year. And I thought it would be nice to bring exposure to some of the amazing black cookbook authors I know and trust. I know all too well how difficult it is to go through to cookbook publishing process. You are writing as you would for any book, but in many cases theses authors are developing their own recipes, shooting their own images and sometimes self publishing. It's a very hard process to say the least.
So over the next two weeks I will share 4 amazing black cookbook authors who happen to be friends and I couldn't be more excited. We are going to kick things off with the book, Black Girl Baking, by Jerrelle Guy. She is also the founder of the blog Chocolate for Basil. If you are a chronic meat eater you will notice that most of the recipes on the blog are vegetarian friendly, but once you see all to food porn you will think twice about converting.
The book, however; is an amazing collection of culturally diverse recipes with a strong affinity to vegan/vegetarian palettes. As I skimmed through the book I salivated over how irresistible baked goods looked but decided to settle on the black-eyed pea hummus recipe since I am still working on my honey moon bod. So anything that paired well with large amounts of vegetables felt right up my alley.
BLACK-EYED PEA HUMMUS IS DELICIOUS AND EASY TO MAKE
What surprised me about this recipe was how seemless the subsitution of chickpeas for black-eyed peas was. Granted they are both loosely in the beans family but they have astoundingly different flavors. Nevertheless, after having this new twist on hummus I was hooked. I ended up making it 3 times that week because I was going through it so fast.
That also speaks to how incredibly easy it was to make. The longest part of the recipe, which is roasting a few tablespoons of black-eyed peas for garnish for 30 minutes, is optional. You remove that step and it only takes 5 minutes for the actual hummus – although I would strongly advise against skipping that step because the crispy, crunchy black-eyed peas really set each bite off.
I asked Jerrelle which recipe I could share on the blog but I secretly had my mind made up after I tried the black-eyed pea hummus for myself. She was gracious to allow me to share the full recipe straight from her cookbook down below. But there are so many other delicious and healthy options in the cookbook I can't wait to try next. Black Girl Baking is impressive cookbook that should be on everyone's shelves so I hope you join me in supporting another amazing black author.
Do you plan to make this recipe? Be sure to tag me @meikoandthedish
What is black-eyed pea hummus?
Black-Eyed Pea Hummus is a unique take on traditional Middle Eastern hummus, which is made with chickpeas. Hummus is a smooth, creamy dip and spread that are very versatile.
Ingredients for black-eyed pea hummus?
You'll need a can of black-eyed peas, rinsed and drained. Garlic, tahini, cumin, and lemon juice. Tahini is a smooth paste made from grounded sesame seeds; it's used in several Mediterranean dishes, including traditional hummus. Cumin, also used often in Mediterranean dishes, is a spice that gives Black-Eyed Pea Hummus a rich, hearty flavor. Fun fact cumin is one of the main spices in chili powder and taco seasoning.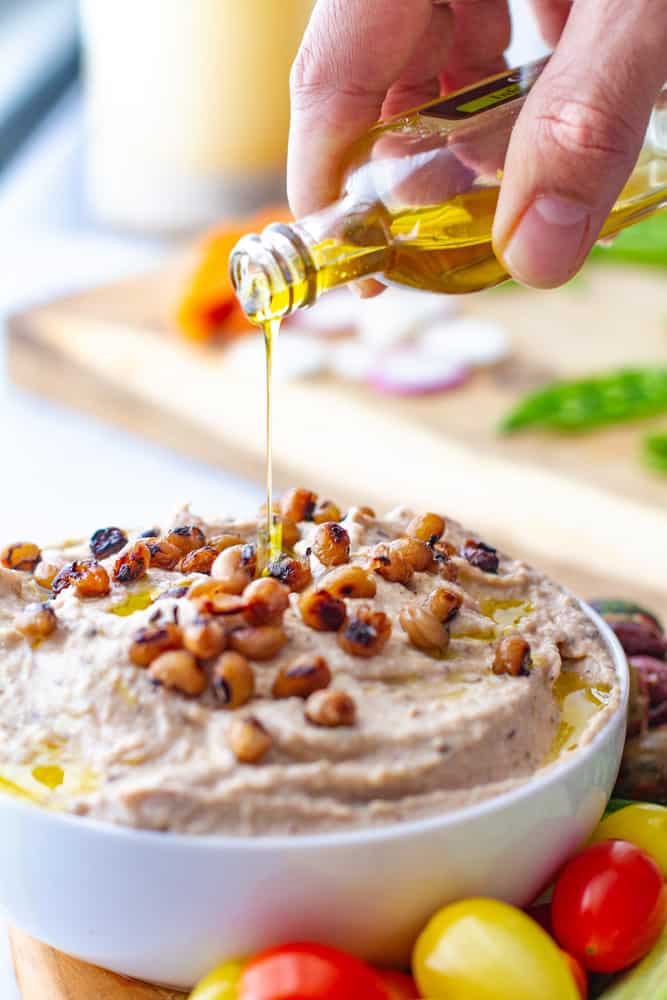 What kind of blackeyed peas to use?
Any canned black-eyed peas will work. If you have the time or would rather not use canned peas, you can definitely use homemade black eye peas. This recipe welcomes leftover black-eyed peas as well!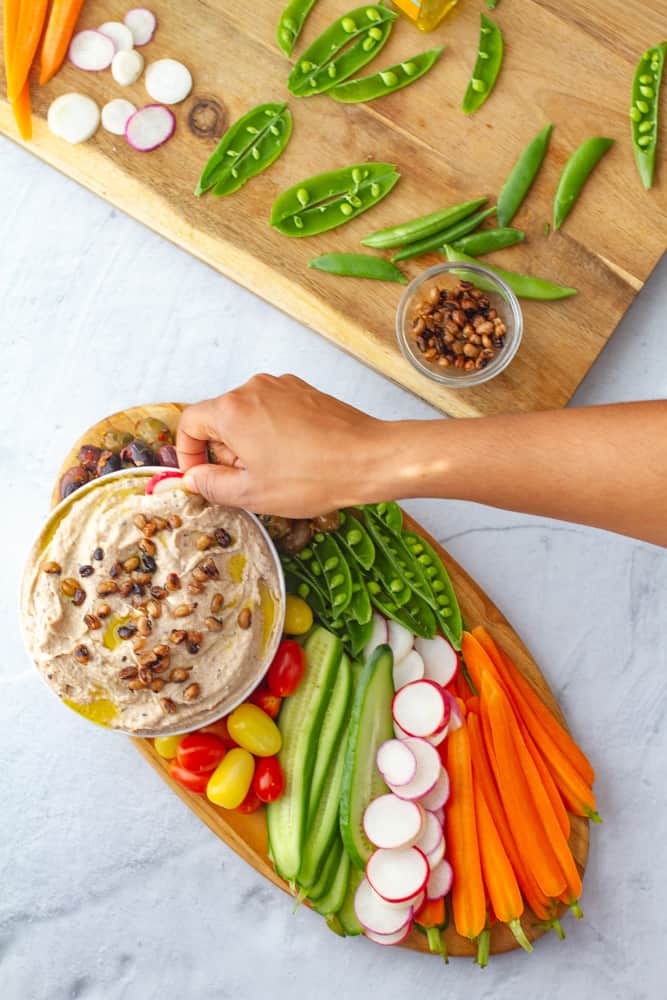 Tips for making smooth hummus?
You can puree your peas until you achieve the desired smoothness, adding more water if necessary.
Ways to use hummus?
Hummus can be used in various ways, spread onto bread, used as a dip for Pita or veggies. Add a dollop to your salad. It pairs well with roasted meat and grilled seafood as well. The list goes on; explore the possibilities!
Ingredients
Crispy Black Eyed-Pea Hummus
14

oz

canned black-eyed peas

rinsed & drained

¼

cup

olive oil

plus more for drizzling

1

head

garlic

¼

cup

tahini

¼

cup

lemon juice

2

tbsp

water

1

tsp

ground cumin

salt

to taste
Instructions
Preheat the oven to 400? (200? or gas mark 6), and have a sheet pan lined with parchment paper nearby.

Spread a few tablespoons (46g) of the rinsed black-eyed peas on the prepared baking sheet, drizzle with olive oil and sprinkle with salt. Chop the top off the garlic head to reveal the cloves, sprinkle it with olive oil and salt and wrap it in the aluminum foil. place it on the baking sheet with the black-eyed peas, and roast in the oven for 25 to 30 minutes, or until the peas are crispy.

Remove the pan from the oven, unwrap the garlic and squeeze the cloves out into a food processor, discarding the skins. To the garlic, add the rest of the canned black-eyed peas, reserving the roasted ones for the top, the 1/4 cup (60 ml) of olive oil, tahini paste, lemon juice, water, cumin and salt to taste. Puree until smooth. Transfer to a serving bowl, and top with the crispy black-eyed peas and drizzle lightly with olive oil.
Nutrition
Calories:
339
kcal
|
Carbohydrates:
27
g
|
Protein:
11
g
|
Fat:
22
g
|
Saturated Fat:
3
g
|
Polyunsaturated Fat:
5
g
|
Monounsaturated Fat:
13
g
|
Sodium:
12
mg
|
Potassium:
398
mg
|
Fiber:
7
g
|
Sugar:
4
g
|
Vitamin A:
33
IU
|
Vitamin C:
9
mg
|
Calcium:
64
mg
|
Iron:
4
mg
Equipment
*Nutrition information is a rough estimate.
**The equipment section above contains affiliate links to products I use and love. As an Amazon Associate I earn from qualifying purchases.