This is a great addition to any many meal doing the fall season when brussels are in season.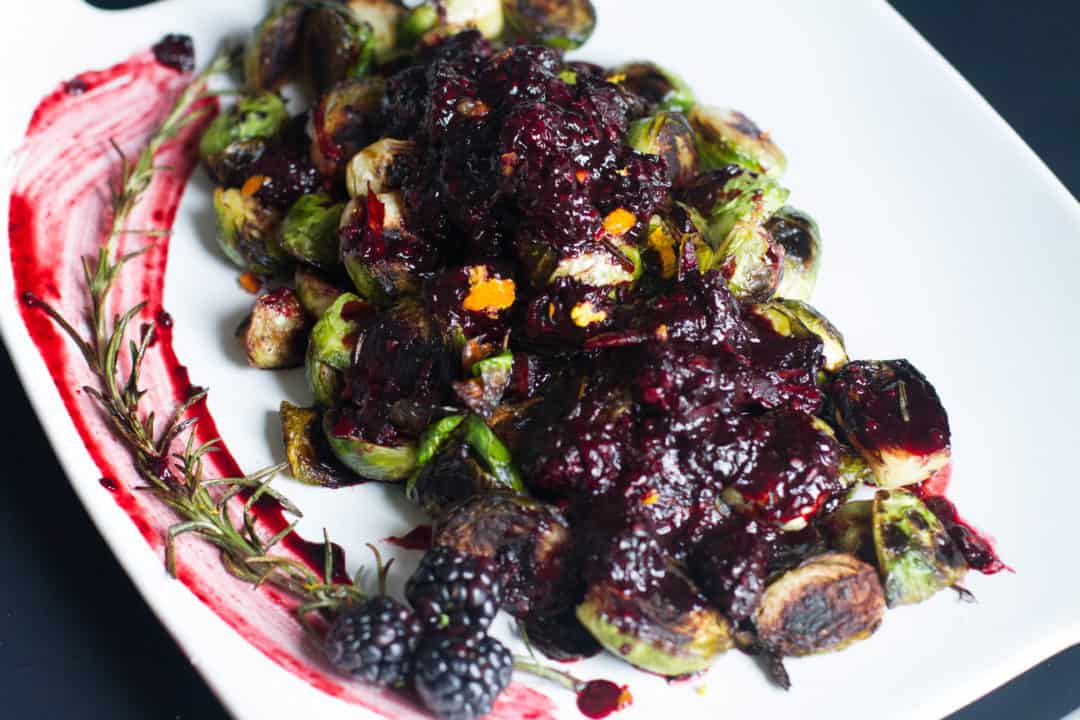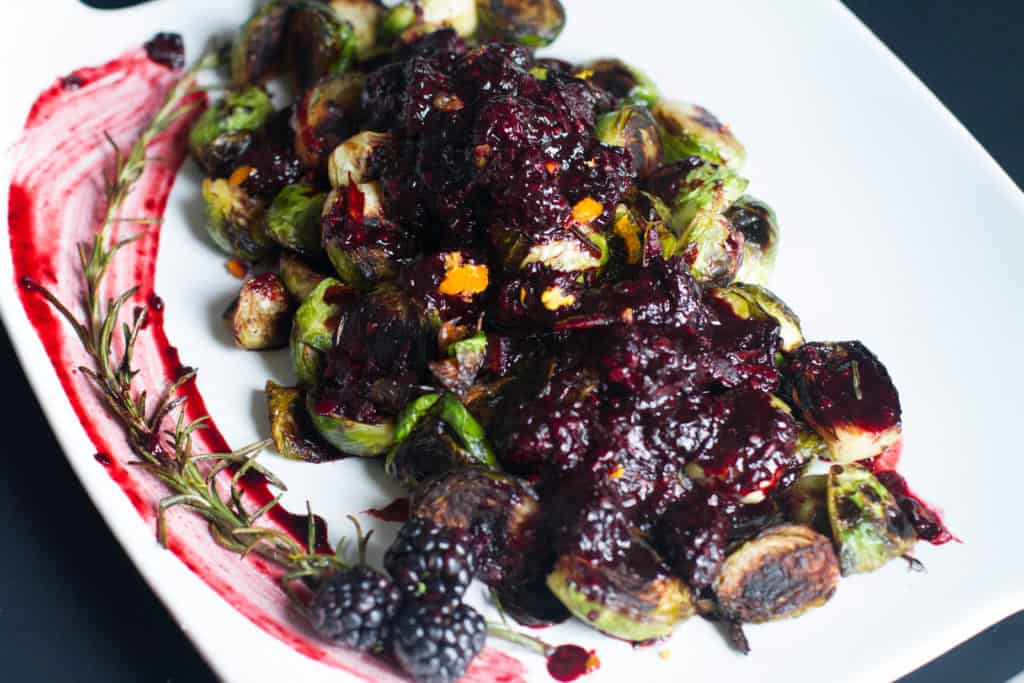 What a week! So if you didn't read my previous blog post I will catch you up on the week's festivities.  After being swept away by the Kendrick Lamar Grammy performance I decided to restructure my content and recipe development this week to pay homage to his song "The Blacker The Berry".  As a result blackberries took the spotlight this week and boy did they shine in these four new recipes.
Brussels sprouts have made a culinary resurgence in the last few years. You can't go to a restaurant with out seeing brussels sprouts on the menu.  So I jumped on the bandwagon too. I love a good crispy brussels sprout and this recipe shows you how to achieve perfect char and crunch at home. Not to mention, the blackberry reduction is a sweet compliment just takes the dish to another level.
How To Store Roasted Brussel Sprouts?
Simply put them in an airtight storage container or storage bag and refrigerate. To reheat, use the method mentioned earlier.
How To Trim Brussels Sprouts?
Using a paring knife, trim ¼ of the base of the brussels sprouts. Remove loose, rigid, damaged, or insect bitten leaves; you should be left with a tight head. Trim another ¼ of the base. Cut the brussels in half vertically, starting at the base.
Can I Use Frozen Brussels Sprouts?
Sure, but let me warn you they won't taste as good as fresh. The freezing and thawing process breaks down the integrity of brussels sprouts, making it harder to achieve a crispy exterior. Before roasting, I recommend letting them thaw out thoroughly using a paper towel to absorb as much excess moisture as possible.
Tips For Crispy Brussels Sprouts?
Preheat your oven and pan.
Do not be afraid to use high heat roasting at a high temperature will prevent mushy brussels sprouts.
Place the sprouts on the pan face down, allowing the leaves to absorb the heat.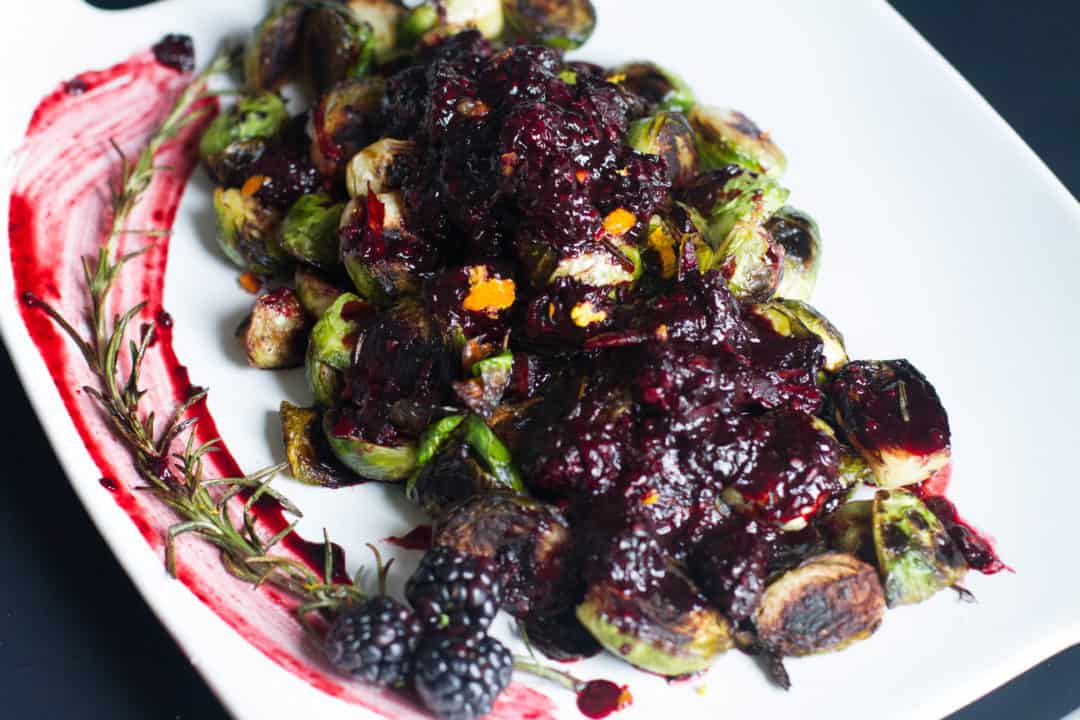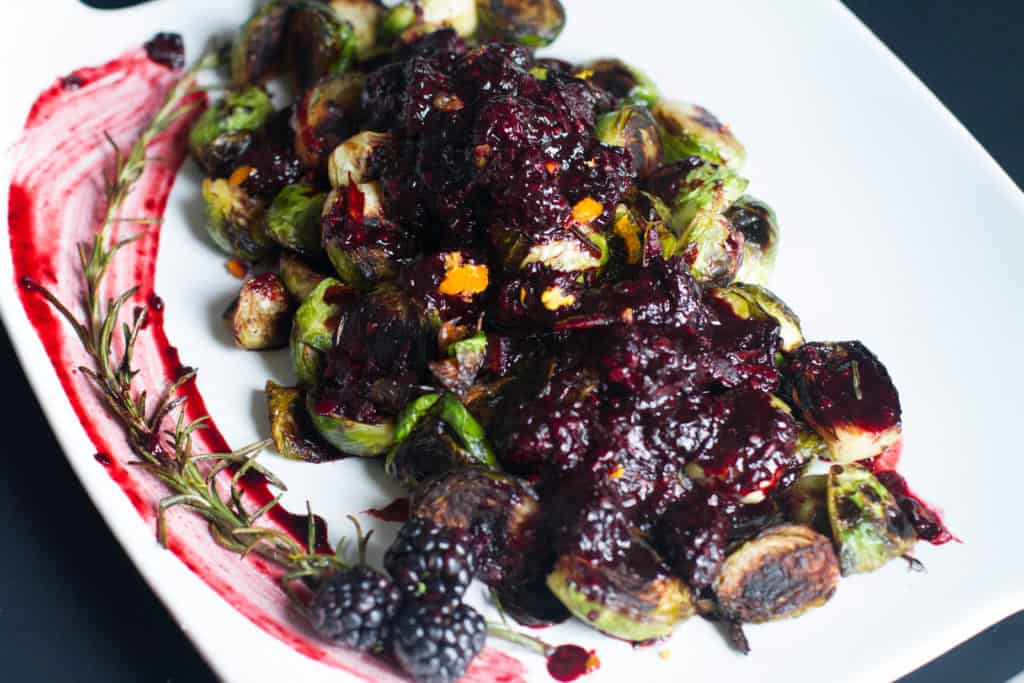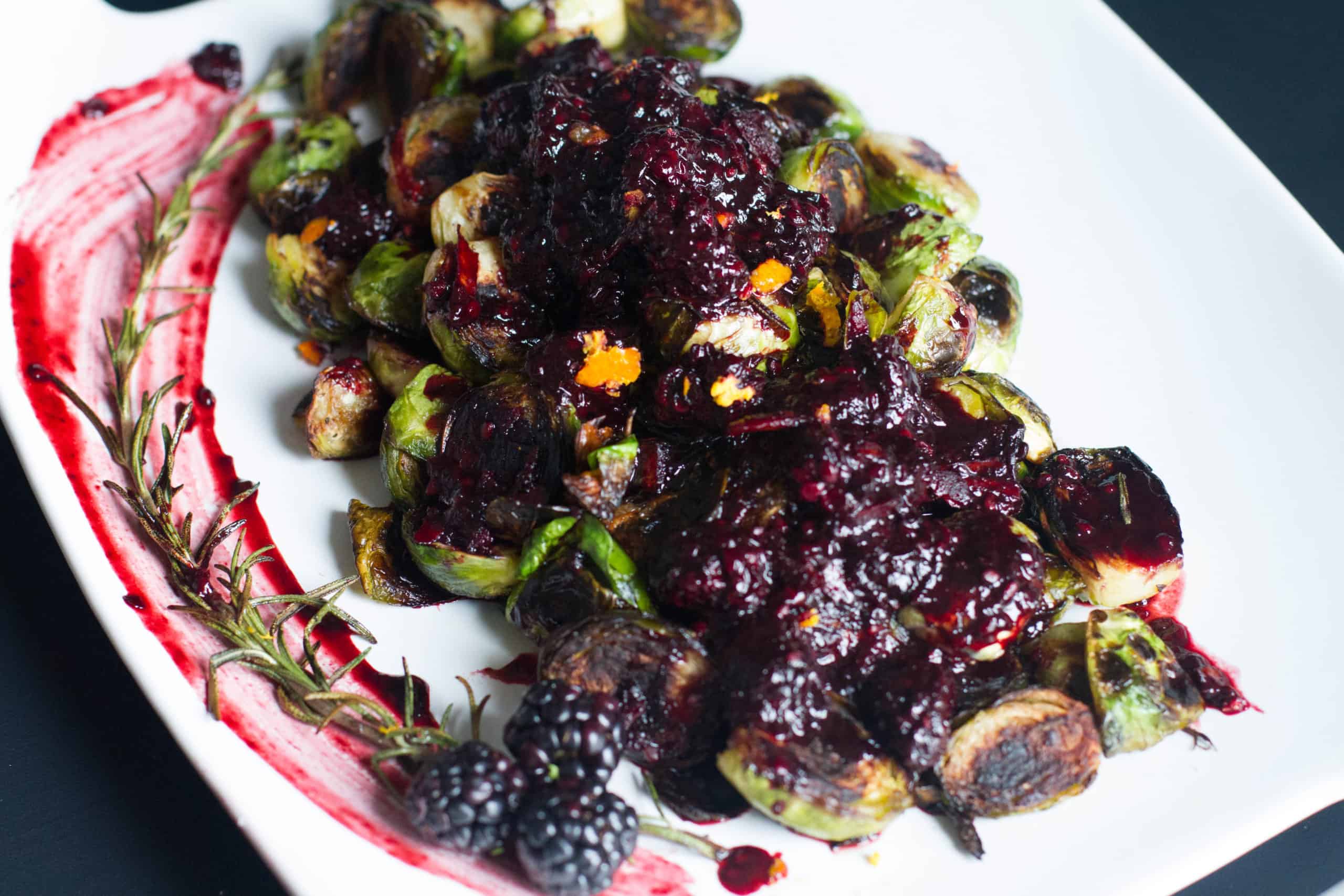 Ingredients
1½

lbs

brussels sprouts

sliced

¼

cup

balsamic vinegar

¼

cup

fresh orange juice

¼

cup

water

1

cup

blackberries

2½

tablespoons

vegetable oil

2

tablespoons

sugar

2

tablespoons

butter

1½

teaspoons

salt

½

teaspoon

pepper

pinch

grated orange rind

optional
Instructions
Preheat oven 425 degrees and line baking sheet with aluminum foil.

In a large bowl mix brussels sprouts with 1½ tablespoons of vegetable oil. Toss with you hands to make sure all the brussels sprouts are coated. Generously season the brussels sprouts with salt and pepper.

In a large pan on medium high heat, pour in 1 tablespoon of vegetable oil, or enough to just barely coat the bottom of the pan. Wait for oil to get hot, then add in brussels sprouts. Brown the brussels sprouts for approximately 10 minutes continuously stirring (every 2 minutes or so) making sure that all the sides get a char. In the last minute add butter and toss so that all the brussels sprouts are coated with the butter.

Pour sprouts on baking sheet. Sprinkle on fresh rosemary and put into the oven for 10-15 minutes.

In a sauce pan, heat the blackberries, balsamic vinegar, orange juice, orange rind, sugar and water on high heat for five minutes, continuously stirring so that the berries start to break down. Reduce heat to soft boil and stir for another 4-5 minutes until mixture reaches a syrupy texture.

Remove brussels from the oven and top or toss with blackberry reduction. Serve warm.
Nutrition
*Nutrition information is a rough estimate.
**The equipment section above contains affiliate links to products I use and love. As an Amazon Associate I earn from qualifying purchases.