This Honey Pecan Crusted Salmon recipe has the addition of pesto sauce, which takes this salmon recipe to another level. Fresh salmon coated with pesto, honey, & lemon juice, then topped with finely chopped pecans; YUMMY!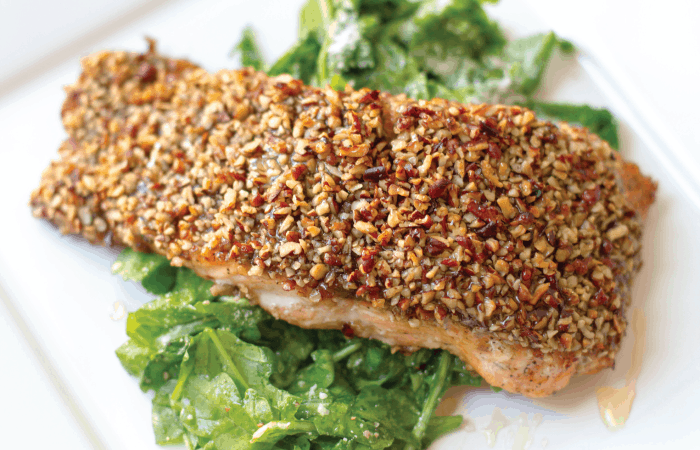 Wave your hands in the air like you just don't care if you gained 10 pounds over Thanksgiving weekend as I dddiiiiiidddd!!! Listen, I know I'm not alone.
Well, if you are anything like me, you are now looking for recipes to lighten the load just to save up calories for the big holiday's massive eating. That being said, I've been searching my arsenal and decided to remake one of my favorites.
This is one of those recipes that you end surprised how delicious it is with only a max of 20 minutes of effort. It's light, so it should help with your attachment on the love handles.
Give this recipe a try and share your photos, and don't forget to tag @meikoandthedish and use hashtag #TeamGreedy #MeikoAndThedish.
Dig in!
How to remove the skin from salmon?
To remove the skin from salmon, you'll want to place the salmon skinless side down. Using a butter knife, peel back a piece of the skin, pull the skin gently away from the fish, and use the knife to help strip the skin off until entirely removed.
Can frozen salmon be used?
Yes. Freezing fish does not cause the fish to lose nutrition or freshness; it actually locks it in. Make sure to thaw your frozen salmon by leaving it in the refrigerator for 24 hrs or submerging it in cold water at least an hour before cooking.
What is the white stuff coming out of salmon?
The coagulated white stuff that appears on your cooked salmon is called Albumin. This liquid protein found in all salmon and is forced out when cooked, especially when cooked at high temperatures. This protein may look a bit gross but is entirely ok to consume. To decrease the amount of Albumin that appears on your fish, you'll want to cook your salmon at a lower temperature for an extended amount of time; slow cook your salmon if you will. You'll end up with a juicy, tender fillet with little to no "white stuff" insight.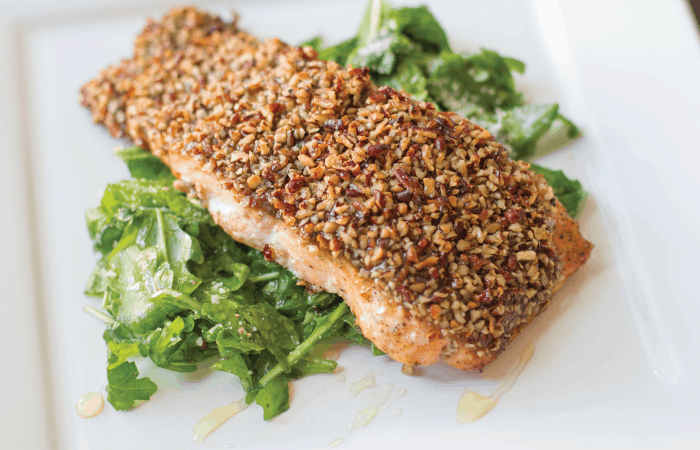 Recipe variations
This salmon recipe is very versatile. You can use virtually any kind of nut such as Walnuts, Almonds, Peanuts, etc. Also, you can use maple syrup instead of honey or any variation of the two. Try Maple Walnut crusted Salmon or Honey Peanut Crusted Salmon. You can also try these recipes using different kinds of fish. Catfish, Halibut, Tilapia Etc. Remember to adjust the cooking time according to the type of fish you use.
More Recipe Ideas
Ingredients
4

fillets

salmon

1½

cups

pecans

chopped finely

1½

tablespoons

pesto

1½

tablespoons

honey

1

tablespoon

lemon juice

fresh

1

teaspoon

sea salt

1

teaspoon

ground black pepper

fresh

1

teaspoon

garlic powder

cooking spray
Instructions
Preheat oven to 425 degrees. Line a baking sheet with aluminum foil; lightly spray foil with cook spray; set aside.

Place salmon on prepared sheet. Use knife to remove salmon skin from the fillet. Pat the fish dry with a paper towel.

In a bowl stir together pesto, honey and lemon juice. In a separate small bowl mix together the sea salt, black pepper and garlic powder.

Season both sides of the salmon with seasoning mix. Then lightly brush one side of the salmon with the honey pesto mixture. Flip the fish over and heavily brush this side with the honey pesto mixture (this will help the nuts stick better).

Sprinkle the top with the finely chopped pecans pressing gently to adhere.

Roast salmon for 10 minutes.

Sprinkle with additional lemon and honey before you serve.
Nutrition
Calories:
548
kcal
|
Carbohydrates:
13
g
|
Protein:
38
g
|
Fat:
40
g
|
Saturated Fat:
4
g
|
Polyunsaturated Fat:
12
g
|
Monounsaturated Fat:
19
g
|
Cholesterol:
94
mg
|
Sodium:
710
mg
|
Potassium:
1009
mg
|
Fiber:
4
g
|
Sugar:
8
g
|
Vitamin A:
205
IU
|
Vitamin C:
2
mg
|
Calcium:
59
mg
|
Iron:
2
mg
*Nutrition information is a rough estimate.
**The equipment section above contains affiliate links to products I use and love. As an Amazon Associate I earn from qualifying purchases.