Y'all are gonna be obsessed with this Lemon Loaf Pound Cake recipe using Bob's Red Mill Gluten Free Flour. It's easy to make and packs a seriously amazing citrusy punch with a hint of tang from the buttermilk. No cap; my taste testers said it's better than the lemon loaf from Starbucks. But don't trust us; try it for yourself!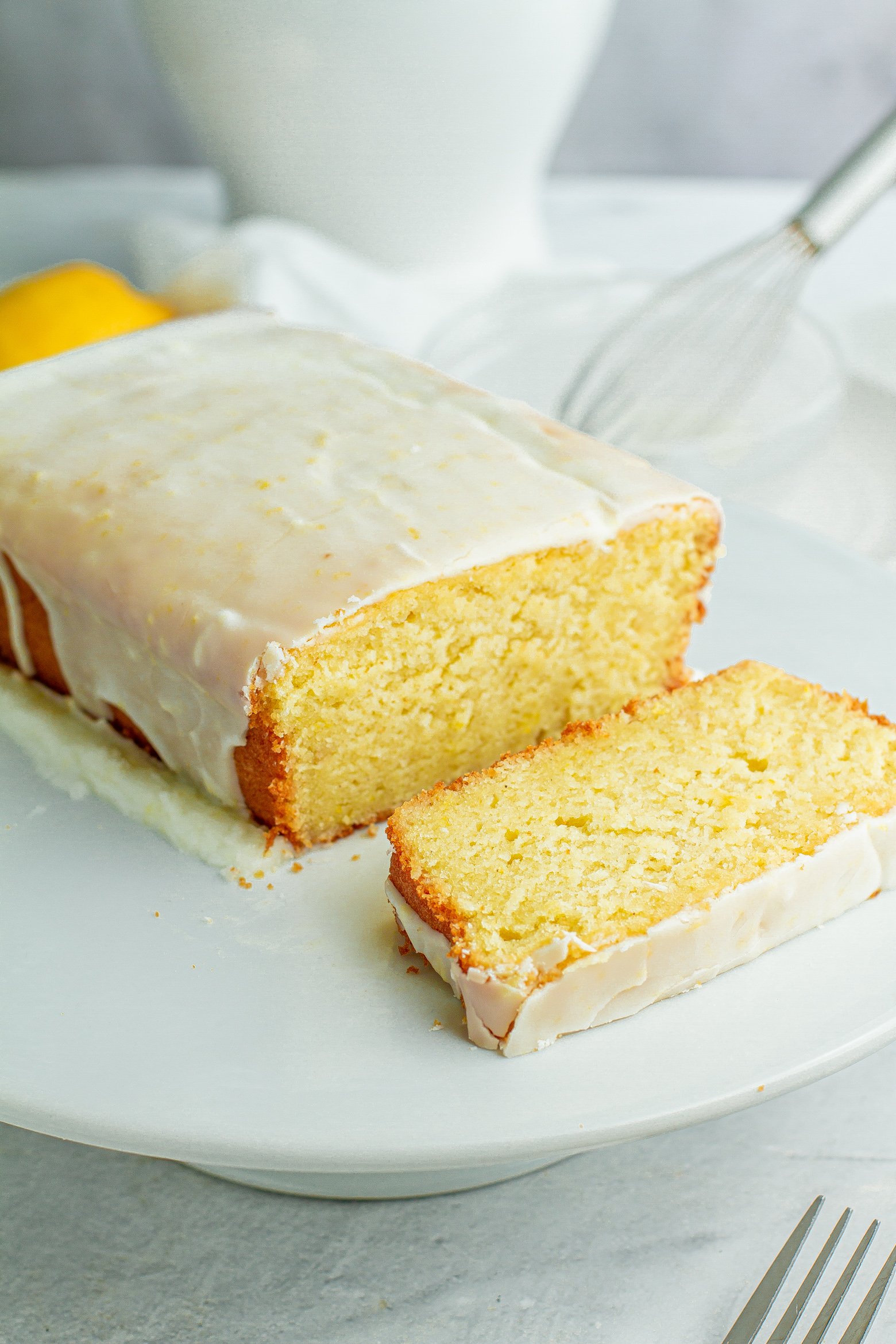 The Best Lemon Loaf Pound Cake Happens To Be Gluten Free
You may have noticed the trend in my recipes recently that I've been testing healthier cooking methods. Lately, I've been looking for gluten-free versions of my favorite treats. However, there's one thing I can't resist: Starbucks' iced lemon loaf and I can't leave without grabbing a slice and an iced matcha latte.
So, I set out to create my gluten-free lemon loaf recipe that rivals Starbucks' version. And let me say, y'all, I think I nailed it.
Health aside, this cake's bright, citrusy flavor, tender crumb, and tangy glaze can stand to rival any lemon loaf on the market. It just so happens to be gluten-free thanks to Bob's Red Mill All Purpose 1-to1 Flour. So clutch!
What Is Lemon Loaf Pound Cake?
Lemon loaf is like sunshine in a cake. It's a luscious, tangy, and sweet pound cake with a dense, moist texture that pairs perfectly with a fresh cup of coffee or tea. With a lemony aroma filling your kitchen, this treat is versatile enough to be enjoyed any time of day – whether for breakfast, a snack, or a post-dinner dessert.
But what makes this recipe so special is the inclusion of creamy buttermilk. This secret ingredient gives the cake an irresistibly tender texture and a subtle tanginess that complements the lemon beautifully, making each bite feel like a sweet and tangy hug.
Topped with a sweet glaze that perfectly complements the cake's tartness, this lemon loaf is a versatile dessert that can be enjoyed for breakfast, as a snack, or as a dessert after dinner. And the best part? It's gluten-free. Trust me, you won't even notice the difference!"
Ingredients Needed For Gluten-Free Lemon Loaf Pound Cake
For The Lemon Loaf Pound Cake
Bob's Red Mill's 1:1 All-Purpose Baking Flour: This gluten-free flour blend is perfect for creating a tender and moist texture in the cake. At the same time, the added xanthan gum helps bind everything together.
Butter: The butter adds richness and flavor to the cake, and it's essential to have it at room temperature to make it easier to cream with the sugar.
Sugar – The sugar provides sweetness to balance out the tartness of the lemon and also helps create a golden brown crust on the cake.
Buttermilk: The buttermilk adds a tangy flavor and helps create a moist texture in the cake. Ensure it is at room temperature to prevent it from curdling when mixed with the other ingredients.
Eggs: Room-temperature eggs mix more easily into the batter, creating a lighter texture.
Lemon zest: The lemon zest intensifies the bright, citrusy flavor and aroma. Use a microplane or zester to get the finely grated zest.
Lemon juice: Adding ample lemon juice ensures the cake's signature tart flavor and acidity. Make sure to use fresh lemon juice for the best flavor.
Vanilla extract – The vanilla extract provides a subtle floral flavor to the cake.
Avocado or neutral oil – Helps keep the cake moist and tender. Using avocado oil is a healthy alternative to other oils. It has a mild flavor that won't compete with the lemon.
For the Glaze
Powdered sugar: this is the main ingredient in the glaze that provides sweetness and structure. Make sure to sift or whisk the powdered sugar to remove any lumps before using it in the glaze.
Kosher salt: a pinch of kosher salt helps to balance the sweetness of the powdered sugar and enhances the overall flavor of the glaze.
Lemon zest: I'm adding zest everywhere to really amp up that bright, citrusy flavor and aroma.
Lemon juice: Ok, the amount of lemon juice is the difference between a thick lemon glaze and a loose lemon drizzle. Start by adding 2 tablespoons of lemon juice and then whisk in ½ teaspoon at a time until you achieve your perfect consistency.
Cream of the Crop: Exploring Two Creaming Methods for a Perfect Lemon Loaf Pound Cake
Creaming is an essential step in making a perfect lemon loaf. I've experimented with both the standard and reverse creaming methods and found that they each have their benefits. With the standard method, I creamed together butter and sugar until light and fluffy, then added the eggs one at a time. This creates a light, airy texture in the cake.
On the other hand, with the reverse creaming method, I combined the oil with the dry ingredients until I got a mixture resembling crumbles, then added it to the wet ingredients. This method creates a denser, more moist texture in the cake, and it also helps keep the crumb tight and prevent the cake from falling apart.
Both creaming methods can produce a delicious lemon loaf, but they create slightly different textures. Both methods in this recipe helped me create a moist and tender crumb while maintaining a dense structure.
How To Make Moist Lemon Loaf Pound Cake (GF)
Cream butter & sugar. In a mixer, beat butter and sugar until light and fluffy.
Combine wet ingredients. While the mixer is on, add buttermilk, eggs (one at a time), lemon zest, lemon juice, and vanilla to the mixer.
Combine dry ingredients. In a separate bowl, whisk dry ingredients.
Add oil. Stir oil into the dry mixture until it resembles crumbles. Add the crumbly mixture back to the wet mixture in thirds and mix until smooth.
Pour into pan & bake. Pour batter into prepared loaf pan and bake for 45-50 minutes until a toothpick comes out clean.
Cool. Let the cake cool in the pan for 10 minutes, then transfer to a wire rack to cool completely.
Prepare glaze. Whisk together all the glaze ingredients until a thick but pourable consistency is achieved.
Pour glaze over the cake. Pour glaze over cooled cake and allow to set for at least 30 minutes before slicing.
Baking Tips For A Successful Gluten Free Lemon Loaf
Use a high-quality gluten-free flour blend: Not all gluten-free flour is created equal, so choosing a good quality brand for baking is important. We recommend using "Bob's Red Mill 1-to-1 Gluten-Free Baking Flour" for this recipe, found in most grocery stores or online.
Start with room temp ingredients: For the best results, set your ingredients out a few hours before you begin the recipe to make sure they are at room temperature. This helps them to blend together better and creates a smoother batter.
Use fresh lemons: Use fresh lemons for zest and juice for a more intense and concentrated lemon flavor.
Do not overmix: Overmixing can cause the cake to become tough and dense, so mix on medium speed, again, just until well combined.
Pan size does matter:
Let the cake cool completely: Allow the cake to cool before adding the icing and slicing. The icing will melt if it's added when the cake is too warm. Cooling will help the cake to set and maintain its shape.
Gradually add lemon juice to the glaze: When making the glaze, start with less lemon juice and gradually add more until you achieve the desired pourable consistency. It's better to start with less liquid and add more gradually than to make the glaze too thin and have it run off the cake.
Switchin' It Up: Here Are Some Bangin Variations
Make a standard lemon loaf pound cake. If you don't need the cake to be gluten free, you can use regular all-purpose flour.
Lemon thyme loaf: Add freshly chopped thyme leaves to the batter for an earthy and herbaceous flavor that pairs well with lemon.
Lemon poppy seed loaf: Add some poppy seeds to the batter for a fun crunch and nutty flavor that compliments the lemony tang.
Lavender lemon loaf: Infuse the cake with dried lavender flowers to add a fragrant floral note that pairs well with lemon.
Swap the citrus: Substitute lemon for lime or orange zest and juice for a citrusy change.
Frequently Asked Questions
What's the big difference between lemon cake and lemon loaf pound cake?
Well friend, the difference between the two is the shape and texture. Lemon cake is usually round and fluffy, while lemon loaf cake is baked in a loaf pan and has a denser texture. But both are equally delicious in their own way.
When should you glaze lemon loaf?
Ah, the important question! You should glaze your lemon loaf after it has completely cooled down, and this will prevent the glaze from melting and running all over the place. So, be patient and wait until your lemon loaf is nice and cool before slathering on that delicious glaze.
Why did my lemon loaf collapse?
Yo, that sucks! There could be a few reasons why your lemon loaf collapsed. It could be due to over-mixing the batter or opening the oven door too often while baking. Or, maybe your baking powder or baking soda was too old. Just remember, baking is all about trial and error, so keep trying until you get that perfect lemon loaf.
Should you store lemon loaf cake in the fridge?
Great question! I would avoid storing it in the fridge because you risk drying it out. I recommend storing your lemon loaf cake at room temperature, tightly wrapped, or in an airtight container for up to three days. If you want to keep it longer than that, you can freeze it for up to a month.
What flour should you use for a gluten-free lemon loaf?
If you want to make your lemon loaf gluten-free, you'll need to use a gluten-free flour blend. Bob's Red Mill Gluten-Free 1-to-1 Baking Flour is a great option that can be substituted in any recipe that calls for all-purpose flour. It's specially formulated for baking recipes and will give you a perfect gluten-free lemon loaf every time.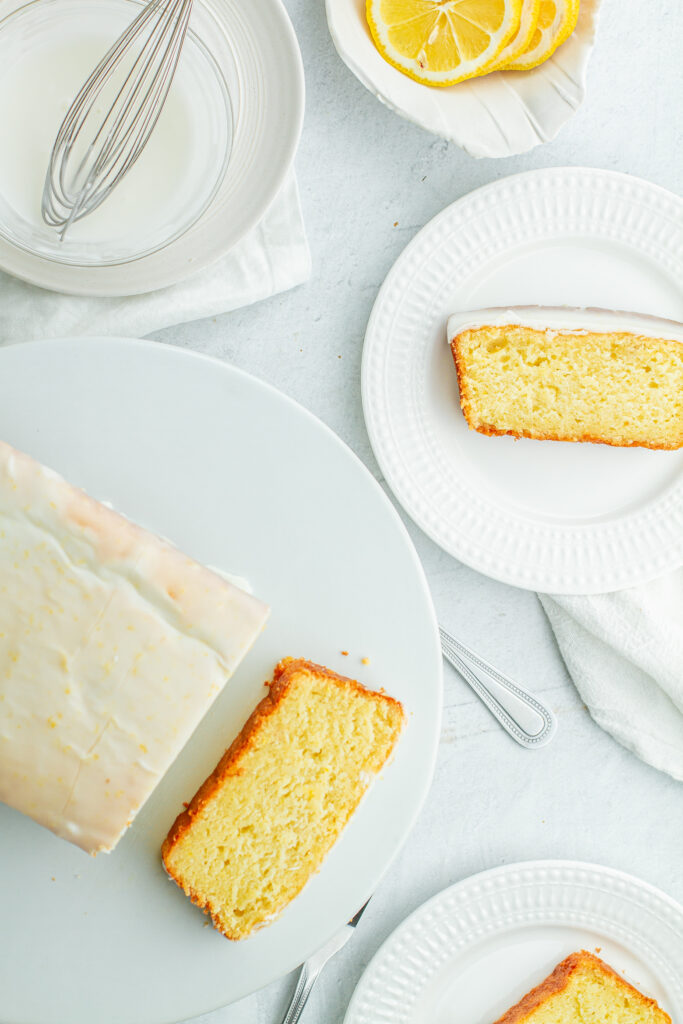 Prep Your Tools & Ingredients
Here is a quick list of things to do before the recipe to ensure everything goes smoothly.
Gather Your Tools:
Stand mixer with a paddle attachment or Hand mixer with a double beater attachment
9×5″ loaf pan
Baking spray
Parchment paper
Rubber spatula
Whisk
Wire rack
Microplane or zester
Citrus juicer
Recipe Prep
Always read through your entire recipe at least 1 time before starting to help things flow smoothly.
Preheat oven to 350°F.
Set our cold ingredients (eggs, butter, buttermilk) a few hours in advance to get to room temperature.
Measure out all ingredients.
Prepare the loaf pan with baking spray and line it with parchment paper.
This lemon loaf is a luscious, sweet, tangy pound cake that is positively bursting with a bright, zesty lemon flavor. Every moist, dense slice is infused with the perfect balance of tartness and sweetness, leaving a citrusy tang on your tongue that makes your taste buds dance with joy.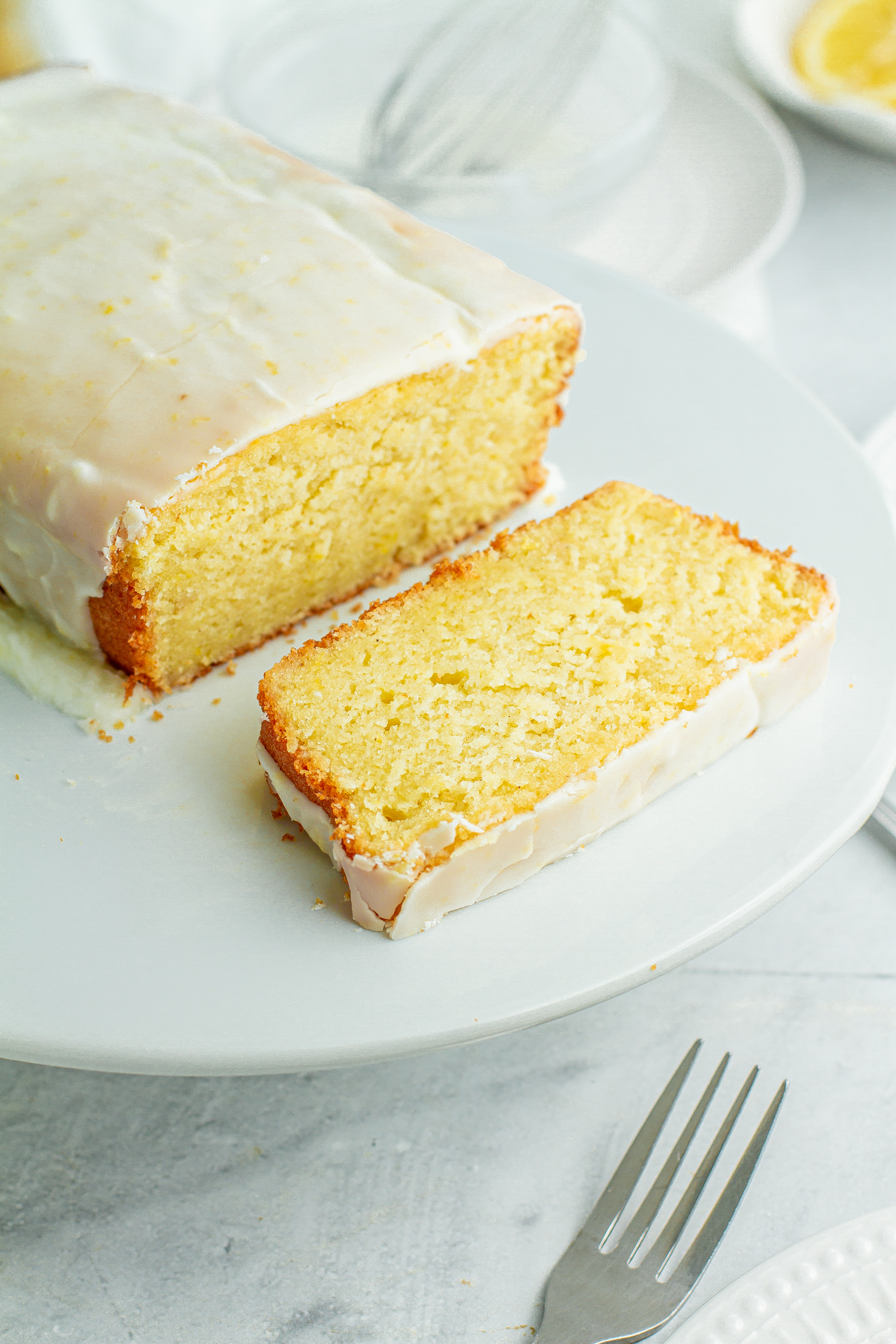 Ingredients
1

stick (8 tablespoons) unsalted butter

softened to room temperature

¾

cup

granulated sugar

½

cup

buttermilk

room temperature

3

large eggs

room temperature

3

tablespoon

lemon zest

(3 lemons)

⅓

cup

fresh lemon juice

(juice of 1 lemon)

1

teaspoon

pure vanilla extract

1 3/4

cups

gluten free baking flour blend

(I use Bob's Red Mill's 1:1 Gluten Free Baking Flour which has xanthan gum in it)

¼

cup

avocado oil

3

teaspoon

baking powder

¼

teaspoon

baking soda

1

teaspoon

kosher salt
FOR THE GLAZE
1 ½

cups

powdered sugar

⅛

teaspoon

kosher salt

1

teaspoon

lemon zest

1

tablespoon

fresh lemon juice

(plus more as necessary)
Instructions
Preheat your oven to 350°F. Grease and line your ( 9×5 ) loaf pan with parchment paper, and set it aside.
PREPARE LEMON BATTER
In a stand mixer with the paddle attachment or hand mixer beat on medium-high speed until light and fluffy, about 5 minutes. Add in the sugar and cream together for another 5 minutes.

Slowly add in the buttermilk, oil, and eggs, one at a time. Next add the lemon zest, juice, and vanilla. Mix until smooth.

In a bowl, add gluten-free flour, baking powder, baking soda, and salt, and whisk to combine well and break up any clumps. With a spoon stir the oil into the flour until it starts to form crumbles. With the mixer on slow speed, add the flour mixture in 3 parts, until the batter is smooth.

Pour the batter into the prepared loaf pan, and smooth the top with a spatula.
BAKE LEMON LOAF POUND CAKE
Place the loaf pan in the center of the preheated oven and bake for 45 – 50 minutes or until a toothpick inserted in the center of the cake comes out clean.

Remove the cake from the oven and allow it to cool in the pan for 10 minutes before transferring it to a wire rack to cool completely (about 1 hour).
MAKE THE GLAZE & ASSEMBLE THE CAKE
Once the pound cools, make the glaze. In a small bowl, whisk together the powdered sugar, salt, and 1 teaspoon of lemon zest.

Whisk in 2 tablespoons of lemon juice. The mixture should still be very thick and dry. Continue to stir in 1 teaspoon at a time until a thick but smooth glaze is formed. The consistency should be pourable.

Pour the glaze over the cooled pound cake, and use the back of a spoon or rubber spatula to evenly spread the glaze and push it to the edges so that it runs down the sides.

Allow the icing to set for at least 30 minutes before slicing.
Nutrition
Calories:
357
kcal
|
Carbohydrates:
50
g
|
Protein:
4
g
|
Fat:
17
g
|
Saturated Fat:
7
g
|
Polyunsaturated Fat:
1
g
|
Monounsaturated Fat:
7
g
|
Trans Fat:
0.4
g
|
Cholesterol:
75
mg
|
Sodium:
520
mg
|
Potassium:
51
mg
|
Fiber:
2
g
|
Sugar:
34
g
|
Vitamin A:
372
IU
|
Vitamin C:
6
mg
|
Calcium:
111
mg
|
Iron:
1
mg
*Nutrition information is a rough estimate.
**The equipment section above contains affiliate links to products I use and love. As an Amazon Associate I earn from qualifying purchases.