Spicy Citrus Fish Tacos with Mango Salsa – flavorful and moist mahi-mahi cooked with jalapeno and citrus paired with a fresh mango salsa equals the perfect fish taco bite every time.
I'm a little rusty in front of the camera but a few weeks ago my husband invited me to host his weekly facebook live show, The Hunger Trap. I'd been dragging my feet for weeks until finally, I said yes and through this little number together.
I had so much fun on the show that it reminded me why I started the blog. To share deliciously flavorful, soulfully inspired and beautifully crafted recipes to those looking to become better home-cooks. Somewhere along the way, I got sidetracked. I got too ingrained in the politics of this space, developed a lot of self-doubt and eventually talked myself out of blogging. 
But I've realized now more than ever that voices like mine, need to be heard, shared, amplified. So I hope you forgive me for my absence and accept this recipe for Spicy Citrus Fish Tacos as a piece offering. 
HOW TO MAKE SPICY CITRUS FISH TACOS
welcome in the Summer with these bright and flavorful Spicy Citrus Fish Tacos. In about 30 minutes scrumptious chunks of moist mahi-mahi cooked down in a spicy citrus reduction and cooled off with your favorite toppings making this your new favorite weeknight staple.
Mango Salsa
Make you mango salsa ahead of time and be sure to let it chill in the fridge for a bit. The cool mango chunks will help offset the spicy fish taco.
Fish Tacos
I like to first brown my fish quarters on each side for a minute and a half to give them color and flavor (not to cook through). I used mahi-mahi but you can use any white flaky fish of your choice.
Then I cook down the vegetables and add back in the fish in addition to orange juice, lime juice, and cilantro and bring to a simmer. Once done, I pile the fish on warmed corn tortillas and topped with my favorite salsa, sour cream and spices. My faves are mentioned down below in the recipe notes.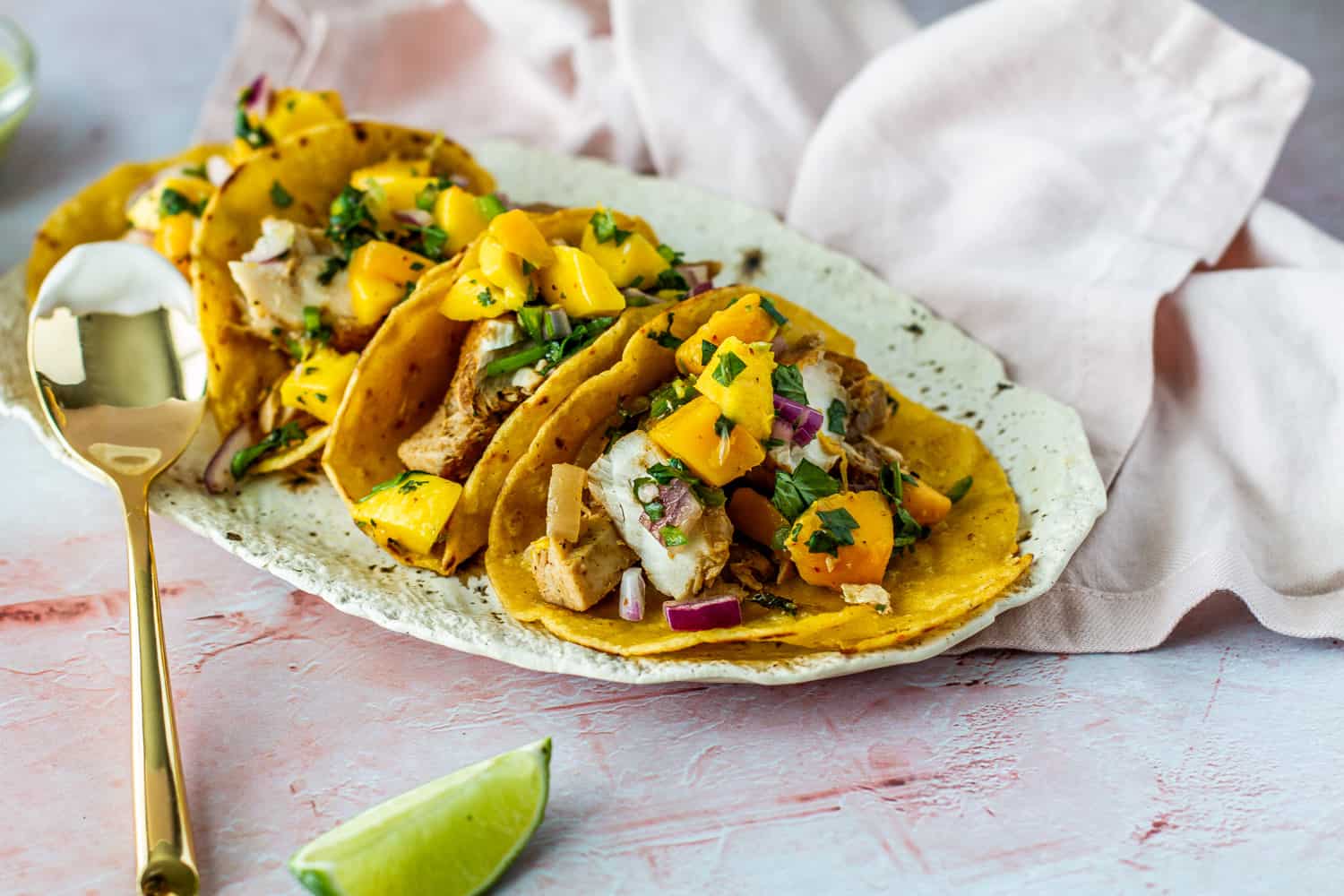 And if you are anything like me you are probably eyeing the plate as much as you are eyeing the tacos. Isn't it beautiful? I snagged it from my friend @sparkleandsoul on Instagram. She makes stunning one-of-a-kind pottery so be sure the check out her work.
Ingredients
Mango Salsa:
2

mangos

chopped medium

¼

red onion

chopped small

½

jalapeno

chopped small

3

sprigs cilantro

chopped fine

1

lime(s)

juiced

¼

teaspoon

kosher salt
Fish Tacos:
4

mahi-mahi filets

quartered

1

tablespoon

all-purpose seasoning

3

tablespoons

oil

divided

½

red onion

chopped medium

1

jalapeno

chopped medium

3

garlic cloves

chopped fine

1

cup

orange juice

1

lime(s)

juiced

½

teaspoon

kosher salt

¼

teaspoon

black pepper

5

sprigs cilantro

chopped fine

12

corn tortillas

3

teaspoons

Tajin Clasico Seasoning

garnish (optional)

Cacique sour cream

optional

Herdez green guacamole salsa

optional
Instructions
To make mango salsa:
In a bowl add the mangos, red onion, jalapeno, cilantro, lime juice, and kosher salt, mix together and place in the refrigerator until fish is ready.
To make fish & tortillas:
Season fish evenly on both sides with all-purpose seasoning. Heat a large skillet over medium heat add 2 tablespoons of oil; once hot add fish and cook for 1 ½ minute on each side. Cook fish in batches, so as not to overcrowd the skillet. Remove fish from skillet and set aside.

In the same skillet, add the red onion and jalapeno, cook for 2 minutes then add the garlic and cook for 30 seconds. Add fish back to the skillet in addition to the orange juice, lime juice, salt and black pepper, cook for 10 minutes, until the sauce thickens. Stir occasionally and fish should start to fall apart as it cooks.

While fish cooks, heat a small skillet over medium-high heat, add 1 teaspoon of oil and add 1 tortilla, cook for 30 seconds each side. Place finished tortillas on a plate and cover with a damp paper towel.
To assemble:
In each tortilla add 2 heaping tablespoons fish, 2 teaspoons mango salsa. Add your favorite toppings like sour cream, green salsa, and/or Tajin seasoning for garnish.
Notes
My taco faves:
- Tajin Clasico Seasoning
- Cacique sour cream (Crema Salvadorena or Crema Mexicana Agria)
- Herdez green guacamole salsa
Recommended Oils:
Avocado, Grapeseed & Canola Oil
*Nutrition information is a rough estimate.
**The equipment section above contains affiliate links to products I use and love. As an Amazon Associate I earn from qualifying purchases.