You are going to love this sweet potato pancake recipe. These are deliciously pillowy and packed with warm spices. And it doesn't hurt to spread a little love (otherwise known as butter and caramelized rum glaze) in between each hearty sweet potato pancake layer.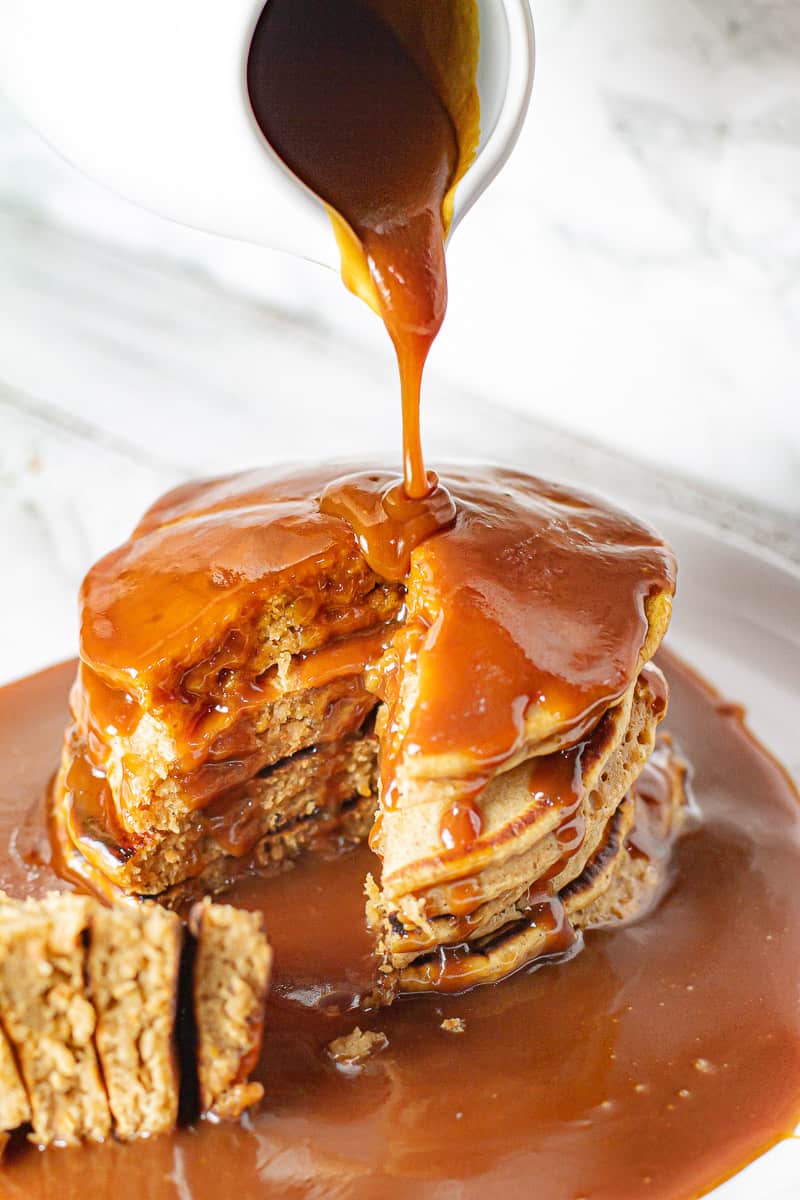 Pumpkin spice is overrated!
There it is – I said it out loud. I won't take it back. I used to be like everybody else on the fall pumpkin spice train but, then pumpkin spice got its own season, and I thought there are more admirable flavor combos that deserve their season, and by season, I mean retail takeover.
So last year I promised not to buy one thing pumpkin-spice and instead make a strong alternative. I asked people on my IG stories to submit some ideas and we landed on sweet potatoes a worthy contender.
One of the recipes coming off of this was my sweet potato pancakes with caramelized rum glaze. Yes maam, you saw that right. Rum for breakfast. You're welcome!
What's even more exciting is the fact that these pancakes stand up to the freezer test. I made a ton of pancakes when testing out the recipe, so much so that it felt bad throwing them away. So I refrigerated some and froze others. And a week later after warming them up those bad boys takes as good a day one. I was floored but my belly was happy.
If you are plan to join me rebelling against the systemic pumpkin-spice agenda … or if you're just looking to make some good homemade pancakes, this is the recipe for you.
Are sweet potatoes seasonal?
Yes, in the United States, sweet potatoes are harvested between early August through early October. However, it can take another eight weeks of curing and storage before the potatoes sweeten and develop the texture. So, you will find them at peak seasonality in November, right around the holidays.
Can I use canned or frozen sweet potatoes?
Yes, you can substitute canned or frozen sweet potatoes for fresh ones almost in any recipe, including that of sweet potato pancakes. Canned potatoes are generally smaller in size due to their canning qualities.
What is the difference between sweet potatoes and yams?
The interchangeability of their names makes most wonder – are yams and sweet potatoes the same thing? They are not. Sweet potatoes have a moister flesh, slick-like skin appeal, and they come in varied colors. On the other hand, yams have a dry, starchy flesh and dark bark-like skin. Taste-wise, sweet potatoes are sweeter than yams, which have a typical, potato-like flavor.
What to serve with sweet potato pancakes?
Sweet potato pancakes taste best with a drizzle of maple syrup or yogurt. You could also top the cakes with pineapples, oranges, apples, and slices of bananas. Sweet potato pancakes also taste divine with rich meats, such as duck, ground pork, ham, and poultry.
How to make fluffy sweet potato pancakes?
The best trick to make fluffy sweet potato pancakes is to add a little unwhipped egg white at the end for extra support, exactly how it is done when making soufflés.
The second-best tip would be to separate and beat egg whites. It means you add the egg yolks to the wet ingredients, and once it combines, with the dry ingredients. Let the mixture rest without egg whites. Right before cooking, fold the egg white peaks into the batter. Do not mix fully but let the white show a little bit. The batter might feel thick, but it will make your sweet potato pancakes super fluffy.
More Delicious Breakfast Recipes
Still, craving more? Check out these breakfast recipes next:
Ingredients
Pancake Batter
1 ½

tablespoons

unsalted butter

melted, plus more for the pan

1

cup

roasted sweet potato purée

2

eggs

1¾

cups

all-purpose flour

½

teaspoon

baking powder

½

teaspoon

baking soda

1

teaspoon

salt

1 ¼

cups

evaporated milk

1

tablespoon

cinnamon

¾

teaspoon

nutmeg

¾

teaspoon

ground ginger

4

tablespoons

brown sugar

1

teaspoon

vanilla

1

tablespoon

lemon juice
Sauce/Glaze
1

cup

sugar

½

cup

water

¼

teaspoon

lemon juice

¼

cup

rum

¼

teaspoon

salt

¼

teaspoon

vanilla extract

2

tablespoons

butter

1

cups

heavy cream
Instructions
Combine all pancake batter ingredients in a large bowl.

Heat a large skillet over medium heat and add enough butter to coat the surface. Once hot, use a 1/3-cup of batter into the skillet. Cook until the edges begin to bubble up and burst 2 to 3 minutes. Flip and cook the other side until golden-brown, about another 2 minutes. Repeat with the remaining pancakes.

On medium heat in a small saucepan, simmer sugar, water, and lemon juice until melted and caramelized. Remove from heat then add rum and stir in salt, vanilla, butter, and cream. Add back to medium heat stir and let simmer for 7-10 minutes until it reaches your desired consistency.
Nutrition
Calories:
491
kcal
|
Carbohydrates:
65
g
|
Protein:
8
g
|
Fat:
20
g
|
Saturated Fat:
11
g
|
Polyunsaturated Fat:
2
g
|
Monounsaturated Fat:
6
g
|
Trans Fat:
1
g
|
Cholesterol:
99
mg
|
Sodium:
577
mg
|
Potassium:
376
mg
|
Fiber:
2
g
|
Sugar:
37
g
|
Vitamin A:
7513
IU
|
Vitamin C:
9
mg
|
Calcium:
180
mg
|
Iron:
2
mg
*Nutrition information is a rough estimate.
**The equipment section above contains affiliate links to products I use and love. As an Amazon Associate I earn from qualifying purchases.