No Batter Blackberry Stuffed Waffles is everything great about fruit-filled waffles. The traditional waffle batter is replaced with a can of biscuit dough. This cuts prepping and cooking time in half, allowing more time to enjoy those warm sweet blackberry stuffed waffles.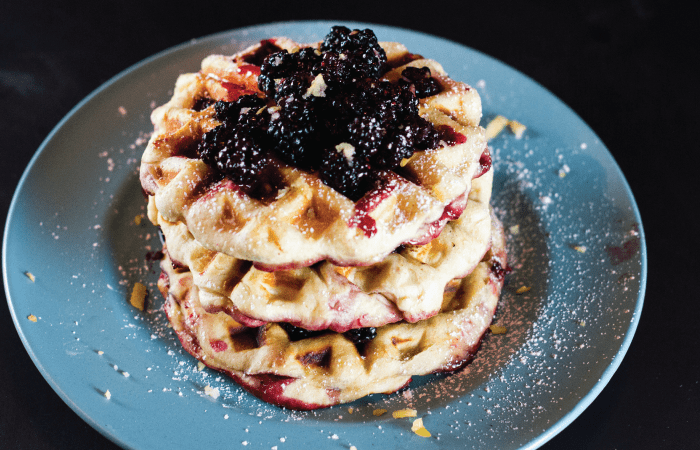 What a week! So if you didn't read my previous blog post I will catch you up on the week's festivities. After being swept away by the Kendrick Lamar Grammy performance I decided to restructure my content and recipe development this week to pay homage to his song "The Blacker The Berry". As a result blackberries took the spotlight this week and boy did they shine in these four new recipes.
Yaaasss to kitchen hacks! The secret ingredient helping us avoid a potentially messy batter situation is Pillsbury Grands Biscuits. These things are magical. I roll the biscuits out with a rolling pin, stuff blackberry filling between two biscuits, pinch the edges closed, and cook in a waffle iron. The biscuits make perfect waffles, with a crispy outside and soft pillowy inside.
Can the No Batter Blackberry Stuffed Waffles be made ahead of time?
The best part of the No Batter Blackberry Stuffed Waffles is that you can make it instantly without having to make a batter – it is there in its name. So, the time it would take to complete this delicious recipe is cut to just 20 minutes. However, we all want something ready to nibble on during movie nights, study nights, or just in case someone stops by. The good news is that much like the battered waffles, these No Batter Blackberry Stuffed Waffles can be prepared ahead of time and stored in the refrigerator.
Which is better to use fresh vs frozen blackberries?
Frozen blackberries are picked in peak ripeness and manage to retain most of their nutrition. So, if you were to make these delicious No Batter Blackberry Stuffed Waffles when the berries are not in season, frozen ones will make a perfect substitute for the freshly harvested. But fresh berries should always be your first choice.
What are some finger-licking-good waffle topping ideas?
Toppings are my favorite part, and not just in the No Batter Blackberry Stuffed Waffles recipe. This is when you can play with the desert and experiment with a variety of flavors as well as textures. My all-time pick is a blueberry syrup or flavored whipped cream. It makes the waffles feel fuller in the mouth and fancier on the plate. You can also try Belgian chocolate-fudge sauce, wild berry compote, fresh diced apples, or a jam of your choice.
What goes with waffles for dinner?
Several flavors compliment waffles. You can serve No Batter Blackberry Stuffed Waffles with fried chicken, bacon, sausage, ham, or pulled pork for a sweet and salty combo. Dairy dishes like quiche, frittata, and eggs also make tasty waffle side dishes.
How to reheat Pillsbury Grands Biscuits and No Batter Blackberry Stuffed Waffles?
To reheat the Pillsbury biscuit waffles, preheat the oven to 350 degrees, lightly coat a baking sheet with cooking spray, transfer onto a baking sheet, and bake it for 10 minutes.
More Delicious Breakfast Recipes
Still, craving more? Check out these breakfast recipes next:
Ingredients
2

cans

Pillsbury Grands biscuits

2

cups

blackberries

halved

½

cup

sugar

pinch

cinnamon

pinch

salt

cooking spray

flour
Optional
creamy maple syrup

powdered sugar
Instructions
Cut blackberries in half and in a large bowl mix together blackberries, sugar, cinnamon, and salt. Stir together until sugar crystals disintegrate and set aside.

On a floured surface, use floured rolling pin to roll out and flatten two biscuits. Add a tablespoon of blackberry mix on top of one of the biscuits; try to drain excess syrup prior to adding on the blackberries. Make sure to leave the perimeter of the biscuit uncovered. Place the second biscuit on top of and press the edges to secure the waffle is closed. Place the stuffed waffle in the waffle iron and cook until golden brown.

Sprinkle with powdered sugar or pour over creamy maple syrup.
Nutrition
Calories:
485
kcal
|
Carbohydrates:
72
g
|
Protein:
8
g
|
Fat:
19
g
|
Saturated Fat:
3
g
|
Polyunsaturated Fat:
7
g
|
Monounsaturated Fat:
8
g
|
Cholesterol:
1
mg
|
Sodium:
1088
mg
|
Potassium:
317
mg
|
Fiber:
3
g
|
Sugar:
18
g
|
Vitamin A:
79
IU
|
Vitamin C:
8
mg
|
Calcium:
67
mg
|
Iron:
4
mg
*Nutrition information is a rough estimate.
**The equipment section above contains affiliate links to products I use and love. As an Amazon Associate I earn from qualifying purchases.