This whipped feta recipe is perfect to serve as a quick and easy appetizer, spread, dip, or snack. It goes great with veggies, chips, or meats and is ready in just 5 minutes.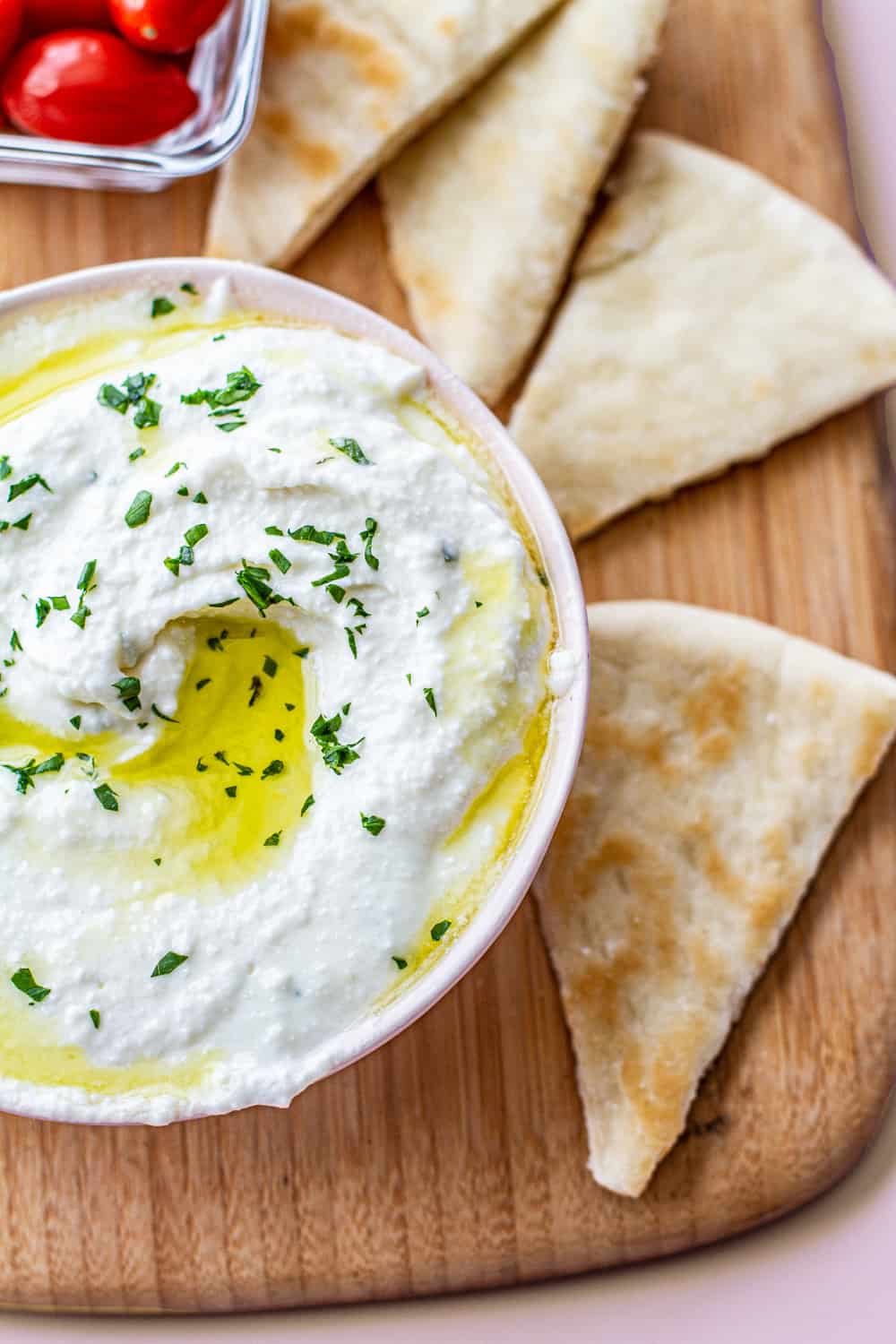 Last year I tried whipped feta at a restaurant for the first time and my mind was blown. How could someone manage to further improve upon the salty, creamy greatness of feta? Who would take on such a fete?
Just when you think the dip gods have blessed you with all that they can do you sit back and realize pantry potential is endless. This creamy cheese dip is truly the best thing since sliced bread. In fact, it soooo versatile, not only is an amazing dip for chips and veggies but it is equally as good as a spread on your favorite sandwiches.
Looking for a super-bomb, quick, and appetizer at your needs social distancing party? Say less my friend, I've got you covered.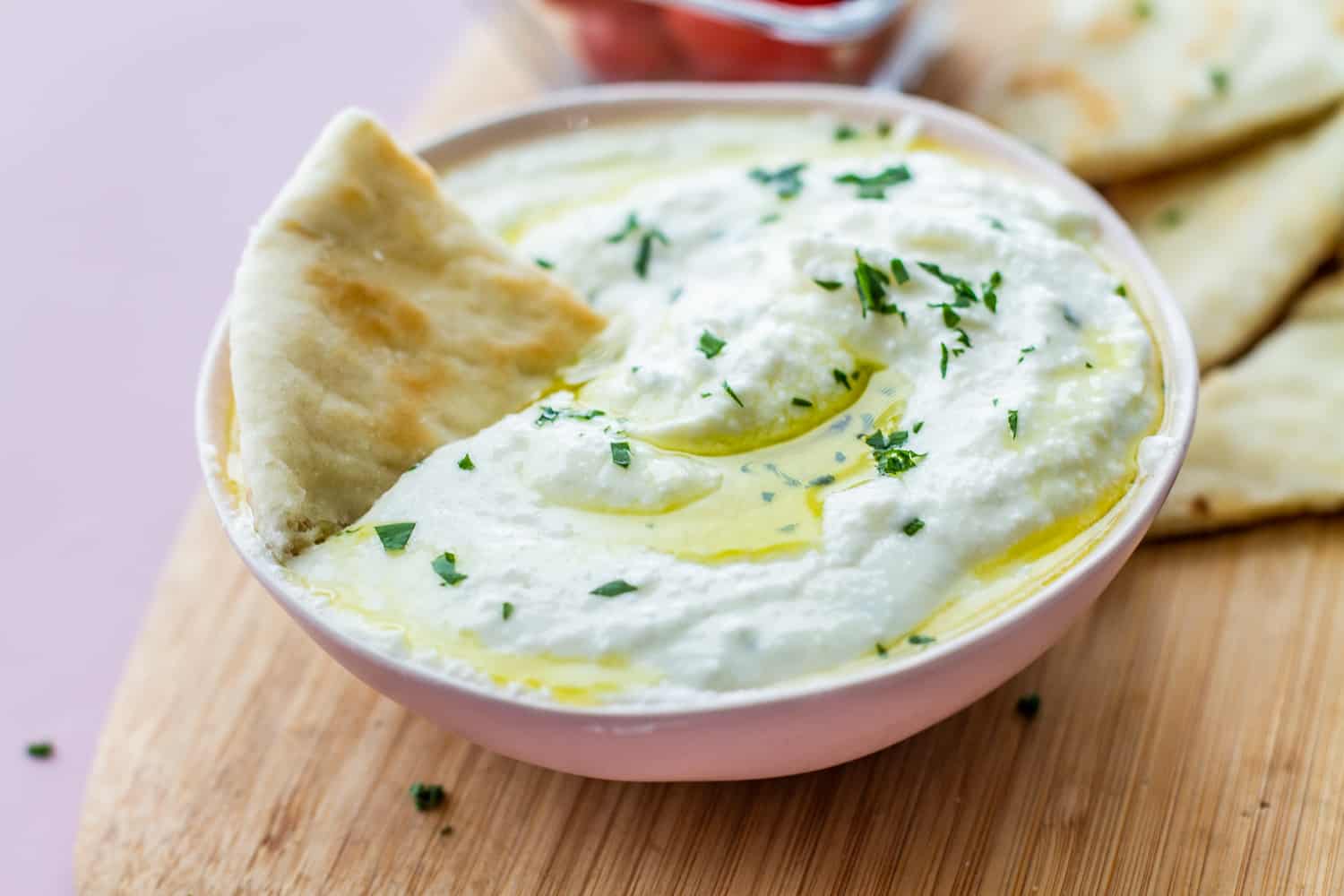 What is whipped feta?
This versatile dip/spread that is made by blending crumbly feta and often, another dairy or oil-based product to achieve its creamy, fluffy consistency. Feta is a bit dryer so needs a more lubricated complement like cream cheese, sour cream, yogurt, olive oil, or my favorite toum, to help it break down as it whips.
How does feta cheese taste?
Feta Cheese has a salty and slightly tangy taste. It may taste lemony as well. It has a nutty aroma and will be creamy in consistency.
How do you know if feta cheese is still good?
Feta does spoil. If your cheese has any of the following, discard and do not eat. Mold, dark spots, overall darkening or is slimy to touch. After opening, feta should last around 5 days in the fridge.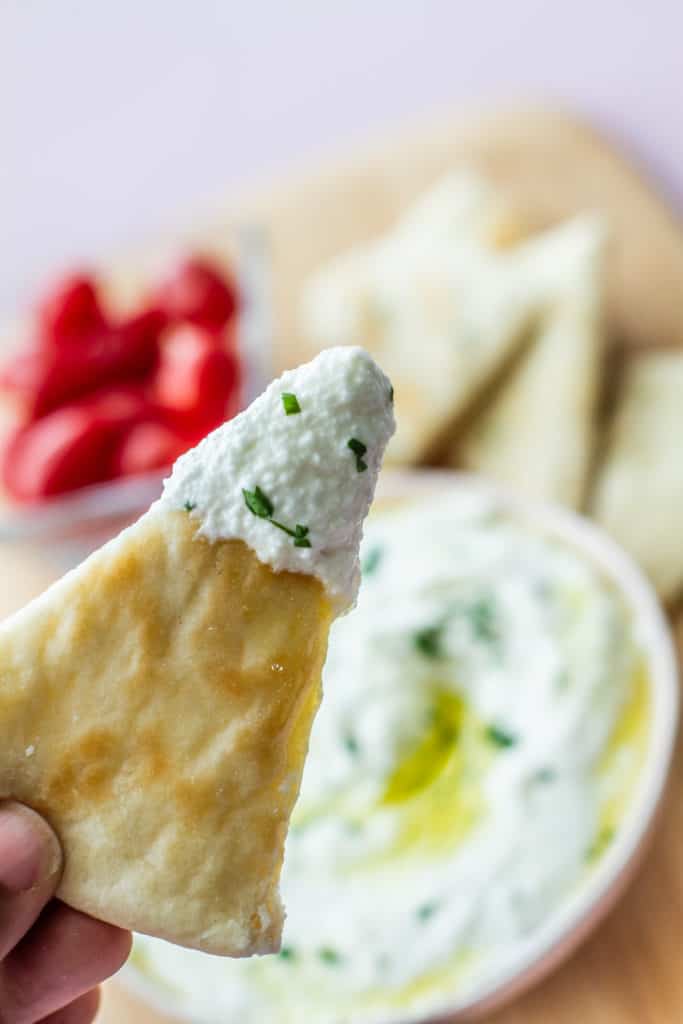 What is the difference between feta & goat cheese?
These cheeses are very similar. They're both creamy white cheeses. But the main difference between Feta Cheese and Goat Cheese is the milk that is used. Though both cheeses can be made with goat's milk, Feta is mostly made of sheep's milk while Goat cheese is primarily made with goat milk. However, the taste between the two are definitely different, as goat cheese has a very bold and earthy taste.
What sides go well with feta dip?
Whipped Feta can be used as a replacement for anything you would otherwise use Feta Slices or Crumbles. It's just an easier way to enjoy. Try it on Pita Toast, pizza, and more! I love it.
How to store leftovers?
Whipped Feta can be made in advance and if you can believe it, actually become even more delicious after it has had a chance to sit in the fridge for a while. Store in the refrigerator in a closed container. I would suggest consuming within 3-5 days . It will become thicker as it chills. You may want to let it sit out for about an hour before eating, to get that beautiful spreadable consistency again.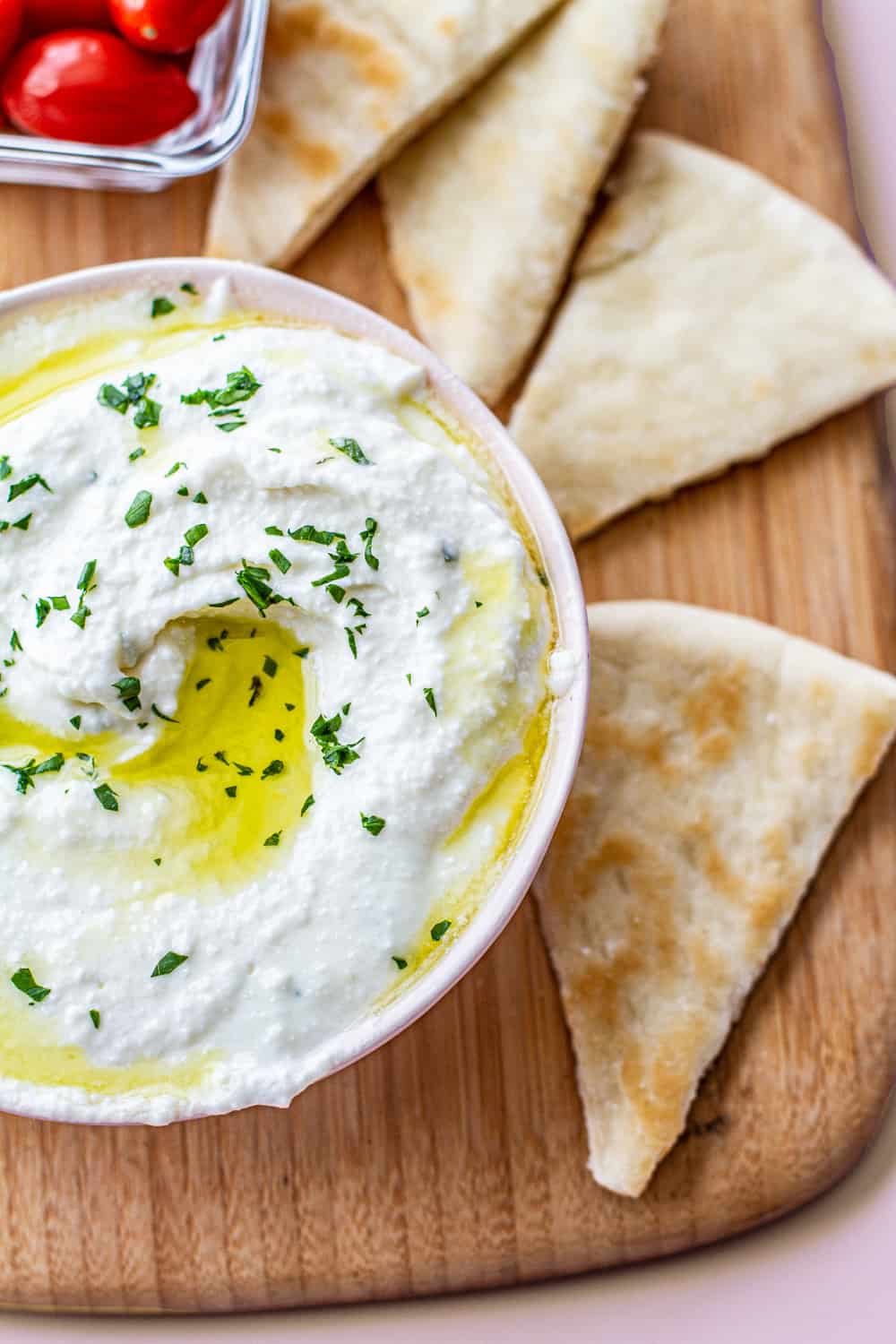 Ingredients
1

block

feta cheese

8-oz

3

tablespoons

crema

or sour cream

½

cup

toum

garlic spread

olive oil

to dress
Instructions
Combine all of the ingredients in a food processor or blender and process until smooth. Scrape down the sides when necessary, until feta is super creamy. Taste and adjust seasoning. Transfer to a serving bowl, drizzle with olive oil and serve.
Notes
Substitute toum/garlic spread with ½ cup whipped cream cheese, 2 tablespoons lemon juice, 1 clove garlic, minced
For a silkier texture, pass whipped feta through a fine-mesh strainer.
Nutrition
Calories:
178
kcal
|
Carbohydrates:
4
g
|
Protein:
6
g
|
Fat:
16
g
|
Saturated Fat:
9
g
|
Polyunsaturated Fat:
1
g
|
Monounsaturated Fat:
2
g
|
Cholesterol:
58
mg
|
Sodium:
554
mg
|
Potassium:
23
mg
|
Sugar:
2
g
|
Vitamin A:
193
IU
|
Calcium:
198
mg
|
Iron:
1
mg
*Nutrition information is a rough estimate.
**The equipment section above contains affiliate links to products I use and love. As an Amazon Associate I earn from qualifying purchases.