Short on time no problem. This savory and smoky pot of greens has a blend of collard, mustard, and turnip greens and cooks down in more than half the time. And don't worry, even when using the pressure cooker there's plenty of leftover pot likka to enjoy.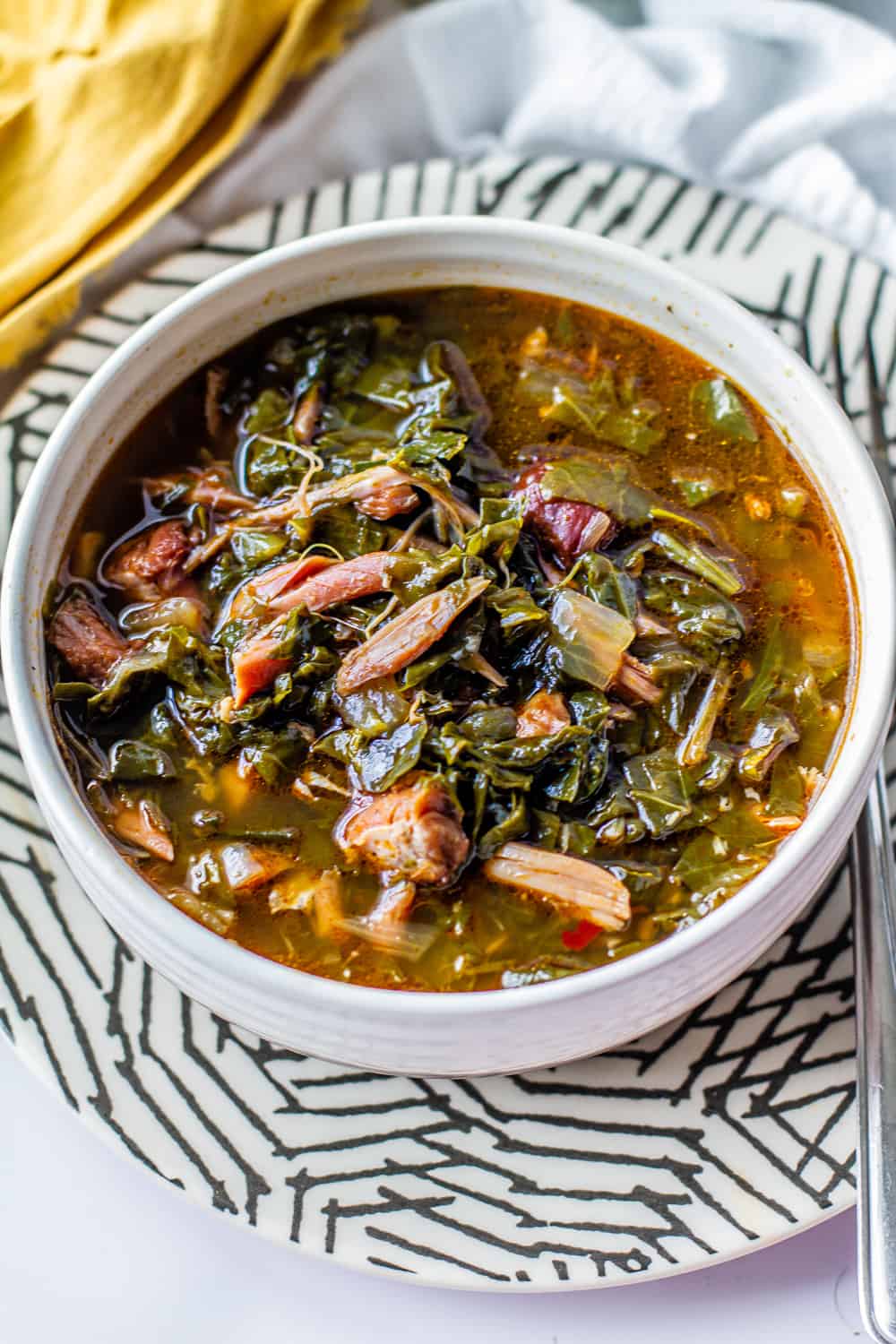 Anyone who truly knows me knows that slow-braised greens are my all-time favorite. And I just so happened to think that my family recipe is the best around.
I traditionally use a blend of the following greens to get my signature texture.
Collard Greens: Wide leaves and thick stalk with a bitter flavor.
Turnip Greens: Slightly sweeter with tender leaves.
Mustard Greens: Thinner texture, ruffled leaves with peppery taste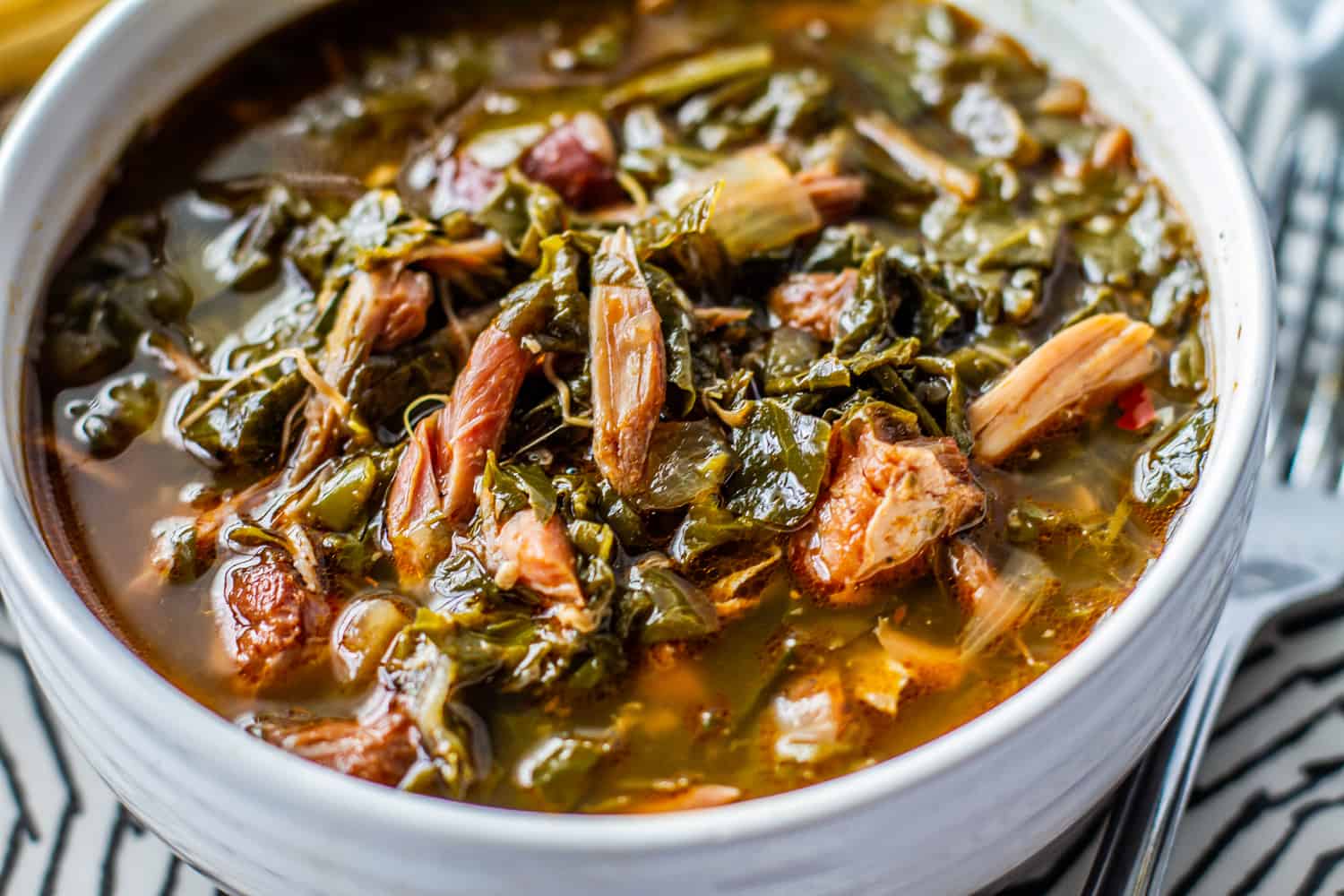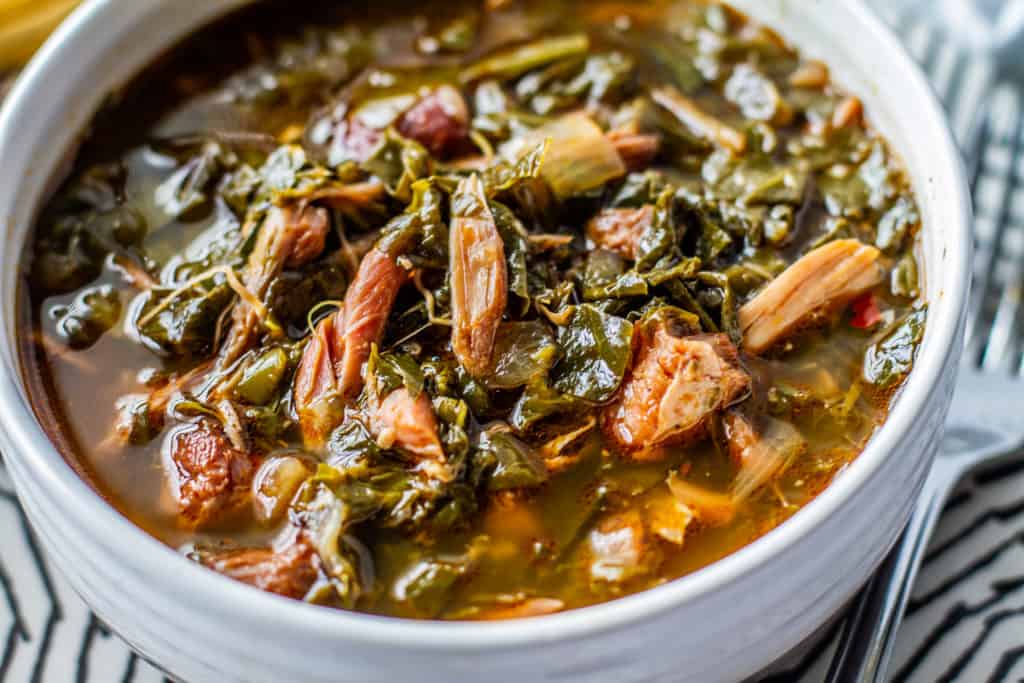 Southern Greens in Half the Time
I've been cooking greens over the stovetop for years – well since I learned. This year I had the bright idea of using the instant pot to cut downtime. I don't know why it took me so long. Sometimes habits are hard to break.
I was worried that they wouldn't hit the same but I was sadly mistaken. This instant pot recipe is not only as delicious as the stovetop version but in almost half the time.
The only difference is the limitation of the pressure cooker size. I was able to get all the ingredients in using an 8-quart instant pot but I had to reduce the amount of greens just a tad. All that means is a better pot likka to greens ratio which I'm not mad at.
How To Pick, Clean & Cut Greens
I created a pretty comprehensive guide on everything Greens that you can check out here.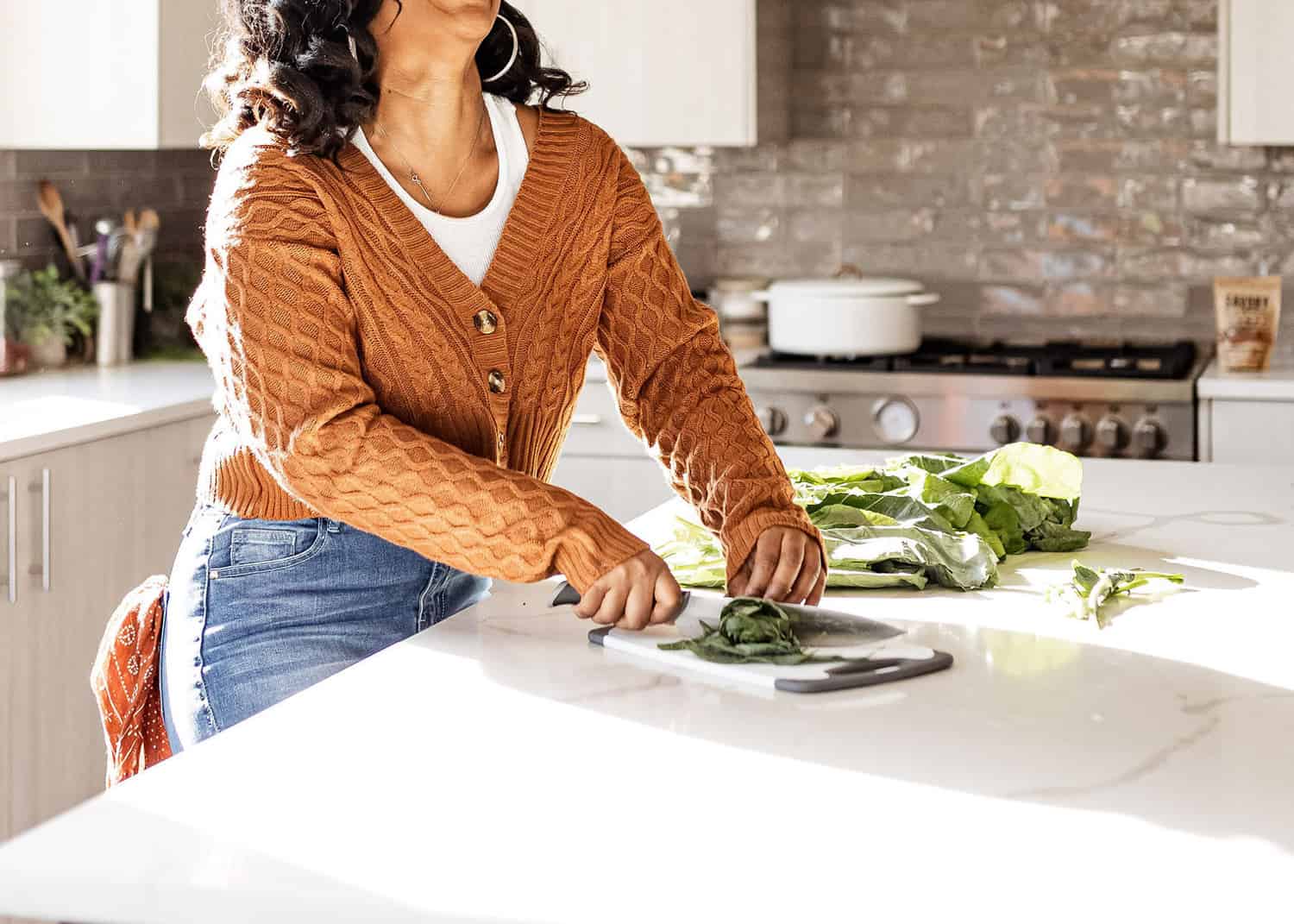 What are southern greens?
Collard Greens: Wide leaves and thick stalk with a bitter flavor.
Turnip Greens: Slightly sweeter with tender leaves.
Mustard Greens: Thinner texture, ruffled leaves with a peppery taste
Can frozen or canned greens be used?
Frozen greens are a great alternative as it will cut down on your prep and cleaning time. Frozen greens are snap frozen as soon as they are picked, preserving their nutrients and texture. They will still absorb created a yummy flavorful pot likka!
How do you take the bitterness out of greens?
Once boiled thoroughly, add a teaspoon of salt and a teaspoon of lemon juice to your greens. Mix and taste to ensure the bitterness is gone. If not, add another teaspoon of salt and lemon juice. Repeat until the bitterness subsides completely.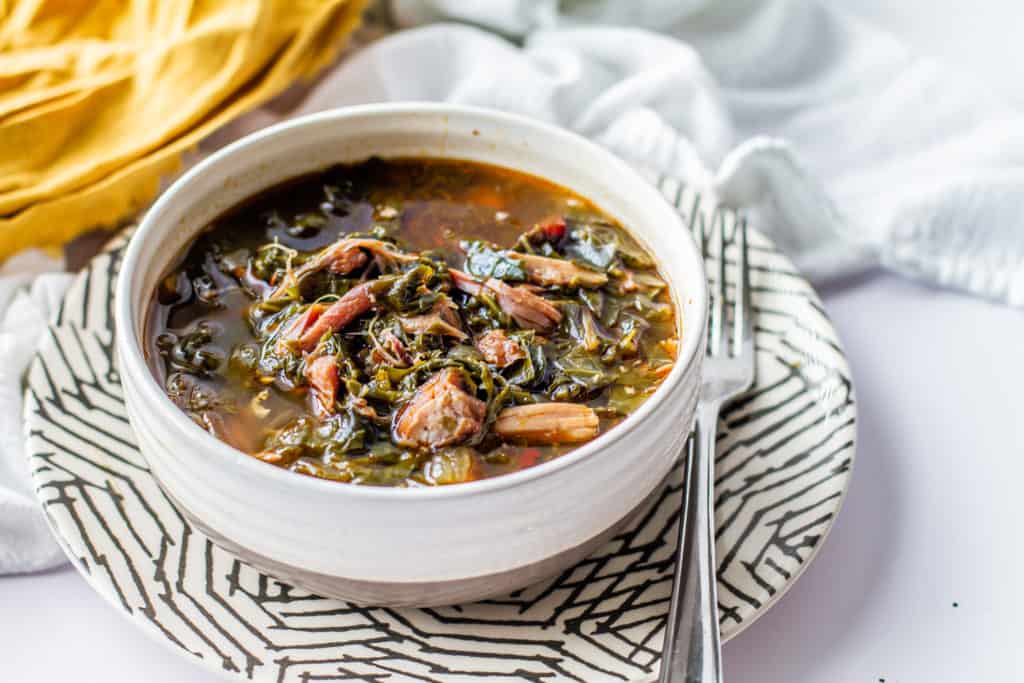 What is the proper way to clean greens?
You must make sure that you are diligent about cleaning your greens. If you are buying them by the bunch instead of the pre-cut bag, I recommend you wash them 2-3 times.
Simply fill up a clean sink with water, submerge your greens in saltwater and inspect leaves for dirt and bugs. Repeat. The last thing you want is to have little critters floating around your bowl.
Should greens be soaked before cooking?
Soaking your greens isn't necessary; however, it can help clean thoroughly clean your greens. Soak the entire bunch of leaves in salt water for about 30 minutes, then rinse the greens under running water for about 3 minutes before cooking.
More Instant Pot Recipes
Ingredients
2

lb

collard greens,

stem removed & chopped

1

lb

blend of mustard greens and/or turnip greens,

stem removed & chopped

1

medium

onion

chopped

2

cups

picante salsa

medium

⅓

cup

apple cider

or white vinegar

2

lb

smoked turkey legs

4

cups

unsalted chicken stock

3

tablespoons

worcestershire sauce

2

tablespoons

honey

2

tablespoons

Louisiana hot sauce

1

tablespoon

kosher salt

2

cloves

garlic

chopped

1

tablespoon

liquid smoke

1

teaspoon

black pepper

¼

teaspoon

ground cumin

1 ½

teaspoons

red chili flakes

2

bay leaves
Instructions
Clean and the stems of the greens then roughly chop them.

**Optional** remove turkey meat from the bone and reserve the large bones. If your pot is big enough you can keep the smoked turkey leg whole – this is recommended. This portion cooks best in an 8 quart pressure cooker.

Add all the wet ingredients (chicken stock, picante salsa, vinegar, worcestershire sauce, honey, hot sauce, liquid smoke)to the instant pot and stir.

Next add the onion, salt, garlic, pepper, cumin, chili flakes and bay leaves and stir.

Finally add the greens followed by the turkey legs. Press down so that every thing fits and seal the instant pot lid on top. Manually set pressure cooker to 30-60 minutes depending on how much texture you want remaining in your greens.

Serve once the greens have reached your desired level of tenderness.
Notes
You will need an 8-quart instant pot or pressure cooker inorder to fit all ingredients. .
Before I serve my greens I typically take a scan of the pot to remove any of the skin of the smoked meats. I personally don't find it enjoyable to eat but it's totally optional and left to individual preference.
Nutrition
Calories:
207
kcal
|
Carbohydrates:
19
g
|
Protein:
22
g
|
Fat:
7
g
|
Saturated Fat:
2
g
|
Polyunsaturated Fat:
2
g
|
Monounsaturated Fat:
2
g
|
Cholesterol:
53
mg
|
Sodium:
1301
mg
|
Potassium:
885
mg
|
Fiber:
6
g
|
Sugar:
8
g
|
Vitamin A:
6277
IU
|
Vitamin C:
68
mg
|
Calcium:
308
mg
|
Iron:
3
mg
*Nutrition information is a rough estimate.
**The equipment section above contains affiliate links to products I use and love. As an Amazon Associate I earn from qualifying purchases.