Best Damn Greens Ever
Southern style greens medley made with smoked turkey collard greens, mustard greens and turnip greens
The Difference between Collard, Turnip & Mustard Greens
Collard Greens: Wide leaves and thick stalk with the bitter flavor.
Turnip Greens: Slightly sweeter with tender leaves.
Mustard Greens: Thinner texture, ruffled leaves with peppery taste
Clean Yo Greens
Don't skip this step. I repeat, don't skip this step. It is so imperative that you make sure that you are diligent about cleaning your greens. And if you are buying them by the bunch vs the pre-cut bag then I would recommend you clean them 2-3 times.
Simply fill up a clean sink with water, submerge your greens in the water and inspect leaves for dirt and bugs. Repeat. The last thing you want is to have little critters floating around your bowl.
How To Cut Greens
Video is below.
Where's the Meat
Smoked meats are traditionally used in southern style greens because they assist in cutting the bitterness of the greens while also adding loads of flavor to the braising liquid. You will most commonly see smoked meats like ham hocks, neck bones, turkey legs and wings and sometimes even bacon.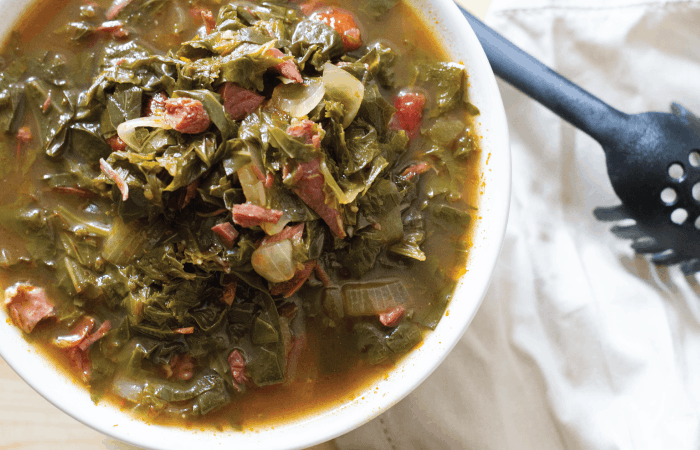 Ingredients
2

bunches of collard greens

deveined and chopped

1

bunch of turnip greens

deveined and chopped

1

bunch of mustard greens

deveined and chopped

1

onion

chopped

2

cups

16 oz picante salsa

½

cup

apple cider or white vinegar

the meat of two smoked turkey legs

4

32 oz. cartons of unsalted chicken stock

5

tablespoons

worcestershire sauce

3

tablespoons

honey

2

tablespoons

Louisiana hot sauce

1½

tablespoons

salt

1

tablespoon

minced garlic

1

tablespoon

liquid smoke

1

teaspoon

of black pepper

1 /4

teaspoon

ground cumin

Large Stock Pot
Instructions
Clean and devein the greens then roughly chop them.

**Optional** remove turkey meat from the bone. Make sure to get the small bones scattered in between the meat. Reserve the large bones.

Put the chicken stock in a medium stockpot on high heat. Once you get to a rolling boil add in all the remaining ingredients (including the large turkey bones), cover, reduce heat to medium and let them cook down for 3- 4 hours depending on how tender you like your greens. Make sure to stir occasionally.

Serve once the greens have reached your desired level of tenderness.
Notes
You will need a Large Stock Pot
*Nutrition information is a rough estimate.
**The equipment section above contains affiliate links to products I use and love. As an Amazon Associate I earn from qualifying purchases.