New! Sharing blackberry cake recipe for the moreish Blackberry Naked Cake, I've had the am-ah-zing chance to develop with @Driscollsberry and @thefeedfeed. This layer-dripping goliath definitely gave me a run for my money. Cooking has always been natural and therapeutic, but baking… that's a different story. *sigh*
THIS RECIPE IS SPONSORED BY DRISCOLL'S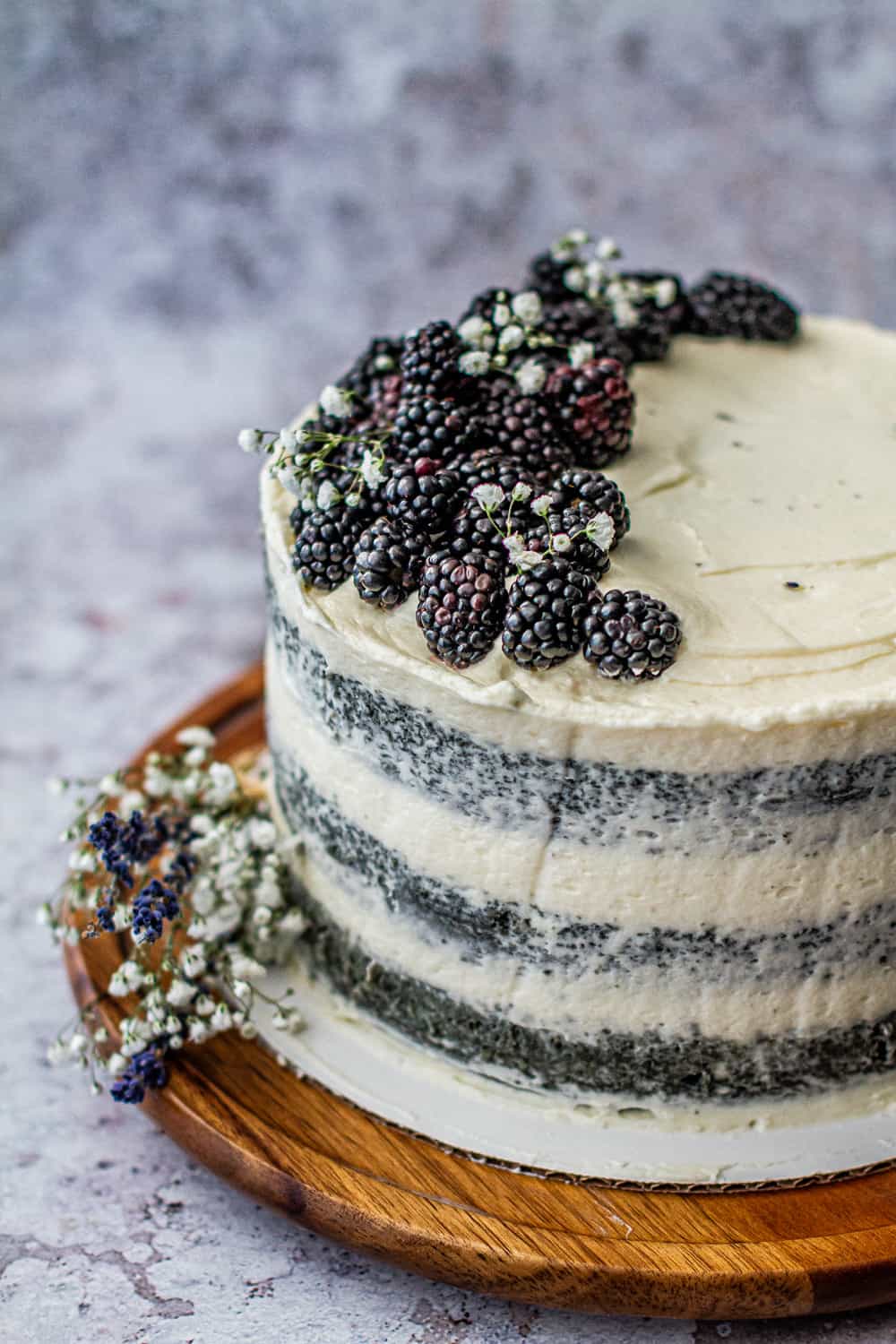 Indulge in the Sweetness of Blackberry Naked Cake
Ah well! Sigh no more. Being stuck at home really has me pushing my culinary limits. I, who typically shy away from layered cakes, am setting to bake the delicious stairways to heaven! More like creamy bites to my mouth.
So, eager to find new ways to work with blackberries, I challenged myself to make a 3-layered naked blackberry vanilla cake. Elegant! Not gonna lie, I had to test 5 variations of this cake recipe before I got it juuust right. Moist and airy pillows of cake infused with blackberry puree with cream cheese frost and fresh blackberries lathered in between! Mm, yummy and aromatic. Each bite is nothing short of exceptional!
I just left a review on Driscolls.com thanking them for inviting me to participate in my own #BerryTogether moment, which may have started as a challenge but ended as the perfect artistic outlet. Stuck at home, I managed to create a perfectly-imperfect work of art with blackberries! What have you been cooking or baking up lately in the kitchen?
Check out the recipe on driscolls.com/ ____ and join me in sharing your own #BerryTogether moments.
#BerryTogether and #Feedfeed #finestberries #driscolls
Ingredients You'll Need To Make Blackberry Naked Cake
For The Cake
Blackberries: add a sweet and slightly tart flavor to a blackberry naked cake, as well as a vibrant color and a juicy texture. When incorporated into the cake batter and used as a filling between cake layers, blackberries enhance the overall taste and visual appeal of the dessert.
Unsalted Butter: adds richness, moisture, and flavor to a blackberry naked cake. It helps to create a tender crumb and adds a creamy texture to the cake batter. Since unsalted butter does not contain any added salt, it allows the other ingredients, such as the blackberries, to shine through without any interference in taste.
Sugar: adds sweetness and flavor to a blackberry naked cake. It helps to balance out the tartness of the blackberries and enhances the overall taste of the cake.
Egg Whites: add structure and stability to a cake, helping it to rise properly during baking. They also contribute to the cake's light and airy texture, as they can trap air bubbles and help create a fluffy crumb.
Sour Cream: adds moisture, tanginess, and richness to a blackberry naked cake. The fat content in sour cream contributes to the cake's richness and creaminess, creating a more luxurious texture.
Vanilla Extract: adds a sweet and aromatic flavor to a blackberry naked cake. It enhances the overall taste of the cake by adding a subtle sweetness and a pleasant aroma that complements the fruity flavor of the blackberries. Additionally, vanilla extract can add a creamy and smooth texture to the cake, helping to balance out any tartness from the blackberries.
All-purpose Flour: adds structure and stability to a blackberry naked cake, providing a solid foundation for the other ingredients. It is the primary dry ingredient in the cake batter, helping to bind the other ingredients together and create a cohesive texture.
Cornstarch: helps thicken the cake batter and make it more stable, allowing the cake to rise properly during baking. Cornstarch creates a more tender and delicate texture.
Baking Powder: a leavening agent that helps a blackberry naked cake rise and becomes light and fluffy.
Baking Soda: can help neutralize the acidity in the cake batter, creating a more balanced flavor.
Kosher Salt: adds a subtle savory flavor and balances the sweetness. It helps activate the leavening agents, baking powder, and baking soda.
Ground Cinnamon: add a warm and spicy flavor to a blackberry naked cake, complementing the sweetness of the blackberries.
For The Frosting
Unsalted Butter: adds richness, creaminess, and a smooth texture to the frosting.
Cream Cheese: add a tangy and slightly sweet flavor to the frosting, as well as a thick and creamy texture.
Powdered Sugar: is a key ingredient in frosting, as it provides sweetness and helps to thicken and stabilize the frosting.
Vanilla: provides a delicious and subtle flavor that complements the sweetness of the sugar and richness of the butter.
Salt: add a subtle savory flavor to the frosting, as well as help to balance the sweetness of the sugar.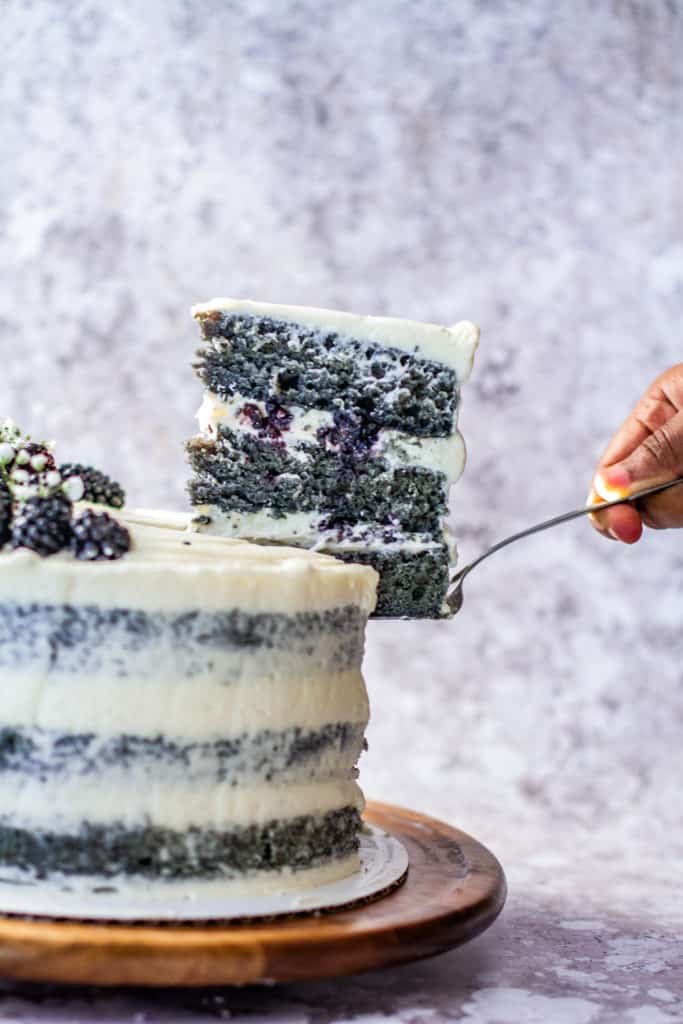 When are Blackberries in Season?
Although the yummy fruit of the blackberry naked cake grows and mellows from later Spring through easy Fall, the peak season in the USA runs from July to August.
How Do You Adjust the Blackberry Naked Cake for 8-inch Pans?
The stress that comes from having an 8-inch pan when you need a 9-inch is real. If you find yourself in such a fuss, relax, no problem. All you gotta do is decrease the oven temperature by 25°F and increase the bake time by a quarter. Or you can lessen the recipe quantity by 25% and use the same temperature and bake time. Here's a brilliant article on how you can adjust pan sizes by using simple elementary math.
How to bake flat cake layers?
I used DIY cake strips following Preppy Kitchen's tutorial, and it worked.
Ideal Temperature for the Blackberry Cake Ingredients?
Keep the ingredients at room temperature, which means around 70 degrees F. Doing so will ensure that the sugar and butter mix beautifully and remain well-emulsified without any "curdling."
How Else Can I Decorate My Blackberry Cake?
While naked cake with berries tastes great on its own, we all want our homemade cakes to look cute and definitely Instagram-worthy. You already have the recipe for cream cheese frosting (see instructions), but other than that, you can decorate the blackberry cake with fruits, sprinkles, powdered sugar, jam, or meringue.
How to Prepare the Freshly-Picked Blackberries?
You want to give salt enough time to kill all the bugs in the bunch. Later, rinse the berries under cold running water, remove unwanted stems and leaves, let them come back to room temperature, and use. You can also make a pasty-smooth purée (see tips).
What Other Flavors Go Well with Blackberry?
I get it that vanilla can feel too classic or mainstream when trying to get creative in the kitchen. No problem! You can use tons of other flavors and get an equally-delicious blackberry naked cake. Blackberry pairs well with blueberry, lime, hazelnut, apricot, black pepper, orange, raspberry, peach, mint, and apple. Some love it with strawberries; others don't. So that is on you to decide.
More Delicious Dessert Recipes
Still craving more? Check out these dessert recipes next: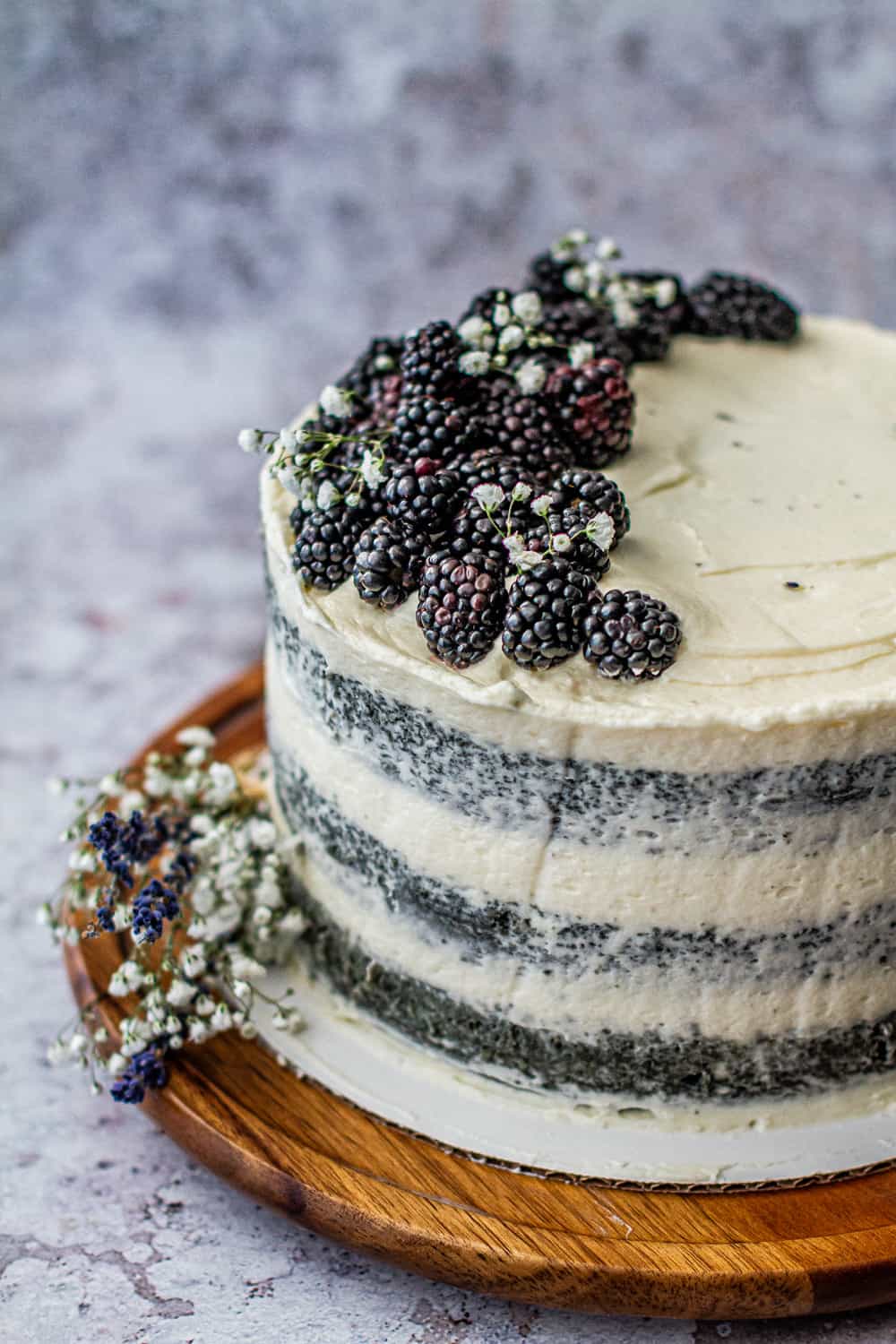 Ingredients
Cake
36

oz

Driscoll's Blackberries

divided

1½

cups

3 sticks or 12 oz unsalted butter, softened, room temperature

2¼

cups

15.75 oz sugar

6

oz

egg whites

room temperature (approximately 6 egg whites)

¾

oz

sour cream,

room temperature

3

teaspoons

vanilla extract

2 ¾

cups

all-purpose flour

sifted

1

tablespoons

all-purpose flour

sifted

¼

cup

cornstarch

sifted

3½

tablespoons

cornstarch

sifted

3¾

teaspoons

baking powder

¾

teaspoon

baking soda

¾

teaspoon

kosher salt

¼

teaspoon

ground cinnamon
Frosting
2

cups

unsalted butter

room temperature

12

oz

cream cheese full fat

room temperature

6

cups

powdered sugar

sifted

2

tsp

vanilla

1

teaspoon

salt
Instructions
Cake:
Preheat the oven to 350 degrees F. Butter and lightly flour three 9-inch cake pans. Set aside.

Puree 21 oz of fresh blackberries until smooth. Using a fine-mesh strainer, strain the puree. Set aside.

In a large bowl, sift flour, baking powder, baking soda, cornstarch, cinnamon, and salt together.

In a stand mixer bowl, mix cream butter and sugar to get a smooth consistency. While mixing, add each egg white one at a time, followed by sour cream and vanilla.

Add flour in thirds, alternating with blackberry purée. Use a spatula to scrape down the sides and the bottom of the bowl when necessary.

Evenly distribute batter among prepared cake pans (approximately 3 cups each) and level the batter.

Bake for 30-35 minutes, until an inserted toothpick or knife comes out clean. Let the blackberry cake layers cool down to room temperature, or wrap with plastic and refrigerate.
Cream Cheese Frosting:
Use an electric hand mixer (or stand mixer with paddle) to beat together cream cheese and butter until incorporated and then add powdered sugar, salt, and vanilla. Mix on low speed until smooth.
Assembly:
Place one layer on a cake stand or serving plate. Top it with approximately 3/4 cup of frosting and spread evenly. Add 5 oz of fresh blackberries across the layer. Repeat with the second layer of cake. Add the final layer, frost it, and smoothen the outside using just a thin coat around the cake's sides. Decorate the top of the now-ready blackberry cake with the remaining fresh berries.
Notes
You'll need approximately 21 oz of fresh blackberries to make the purée.
You can use a blender/immersion blender to achieve a smooth puree.
The final strain should come to approximately 12 ounces.
If you'd like to achieve a redder color batter, add puréed blackberries to a small sauce over medium heat for 5-7 minutes. Then bring to room temperature before you proceed.
You can also use three 8-inch cake pans. Fill 1 to 2-inch cake pans ½ full with batter and 3 to 4-inch pans ⅔ full with batter.
Nutrition
Calories:
1129
kcal
|
Carbohydrates:
134
g
|
Protein:
8
g
|
Fat:
64
g
|
Saturated Fat:
40
g
|
Polyunsaturated Fat:
3
g
|
Monounsaturated Fat:
17
g
|
Trans Fat:
2
g
|
Cholesterol:
174
mg
|
Sodium:
667
mg
|
Potassium:
255
mg
|
Fiber:
5
g
|
Sugar:
102
g
|
Vitamin A:
2228
IU
|
Vitamin C:
18
mg
|
Calcium:
151
mg
|
Iron:
2
mg
*Nutrition information is a rough estimate.
**The equipment section above contains affiliate links to products I use and love. As an Amazon Associate I earn from qualifying purchases.