Butter Bath Corn – Prepare to fall in love with corn all over with this super easy technique for boiling corn in milk, broth, water, and salt, which infuses a rich buttery flavor into each kernel.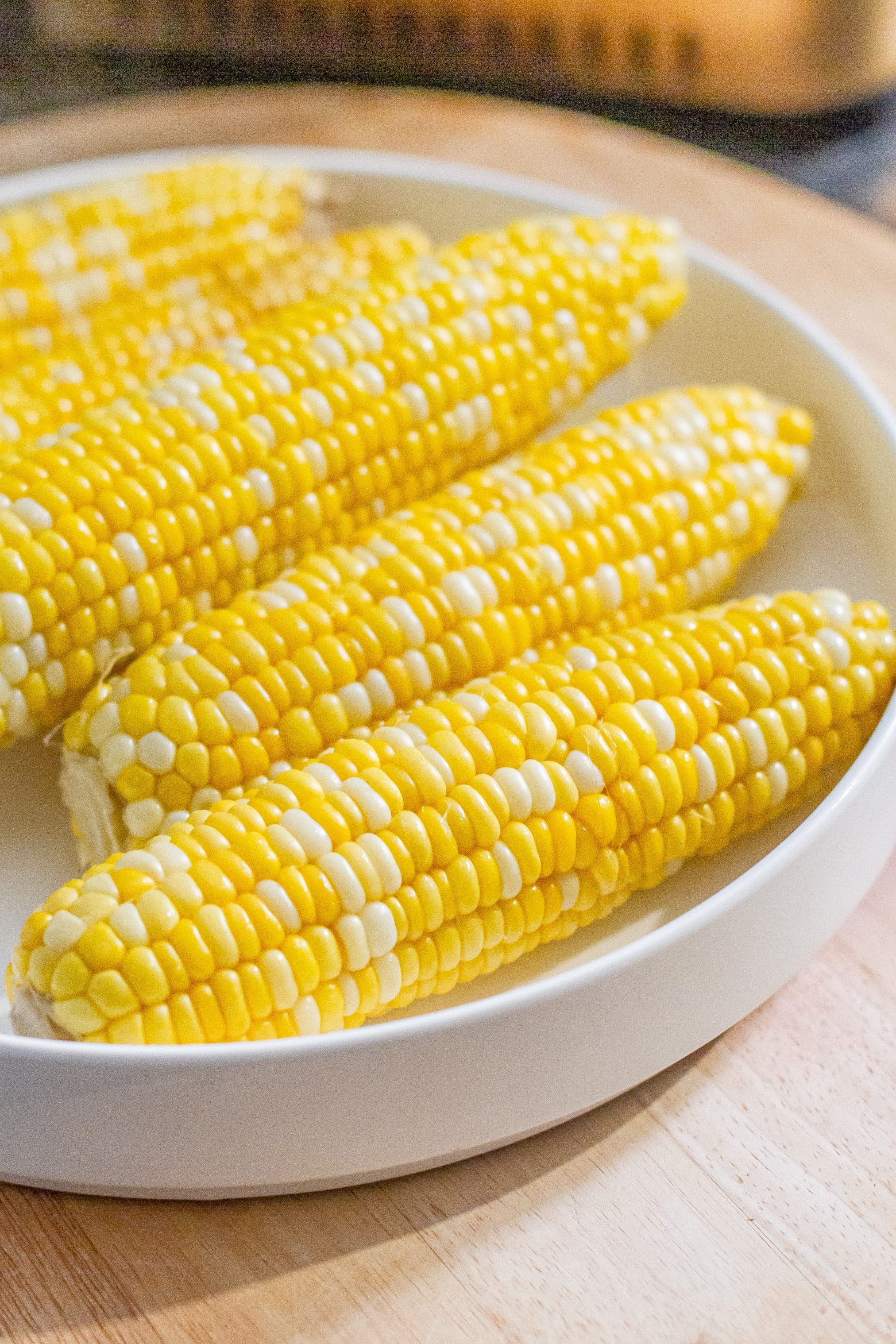 The Best Way to Boil Corn on the Cob
Hey Friends. It's summer, so you're probably loading on recipes using fresh sweet corn. An easy way to prepare corn on the cob is just by boiling it. And listen, I boiled corn in just plain water (10 out of 10 don't recommend), salted water, and salted broth, but none of'em turned out as good as butter bath corn, also known as milk boiled corn. It's like a combination of the above and then some.
If you are new to the butter bath technique, don't worry, it's just a jazzed-up version of classic boiled corn where fresh ears of corn are cooked in boiling broth, milk, butter, and salt until tender.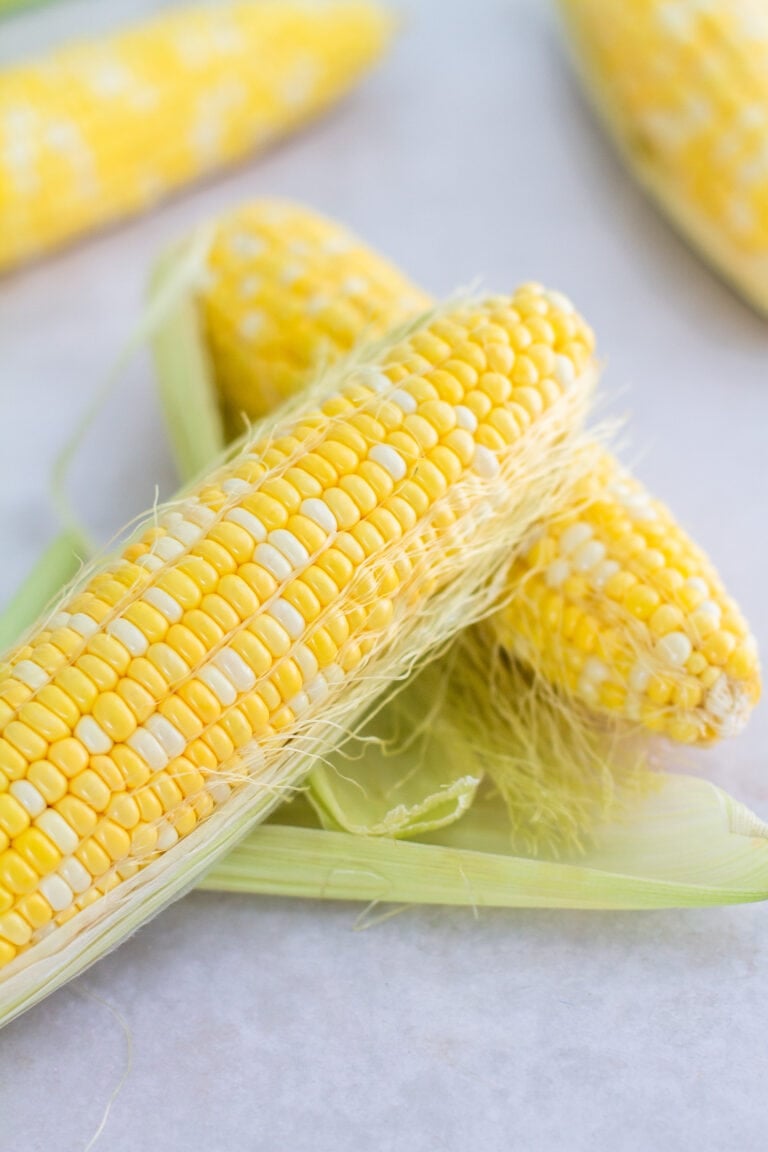 Key Ingredients For Butter Bath
For the butter bath corn on the cob, you will need the following key ingredients:
Corn. Look for heavy ears of corn with bright green husks; these are the ripe ones. Make sure to shuck the ears before using them.
Broth. I like to use chicken broth for this recipe, but vegetable broth will work well too. Adding broth to the cooking liquid brings a ton of savory flavor to the corn.
Milk. If you've never boiled corn in milk, this probably sounds strange. Trust me on this one! Milk does an incredible job of bringing out the natural sweetness in the corn, making it extra delicious. For best results, use whole milk.
Butter. I typically whip up some garlic butter to serve with my corn on the cob, but adding butter to the cooking liquid helps to infuse buttery flavor into every single kernel. Yum!
Salt. I use regular kosher salt in this recipe, but feel free to use sea salt instead if that's what you have at home.
Tip: Some people add sugar too, but I find the corn available around here during the summer is already sweet enough. If you suspect your corn is a little lacking in flavor, you might want to add some sugar to perk it up.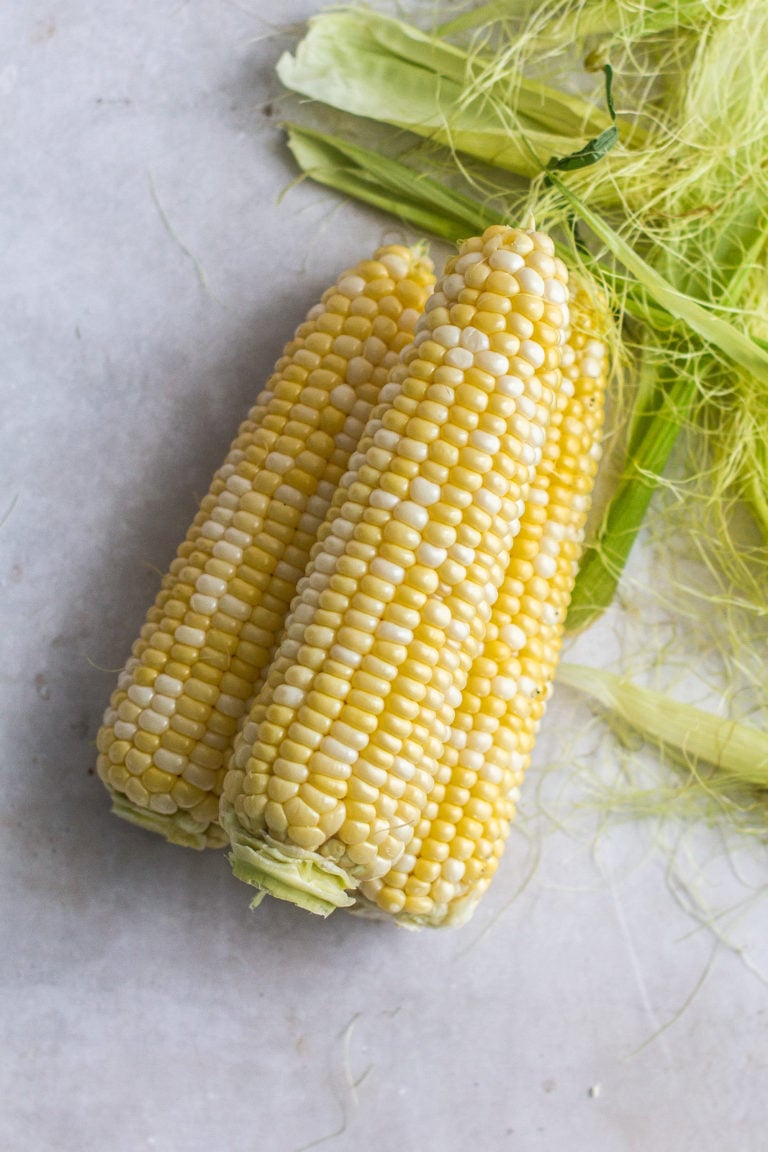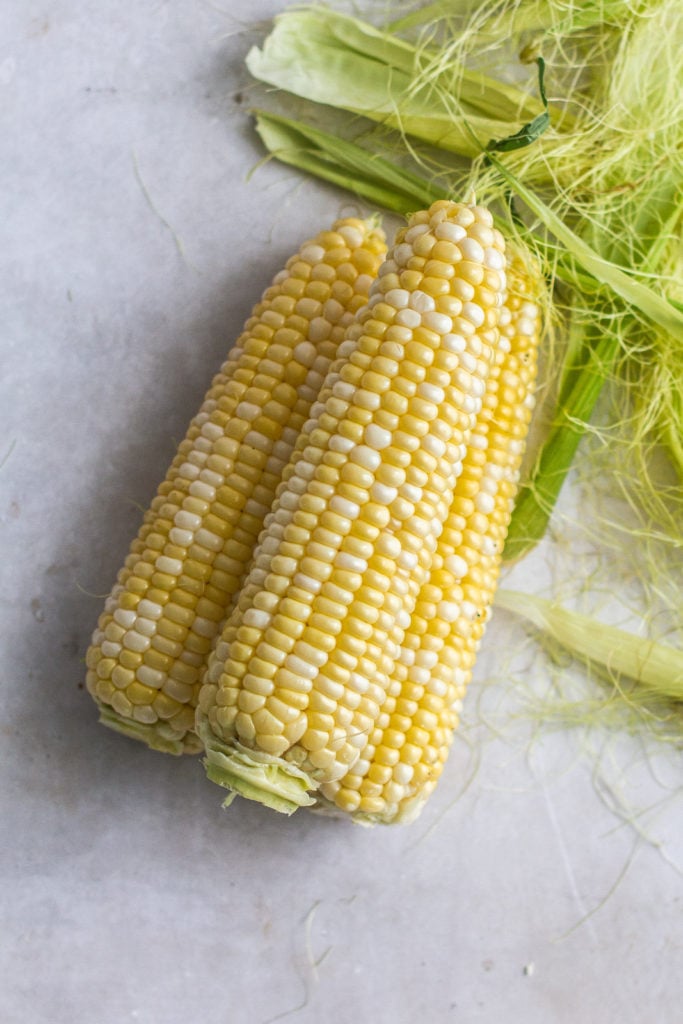 How To Make Butter Bath Corn on the Cob
Boiling corn on the cob is a super simple process that can be done in just a few steps! Simply follow these easy instructions on how to boil corn on the cob:
Shuck the corn and make sure there is no remaining silk, then set aside.
Pour water, broth, and salt into a large stock pot and bring to a boil over high heat.
Once boiling, reduce the heat to low and stir in the milk and butter. Cook until the butter has melted, stirring occasionally.
Add the corn to the pot, then cover and cook for 6-8 minutes.
Carefully remove the corn from the pot and serve immediately. Enjoy!
Infusing Corn on the Cob With Milk Bath
Milk boiling makes for tender, sweet butter-infused corn and is also a great conduit for infusing other flavors.
If you want to add some extra dimension to your milk boiled corn, try adding any of the following flavors to the milk mixture before cooking:
Garlic & Herb: Add a sprig or two of fresh thyme, rosemary, or basil, and a few cloves of minced garlic would be fantastic.
Lemon Pepper: For a bright and citrusy flavor, add the zest of one lemon and a good amount of lemon pepper to the milk mixture.
Hot Honey: For a little bit of sweetness and spice, add honey, hot sauce, and red pepper flakes to the milk mixture.
Ranch: Ranch powder mix would be a great addition to milk-boiled corn!
Chipotle: For a smoky flavor, add a minced chipotle pepper in adobo sauce to the milk mixture.
Buffalo: If you want your milk-boiled corn to have a little bit of a kick, add some buffalo sauce to the milk mixture.
There you have it, everything you need to know about customizing milk-boiled corn on the cob! This method is quick, easy, and produces the most delicious corn you've ever tasted. So go ahead and give it a try; I think you'll be hooked!
Frequently Asked Questions
Here are the answers to some of the most frequently asked questions about milk butter boiled corn:
Why Would I Boil Corn in Milk?
Boiling corn in milk infuses flavor into the corn, results in plump kernels, and brings out the natural sweetness.
How long is too long to boil corn on the cob?
Overcooking corn on the cob can result in stiff and chewy kernels, so we definitely want to avoid that. The goal is to cook the corn until the kernels are bright yellow and crisp-tender. I have found the best results with bringing my cooking liquid to a boil, then reducing the heat to low, and cooking the corn covered for 6-8 minutes.
Does boiling corn in milk make a difference?
Yes! Boiling corn in milk is a huge game-changer. The mild sweetness in the milk helps to enhance the natural sweetness of the corn, making it more flavorful and delicious than ever before. If you've never tried it before, get ready to fall in love.
​​Can I use frozen corn?
If you have access to fresh summer corn, I always recommend that first; however, this recipe works just as well with frozen corn. I would just recommend that you thaw it out first if you want to follow the same cook times as the recipe.
How do you store leftover corn on the cob?
To store leftover corn on the cob in the fridge, I recommend tightly wrapping it in plastic wrap or aluminum foil. If you don't have either, you can store the corn in an airtight storage container. When properly stored, corn on the cob will stay fresh in the fridge for up to 3-5 days.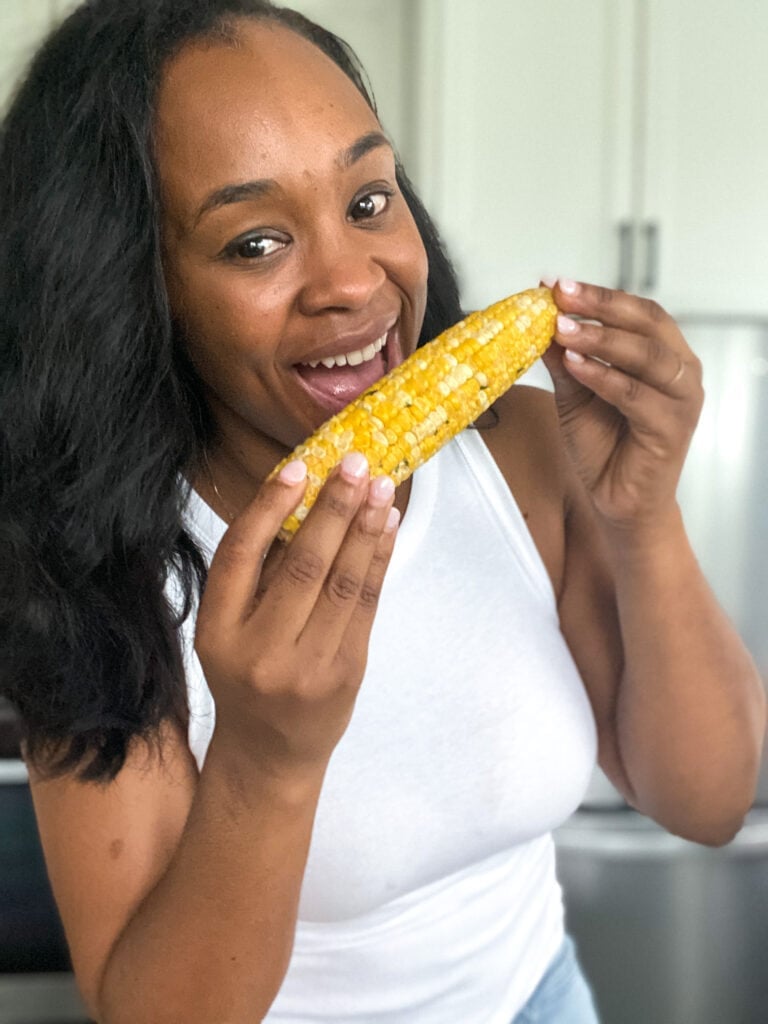 More Delicious Corn Recipes
If you liked this recipe, you've got to try these:
Now It's Your Turn
I would highly recommend giving it five stars if you make it. Be sure to take a photo and tag @meikoandthedish on Instagram too! Enjoy!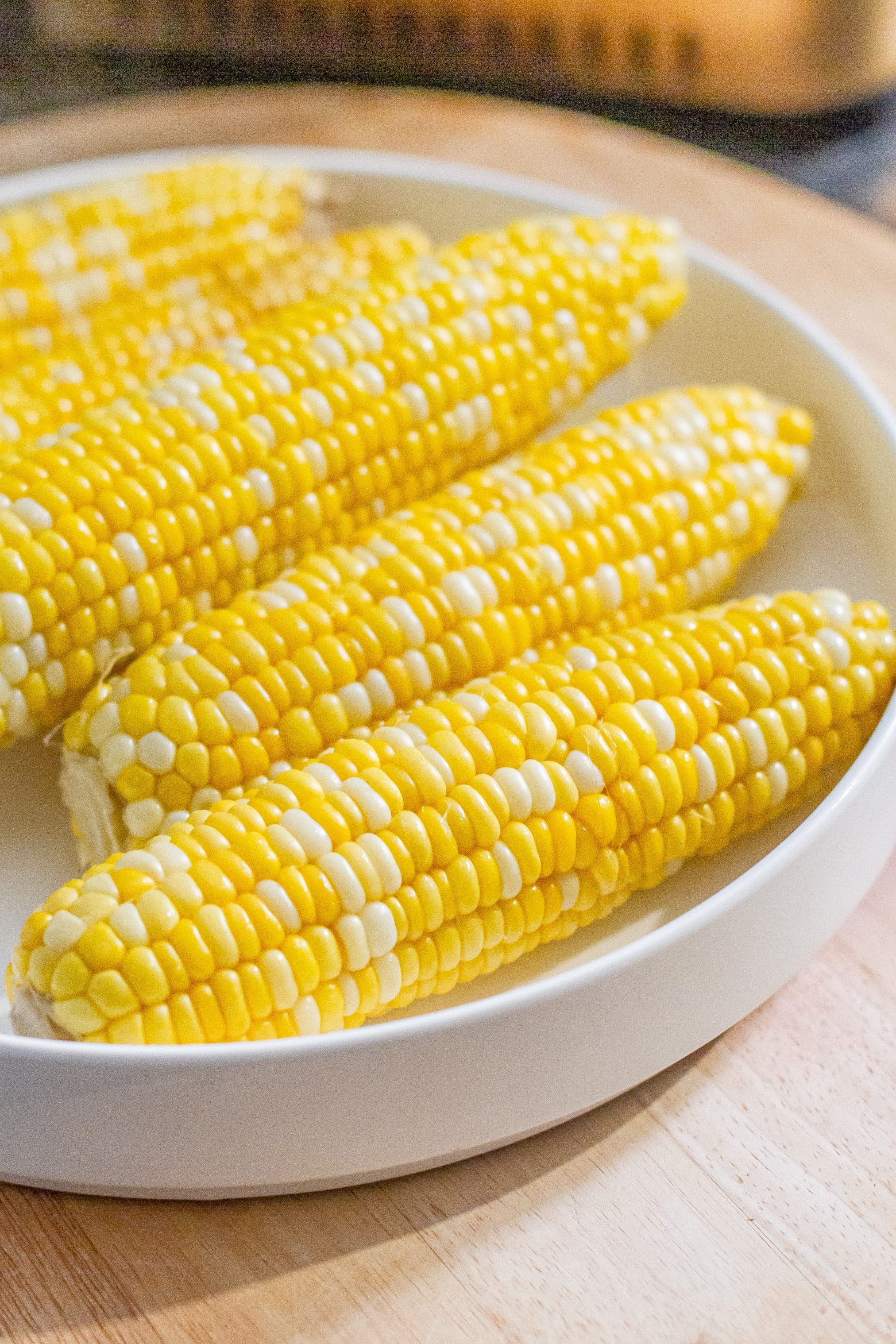 Ingredients
2

cups

water

room temp or warm

2

cups

chicken broth

or vegetable broth, room temperature

3

tablespoons

kosher salt

½

cup

8 tablespoons unsalted butter

sliced

2

cups

whole milk

room temperature

6

ears corn on the cob

shucked
Instructions
Milk Boiled Corn
Clean the corn on the cob of any remaining silk and set aside.

Pour water, broth, and salt into a large stock pot and bring to a boil over high heat.

Reduce heat to a medium simmer and add in the milk, butter. Stir until the butter has melted.

Carefully add the corn and cover. Cook the corn for 6-8 minutes.

Remove the corn from the pot, brush on additional butter if desired, and serve immediately.
Nutrition
Serving:
6
g
|
Calories:
267
kcal
|
Carbohydrates:
21
g
|
Protein:
6
g
|
Fat:
19
g
|
Saturated Fat:
12
g
|
Polyunsaturated Fat:
1
g
|
Monounsaturated Fat:
5
g
|
Trans Fat:
1
g
|
Cholesterol:
52
mg
|
Sodium:
3829
mg
|
Potassium:
384
mg
|
Fiber:
2
g
|
Sugar:
10
g
|
Vitamin A:
774
IU
|
Vitamin C:
6
mg
|
Calcium:
114
mg
|
Iron:
1
mg
*Nutrition information is a rough estimate.
**The equipment section above contains affiliate links to products I use and love. As an Amazon Associate I earn from qualifying purchases.