Elote, hands down, is my numero UNO go-to summer recipe. I love Mexican Street Corn and I'm kind of bougie about it. I want to taste all the layers of flavor in each and every bite. There is nothing better than biting down into the spicy, savory, and sweet all at the same time! Check out this easy recipe and learn how to make it for yourself!
Elote is a traditional Mexican street food that consists of elotes grilled corn on the cob and slathered in mayonnaise, chili powder, lime juice, salt, and cotija cheese.
Elote vendors can be found throughout Mexico's streets during summertime, where elotes are often sold out of carts or from small stands.
What Is Elote?
Elote in spanish means corn, but when referring to the popular Mexican street food it is simply corn on the cob that has been grilled and sprinkled with lime juice, salt, chili powder, mayonnaise, and cotija cheese. Elotes are typically served on the cob or on a stick.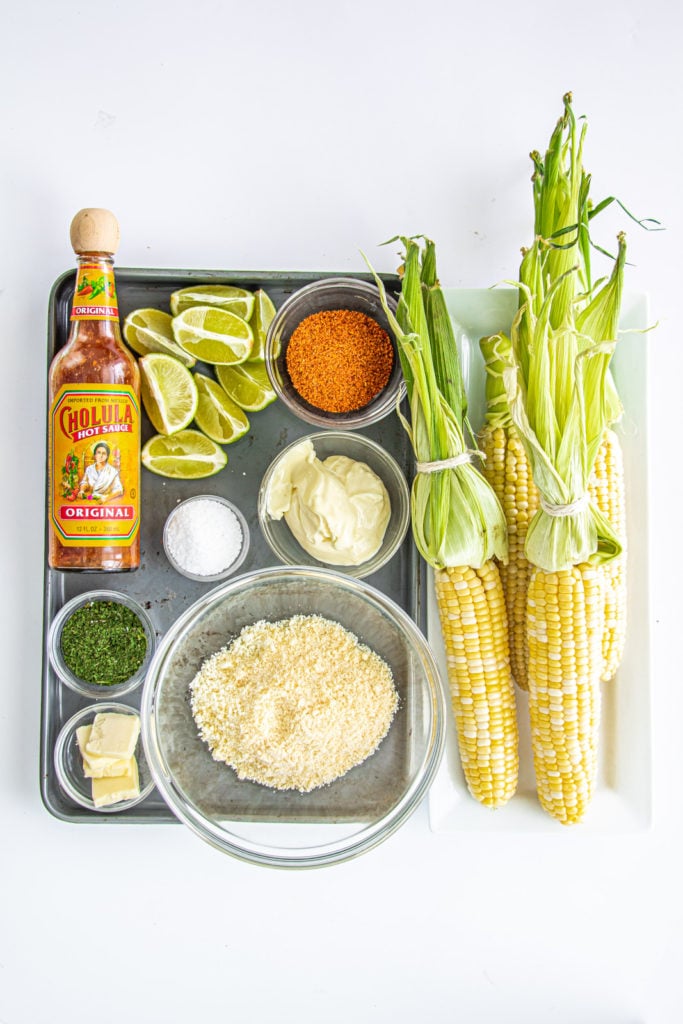 Recipe Ingredients
There are a few key ingredients you need to make these delicious Mexican street corn.
Fresh Corn: For fresh sweet corn, look for plump, juicy, and tender ears of corn.
Mayonnaise: Mayonnaise adds a creamy texture that complements the grilled Mexican street corn.
Grated Cotija: Cotija comes two ways wet and dry. I prefer the dry form because it is denser and has a much stronger, sharper flavor. The texture also holds up well to grilling with elote or an elote-like recipe by bubbling into little chunks of cheese.
Tajin Seasoning: Tajin seasoning provides that spicy lime flavor that's traditional in Mexican street corn.
Dried Cilantro: I used dried cilantro to adhere to the corn better than sprinkling fresh chopped cilantro over the finished Mexican grilled corn.
Lime Wedges: The bright flavor of the limes brightens all the other flavors.
Best Way To Prepare Corn For Elotes Mexican Street Corn
I've seen elote prepared a number of ways but my favorite way always includes using a grill of some sort to capture a good charred flavor.
Boil the corn for 5 minutes to pre-cook it. This shortens overall cook time.
Grill the corn rotating every 1-3 minutes.
Make elote seasoning blend of grated cotija, tajin seasoning, and dried cilantro.
Slather corn with first melted butter, then mayo, and roll each cob in the seasoning blend. Serve with hot sauce and extra lime wedges.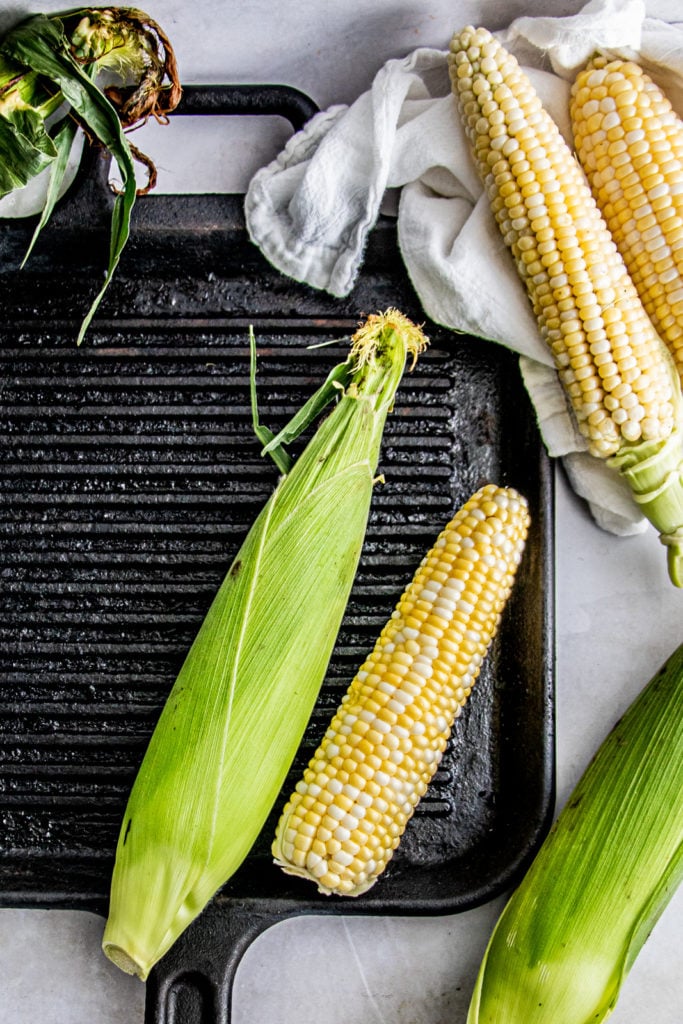 Don't Have A Grill? No Problem!
If you do not have a grill at home, do not worry. This grilled Mexican corn recipe is adaptable to most cooking tools. Here are your options for grilling without a grill.
Use a grill pan.
Use a cast iron skillet.
Grill your corn under your broiler in your oven. If you use your broiler to roast the corn, place rack on the second level from the broiler before preheating the oven. Char corn for 2 minutes on each side.
See, there are no reasons why you shouldn't make this amazing elote recipe.
Tips For The Corn Husk Handle
Elote can get a little messy so I love using the corn husk as an extended handle. I feel it gives me more stability when eating the corn hot off the grill. Plus, it makes for an excellent presentation. This is how you make a corn husk handle.
To shuck the corn pull the husk to the bottom of the corn shuck the corn but don't remove it completely. Remove the corn silk off of the cob with a brush or run underwater. My husband loves to do this by burning it over an open flame.
Tie the husk in a knot. You can also use butcher twine to tie down the corn husk.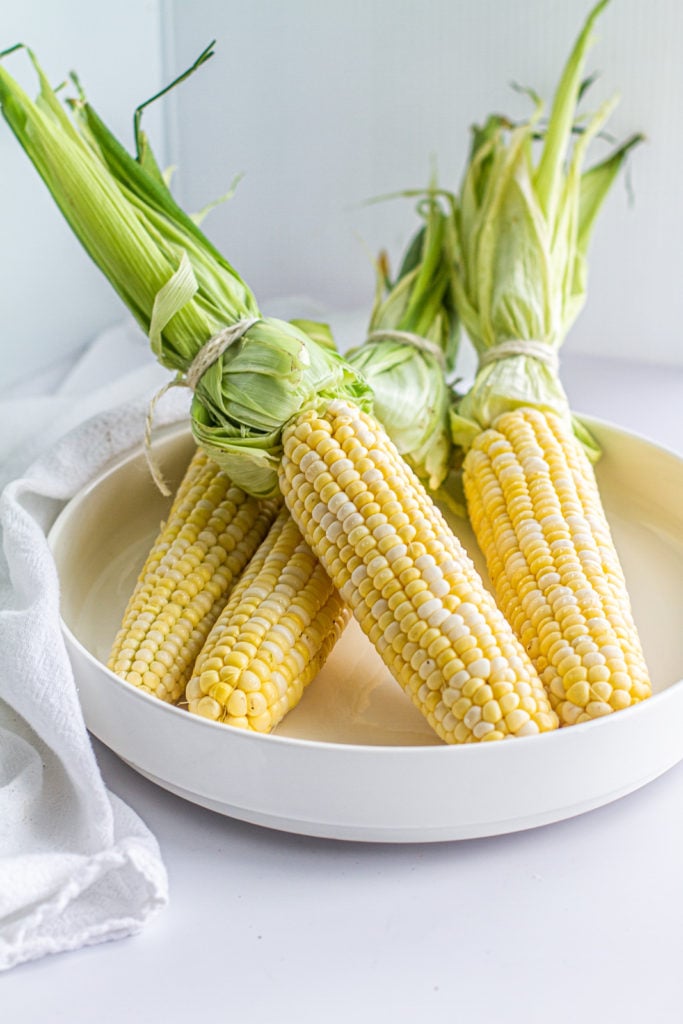 Watch The Video: Elote – Mexican Street Corn Recipe
Tips for the best Mexican Street Corn
You need to keep in mind only a few key points to make the best Mexican street corn possible.
Boil your corn first to shorten the cook time.
Grill your corn until evenly charred on all sides. Grill your corn, turning them every 1-2 minutes.
Use your favorite mayonnaise.
Use your favorite hot sauce – some of my go-to's are cholula and tapatio.
Use your favorite Mexican seasoning. It can be chili powder, cayenne, spicy chili powder, or seasoning like Tajin.
Swaps & Substitutions for Mexican Corn
Swap mayonnaise for Mexican or Salvadorean Crema (sour cream)
Swap Grated Cotija Cheese for Grated Parmesan Cheese
Swap Dried cilantro for fresh cilantro
Swap Tajin seasoning for cayenne pepper or chili powder
What's The Difference Between Elotes And Esquites?
Elotes and esquites (elotes en vaso) are essentially the same things except the corn and toppings are in cup with a spoon instead of on the cob.
When I first moved to Dallas I was so excited to see elote on almost every menu but when they brought out a cup of corn I was so confused. One interesting difference that I've noticed since living in Texas is that the corn is often boiled instead of grilled and served in a cup with cotija cheese, hot sauce, crema and fresh limes. Personally, I prefer the char.
How to store and reheat leftovers
If you find yourself making some elote Mexican corn in advance, you can store it in the fridge for up to five days. I recommend stopping after you grill the corn, then dressing it up after you reheat the corn.
To reheat the elote, place corn on a baking sheet and heat them at 350 degrees Fahrenheit for 5-7 minutes until they are heated through, then coat with toppings.
More Yummy Corn Recipes
Now It's Your Turn
If your elote doesn't look like this when you are done, it ain't real. LOL. I can't wait to see how you guys make this recipe! If you make my Mexican street corn, tag me on Instagram and leave a comment below.
Ingredients
Mexican Street Corn:
2

tablespoons

kosher salt

4

ears corn

shucked

2

tablespoons

melted salted butter

3

tablespoons

mayonnaise

Hot Sauce

such as Cholula or Tapatio

2

limes

quartered
Elote Seasoning:
1

cup

grated Cotija cheese

3

tablespoons

tajin seasoning

3

tablespoons

dried cilantro
Instructions
Fill a large pot with water and kosher salt, turn on the heat to high and bring the water to a boil. Add the corn, cover, and cook for 5 minutes. Remove corn and drain on a paper towel-lined plate.

Spray grill pan with nonstick spray and turn on medium-high heat. Once hot add corn and char evenly by rotating every 2-3 minutes.

In a medium bowl add Cotija cheese, Tajin, dried cilantro, and stir with a whisk to combine. Pour into a narrow platter that is suitable for dredging the corn.

First, brush a layer of melted butter on each cob, then follow by brushing on a layer of mayo. Roll corn cob in the elote seasoning until it is fully coated. Serve with hot sauce and lime quartered limes for an extra kick of flavor!
Notes
If using a broiler to roast corn, place a rack on the second level from the broiler before preheating the oven. Char corn for 2 minutes on each side.
Nutrition
Calories:
273
kcal
|
Carbohydrates:
26
g
|
Protein:
9
g
|
Fat:
17
g
|
Saturated Fat:
7
g
|
Polyunsaturated Fat:
5
g
|
Monounsaturated Fat:
4
g
|
Trans Fat:
1
g
|
Cholesterol:
38
mg
|
Sodium:
3992
mg
|
Potassium:
430
mg
|
Fiber:
4
g
|
Sugar:
8
g
|
Vitamin A:
462
IU
|
Vitamin C:
24
mg
|
Calcium:
239
mg
|
Iron:
2
mg
*Nutrition information is a rough estimate.
**The equipment section above contains affiliate links to products I use and love. As an Amazon Associate I earn from qualifying purchases.