This Elote Corn Chowder has all the spicy, tangy, crisp flavor we love in elote (Mexican Street Corn) wrapped up in a comforting bowl.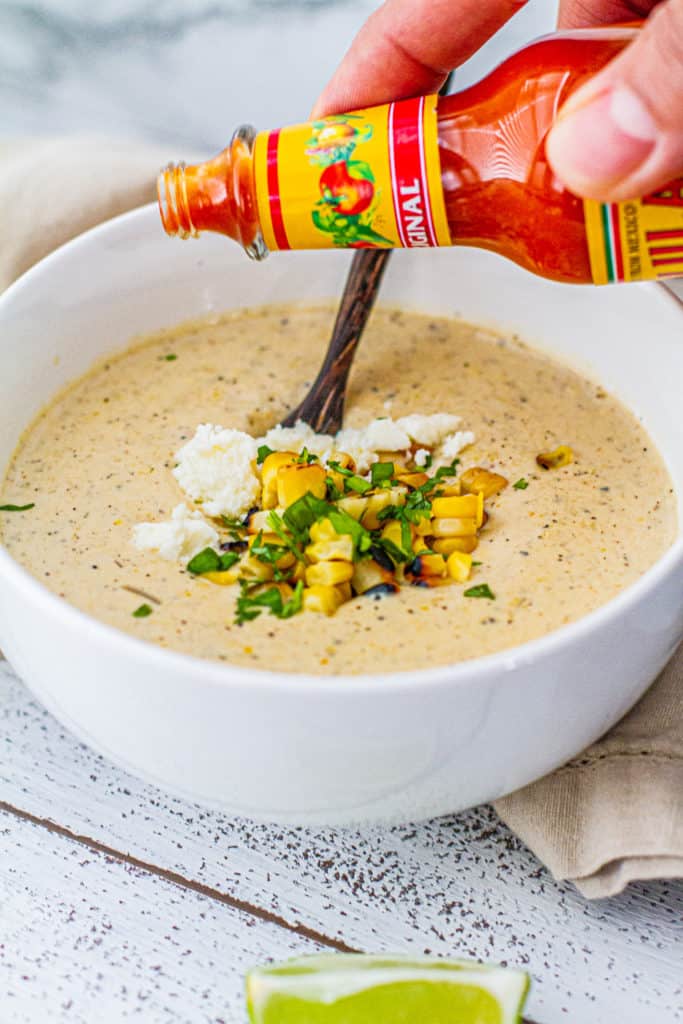 It's the first week of Fall but I'm a bit bummed. I don't feel like I got to experience a proper summer.  I don't think I even looked at a swimsuit let alone put one on. As a girl who spent most of her life in southern Cali, that is a bit of a disgrace. 
In an effort the hold on to summer I'm doing a spin on one of my favorite summer delicacies, Elote, otherwise known as Mexican Street corn.
As kids, we loved going to the state fair because that's when we could overload on Elote. And if you are familiar with it you know the goodness comes in with the toppings. We had a sure-fire method to layering first starting with lathering mayo on grilled corn, followed by cheese (normally parmesan or cotija), cilantro, tajin, lime juice and topped it with good ole Cholula hot sauce. It's the best bite.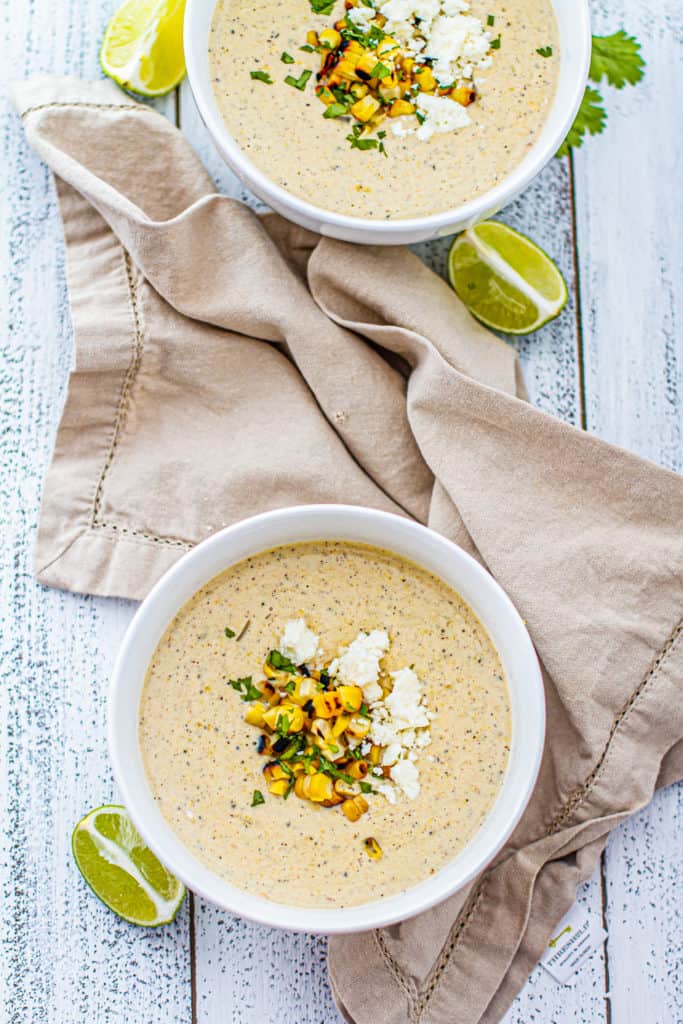 I think I've achieved a fairly comparable bite with this Elote Corn Chowder. The rich and creamy corn bisque is full-body-yady-yadied, which to means its thick in all the right places. It's also full-flavored. When you see all the spices mingling in harmony throughout like this chowder you know it's going to be a good bite.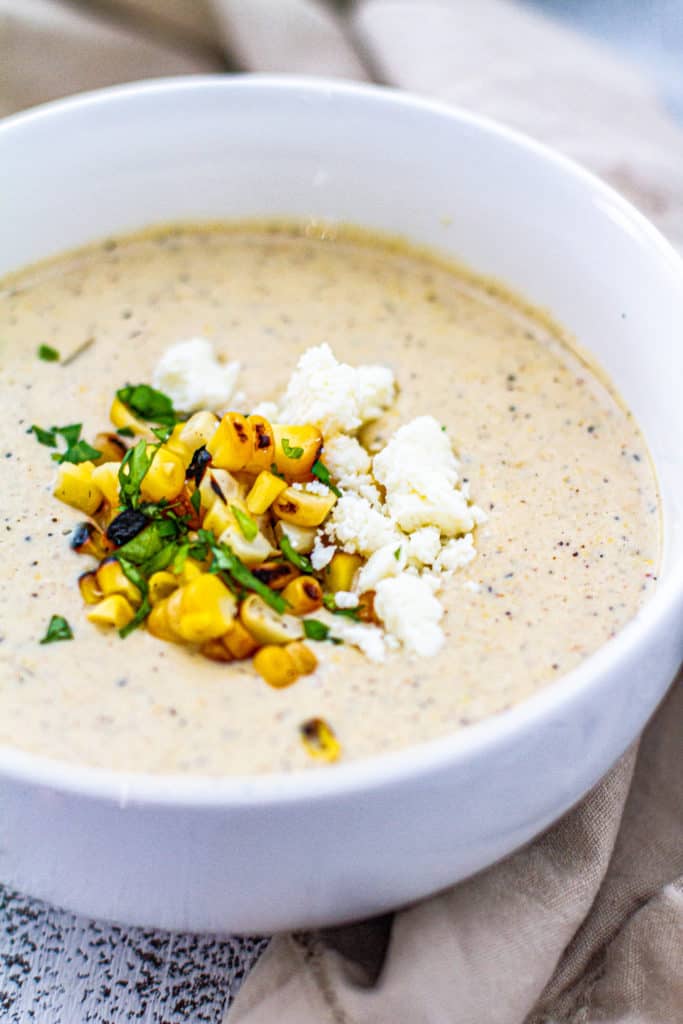 And you just can't mention the word Elote without including some of the fresh components like grilled corn, cotija cheese, cilantro, and Cholula. I'm convinced that if I have to let go of summer to keep this delicious bowl of chowder in rotation, I'm ok with that.
Elote simply means corn cob. Mexican Elote is otherwise known as Mexican Street Corn, is grilled corn on the cob slathered in mayo crema sauce and garnished with cheese, cilantro, tajin, lime juice, and topped with Cholula hot sauce. Delicious!
What is the difference between chowder and bisque?
Chowder and bisque are both cream-based soups; however, they differ in consistency. Chowders are usually very hearty, thick, and chunky, whereas bisques are smooth and creamy. 
How to thicken corn chowder?
The easiest way to thicken your Elote Corn Chowder is to add cornstarch. In a small bowl, start with 1 tablespoon cornstarch and add an equal amount of cold vegetable broth mix until it becomes a smooth paste; this is called a slurry. While your chowder is hot, whisk in the slurry and let it simmer.
How long will elote corn chowder last in the fridge?
In an airtight container, your Elote Corn Chowder will last 3-4 days in the refrigerator and 2-3 months in the freezer. So, don't be afraid to make a big pot of this yum goodness!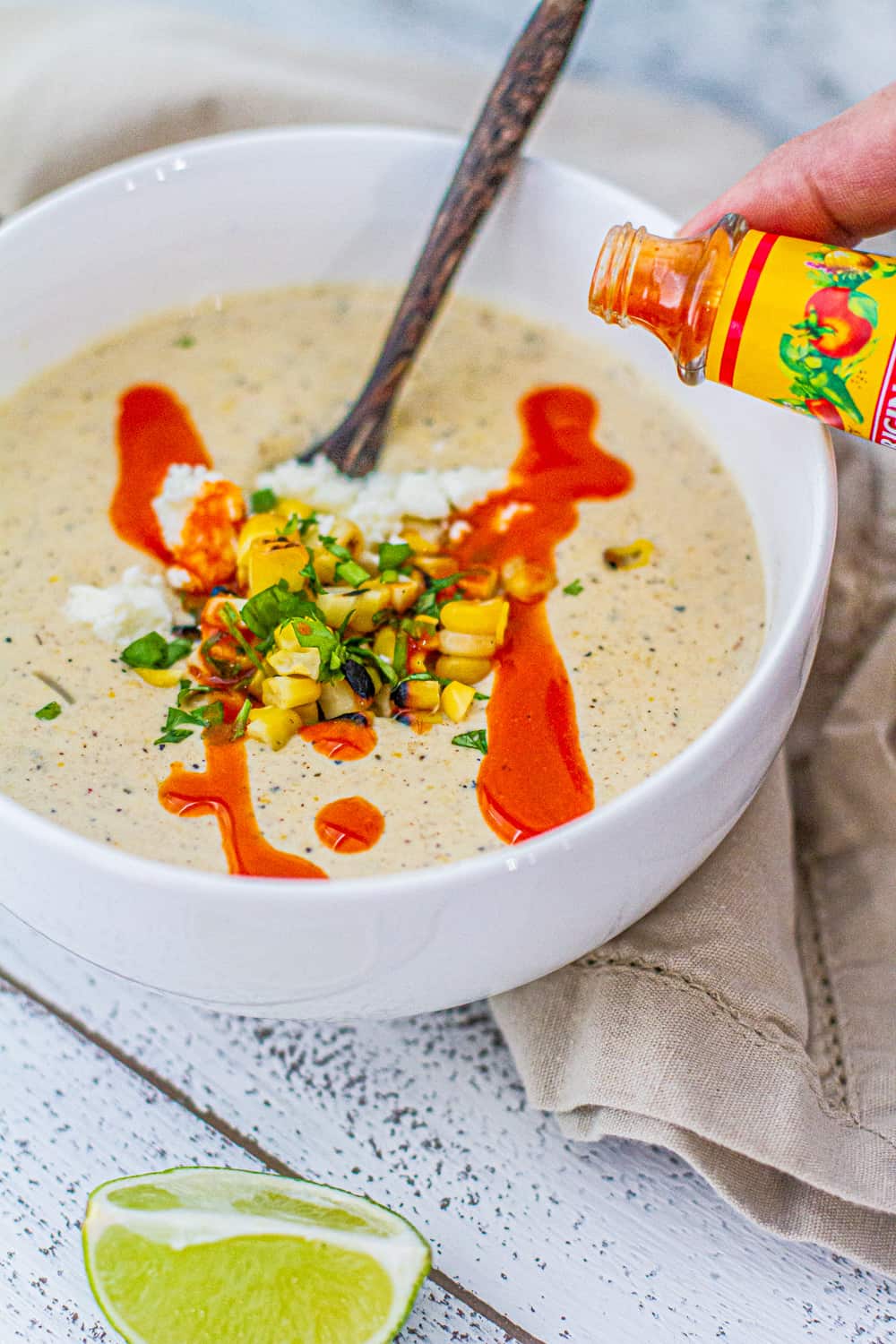 Ingredients
6

ears of corn

shucked

4

tablespoons

unsalted butter

4

tablespoons

flour

1

onion

chopped

1

can green chilies

4

garlic cloves

minced

1

bay leaf

5 ¾

cups

half and half

½

cup

crema

2

teaspoons

kosher salt

1

teaspoon

black pepper

½

tsp

chili powder

¼

tsp

white pepper

½

tsp

oregano

¼

cup

cilantro

garnish

2

limes

garnish

Cholula hot sauce

garnish

cotija cheese or queso fresco

garnish
Instructions
On a medium-hot grill or hot grill pan, char the corn all over, 10 minutes. Set aside until cool enough to handle.

On cutting board, slice the corn kernels off each cob, scraping the cob with the knife to extract the flavorful juices. Reserve 1 cup of the corn kernels for topping. Halve (4) of the cobs and set aside.

On a medium-low heat in a large pot melt butter once it starts to turn slightly brown. Remove from heat and add flour. Stir in flour and make a blonde roux. Add the onions add the onion, green chilies, garlic, oregano, bay leaf, and cook for 2 minutes or until the onion softens.

Whisk in the half and half, crema and seasonings (salt, pepper, chili powder, white pepper, and oregano). Add the reserved corn and cobs and bring to a boil. Reduce heat to medium-high and cook for 25 minutes. Remove and discard the cobs and bay leaf.

Transfer 1½ cups of the soup to a separate container and reserve to the side. Use an immersion blender to puree the soup in the pot to desired consistency. Stir back in the reserved soup.

Ladle soup into bowls and garnish with the cilantro, crema, cotija, and additional chile powder. Serve with lime wedges.
Nutrition
Calories:
781
kcal
|
Carbohydrates:
56
g
|
Protein:
18
g
|
Fat:
58
g
|
Saturated Fat:
33
g
|
Cholesterol:
174
mg
|
Sodium:
1693
mg
|
Potassium:
930
mg
|
Fiber:
5
g
|
Sugar:
12
g
|
Vitamin A:
2366
IU
|
Vitamin C:
27
mg
|
Calcium:
449
mg
|
Iron:
2
mg
*Nutrition information is a rough estimate.
**The equipment section above contains affiliate links to products I use and love. As an Amazon Associate I earn from qualifying purchases.