This Elote Corn Chowder has all the spicy, tangy, crisp flavor we love in elote (Mexican Street Corn) wrapped up in a comforting bowl.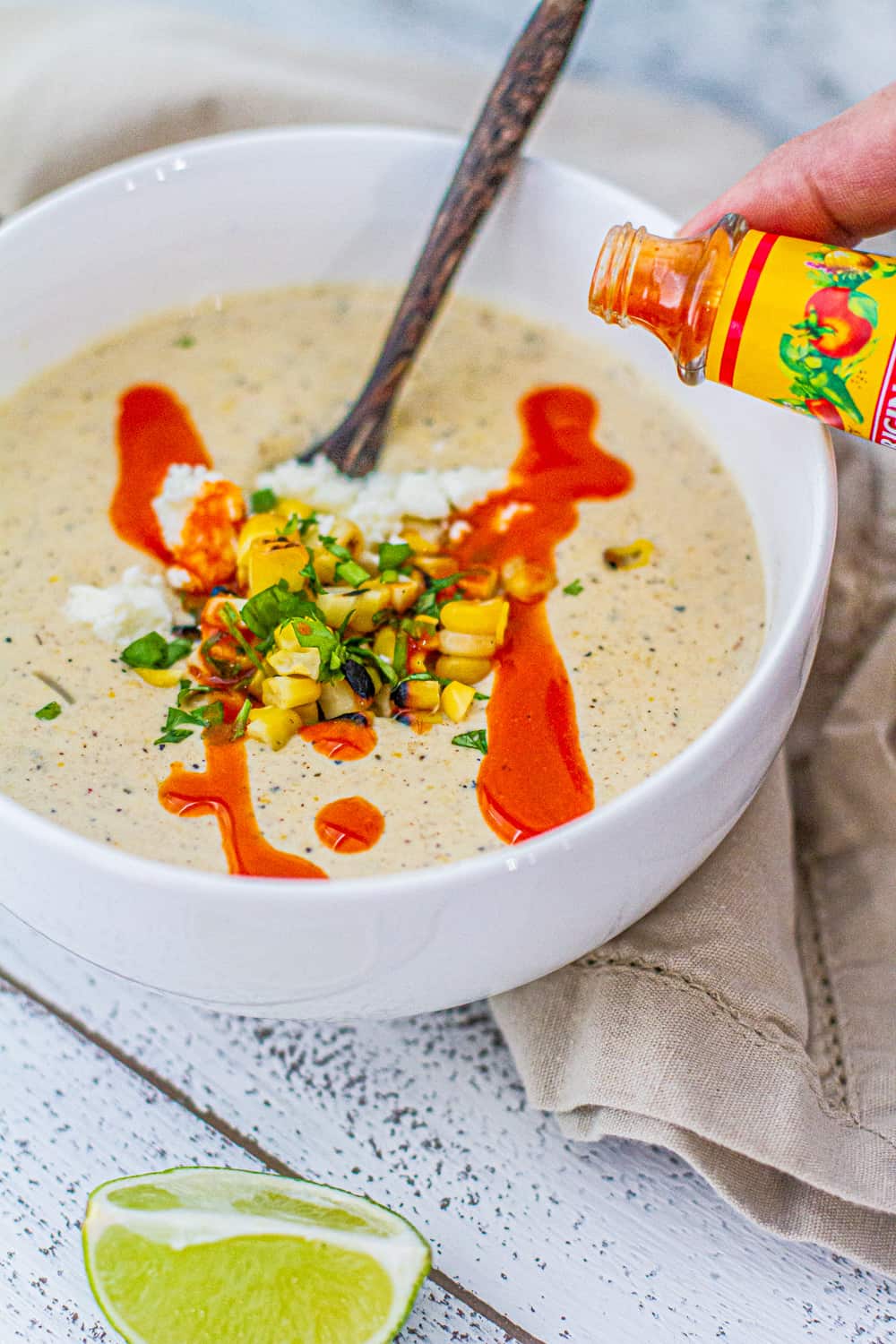 This Elote Corn Chowder recipe has all the spicy, tangy, crisp flavor we love in elote (Mexican Street Corn) wrapped up in a comforting bowl.
It's the first week of Fall, but I'm a bit bummed. I don't feel like I got to experience a proper summer. I don't think I even looked at a swimsuit, let alone put one on. As a girl who spent most of her life in southern Cali, that is a bit of a disgrace.
In an effort the hold on to summer, I'm doing a spin on one of my favorite summer delicacies, Elote, otherwise known as Mexican Street corn.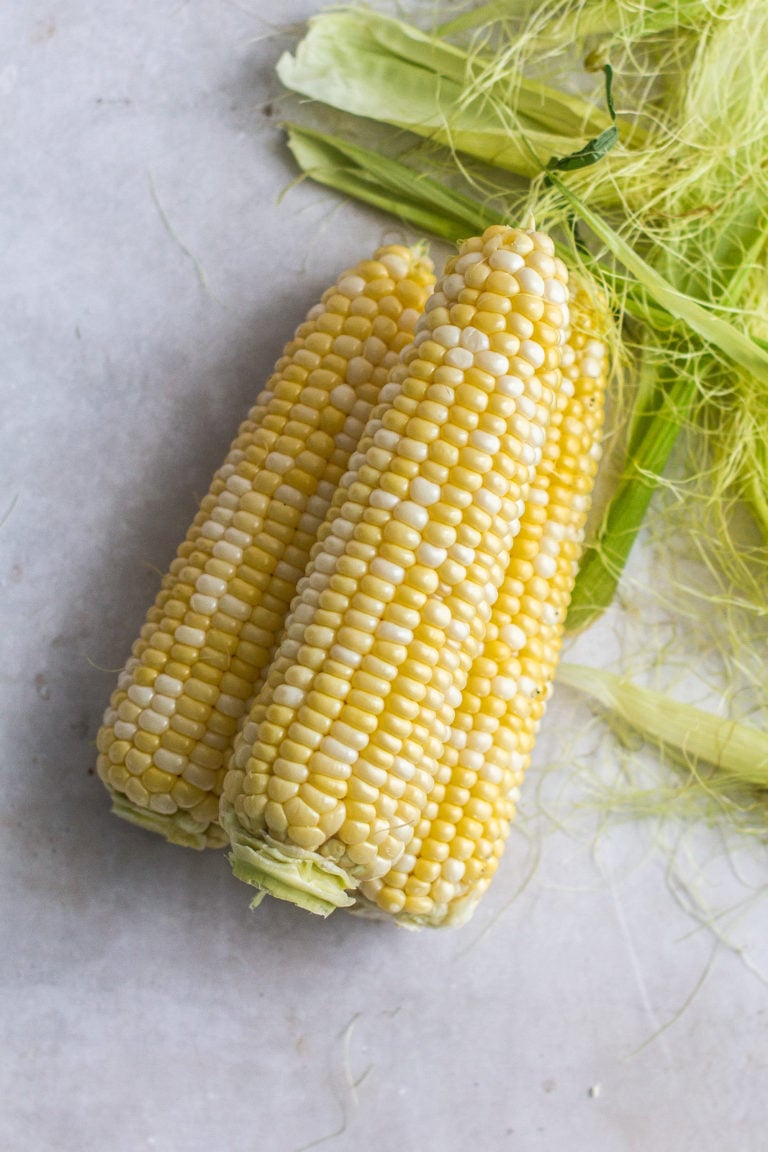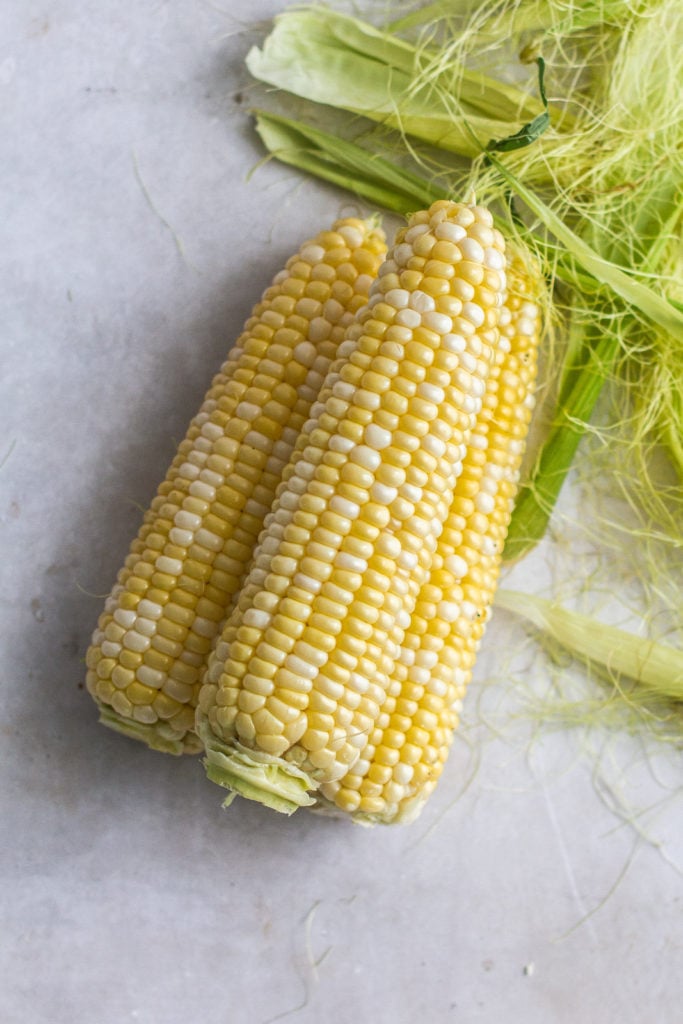 As kids, we loved going to the state fair because that's when we could overload on Elote. And if you are familiar with it, you know the goodness comes in with the toppings. We had a sure-fire method to layering, first starting with lathering mayo on grilled corn, followed by cheese (normally parmesan or cotija), cilantro, tajin, lime juice, and topped it with good ole Cholula hot sauce. It's the best bite.
I think I've achieved a fairly comparable bite with this Elote Corn Chowder. The rich and creamy corn bisque is full-body-yady-yadied, which to means it's thick in all the right places. It's also full-flavored. When you see all the spices mingling in harmony throughout like this chowder, you know it's going to be a good bite.
And you can't mention the word Elote without including some fresh components like grilled corn, cotija cheese, cilantro, and Cholula. I'm convinced that if I have to let go of summer to keep this delicious bowl of chowder in rotation, I'm ok with that.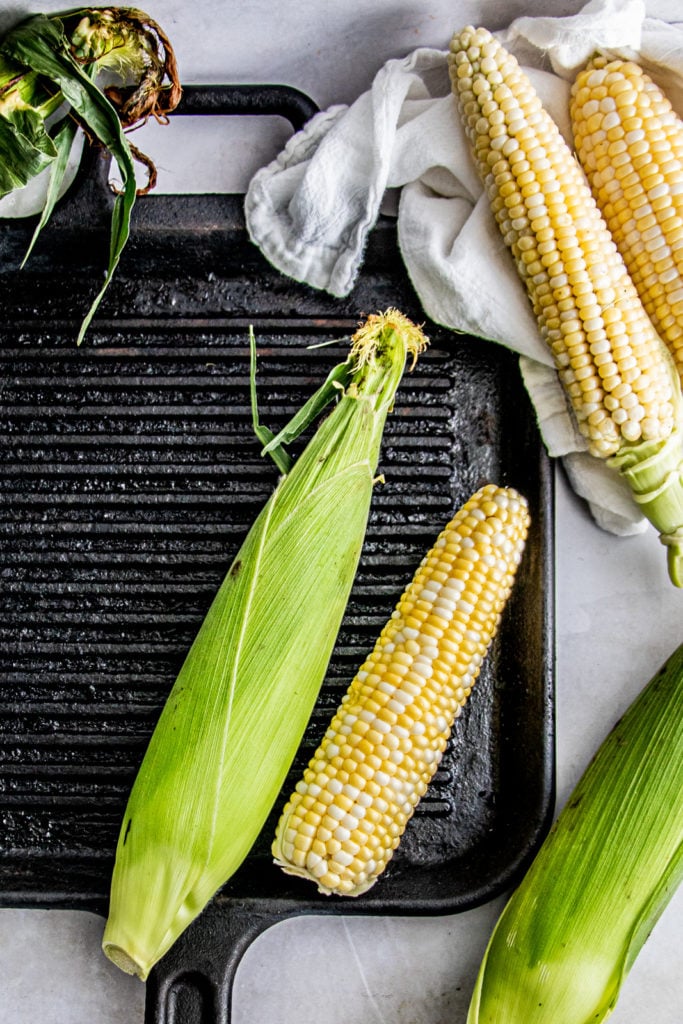 What is elote?
Elote simply means corn cobs. Mexican Elote, otherwise known as Mexican Street Corn, is grilled corn on the cob slathered in mayo crema sauce and garnished with cheese, cilantro, tajin, and lime juice, and topped with Cholula hot sauce. Delicious!
I am taking from my beloved summer fair inspiration in this elote corn chowder recipe. The flavors are spot on and oh so comforting.
Ingredients for Elote Corn Chowder
Sweet corn – I prefer to use fresh sweet summer corn for this recipe, but if that is not an option, you can also use frozen corn.
Creams – To make corn chowder creamy, half and half does the job. I also use a crema to help draw that authentic Mexican flavor.
Vegetables – Onion, garlic, and green chilies help build the foundation of flavor for this chowder.
Seasonings – chili powder, salt, and pepper helps to give that elote spice, while bay leaf helps to deepen the flavor of the chowder.
How to make elote corn chowder recipe
Char Corn & Remove From Cob – charring corn first brings in more. There are multiple ways to char corn which I discuss below. Next, remove corn kernels by cutting them off with a sharp knife but don't discard the corn cob. You can get excellent corn flavor by shaving the cob to release its corn milk.
Make Blond Roux – To make a blond roux saute your vegetables in hot oil until tender. Add in butter and once melted, then whisk in flour. Cook flour until lightly golden.
Make Chowder Base – Constantly whisking add in creams, spices, and reserved cobs. Bring to a boil, then reduce heat and simmer for 25 minutes.
Top with Garnishes – Disguard cobs and bay leaf. Transfer elote corn chowder to a bowl and garnish with reserved corn, crema, chili powder, cilantro, hot sauce, and lime wedges on the side.
How to char corn on the cob for corn chowder
You can make this by simply boiling your corn but charring corn takes this chowder to the next level.
If you're unfamiliar with the process of charring corn, all it really means is cooking your corn directly over or under high heat until it singes and turns colors. Let's remember, kiddos; color equals flavor.
My favorite was to char corn is over a grill flame because it gives the corn a smoky flavor. However, we don't always have the time to set up a grill so here are the methods for charring corn on the cob.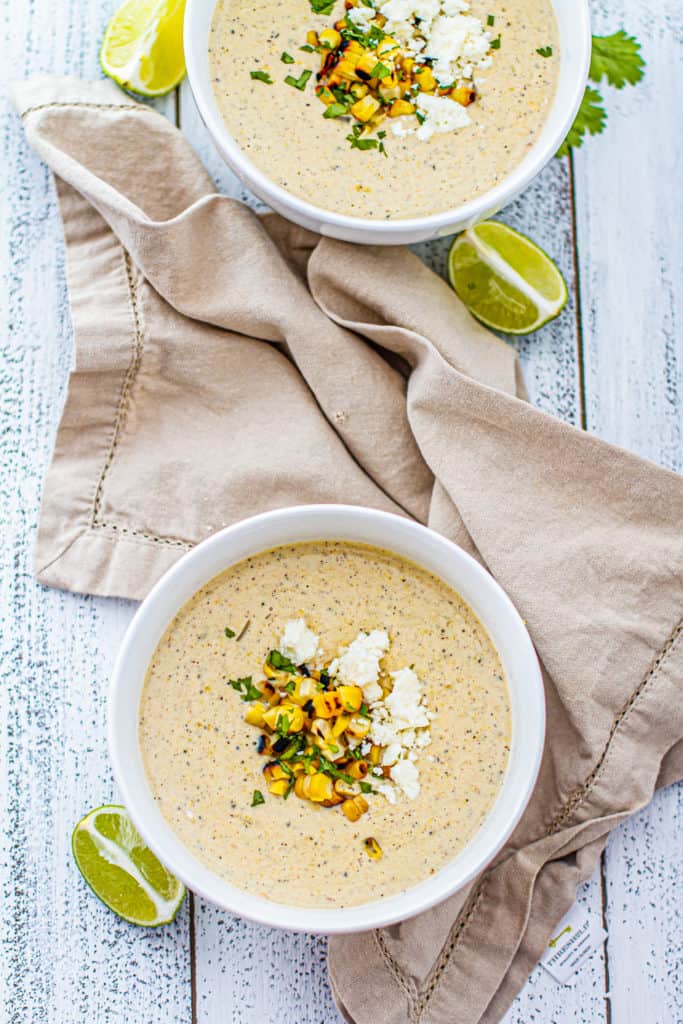 How to char corn over the stovetop
Place large cast-iron grill pan or skillet on high heat. Lightly spray corn with nonstick spray.
Once hot, add corn on the cob to the pan – turning the corn every few minutes for approximately 15-20 min. Remove corn from pan, let cool.
How to char corn using the oven broiler method
Preheat the oven broiler. Lightly spray corn with nonstick spray.
Place corn cobs on a cookie sheet lined with aluminum foil for easy clean-up. Lighlty spray corn with nonstick spray. Place corn under the broiler and watch corn closely. Once the corn starts to brown, about 2-4 minutes – rotate. Broil until corn is lightly blackened on all sides. Remove corn from the oven, let cool.
How to char corn on the grill method
Lightly spray corn with nonstick spray. Heat your grill to high heat (approx 425 – 450 degrees).
Place corn on the grill, rotating corn every few minutes for approximately 10-12 minutes or until corn has your desired char level. Remove corn from the grill and let.
The corn will be speckled with dark brown to black corn kernels and will feel soft to the touch when it is done.
*If using frozen corn instead of fresh corn, make sure to thaw your corn on the cob in advance and dry with a towel to get off all excess moisture before charring.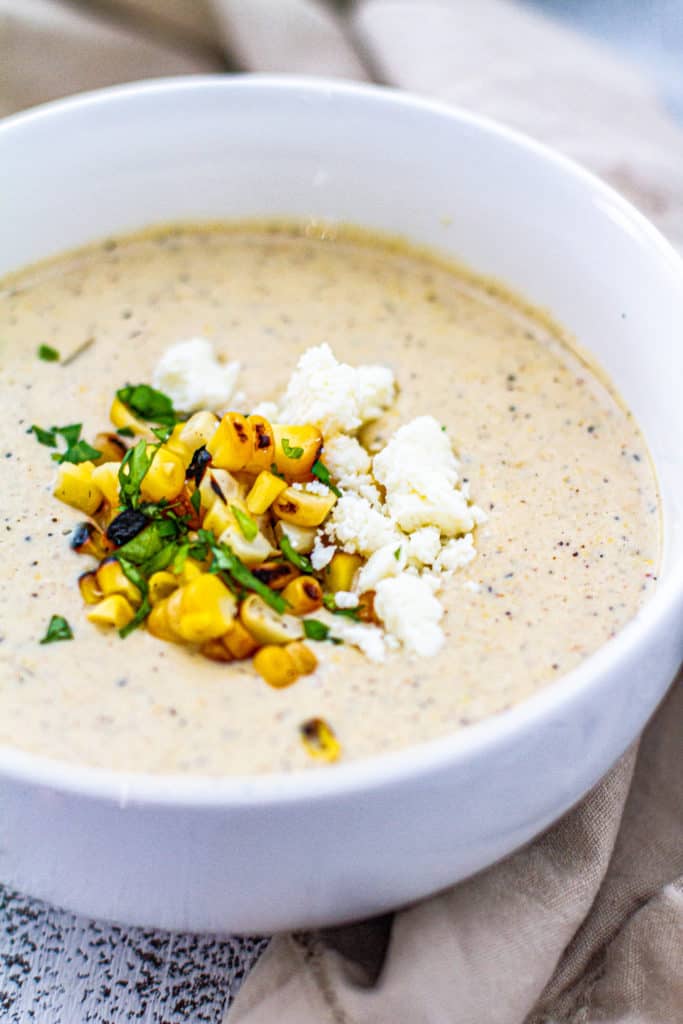 What is the difference between chowder and bisque?
Chowder and bisque are both cream-based soups; however, they differ in consistency. Chowders are usually very hearty, thick, and chunky, whereas bisques are smooth and creamy.
When to use fresh corn or frozen corn for this chowder?
If fresh corn is in the season, I'm always going to recommend using fresh over frozen. In this recipe, the fresh sweet corn on the cob produces the corn milk that enhances the richness of this chowder.
Alternatively, if corn is not in season, I would recommend using frozen corn because it is usually packaged at the peak ripeness. Just thaw it out and pat dry. I would proceed by either adding the corn to a boiler to get a char or sauteeing corn for a few minutes over the stovetop before making the chowder.
How to thicken corn chowder?
If you aren't using corn on the cob that produces corn milk for some reason, the easiest way to thicken your Elote Corn Chowder is to add cornstarch. In a small bowl, start with one tablespoon cornstarch and add an equal amount of cold vegetable broth (or water) and whisk until it becomes a smooth paste; this is called a slurry. While your chowder is hot, whisk in the slurry and let it simmer.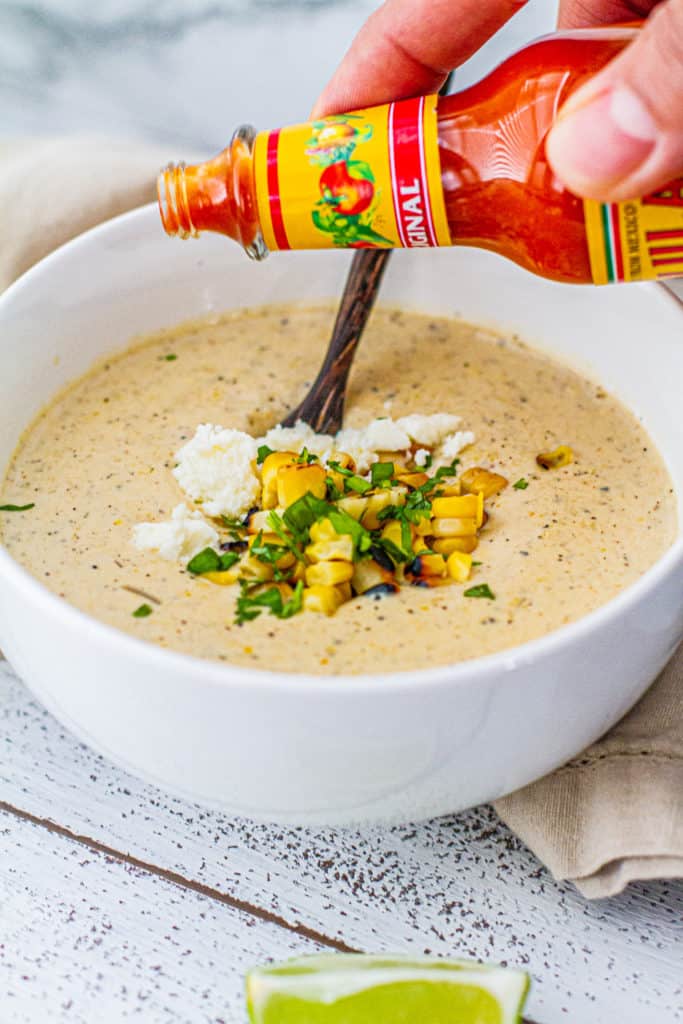 How to shuck corn
When fresh summer corn is in abundance having the right shucking skills is essential. Here are two easy methods for shucking corn.
To shuck corn quickly – the best way with your hands being careful to divide and get a good hold on the tassel as you pull the silk and husk down the cob.
To shuck corn with the least mess – adding corn to microwave for 3-4 minutes per cob yields the best results. After microwaving, cut the husk end of the corn. Then from the other end, squeeze the cob out of the husk.
You can find a complete guide to shucking corn here.
Make-Ahead Instructions
When packaged in an airtight container, Elote Corn Chowder will last 3-4 days in the refrigerator and 2-3 months in the freezer. So, don't be afraid to make a big pot.
To reheat:
Pour the chowder into a pot and simmer over medium heat for 10 to 15 minutes until heated through and slightly thickened up.
Add additional cream or broth if needed to loosen the chowder and serve with your desired garnishes.
More Delicious Soup Recipes
Invite me to dinner when you make this elote corn chowder
Now, you should an elote corn chowder master. The keys are in your hands. I seriously can't wait to hear what you think about the recipe. Be sure to give a 5-star rating to this bad boy, snap a pic, and tag @meikoandthedish #meikoandthedish on Instagram.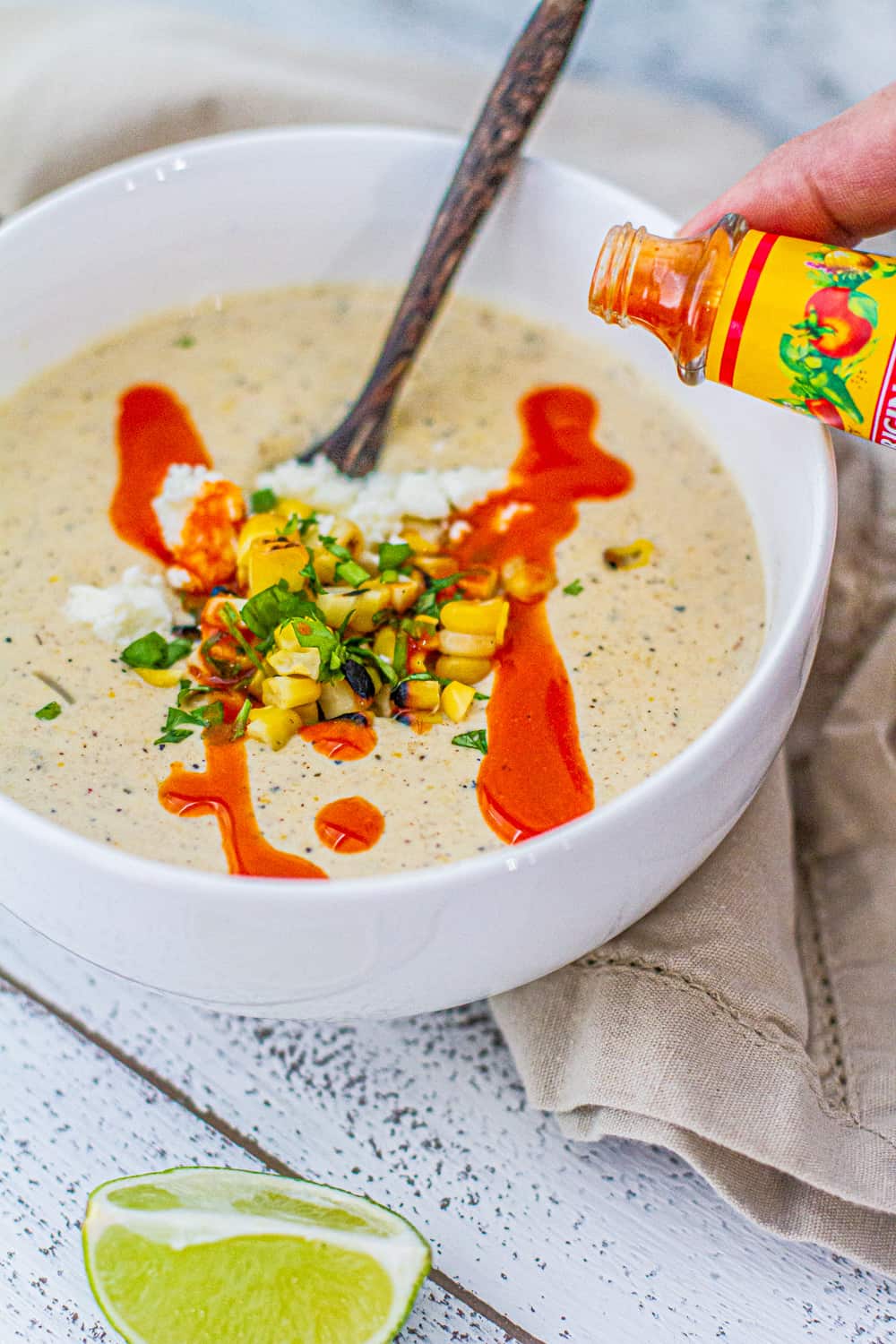 Ingredients
6

ears of corn

shucked

1

teaspoon

olive oil

1

onion

chopped

1

can green chilies

4

garlic cloves

minced

4

tablespoons

unsalted butter

4

tablespoons

all purpose flour

5 ¾

cups

of half & half

½

cup

crema

plus extra for garnish

2

teaspoons

kosher salt

1 ¼

teaspoon

black pepper

1

bay leaf

½

teaspoon

chili powder

plus extra for garnish

½

teaspoon

oregano
Optional Garnish
¼

cup

cilantro

garnish

¼

cup

crumbled cotija cheese

garnish

Cholula hot sauce

garnish

2

limes

garnish
Instructions
On a hot grill or hot grill pan, char the corn all over, 10-12 minutes. Set aside until cool enough to handle.

On a sheet pan, cut the corn kernels off each cob. Use the back of your knife to scrape each bald cob to extract the corn milk. Reserve 1 cup of just the corn kernels and set aside for topping. Take 4 of the cobs, cub them in half, and set them aside.

Begin by heating the oil in a large, heavy-bottom pot over medium heat. Add the onions, green chilies, garlic, and cook on low heat for 3-4 minutes or until the onions become tender.

Add butter to the pot and increase heat to medium. Once melted, whisk in flour until well combined.

Stirring constantly, gradually whisk in the half and half, crema, and seasonings (salt, pepper, bay leaf, chili powder, and oregano). Add the reserved corn cobs and increase heat to high to bring everything to a boil for 1 minute. Reduce heat to medium and cook for 25 minutes. Remove and discard the cobs and bay leaf.

Transfer 1½ cups of the soup to a separate container and reserve to the side. Use an immersion blender* to puree the soup in the pot to desired consistency. Stir back in the reserved soup.

Ladle soup into bowls and garnish with reserved corn, cilantro, crema, cotija cheese, and chile powder, and hot sauce. Serve with lime wedges.
Nutrition
Calories:
543
kcal
|
Carbohydrates:
38
g
|
Protein:
12
g
|
Fat:
41
g
|
Saturated Fat:
23
g
|
Polyunsaturated Fat:
2
g
|
Monounsaturated Fat:
11
g
|
Trans Fat:
1
g
|
Cholesterol:
122
mg
|
Sodium:
1072
mg
|
Potassium:
628
mg
|
Fiber:
3
g
|
Sugar:
8
g
|
Vitamin A:
1450
IU
|
Vitamin C:
18
mg
|
Calcium:
332
mg
|
Iron:
1
mg
*Nutrition information is a rough estimate.
**The equipment section above contains affiliate links to products I use and love. As an Amazon Associate I earn from qualifying purchases.