Grilled Watermelon Pizza, tenderly charred watermelon enhanced with flavor from grilling drizzled with a honey glaze to draw out its sweetness and topped with a crumbled goat cheese for a salty, creamy contrast in addition to fresh mint and lightly pickled shallots. You will be eating this juicy treat for days.
The other day I got a hilarious DM from my dear sweet friend and fellow food blogger Fifi from The Divine Hostess (check out her blog and Wonderfully Made podcast).
From time to time we make fun of the culinary deficient by sharing images of really poorly prepared food that we come across. WE ARE NOT MEAN GIRLS, LOL, DON'T ACT LIKE YOU'VE NEVER DONE IT BEFORE. It's just that there are far too many offensive food images out there perpetrating. Plus, folks are making empires off struggle plates like Cooking4Bae so I don't feel bad at all.
Anyways our DM convo is filled with this type of stuff and her latest discovery was a video about what appeared to be a really bad recipe for watermelon pizza with step-by-step **ass ripping** commentary.
I about died when I watched the video, cringing at the addition of each ingredient and thinking, who would do something like this?… OH HELL!!! At that moment, I remembered that I, too, had a recipe for watermelon pizza and just hadn't posted it yet. The thought made me sink into my seat, embarrassed because that could've been me on the other end of this video getting chewed out by this guy. It would be a viral disaster!!!! Oh, the shame!
I asked myself, "do I have to scrap this recipe and pretend it never happened?" Then deep in my spirit, a song rose up in my heart with the answer, HELL NAW – TO DA NAW NAW NAW! So I watched the video again, noting all the glaring offenses of the recipe, and realized I am not in the same category. Little Caesars Pizza CANNOT, I REPEAT, CANNOT be compared to Lou Malnati's, and while I'm not claiming to be Lou, I will proudly own my knack for unique flavor pairings. Plus, my version is so damn good that I really don't care about the criticism because my belly enjoyed every bite.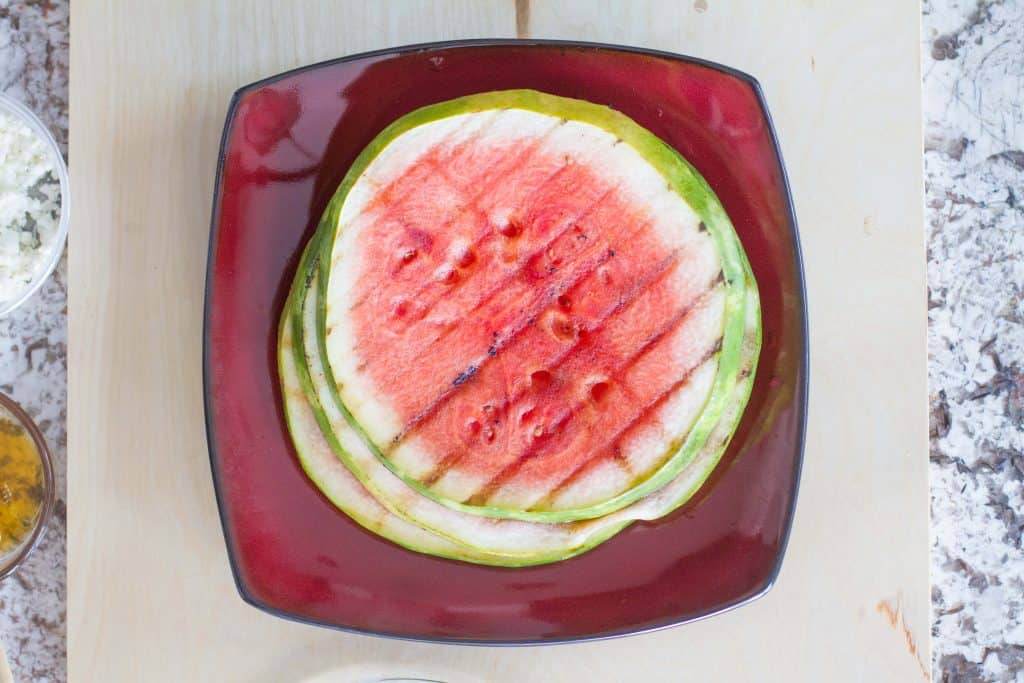 And I'm not alone; I actually stumbled upon the recipe while searching for grilled watermelon inspiration. I came across the amazing Chef Jeff Henderson's recipe for Grilled Watermelon-Prosciutto Pizza. I was immediately enthralled. While I am not big on pork, I knew that it would be easy to switch the recipe up a bit to my liking.
I'm sorry, but I have to say that whoever made that initial video is leading the people off a cliff. To make watermelon pizza, you can't just add tomato sauce and think that's ok. The watermelon is already juicy, so you don't need a heavy sauce. You just need a glaze (honey) to draw out its sweetness and top with a mild, crumbly cheese like goat cheese (which is what I used) for a salty, creamy contrast. I also added a little fresh mint and lightly pickled shallots, which brightened this fruity pizza. I ate it for the next two days; it was so good.
So friends, in the name of my credibility, I need you to give the recipe a try and tell me what you think. You can deck it out even more with cured meats, candied nuts, and dried fruit if you want to be fancy about it. But please, please stay away from the tomato sauce!
@meikoandthedish #meikoandthedish
Watermelon Pizza Recipe Video
Grilled Watermelon Pizza Ingredients
Crumbled goat cheese saltiness pairs well with the sweetness of the honey and watermelon. Mint leaves and watermelon are two perfect flavor combinations.
How to cut watermelon into rounds?
Lay the watermelon on its side, slice the watermelon crosswise into 1-inch rounds using a chef's knife.
What does grilled watermelon taste like?
Watermelon's taste becomes beautifully transformed when grilled. The cool, sweet, crisp fruit takes on a warm, hearty, and savory flavor. It's smokey with mild sweetness, almost like a sweet vegetable such as corn. The watermelon texture becomes more meat-like.
More Tasty Appetizer Recipes
Servings:
1
watermelon round
Ingredients
1

seedless

watermelon

¾ inch thick round slices

1

pinch

sea salt

4

tablespoons

honey

3

shallots

¼

cup

goat cheese

crumbled

2

large

mint leaves

thinly sliced

⅓

cup

apple cider vinegar
Instructions
Heat a grill or grill pan to medium-high heat.

Add whole shallots (skin removed) to the grill for about 6 minutes or until the become slightly tender. Remove them from the grill and once they cool thinly slice them. Add the to a small cup with the apple cider vinegar and let the set for 10 minutes then drain,

Brush honey on both sides of sliced watermelon. Sprinkle with a pinch of sea salt, then grill watermelon about 2 minutes on each side or until you can see grill marks.

Drizzle additional honey over grilled watermelon then layer shallots, goat cheese and fresh mint. Cut watermelon into pizza style wedges and serve.
Notes
Recipe inspired by Chef Jeff Henderson (Grilled Watermelon-Prosciutto Pizza)
Nutrition
Serving:
4
g
|
Calories:
478
kcal
|
Carbohydrates:
83
g
|
Protein:
13
g
|
Fat:
12
g
|
Saturated Fat:
8
g
|
Polyunsaturated Fat:
1
g
|
Monounsaturated Fat:
3
g
|
Cholesterol:
26
mg
|
Sodium:
265
mg
|
Potassium:
380
mg
|
Fiber:
3
g
|
Sugar:
76
g
|
Vitamin A:
680
IU
|
Vitamin C:
7
mg
|
Calcium:
123
mg
|
Iron:
3
mg
*Nutrition information is a rough estimate.
**The equipment section above contains affiliate links to products I use and love. As an Amazon Associate I earn from qualifying purchases.