These pimento cheese sliders are the perfect combination of savory and sweet, and can be easily made in under 20 minutes using a cast iron skillet. The well-seasoned and juicy patties are topped with creamy pimento cheese and a tangy pepper jelly mayo, adding layers of flavor to each bite. These sliders are a delicious and simple meal option for any occasion.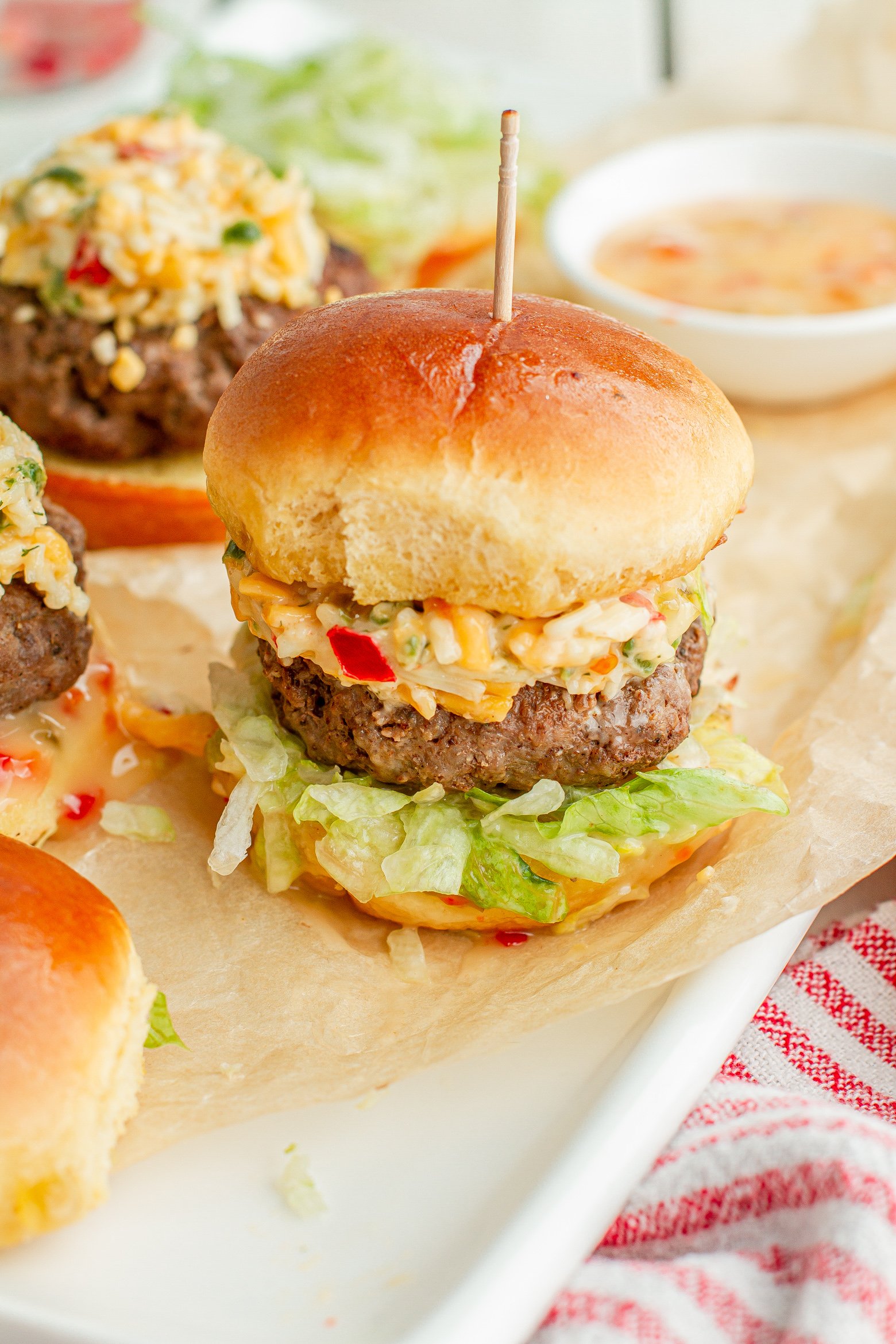 *THIS RECIPE IS SPONSORED BY FARM RICH
Do you love burgers and sliders but feel like they're missing something special? Look no further than the mouthwatering pimento cheese burger sliders! This delectable creation features a juicy patty topped with creamy pimento cheese, nestled between a buttery pesto bun, and accompanied by a tantalizing pepper jelly mayo.
Not only is it easy to make, but the combination of flavors in this slider is out of this world. The creamy pimento cheese filling, paired with the zesty kick of the pepper jelly mayo, creates an explosion of taste in your mouth. And let's not forget about the satisfying crunch of the buttery pesto bun, perfectly completing this culinary masterpiece.
Whether you're grilling up some burgers at a backyard BBQ or hosting a tailgating party with friends, the pimento cheese slider is sure to impress. So why settle for a plain old burger or slider when you can indulge in this elevated and flavorful creation? Let's dive in and discover the magic of the pimento cheese slider!
Fun Facts & Culinary History – Pimento Cheese, also known as "the caviar of the South," is a popular spread made from a mixture of cheddar cheese, mayonnaise, and pimento peppers. It became increasingly popular during the Great Depression, as it was an inexpensive way to add flavor to meals.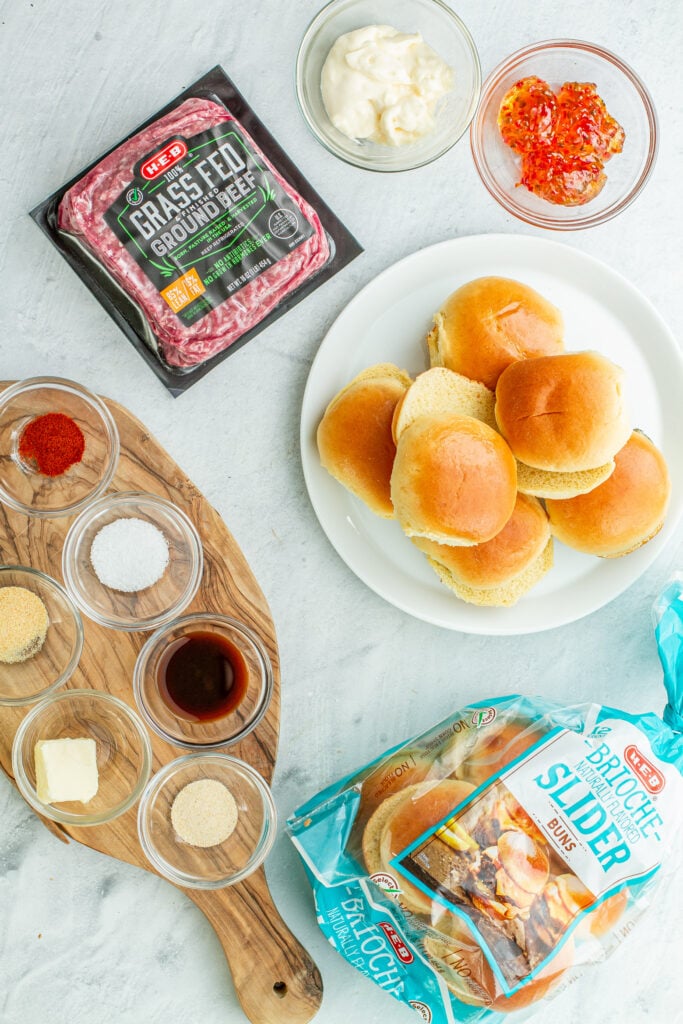 Ingredients Needed To Make Pimento Cheese Burger Sliders
To make this yummy slider, you'll need the following ingredients:
Pimento Cheese Burger Sliders
Ground Beef: has a good balance of fat content for juicy and flavorful burgers.
Kosher Salt: coarse texture allows for even distribution and helps to enhance the natural flavors of the beef.
Black Pepper: add a subtle heat and depth of flavor to the patties. It complements the beef's natural flavor and works well with other spices commonly used in slider recipes.
Garlic Powder: add flavor and aroma to the patties. It's a convenient way to incorporate garlic flavor without the texture of minced garlic.
Onion Powder: add a savory and slightly sweet flavor to the patties
Cayenne Pepper: add heat and depth of flavor to the meat. Just a small amount of cayenne pepper can make a big impact on the overall taste of the sliders.
Worcestershire Sauce: is commonly used when making sliders to add a savory umami flavor to the meat. It also helps to tenderize the beef and adds moisture to the patties.
Pimento Cheese: add a creamy and tangy flavor to the sliders. The combination of the cheese and pimentos creates a unique flavor that complements the beef well.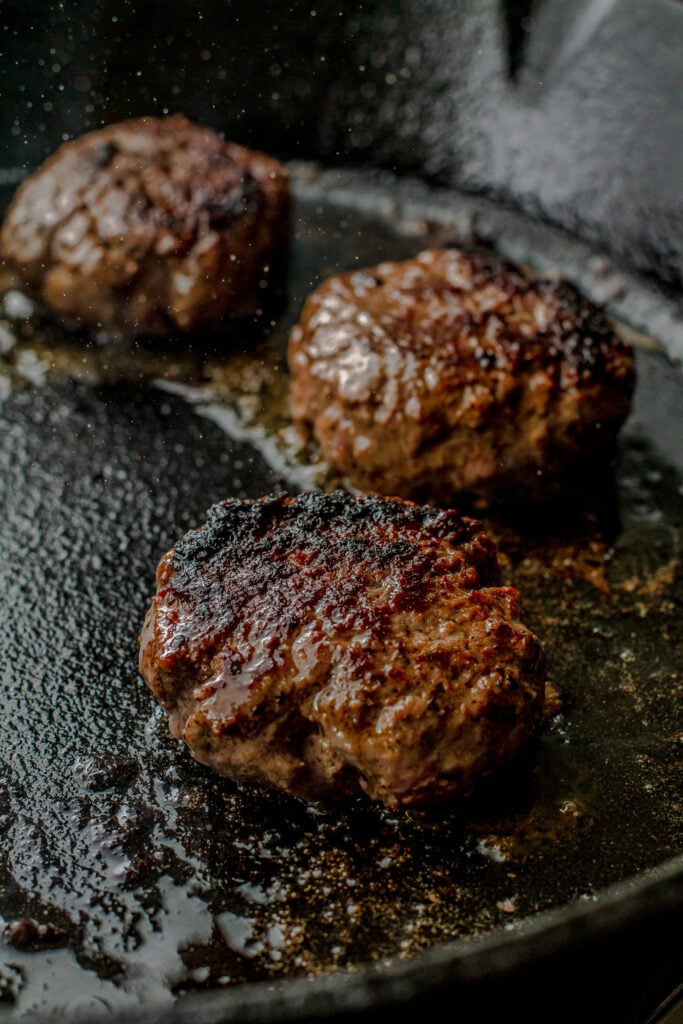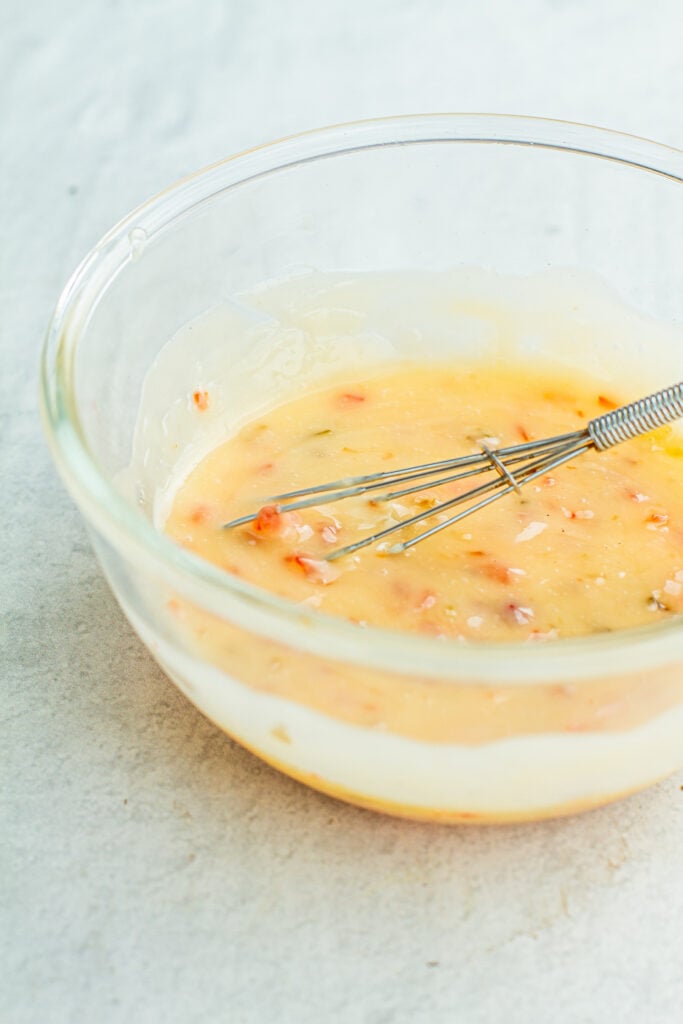 Slider Buns
Unsalted Butter: it adds to the buns' rich, buttery flavor and helps to create a crisp and golden exterior.
Brioche Slider Buns: have a rich, buttery flavor and a soft, slightly sweet texture that complements the beef's flavor. They're also sturdy enough to hold up to the juiciness of the patties without getting soggy.
Pepper Jelly Mayonnaisers
Pepper Jelly & Mayo: add a sweet and spicy flavor to the dish. When mixed with mayonnaise to make pepper jelly mayo, it creates a tangy and slightly hot spread that pairs well with the creamy pimento cheese filling and savory beef patty.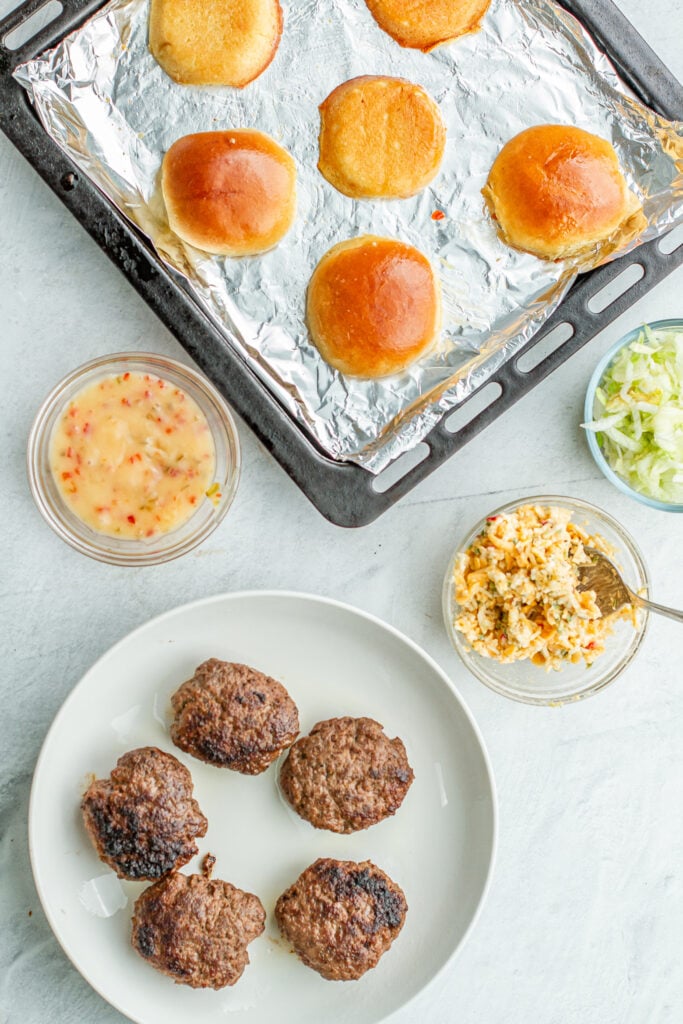 Common Recipe Questions
What is Pimento cheese?
Pimento cheese is a delicious spread made by blending pimentos, mayo, and cheese. Its versatility allows it to be used as a flavorful topping for burgers and wraps, an elevated addition to grilled cheese sandwiches, or a savory dip for chips and veggies. This mouthwatering cheese spread adds a creamy and zesty kick to your burgers and sliders, taking them to the next level of flavor.
What's the origin of Worcestershire sauce?
Worcestershire sauce was first created in the early 19th century by two chemists named John Wheeley Lea and William Henry Perrins in Worcester, Worcestershire, England. This fermented sauce, based on vinegar, has been utilized since 1835 to enhance the flavor of a variety of dishes and to tenderize meats.
What is pepper jelly made of?
Although there are numerous variations of pepper jelly, the primary components usually include vibrant bell peppers and jalapeños. This tantalizingly sweet and spicy condiment can be utilized in a multitude of ways, such as a topping for burgers, a dip for snacks, a spread over cheese, or even stuffed into sandwiches and whole jalapeños.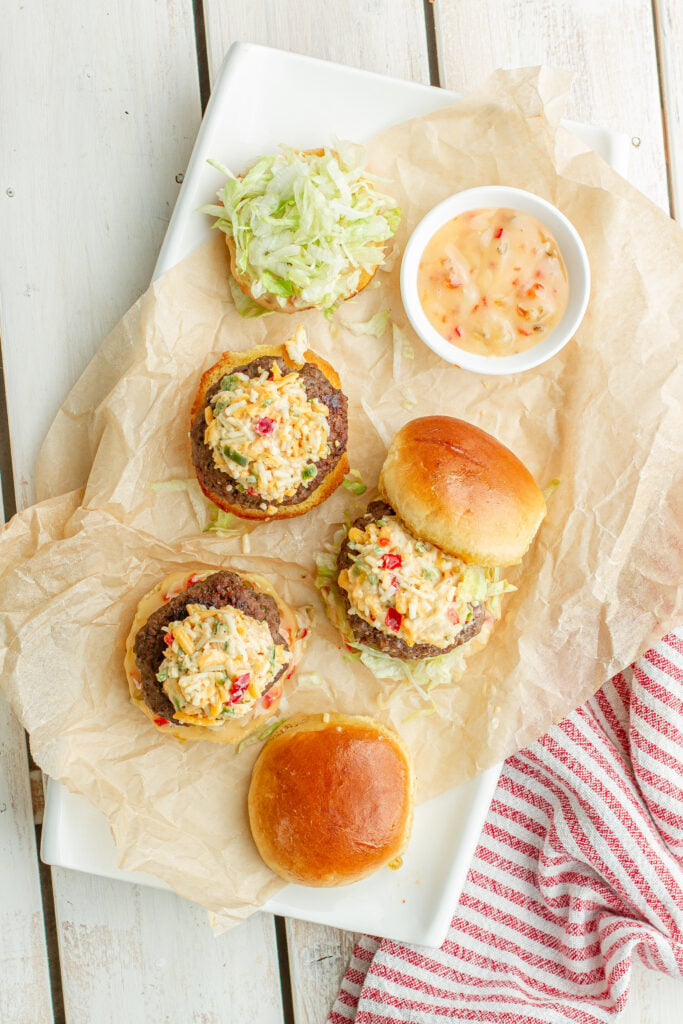 More Tasty Appetizer Recipes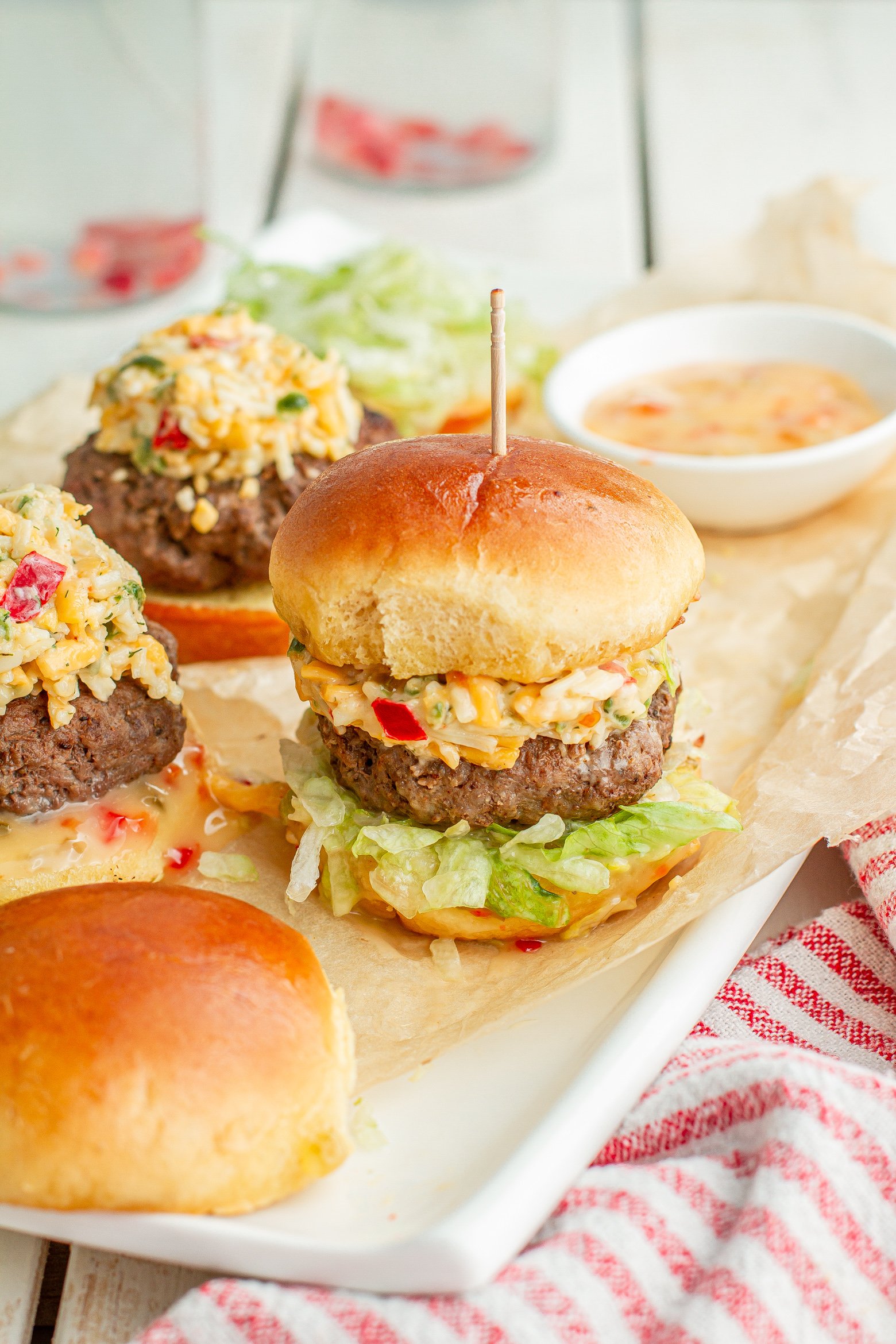 Ingredients
Pimento Cheese Burger Sliders
1

lb

85/15 ground beef

1

teaspoon

kosher salt

1

teaspoon

black pepper

½

teaspoon

garlic powder

½

teaspoon

onion powder

¼

teaspoon

cayenne pepper

2

teaspoons

Worcestershire sauce

½

cup

your favorite pimento cheese (I used HEB jalapeno pimento cheese spread)

1

tablespoon

unsalted butter

6

brioche slider buns

shredded iceberg lettuce
Pepper Jelly Mayonnaise
3

tablespoons

pepper jelly

3

tablespoons

mayonnaise
Instructions
In a large bowl, mix together ground beef, salt, black pepper, garlic powder, onion powder, cayenne, and worcestershire sauce.

Use ⅓ cup to Separate the burger meat into 6 slider patties and roll into large meatballs. Apply pressure to flatten the burgers into about 2.5" disc shapes. Cover with plastic wrap and refrigerate patties for 10 minutes.

Add oil to a 12" cast iron skillet over medium heat. When hot, add all 6 patties evenly spaced across the skilled. Do not crowd the pans; cook in batches to evenly space out if required. Cook patties for 3 minutes on each side. Remove from the skillet and let rest for 5 minutes.

Meanwhile, melt butter and pepper jelly in the microwave for 10-15 seconds. Brush all sides of the sliders with butter and toast. In a small bowl, whisk together melted pepper jelly and mayonnaise, then set aside.

Assemble burgers by adding pepper jelly mayo to each side of the bun. Layer lettuce, slider patty, and 1 heaping tablespoon of pimento cheese on the bottom bun. Add the top bun and enjoy.
Nutrition
Serving:
8
g
|
Calories:
404
kcal
|
Carbohydrates:
26
g
|
Protein:
17
g
|
Fat:
24
g
|
Saturated Fat:
8
g
|
Polyunsaturated Fat:
4
g
|
Monounsaturated Fat:
7
g
|
Trans Fat:
1
g
|
Cholesterol:
70
mg
|
Sodium:
716
mg
|
Potassium:
252
mg
|
Fiber:
1
g
|
Sugar:
10
g
|
Vitamin A:
348
IU
|
Vitamin C:
2
mg
|
Calcium:
113
mg
|
Iron:
3
mg
*Nutrition information is a rough estimate.
**The equipment section above contains affiliate links to products I use and love. As an Amazon Associate I earn from qualifying purchases.