Kentucky Mule, interestingly bright and spicy flavors from muddled mint and ginger beer make this refreshingly aromatic beverage a summer hit.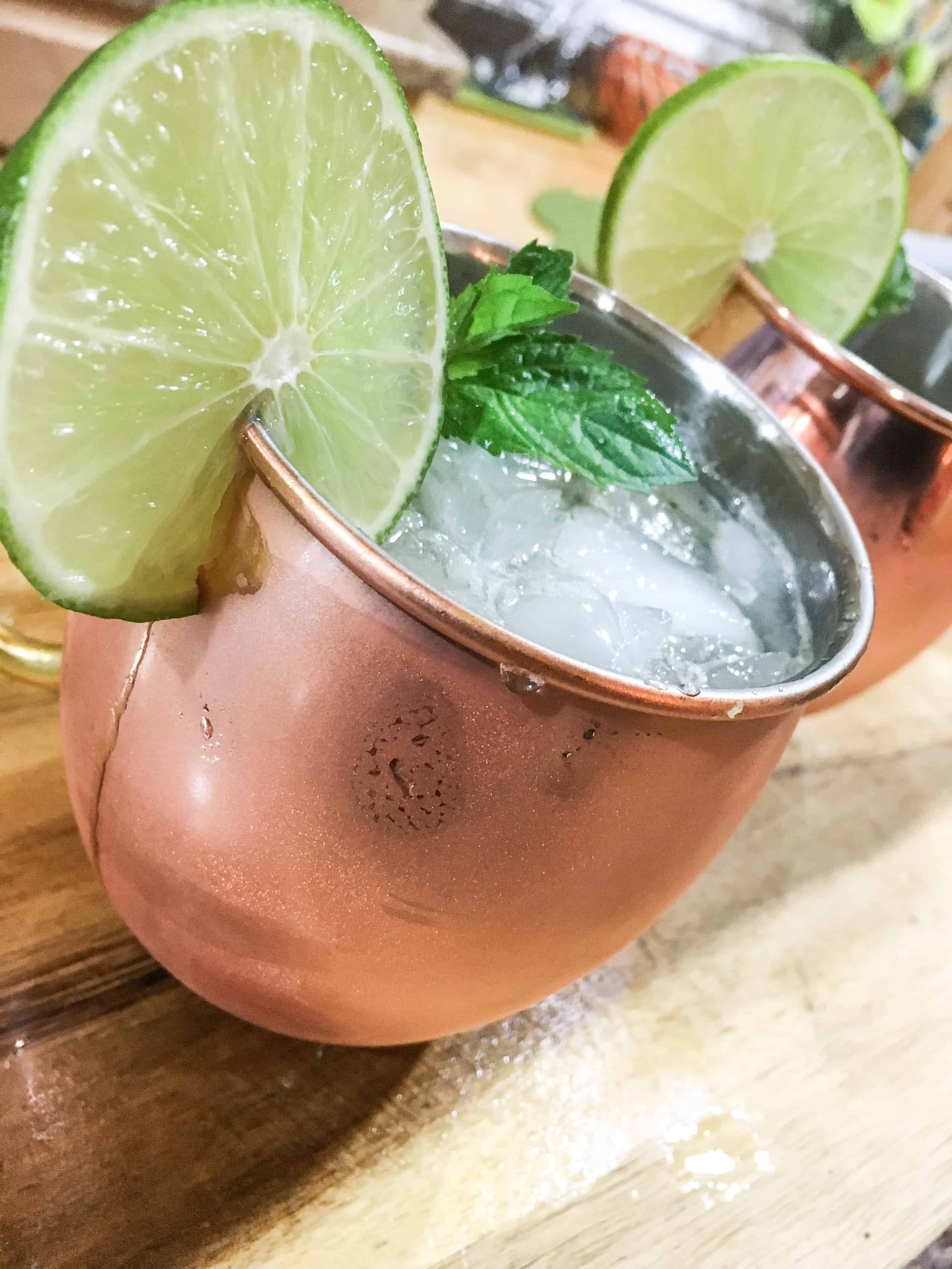 Bold Drinks = Men Magnets
Last month was my birthday, which is usually a big to-do for me. But this year, it was pretty low-key. To be honest, I didn't even remember it was the big day until my bestie wished me a happy birthday. Sad, right, I know.
Needless to say, I didn't have much planned, but she and I eventually made it out to a really nice rooftop bar in the Lower Greenville area of Dallas called HG Supply Co. The environment is vibrant and busting with young professionals. The icing on the cake is its picturesque backdrop of the downtown Dallas skyline.
In the midst of a very crowded space, we were able to find two seats together at the bar, and we just knew that was a sign for a good night to come. Ummmmm, so we thought. Instead, we were bombarded by two jokers who made their way into our conversation by complementing our bold beverages. Somehow they ended up completely monopolizing our conversation and ruining our good time.
What first seemed like a last-ditch effort to get our numbers ended up with one of the guys eating all our appetizers (without asking, mind you), the two of them arguing with each other over who runs their company (nonsense), followed by the hot-tempered app-stealer storming out the bar and the other crying to us about his fight with his girlfriend's family. Like he was literally crying.
I really don't know how we ended up becoming relationship therapists on my birthday night out. How do you go from flirting with two hotties (that's us) to asking for advice to impress your girlfriend's family? And can you believe the crying guy still asked for my number? I was dead on contact. I'm pretty certain that the internet and social media is to blame for all the whack "come on" game these days.
Nevertheless, "group nights in" are becoming more and more attractive. I love a good Kentucky Mule at the bar, but I may only order this bold beverage at home to keep the flies away, if you know what I mean. If you are not much of a whisky drinker but want to give it a try, this is a great transitional drink. The mint in the recipe makes it bright and refreshing, while the ginger beer adds a nice spicy kick at the end. I absolutely love this drink during the summer. Plus, it is fun to make (if you watch the video, you will know why). LOL. So give it a try, and remember to tag @MeikoAndTheDish on all social media when you share it.
What is the difference between Kentucky Mule and Moscow Mule?
The difference between a Moscow Mule and a Kentucky Mule is the type of alcohol used. The Moscow Mule is made with Vodka, Ginger Beer, and Lime, while the Kentucky Mule is made with the same ingredients, except you'll substitute the Vodka for Whiskey/Bourbon. This Kentucky Mule recipe calls for Bourbon and a sprig of mint for garnish.
Why is Moscow Mule served in a copper cup?
The Moscow Mule history suggests that the drink creator chose to make it in a copper mug because his girlfriend owned a copper-making company. Now I don't know how true this is, but I know that the gorgeous copper mug keeps this deliciously refreshing beverage nice and cold. This may have something to do with copper being a great thermal conductor taking on and keeping the temperature of what's inside.
Are bourbon and whiskey the same?
Bourbon is a type of Whiskey. What sets Bourbon apart from other kinds of Whiskey is the way it is made. All Whiskeys are fermented with grains; however, Bourbons made with at least 51% corn.
What's the difference between Ginger Ale and Ginger Beer?
Seemly identical, Ginger Beer and Ginger Ale are two different drinks. The most noticeable difference is taste. Ginger Beer is brewed using real ginger, giving it a much stronger ginger flavor. While Ginger Ale is a carbonated drink ginger-flavored with ginger syrup, making it a lot sweeter. Though categorized as a beer, Ginger Beer typically contains less than 5% alcohol.
More Refreshing Cocktail Recipes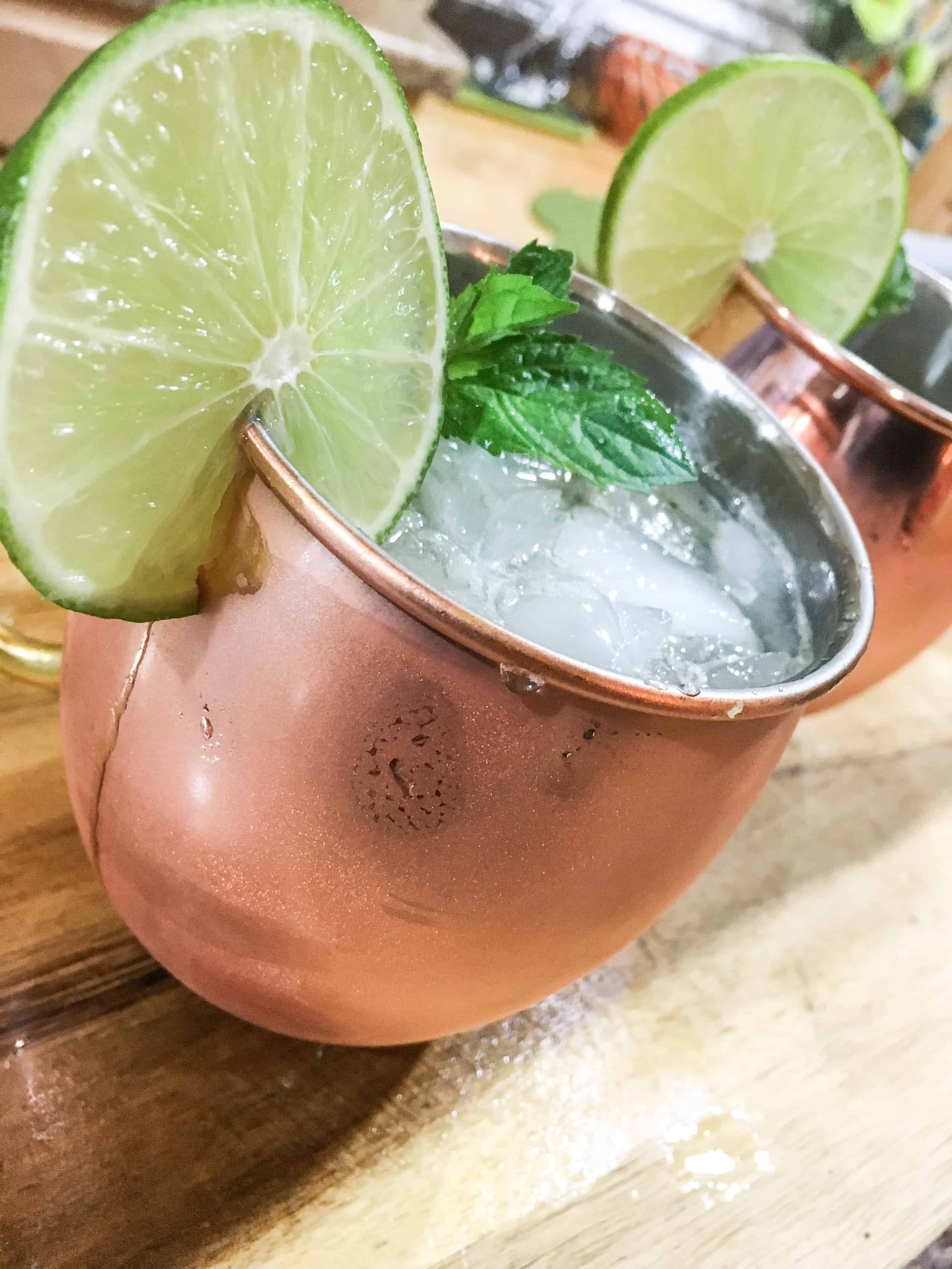 Ingredients
2

oz

bourbon

½

oz

fresh lime juice

4-6

oz

ginger beer

chilled

2

sprigs

mint

plus extra for garnish
Instructions
Crush ice (by whatever means you find necessary, lol).

Add lime juice to a short glass or moscow mule cup along with 2 mint sprigs and muddle.

Add in ice, bourbon and ginger beer and stir. Garnish with extra mint sprigs.
Nutrition
Serving:
1
g
|
Calories:
174
kcal
|
Carbohydrates:
11
g
|
Protein:
1
g
|
Fat:
1
g
|
Polyunsaturated Fat:
1
g
|
Sodium:
9
mg
|
Potassium:
30
mg
|
Fiber:
1
g
|
Sugar:
10
g
|
Vitamin A:
92
IU
|
Vitamin C:
5
mg
|
Calcium:
10
mg
|
Iron:
1
mg
*Nutrition information is a rough estimate.
**The equipment section above contains affiliate links to products I use and love. As an Amazon Associate I earn from qualifying purchases.