Homemade Spice Hot Chocolate is not the basic hot chocolate you had as a child. However, it's still sweet and warm, just with a little spice… and a little spiked. The nostalgia is still there!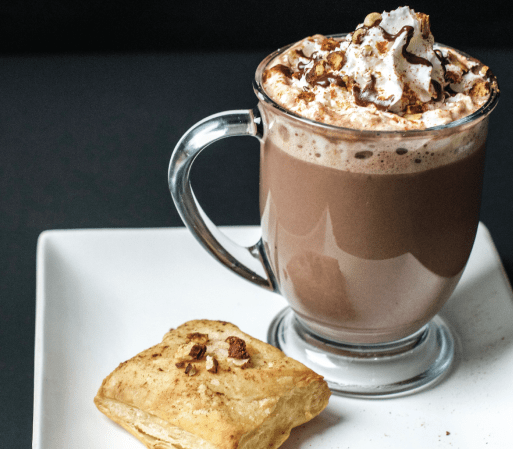 #Jonas2016 got you down? Still, suffering from cabin fever? Need something warm after digging yourself out of the snow? Or are you just in need of sweets because, damn it, it's Monday? I'll make this short and sweet because this directly responds to my people from the east coast posting on my Facebook feed. All I see # Jonas2016, #JonasBabiesInTheMaking, #Snomageddon2016, #NoGroceries. I feel you, really I do. But I have to say, you've experienced nothing until you live a couple of winters in Minneapolis. For heaven's sake, they've built a human-sized hamster tunnel in the city for people to avoid going outside because it's so cold. Well, regardless of your situation, it never hurt anyone to drink a cup of cocoa.
I happen to love this recipe because I have found yet another use for Nutella, one of my favorite ingredients, not to mention, the recipe takes only a few minutes to make. I hate the term "food porn," but when I started pouring the hot chocolate into the cup, I thought, "damn, that's a sexy cup of cocoa." This recipe isn't all looks. The Spiced Hazelnut Hot Chocolate is a sure-fire pick-me-up and slight kick in the butt. Just what the doctor ordered on a Monday. If by chance, you choose to make this recipe after office hours, you can add some Frangelico Hazelnut Liqueur to really get the party started. J So, how's your Monday shaping up now? Enjoy and leave a comment!
Is there a difference between hot chocolate and hot cocoa?
Though they both are delicious chocolate treats on a cold night or any night for that matter, there is a slight difference between the two. Hot cocoa is made from cocoa powder, and hot chocolate is made from melted chocolate, making the drink sweet on its own, while hot cocoa usually has sugar added. Hot chocolate comes out much more decadent than hot cocoa.
What's a non-alcoholic substitute for hazelnut liqueur?
Good question, a great non-alcoholic substitute for hazelnut liqueur that'll still give your drink that additional nutty and sweet hazelnut flavor you're looking for is hazelnut simple syrup. And you can make this yourself at home. You'll need to boil granulated sugar in water until dissolved. Remove from heat, then add hazelnut extract; Voila'!
How to make this recipe dairy-free?
Nowadays, you can make pretty much any recipe that calls for dairy-free dairy merely by replacing the dairy with a few non-dairy options. There are several alternatives like Almond, Cashew, Coconut, Oat, or even Soy to replace cow's milk and whipped cream. There's even dairy-free hazelnut and cocoa spread such as Nocciolata or Nutiva.
More Warm Winter Cocktails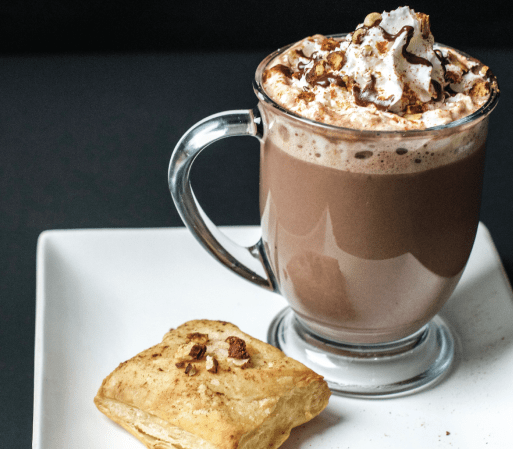 Ingredients
2

cups

milk

¼

cup

Nutella hazelnut spread

¼

teaspoon

cayenne pepper

¼

teaspoon

cinnamon

pinch

course salt
Optional Toppings/Mixers
2

tablespoon

hazelnut liqueur

Frangelico

whipped cream

hazelnut

chopped
Instructions
Heat milk in a small saucepan over medium heat until just beginning to bubble at edges, about 3 minutes. Whisk in remaining ingredients until smooth and remove from heat. Serve immediately.

Optional: Serve with additional seasonings, whipped cream or other desired toppings.
Nutrition
Serving:
2
g
|
Calories:
775
kcal
|
Carbohydrates:
71
g
|
Protein:
20
g
|
Fat:
38
g
|
Saturated Fat:
30
g
|
Polyunsaturated Fat:
1
g
|
Monounsaturated Fat:
4
g
|
Cholesterol:
49
mg
|
Sodium:
241
mg
|
Potassium:
962
mg
|
Fiber:
4
g
|
Sugar:
73
g
|
Vitamin A:
1002
IU
|
Vitamin C:
1
mg
|
Calcium:
638
mg
|
Iron:
4
mg
*Nutrition information is a rough estimate.
**The equipment section above contains affiliate links to products I use and love. As an Amazon Associate I earn from qualifying purchases.