Get into this old-fashioned classic, Southern Buttermilk Chess Pie with Lemon Whipped Cream! Often referred to as a pantry pie because it can be made from pantry basics, this dessert boasts a tangy, rich flavor profile that combines the sweetness of buttermilk with the tartness of fresh lemon infused whipped cream. The creamy, velvety texture is downright decadent, with a lightly crackled sugar top that adds just the right amount of crunch. This pie will transport you to a simpler era when traditional techniques and pantry basics were all you needed to create something truly exceptional.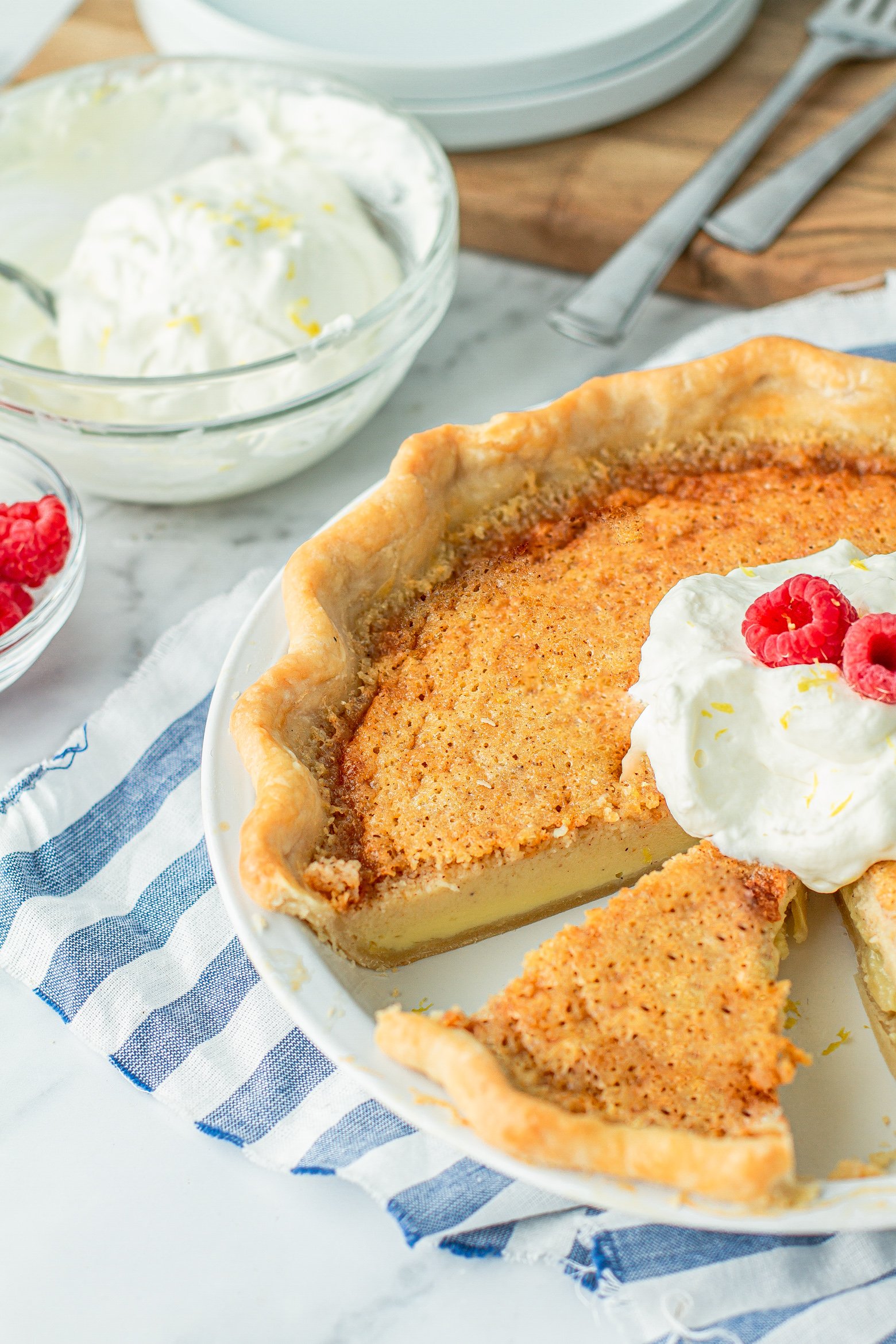 Need A Meal Plan? Trying to make a whole meal with this pie? I've got you covered! Here are some dishes that you can serve with Southern Buttermilk Chess Pie:

All of these dishes are sure to complement the tangy, sweet, and creamy flavor of the Southern Buttermilk Chess Pie and make for a delightful meal.
I remember the first time I sank my teeth into a slice of Southern Buttermilk Chess Pie like it was yesterday. It was during a summer visit to my great grandma Burney's house in Wichita, Kansas. She and my Uncle William served up a feast that included succotash, red plum jam, and the pièce de résistance – a heavenly homemade chess pie.
One bite was all it took for me to realize that I had been missing out on something truly special. With each decadent bite, the tangy richness of buttermilk danced on my taste buds and lightly crackled sugar top added such a satisfying crunch. It was like a symphony of sweet and tangy, rich and creamy, that left me. enchanted and longing for more. I'll never forget that moment and tried to encapsulate that experience in my very own version of the pie.
What Is A Chess Pie?
Chess pie is a classic dessert that has a long history in the American South, although its origins can be traced back to England. This simple pie is made with a mixture of sugar, eggs, butter, flour, cornmeal or cornstarch, and a touch of vinegar. The combination of ingredients results in a pie with a crisp, crackly top crust and a smooth, custard-like filling. It's often described as "creme brulee adjacent" due to its creamy texture and caramelized sugar topping.
Buttermilk pie specifically, quickly gained popularity in the American South, where buttermilk was readily available, especially in Texas where it was affordable. This simple pie became a go-to dessert during times when money was scarce, like the Great Depression. Texas residents had ample access to affordable buttermilk and began to turn to Texas Buttermilk Pie when fruit was out of season. As others became familiar with this easy and delicious pie recipe, it spread across the country.
What You'll Need For This Recipe
Buttermilk Chess Pie Filling:
Melted unsalted butter: used in the filling to add richness and flavor. Allow to cool before adding to the mixture.
Granulated sugar: adds sweetness to the pie filling and creates caramelized top crust.
Eggs (room temperature): help to bind the filling and give it structure. It's important to use room temperature eggs to ensure they mix evenly into the filling.
Buttermilk (room temperature): gives the pie its signature tangy flavor and creamy texture. Using room temperature buttermilk will help it mix more easily with the other ingredients.
Pure vanilla extract: adds a warm, sweet flavor to the pie filling.
All-purpose flour: helps to thicken the filling and give it a smooth texture.
Ground cinnamon: adds a warm and spicy flavor to the pie filling.
Ground nutmeg: adds a slightly sweet and nutty flavor to the pie filling.
Kosher salt: enhances the other flavors in the filling and helps to balance the sweetness.
Pie Crust: You can use a homemade pie crust or a premade store bought pie shell. The size just needs to be a standard 9 inches.
Lemon Whipped Cream:
Cold heavy cream: Whips up into fluffy, light cream to dollop onto the pie. Make sure the cream is cold for best results.
Zest of lemon: Adds a bright citrus flavor to the whipped cream. Use a microplane or fine grater to zest the lemon.
Confectioner's sugar: Sweetens the whipped cream and helps it hold its shape. Sift the sugar to avoid lumps.
Kosher salt: Balances the sweetness of the whipped cream and enhances the overall flavor. Use a small amount, as a little goes a long way.
How to Make Buttermilk Chess Pie Recipe
Pie Crust:
If using a refrigerated or frozen pie crust, follow package directions for par baking.
If making homemade pie crust, full instructions can be found in the recipe card.
Buttermilk Pie Filling:
Preheat oven to 350°F.
Mix Dry Ingredients with butter and vanilla. In a large mixing bowl, whisk together sugar, flour, salt, cinnamon, and nutmeg. Add melted butter and vanilla and mix well.
Whisk in eggs & buttermilk. Whisk in eggs until just combined, then slowly add in buttermilk while whisking until smooth. Be careful not to over beat.
Par bake in sealed oven. Pour the thin batter into the crust. Bake for 25-30 minutes until mostly set.
Par bake in ajar oven. Turn off the oven, rotate the pie, and crack the oven door open. Let the pie continue to set in the residual heat for 20 minutes.
Cool Pie & Serve. Remove the pie from the oven and cool at room temperature for 1.5-2 hours before serving. For best results, chill in the fridge overnight.
Lemon Whipped Cream:
Whip ingredients & Serve. To make lemon whipped cream, whip heavy cream, powdered sugar, lemon zest, and salt until stiff peaks form. Serve slices of buttermilk chess pie with a dollop of freshly whipped cream.
Meiko's Pro Recipe Tips
Use room temperature ingredients for best results.
Use full-fat buttermilk without additives for optimal results. I do not recommend using buttermilk substitutes.
Lemon can cause the pie to separate into two distinct layers. This is due to the milk solids in the buttermilk reacting to the acidity in the lemons.
Use a pie crust shield or aluminum foil to prevent the crust from over browning.
Using a thermometer is strongly recommended when making custards to avoid over-baking.
All custards need to set by slowly cooling to room temperature before slicing. Failure to do so will result in a runny or loose texture.
Allow the pie to cool completely before slicing. An overnight chill in the fridge is highly recommend for clean slices.
Super Pro Tip: Baking Custard Pies With The Oven Door Open

You can tell a creamy custard pies is done when the edges are firm, but the center jiggles gently when you shake the pan. But for the untrained eye it can be a thing line between just jiggly enough and over baked. To ensure you get a gorgeous buttermilk chess pie, turn the oven off after 30 minutes, prop open the door approximately 2 inches —and leave the pie in the oven fir at least 20 minutes.

Cooling a baked custard as gradually as possible prevents it from puffing, sinking, or wrinkling, so don't rush this step.
Why Is It Called "Chess Pie?"
The exact origin of the name "chess pie" is unclear, but there are a few theories. One theory is that the word "chess" is actually a corruption of the word "cheese." The pie filling contains similar ingredients to cheesecake, such as eggs, sugar, and butter, but without the cheese.
Another theory suggests that the name comes from the word "chest," as in a pie chest, which was a common storage place for pies in the past. Yet another theory is that the name comes from "just pie," which was pronounced in some Southern dialects as "jess pie" and evolved into "chess pie."
Whatever the origin of the name, one thing is for sure – chess pie is a classic Southern dessert with a rich history and a delicious taste.
Frequently Asked Questions
What does buttermilk chess pie taste like?
Buttermilk chess pie is sweet, tangy, and rich, with a smooth, creamy texture. It is commonly made in a flaky pie crust, providing the perfect base for the custardy filling.
It is often compared to a cross between custard and cheesecake. It's creamy and silky smooth with just enough density. When you take a bite, the filling just melts in your mouth.
One of the most distinctive characteristics of buttermilk chess pie is the sugary top layer that forms as it bakes. It's crispy and caramelized, adding a delightful crunch to the otherwise smooth pie.
What is the difference between buttermilk pie and chess pie?
The main difference between buttermilk pie and chess pie is the type of milk used in the recipe. Buttermilk pie uses buttermilk, which gives it a tangy and creamy taste, while chess pie can be made with whole milk. Another difference is that buttermilk pie is thickened with flour only, while chess pie can sometimes use a combination of flour and cornmeal which produces a slightly grainier texture.
How can you tell if a buttermilk chess pie is done?
Visually the top of the pie should be golden brown, and the very center should be slightly jiggly.The most reliable way to tell if a buttermilk pie is done is to check the internal temperature with an instant-read thermometer. Insert the thermometer in the center of the pie, and if it measures between 175 to 180°F, it's ready. .
Why is my buttermilk chess pie runny?
If your turns out to be runny, it's likely because it was not cooked long enough. The filling needs to be cooked until it's set in the center, which is usually indicated by a slight jiggle. However, the surface of the pie may bake up firmly, even though the inside is not done. To avoid this, it's recommended to check for an appropriate internal temperature range of 175 to 180°F. Also, make sure to let the pie cool down to room temperature before slicing, as this will help it set properly.
Why isn't my buttermilk chess pie setting?
If your pie isn't setting properly, it may not have had enough time to fully cool and firm up. To ensure clean, sharp slices, let your pie rest in the refrigerator overnight. Simply cover it with plastic wrap or foil, and chill it until firm. When you're ready to serve, let it come to room temperature before cutting into it.
How long does a custard pie have to cool?
To ensure that your buttermilk chess pie slices cleanly and holds its shape, it's important to let it cool to room temperature for at least 2 hours. For even better results, transfer the pie to the fridge and let it cool overnight before slicing. This will allow the filling to set fully and make it easier to serve.
Why no fresh lemon juice in this recipe?
Adding lemon juice to the buttermilk pie batter can sometimes react with the buttermilk to cause separated layers in the pie. As a precaution, I leave it out especially since the buttermilk provides and great amount of tanginess to the pie on its own.
Can I use a store bought pie crust?
Sure! If you're short on time a pre made pie crust or frozen pie shell can work just as well. Just be sure to follow the package instructions for baking and cooling the crust before adding the filling.
Prep Your Tools & Ingredients
Here is a quick list of things to do before the recipe to ensure everything goes smoothly.
Gather Your Tools:
9 inch standard pie pan or pie plate
Large Bowl
Cookie Sheet or Sheet Pan
Parchment paper
Pie weights, dry beans or rice
Hand Mixer or Stand Mixer or Whisk
Food Processor
Rolling pin
Recipe Prep
Always read the recipe through at least 1 time before you start. It helps you move faster when you already know what step is coming next.
Melt and cool butter.
Set out eggs and buttermilk to bring to room temperature.
For best homemade pie crust results, prepare pie dough the night before.
Ingredients
Store Bought Pie Crust or
Homemade All Butter Pie Crust:
1 ¼

cups

all-purpose flour

plus more for dusting

1

tablespoon

sugar

½

teaspoon

kosher salt

8

tablespoons

1 stick unsalted butter, chilled or frozen & cut into 1/2″ pieces

1 ½

teaspoons

apple cider vinegar

4

tablespoons

ice-cold water

more as needed
Buttermilk Chess Pie Filling:
1 ¼

cup

granulated sugar

3

tablespoons

all purpose flour

¼

teaspoon

ground cinnamon

¼

teaspoon

ground nutmeg

½

teaspoon

kosher salt

4

large eggs

room temperature

1

cup

buttermilk

room temperature

4

tablespoons

unsalted butter

1/2 stick, melted & cooled

1 ½

teaspoons

vanilla extract
Lemon Whipped Cream:
1

cup

cold heavy cream

Zest of 1 small lemon

¼

cup

confectioner's sugar

⅛

teaspoon

kosher salt
Instructions
If preparing homemade pie crust:
Make Dough
Add flour, sugar, salt to a food processor and pulse 3 times. Add butter pulse 6 times.

With the food processor speed on low, pour in liquid (water & apple cider) into the spout. Continue on low until you start to see a dough come together and congeal or form a ball.

Pour dough out onto a lightly floured surface. Cut dough into four even pieces and stack on top of one another. Press down flat and repeat the cutting and stacking process 2-3 more times.

Cut dough in half and form into a disc. Wrap in plastic wrap and refrigerate for at least 40 minutes – 1 hour but preferably overnight.
Roll out dough
Unwrap and roll out dough onto lightly floured. Carefully transfer to a pie plate and press into the crevices. Leave approximately 1 inch of dough over the edge of the pie plate. Cut off any excess. Tuck and cuff the hanging dough on the lip of the plate and press down to secure. Do this around the entire circumference of the plate. Crimp the edge of the dough to your preferred design.

Dock the dough with a fork around the base and sides to prevent air bubbles from forming. Add pie back to the fridge for 30 minutes. Preheat the oven to 425°F and bake for 12 minutes until light brown, then remove from oven. Reduce oven temperature to 350°F.
To make buttermilk pie:
Preheat oven 350°F.

In a large mixing bowl with a hand mixer whisk together sugar, flour and salt. Add the buttermilk, butter, vanilla, cinnamon, nutmeg and salt and whisk until smooth, about 1 minute.

In a large bowl, whisk together sugar, flour, salt, cinnamon and nutmeg until combined and no lumps. Add in melted butter and vanilla and mix well. Whisk in eggs until just combined – Do not beat in a lot of air. Slowly add in a thin stream of buttermilk as you whisk the batter until smooth.

This batter is thin. To avoid splatter and spillage, place the prepared pie crust on a baking sheet in the center oven rack. Slowly pour the filling into the crust (don't forget to scrape in the undissolved sugar in the bottom of the bowl). Slide the oven rack back into place.

Bake for 25-30 minutes until the filling is mostly set. Cut the oven off and set the oven door ajar, approximately 2 inches. Let the pie continue to set in the residual heat with the oven door propped open for 20 minutes.

Remove the pie from the oven and onto a cooling rack. The top of the pie will be golden, crusted, puffy and still a bit jiggly in the center but will firm up as it cools. Cool at room temperature for 1.5-2 hours before serving. For best results transfer the room temperature pie to the fridge to cool overnight before serving.
To make lemon whipped cream:
Using a stand mixer fitted with a whisk or an electric mixer with a whisk attachment, whip heavy cream, powdered sugar, lemon zest, and salt on medium-low speed until foamy, about 1 minute.

Increase speed to high and whip until stiff peaks form, 1 to 3 minutes. Serve slices of buttermilk pie with a dollop of lemon whipped cream.
*Nutrition information is a rough estimate.
**The equipment section above contains affiliate links to products I use and love. As an Amazon Associate I earn from qualifying purchases.