Hey greedy! I've whipped up a homemade creamed corn recipe that's straight-up swoon-worthy. Imagine sweet, juicy corn kernels, frozen at their peak, bathed in a sauce so richly-flavored and decadently creamy. Your canned creamed corn could neva!. The best part? It's low-effort, high-reward, perfect for those cozy weeknight dinners, BBQ cookouts, or anytime you feel like jazzing up your meal.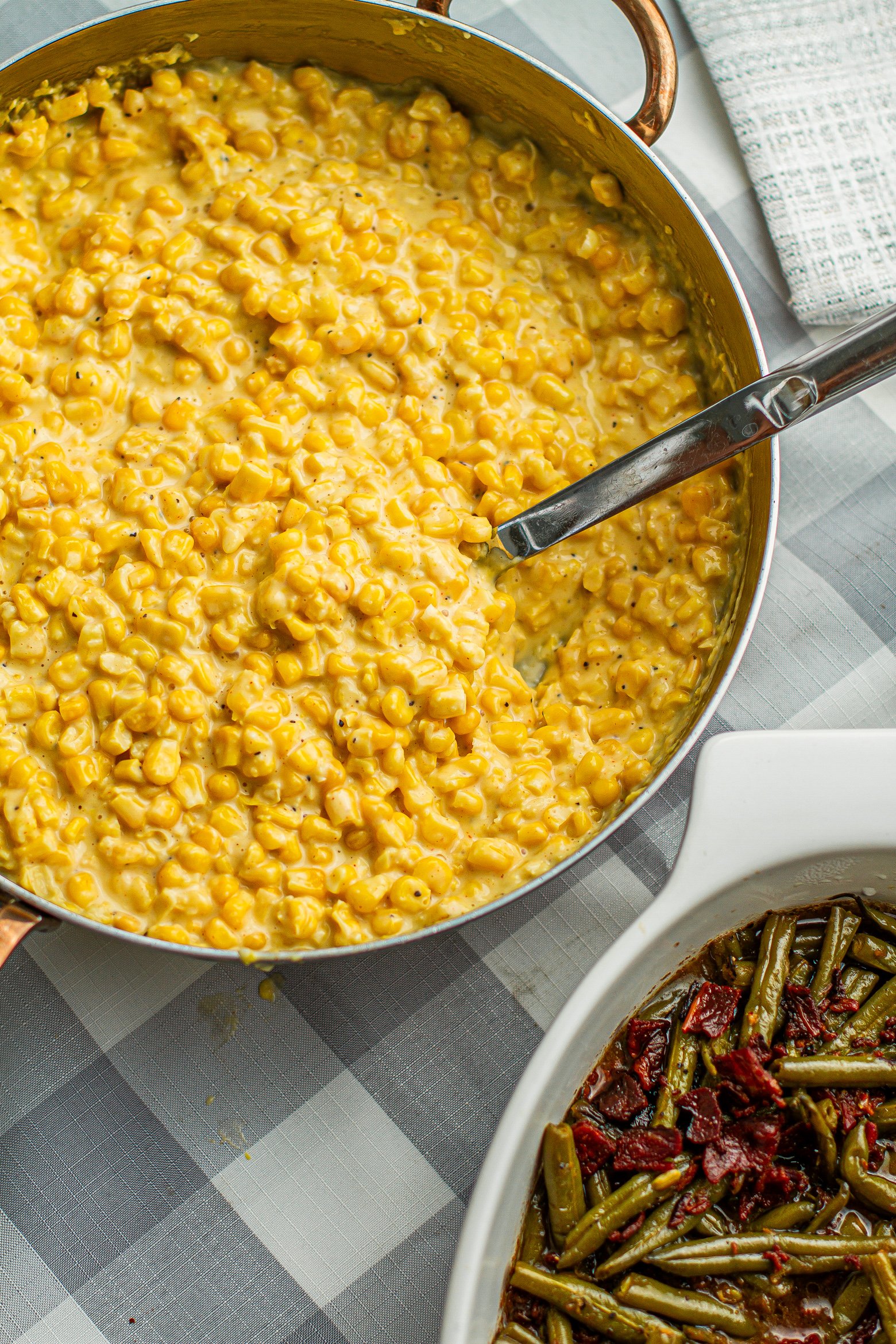 Need Some Serving Suggestions?

Wondering what goes best with this creamed corn recipe? Don't sweat it—I've got your back! Here's a quickfire guide to make your meal a stunner:
I've been on the hunt for that perfect, decadent, home-cooked soul food classic – a creamed corn recipe that'd make even grandma nod in approval. I can't even lie, I grew up on the store-bought canned canned corn but with a reformed boughetto palette, this stuff just ain't cutting it anymore. So of course, I jazzed up my own still leaning into the convenience of frozen corn.
Yes, you heard me right, frozen corn – chosen at the peak of its sweetness, full of those natural sugars that give it a flavor profile that's next level. And slow-cooking those frozen kernels in a sauce that's so velvety and rich – it's giving steak house restaurant vibes. This creamed corn is like. a little pot of gold at the end of your dinner rainbow.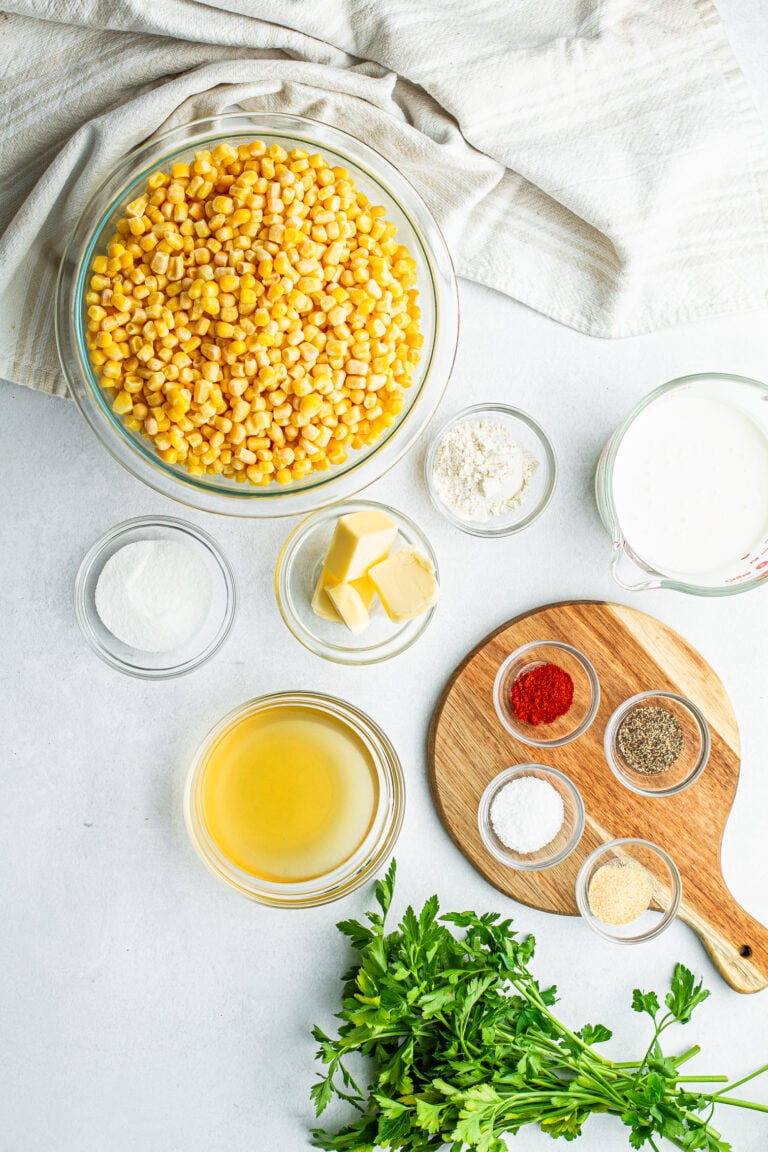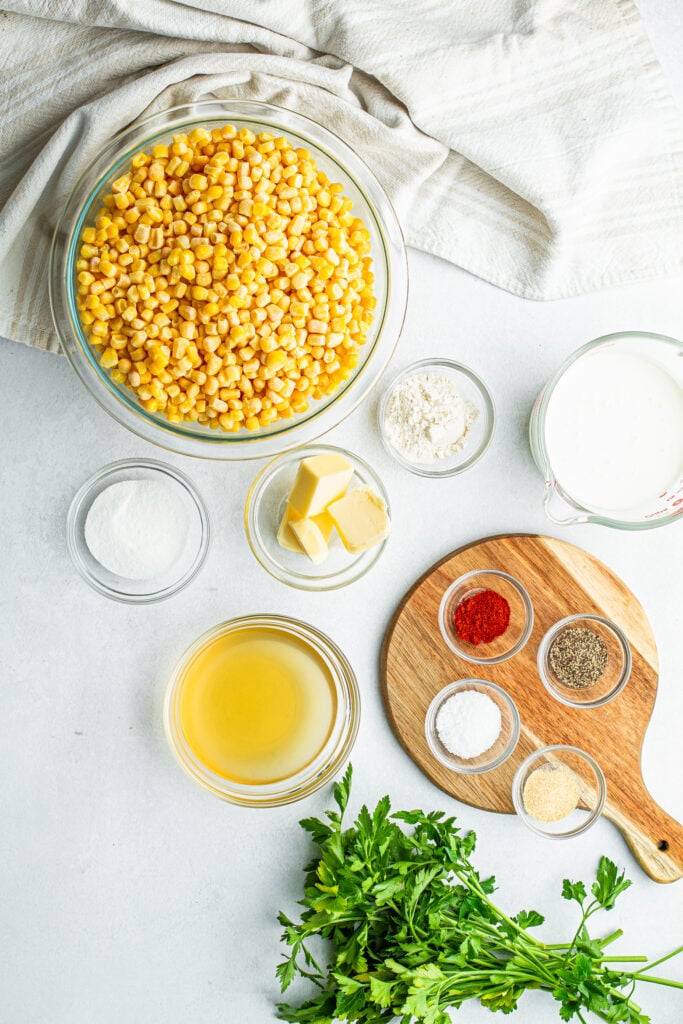 What You'll Need For This Recipe
Frozen Corn – Remember frozen corn is packed at peak sweetness. Using frozen corn is this recipe makes it seasonality-proof, just thaw them before use. If it's corn season, go ahead and use fresh corn. I'll provide recipe modification for this below.
Heavy Cream – Oooh, the cream! That's the main character in our recipe, bringing that velvety texture and luxurious mouthfeel. It's like wrapping your taste buds in a cashmere blanket.
All-Purpose Flour – This is our thickening agent. Just a little sprinkle will help create the body of our dish.
Unsalted Butter – I'm adding a generous dollop of unsalted butter. It's going to sauté our corn, and also give that mouthwatering rich flavor. Remember, unsalted, because we're gonna control the salt in this dish.
Low Sodium Chicken Broth – This gives our creamed corn that deep, savory flavor that and make this dish taste like it's been simmering all day. Feel free to substitute vegetable broth if you're vegetarian.
Granulated Sugar – We're going for a sweet and savory vibe here, so a dash of granulated sugar is going to take it up several tasty notches.
Seasoning Blend: Kosher Salt, Black Pepper, Garlic Powder, Onion Powder – the perfect harmony of spices, designed to round out our dish. It adds a savory contrast that balances the sweetness of the corn.
How to Make Creamed Corn Recipe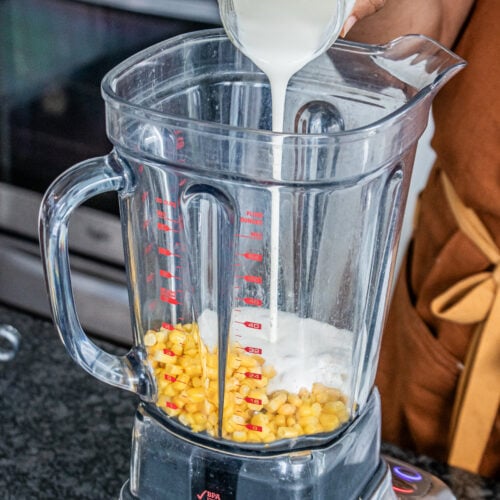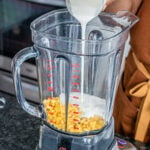 [Step 1] Make Corn Milk Mixture. In a blender, combine heavy cream, 1 cup of corn kernels, and flour. Blend until the mixture is creamy and smooth, but be sure to leave some corn chunks for that extra texture we love.
[Step 2] Saute Corn. Heat a medium pot over medium heat, melt the butter, then add the remaining corn. Give it a good stir for 1-2 minute to bring out all those flavors.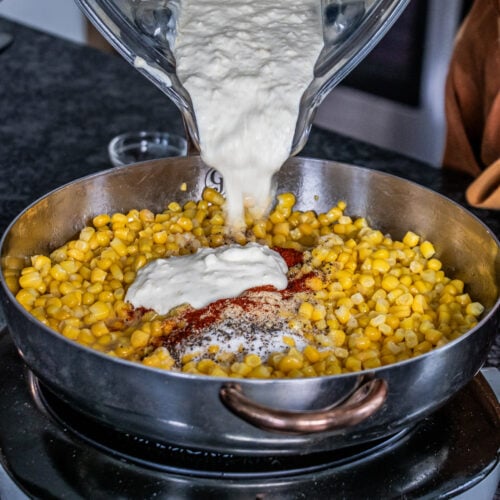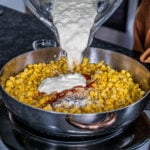 [Step 3] Add Remaining Ingredients. Stir in the chicken broth, sugar, salt, black pepper, garlic powder, onion powder, and our cream from earlier to the corn mixture. Bring it all to a boil for 2 minutes, allowing the flavors to come together.
[Step 4] Simmer & Serve. Reduce the heat to medium-low and let it simmer for 20 minutes. The Serve it up while warm.
What Is Creamed Corn?
Creamed corn is the epitome of comfort, a side dish that combines tender corn kernels with a creamy, seasoned sauce. While there are various ways to make it, if you can whip up a homemade version, it's preferred. My recipe involves simmering corn kernels in a luscious creamy sauce and blending some of the kernels with cream for added richness.
Frozen Corn or Fresh Corn
Frozen Corn: When it comes to convenience, frozen corn takes the spotlight. It's inexpensive, accessible year-round, and retains much of its original flavor and texture. For a creamier and more concentrated cream-style corn, defrost and drain excess moisture, though it's not always necessary.
Fresh Corn: Corn season typically spans from late spring to early fall, with the peak harvest time varying depending on the region. It's best to use fresh corn for this recipe when it is in season. There's nothing quite like the crisp texture and sweet flavor of corn straight from the cob but it does require a little more elbow grease. If you have access to fresh corn from a local farmers market, grocery store, or even your own garden, go for it!
Canned Corn: If you find yourself with well-drained canned corn kernels, they can work in a pinch. However, be prepared for a slightly sweeter taste and a softer texture. While it's an option, it may not deliver the same level of satisfaction as its counterparts.
Meiko's Pro Recipe Tips
Cutting corn kernels: Carefully use a knife and a nonskid cutting board to remove the corn kernels from the cob. Take your time, and watch those precious kernels tumble free.
Creamy swap: No heavy cream? No problem! Substitute it with a mixture of 1/2 cup milk and 2 tablespoons softened cream cheese ensuring they're well combined for that creamy goodness.
Thicken to perfection: If your creamed corn turns out a tad runny, fear not. There are a couple of tricks: simmer it on the stove a little longer to let the extra moisture evaporate, or create a cornstarch slurry by mixing 1 tablespoon of cornstarch with 1 tablespoon of water for every 2 cups of creamed corn.
Adjusting consistency: If the creamed base becomes too thick, add a splash or two of milk until you reach your desired consistency.
Add Some Flair: Recipe Variations & Customization Ideas
Cheesy Twist: Sprinkle more grated Parmesan cheese for an irresistible cheesy taste.
Creamed Corn Casserole: Add extra liquid, top with cheddar and bread crumbs and bake for a brown and bubbly dish.
Creamed Corn Over Mashed Potato Bowl: Serve this cozy delight over fluffy mashed potatoes with your favorite protein.
Custom Add-Ins: Try crispy bacon, jalapeños, cayenne pepper or chopped onions for a flavorful twist. Or garnish with fresh parsley.
Storage & Reheating Recommendations
Store Leftovers: To keep your creamed corn fresh, allow it to cool before transferring it to an airtight container. Store it in the refrigerator for up to three to four days.
Reheat Leftovers: When it's time to enjoy your leftovers, you have two options. Reheat in the microwave in short 30 second spurts for a quick and convenient meal. Additionally you can transfer the creamed corn to a saucepan or skillet. Heat it over medium-low heat, stirring frequently to prevent sticking or burning. If needed, add a splash of milk to restore the creamy consistency.
Freezing Creamed Corn: If you want to extend its shelf life, creamed corn can be frozen. Ensure it has cooled completely, then transfer it to a freezer-safe container or freezer bags, leaving enough headroom for expansion. It will stay frozen for up to two months. Thaw it in the refrigerator overnight before reheating.
More Corn Recipes You'll Love
Corn On The Cob
Southern SuccotashFried CornCorn Fritters
Corn Salsa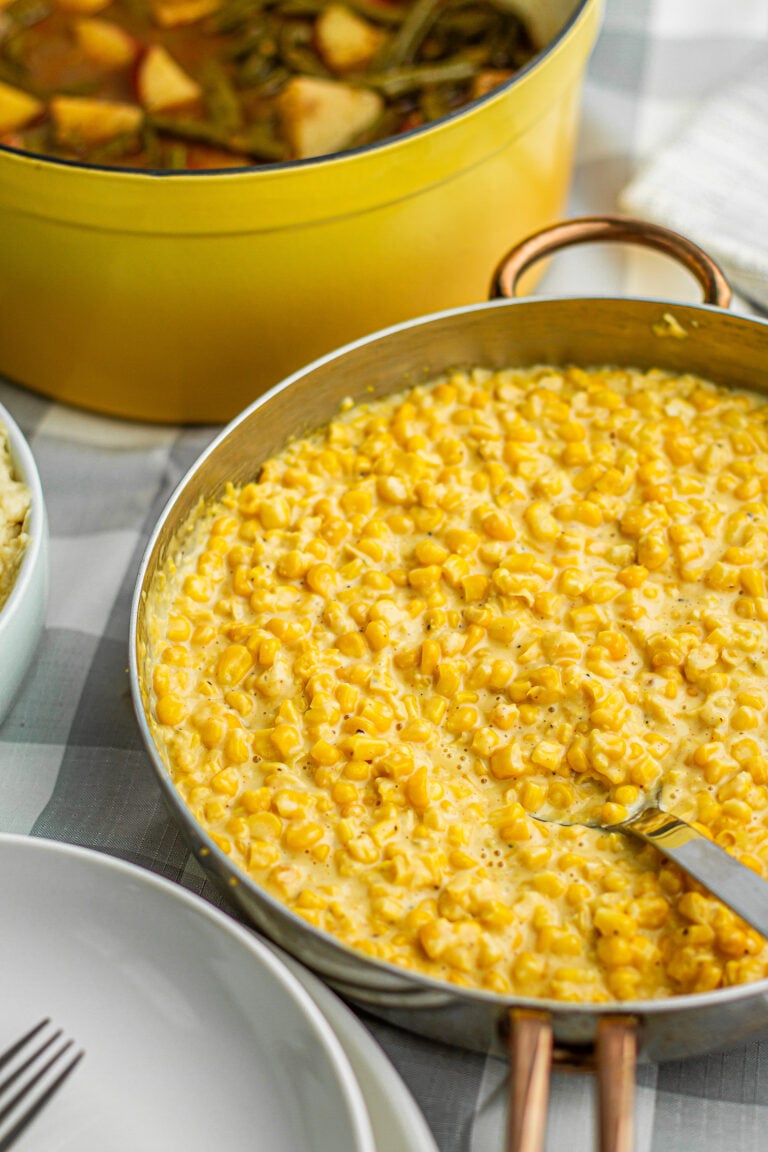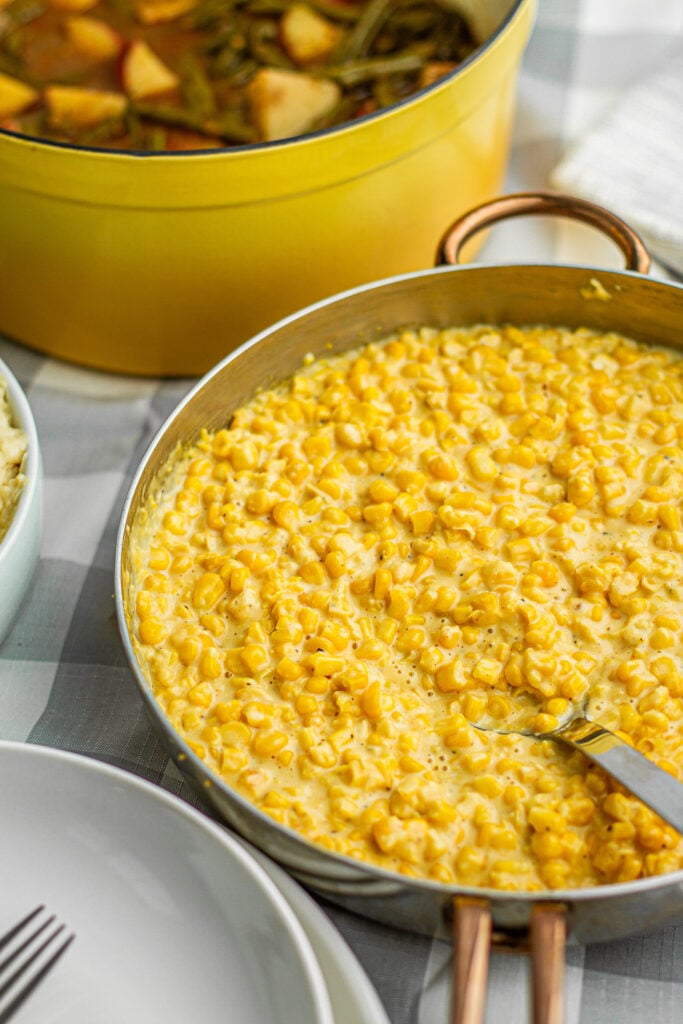 Frequently Asked Recipe Questions
What makes the best creamed corn; fresh or frozen kernels?
Fresh corn takes the crown for flavor, but let's be real, convenience matters too! I usually go for frozen corn 'cause it's a time-saver. You do you, babe!
How can you keep the creamed corn warm?
Got a potluck? No worries, darlin'! Bust out that crock pot, crank it to the warm setting and let it work its magic. It'll keep your corn warm and cozy, perfect for sharing with your crew.
How to make cream style corn from canned corn?
Make sure to drain the canned corn of its excess liquid. Then add it to the creamed corn recipe as you would the frozen corn. The only difference is canned corn is a lot softer so it won't take as much time to cook up so just keep a close I until it is is tender.
My creamed corn is runny – What can I do?
No worries! Let it cook a little longer, and the heat will work its magic. The extra liquid will evaporate, and your creamed corn will thicken up like a boss!
Prep Your Tools & Ingredients
Here is a quick list of things to do before the recipe to ensure everything goes smoothly. This list may contain affiliate links which won't change your price but will share some commission to help support this blog.
Gather Your Tools:
Non slip cutting board
Blender, Food Processor or Immersion blender
Large pot
Recipe Prep
Always read the recipe through at least 1 time before you start. It helps you move faster when you already know what step is coming next.
Measure out all of your ingredients.
Pull out frozen corn ahead of recipe so that it can thaw to room temperature.
Alright, my peeps, we've reached the end of our creamed corn journey. This recipe is the real deal, y'all! Sweet and juicy corn kernels, bathed in a rich and velvety sauce that's full of flavor. NO WORDS! Plus, it's a low-effort, high-reward dish so you can reclaim you time. Give the recipe a try and let me know what you think! Leave a comment below and rate it with all the heart-eye emojis.
Servings:
10
side servings
Ingredients
32

oz

6 cups frozen corn kernels, thawed

1

cup

heavy cream

2

tablespoons

all purpose flour

4

tablespoons

unsalted butter

1

cup

low sodium chicken broth

2

tablespoons

granulated sugar

1

teaspoon

kosher salt

¼

teaspoon

black pepper

½

teaspoon

garlic powder

½

teaspoon

onion powder

⅛

teaspoon

cayenne pepper
Instructions
In a blender, add heavy cream, 1 cup of corn kernels, and flour. Pulse until whole corn kernels are broken down to just corn chunks.

In a medium pot over medium heat, melt the butter, then add the remaining corn. Give it a good stir for 5 minutes to bring out all those flavors.

Stir in the chicken broth, sugar, salt, black pepper, garlic powder, onion powder, cayenne pepper and the corn cream mixture from earlier. Bring it all to a boil for 2 minutes.

Reduce the heat to medium-low and let it simmer for 8-10 minutes or until the cream thickens, then serve warm.
Nutrition
Calories:
229
kcal
|
Carbohydrates:
26
g
|
Protein:
4
g
|
Fat:
14
g
|
Saturated Fat:
9
g
|
Polyunsaturated Fat:
1
g
|
Monounsaturated Fat:
4
g
|
Trans Fat:
0.2
g
|
Cholesterol:
39
mg
|
Sodium:
251
mg
|
Potassium:
317
mg
|
Fiber:
3
g
|
Sugar:
3
g
|
Vitamin A:
504
IU
|
Vitamin C:
7
mg
|
Calcium:
23
mg
|
Iron:
1
mg
*Nutrition information is a rough estimate.
**The equipment section above contains affiliate links to products I use and love. As an Amazon Associate I earn from qualifying purchases.