Goat Milk Pie is the perfect addition to any holiday table or gathering! It's sure to be a crowd-pleaser with its unique flavor, creamy texture, and easy preparation. It features a graham cracker crust and rich creamy filling made from goat milk butter, powdered goat milk, sugar, cinnamon, nutmeg & a splash of lemon juice. The tangy sweetness combined with the buttery smoothness will have you asking for seconds!
THIS RECIPE IS SPONSORED BY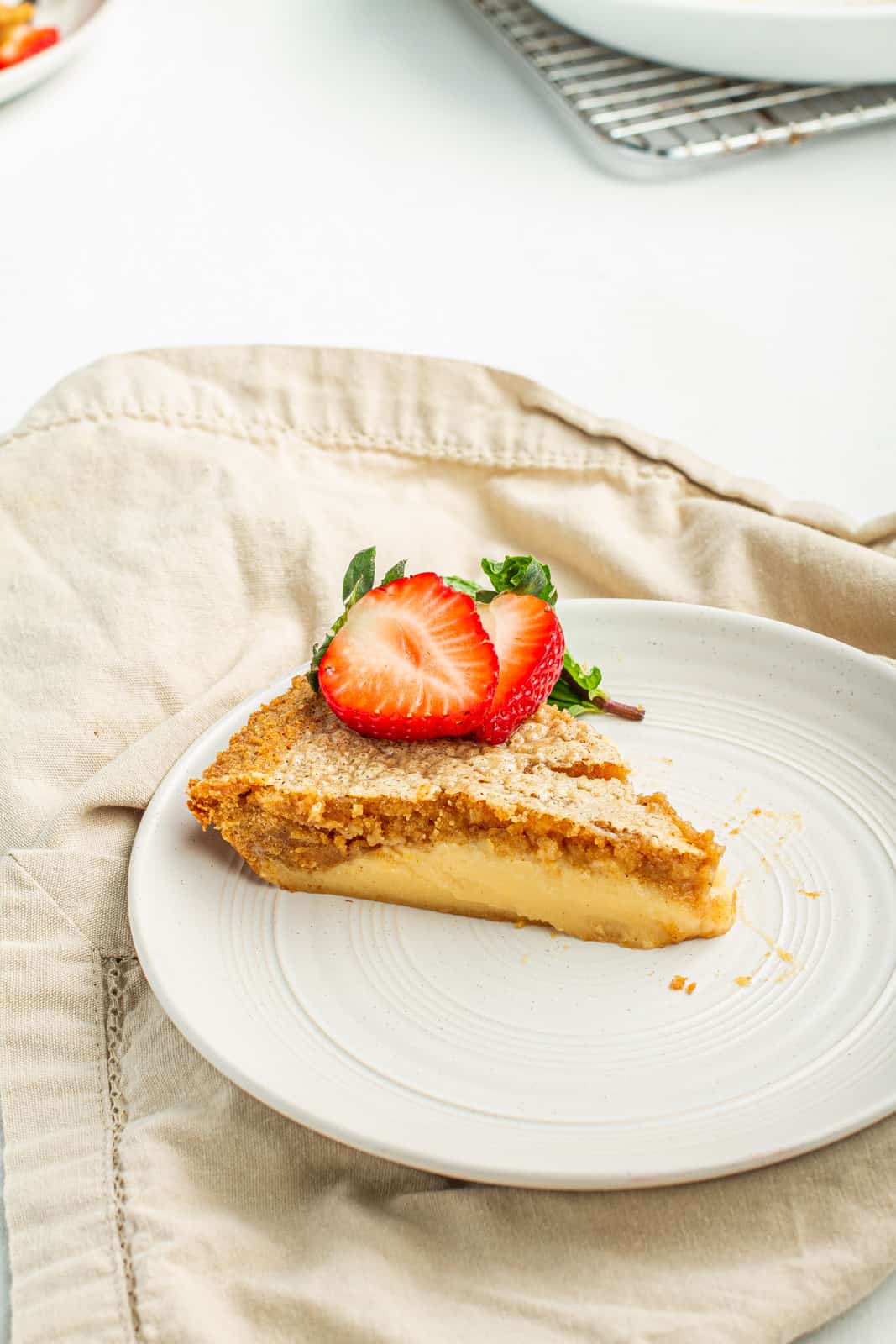 Goat Milk Pie
Friends, I have a confession. I'm afraid I'll be harshly judged when i tell you that [dramatic pause] I love pie more than I love cake [shrivels in shame and covers face].
No, but it's true. I do, and I've had so much fun working on new pie recipes lately that its reignited my love. This Goat Milk Pie is my new fave.
I know Americans aren't the biggest goat milk drinkers, more people in the world drink milk from goats than from any other species. Now take that fun fact and keep it in your pocket.
Maybe the world knows something we don't. I'm trying to find out with this deliciously creamy and silky, Goat Milk Pie.
What is Goat Milk Pie?
If you've ever heard of the Southern classic, Buttermilk Pie, this is a lot like that. Goat Milk Pie features a graham cracker crust and a filling made with ingredients like goat milk butter, goat milk powder, eggs, sugar, and lemon juice.
It's creamy, tangy, and melt-in-your-mouth delicious. In Buttermilk Pie, buttermilk is added for its signature tanginess and creaminess. In this recipe for Goat Milk Pie, we use goat milk butter and goat milk powder to achieve a similar effect.
People who have difficulty digesting dairy often turn to goat's milk, as it's known to be easier to digest than cow's milk. Not only that, but goat milk adds a deep depth of flavor and richness to baked goods that elevates them to the next level. Once you've tried this recipe, you'll be adding goat milk butter to all of your sweet treats!
Key Ingredients
To make this mouth-watering dessert recipe, you'll need the following key ingredients:
Goat milk butter. This is the holy grail right here. Goat's milk butter adds a rich and tangy flavor to baked goods, along with a creamy texture that quite literally melts in your mouth.
Goat milk powder. This acts as a flavor enhancer and a tool to make your pie even creamier and more delicious.
Graham cracker crumbs. You will need roughly 10 sheets of graham crackers to make the crumbs that will serve as the base for our pie crust. Something super cook happens while this crust bakes. The viscosity of the filling makes way for the graham cracker crust to float to the top when homemade. It's soooo cool.
Sugar. You will need both granulated sugar and light brown sugar for this recipe. The granulated sugar is used for the pie filling, while the brown sugar is used for both the pie crust.
Lemons. For this recipe, you will need both fresh lemon juice and lemon zest. The acidity from the lemons beautifully complements the tangy richness of the goat milk for a flavor combination that guarantees to please.s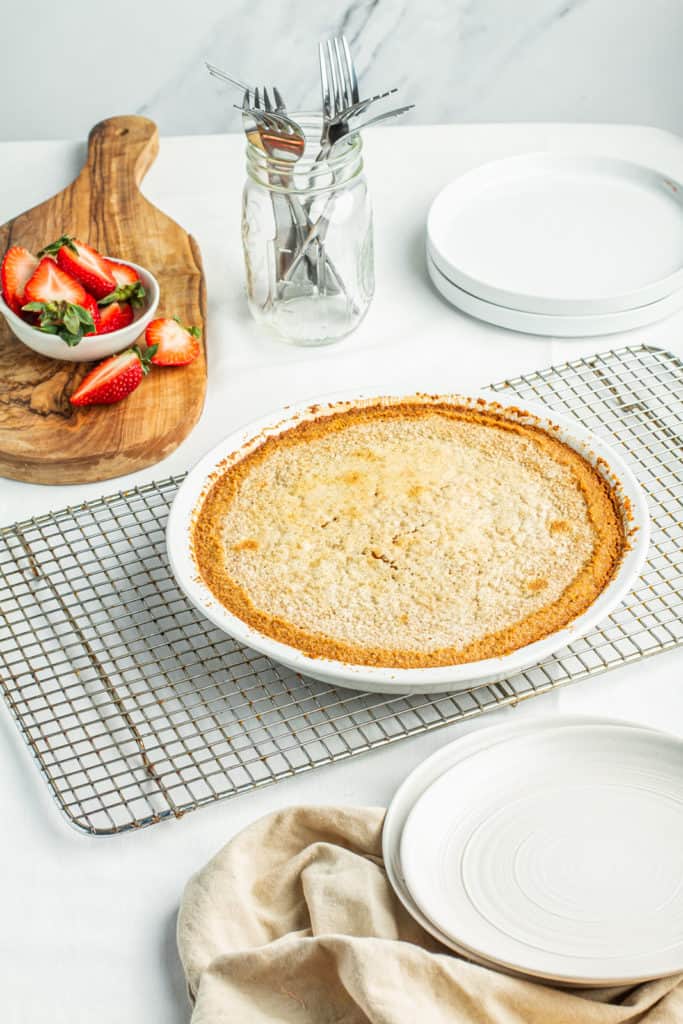 How to make Goat Milk Pie?
There are two components involved in making this dish: pie crust and pie filling. Once you've made each of the components, it's time to combine them and bake the pie to perfection. Here is how to make Goat Milk Pie:
Pie Crust Recipe
Preheat the oven to 350°F. Mix the graham cracker crumbs, melted butter, and light brown sugar together with a rubber spatula in a medium bowl until combined. The mixture will be thick, coarse, and sandy.
Press the mixture into the bottom of the dish or pan and slightly up the sides. This crust will fit into a 9 – 10 inch pan. Make sure it is tight and compact. Use the bottom of a flat measuring cup.
Pre-bake this crust for 7-8 minutes at 350°F.
Pie Filling
Mix the dry ingredients for the filling using a stand mixer with a paddle attachment at low speed. Be sure to keep your mixer at low speed during the entire process of preparing the filling.
Add the melted butter to the mixer and paddle until all the dry ingredients are moist.
Stir the cornstarch into the water. Then add water, vanilla, lemon juice, and zest and mix until fully incorporated in the batter. Scrape down the sides of the bowl with a spatula.
Add the eggs to the mixer, paddling them into the mixture just to combine. Be careful not to aerate the mixture. Use the filling immediately.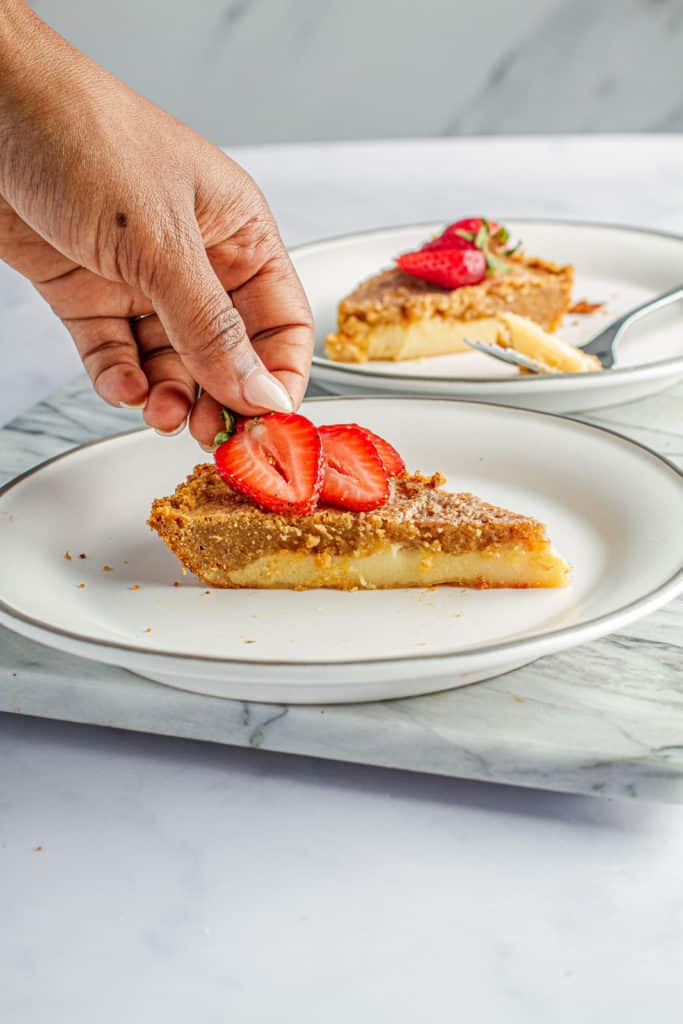 Pie Assembly
Pour the filling evenly into the crust and transfer to the oven for 15 minutes.
At 15 minutes, open the oven door and reduce the baking temperature to 325°F. Depending on your oven, this will take 5-10 minutes – keep the pies in the oven during this process.
When the oven temperature reads 325°F, close the door and finish baking the pies for 5 minutes.
Gently remove the pie from the oven and transfer it to a rack to cool at room temperature. You can speed up the cooling process by transferring the pies to the fridge or freezer if you're in a hurry.
Why you'll love this dish!
Wondering why you should take the time to make this homemade Goat Milk Pie instead of buying any old pie at the store? I could give you a million reasons, but I'll keep it short and sweet:
Bursting with rich, tangy flavors, you just can't find at the store
Comes together in under an hour
Great for home cooks at any skill level
Perfect for impressing guests at your next holiday party or potluck
Way easier to digest than baked goods made with cow's milk
How to store leftover pie?
When it comes to storing pie, appropriate storage really depends on the type of pie you've made. While some types of pie can be stored on the counter, Goat Milk Pie should be stored in the refrigerator.
To store leftovers of this delicious treat, you can either transfer the slices into an airtight container, double wrap each individual slice with saran wrap, or double wrap the entire pie tin.
You can store leftover Goat Milk Pie in the fridge for up to 5 days or in the freezer for up to 3 months. To thaw, simply move it over to the fridge overnight and heat it up in the microwave or enjoy it as is.
More Delicious Dessert Recipes
Still, craving more? Check out these dessert recipes next:
Now it's your turn!
Whether you're a baking novice or an expert, I'm sure you will enjoy the unique flavors of Goat Milk Pie. And if you are looking for more great pie recipes this fall, try my Pumpkin Spiced Latte Pie recipe. I hope this blog post has given you an idea to add something new to your holiday baking!
If you enjoy the recipe, please share it with your friends and family. And don't forget to give me some five-star love down below. And if you have any comments or questions, leave them below too, and I'll be sure to get back to you as soon as possible.
Ingredients
Pie Crust
9

inch

graham cracker or traditional pie crust

homemade or store bought
Pie Filling (2½ cups)
1

cup

water

room temperature

1

cup

Meyenberg goat milk powder

¾

cup

granulated sugar

½

teaspoon

kosher salt

1

tablespoon

cornstarch

1

tablespoon

all-purpose flour

½

teaspoon

vanilla extract

¼

teaspoon

ground cinnamon

¼

teaspoon

ground nutmeg

1

tablespoon

freshly squeezed lemon juice

1

teaspoon

lemon zest

from about 1 small lemon

4

tablespoons

unsalted goat butter

melted & cooled to room temperature

2

large eggs

beaten & room temperature
Instructions
Preheat oven 350°F.

To a blender add water and powdered goat milk and blend on medium for 15-20 seconds or until combined.

Add to blender, sugar, salt, cornstarch, flour, vanilla, cinnamon, nutmeg, lemon juice, lemon zest. Turn blender on low and stream in melted butter, followed by eggs until combined (approx 10 sec).

Place prepared graham cracker pie crust on a sheet pan. Pour mixture into pie pan and transfer sheet pan with pie pan to the center rack of the oven. Bake for 35 minutes, the center will still be slightly giggly upon removal.

Place pie on a baking rack to rest for 45-60 minutes before serving. Serve with your desired fresh fruit.
Notes
The pie center will still be slightly giggly once you remove it from the oven. Be sure to let it rest and solidify before cutting into it.
The color of the pie continues to brown after it is taken out of the oven.
If you make a homemade graham cracker crust the likelihood that the graham crackers will float to the top is very high. Not sure why but very cool. However, if you use a store-bought graham cracker crust they will most likely stay at the bottom.
Homemade Graham Cracker Crust
1 and 1/2 cups (150g) graham cracker crumbs (about 10 full sheet graham crackers)
¼ cup light brown sugar
½ teaspoon kosher salt
⅓ cup unsalted goat butter (1/2 stick), melted
Preheat the oven to 350°.
Mix all the ingredients together with a rubber spatula in a medium bowl until combined. Pour it into your pie plate and using the bottom of a flat measuring cup press the mixture into the bottom of the dish or pan and slightly up the sides. Make sure it is tight and compact. This crust will fit into a 9 – 10 inch pan.
To pre-bake transfer the crust to the oven for 7-8 minutes at 350°F.
Volume of 9-inch pie dishes:
9 inch by 1 1/4 inch = 4 cups
9 inch by 1 1/2 inch = 5 cups
9 inch by 2 inch (aka "deep dish") = 8 cups
Nutrition
Serving:
8
g
|
Calories:
1127
kcal
|
Carbohydrates:
145
g
|
Protein:
12
g
|
Fat:
56
g
|
Saturated Fat:
14
g
|
Polyunsaturated Fat:
4
g
|
Monounsaturated Fat:
35
g
|
Trans Fat:
1
g
|
Cholesterol:
59
mg
|
Sodium:
1080
mg
|
Potassium:
300
mg
|
Fiber:
4
g
|
Sugar:
55
g
|
Vitamin A:
297
IU
|
Vitamin C:
1
mg
|
Calcium:
107
mg
|
Iron:
5
mg
*Nutrition information is a rough estimate.
**The equipment section above contains affiliate links to products I use and love. As an Amazon Associate I earn from qualifying purchases.