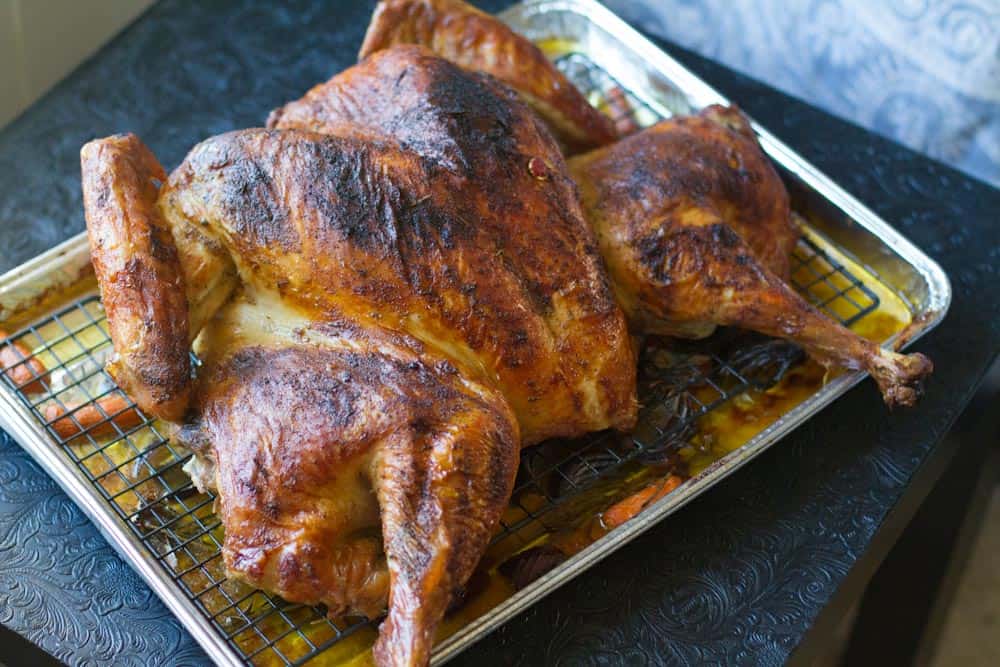 DO YOU HAVE YOUR TURKEY YET?
We are about 4 day out from Thanksgiving. The only party I hate in the turkey cooking process is the thaw out time. It's real. Depending on the size of your bird you may need several days to let your turkey completely thaw out in the fridge. If you don't have your turkey by now you need to get it tonight to begin that process.
Otherwise you are left playing a risky game with temperature trying to thaw it out in the sink. I mean, its certainly been done, hell even I've used that method before. But I would say that the refrigerator method is probably the safest although the most time consuming.
No matter what, never leave your turkey out on the counter to thaw. If any part of the turkey falls between of 40°F to 140°F for longer than two hours, it increases the chances for unsafe levels of bacteria to develop.
The Spatchcocked Turkey
This year I decided to take a different approach to cooking my turkey. I normally wet brine, roast and bake my turkey but instead I followed the SeriousEats guide for dry brining and spatchcocking my turkey. This year I've been obsessed with the spatchcocking method for all of my poultry and I am so pleased with how amazing it always turns out. It only made sense to use this method for the most important bird of the year.
Here are the main benefits of spatchcoking
Flatter shape = even cooking throughout
Whole bird exposed = crispy skin all around
Thinner profile = drastically lower cooking time
Excess backbones = better gravy
Follow me as I follow the Serious East Step-By-Step to the perfect turkey. Let's kick things off. FYI my bird was about 15lbs.
I used left the cooking aisle and went straight to the hardware aisle to get these heavy-duty Stanley Aviation Scissors. They may look intimidating but they were so easy to use and made cutting through the bone line a walk in the park. I will definitely be using these again.
I started at the at the neck of the back bone to get a good grip and worked my way down on both sides.
Then I broke the chest bone to get the bird flat. You will actually hear the bone break as you press down which is kind of freaky.
Then I dabbed Gloria dry with a paper towel to get her ready for my butter compote.
This is where veered away from the "Serious Eats" instructions in order to create my own buttery marinade for the turkey. I have an issue letting go of full seasoning control when it comes to seasonings and marinades. That's where I shine.
For this turkey I mixed unsalted butter, Cajun seasoning, garlic powder, Italian seasoning, yellow curry powder and just a bit of salt.
There are four main pockets that I always try to separate the skin of the turkey from the mea; they are, above each breast and above each thigh.
Once I separate the meat from the skin in those areas I stuff each pocket with the dry herb and butter compote.
I left just a bit of the butter mixture out in order to smother it over the top of the bird.
Then I laid the bird flat on a rack set in a rimmed baking sheet with veggies and fresh herbs,
Be sure to move the oven racks down so that turkey sits in the middle when it goes into the oven and get this; its done in 80 minutes!!!
It comes out perfectly golden brown, with crispy skin and juicy meat. I don't think I can go back to my previous preparation. This method is a winner all around.
If you decide to try this method leave a comment below and let me know how your turkey comes out. Do you plan to make this recipe? Be sure to tag @meikoandthedish on instagram and hashtag it #meikoandthedish.
Recipe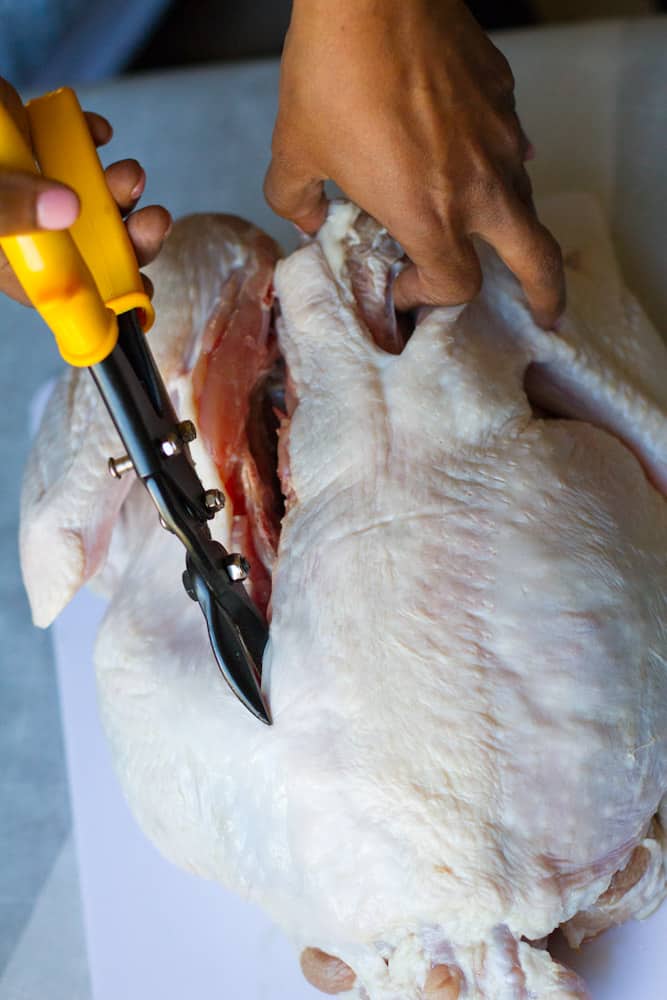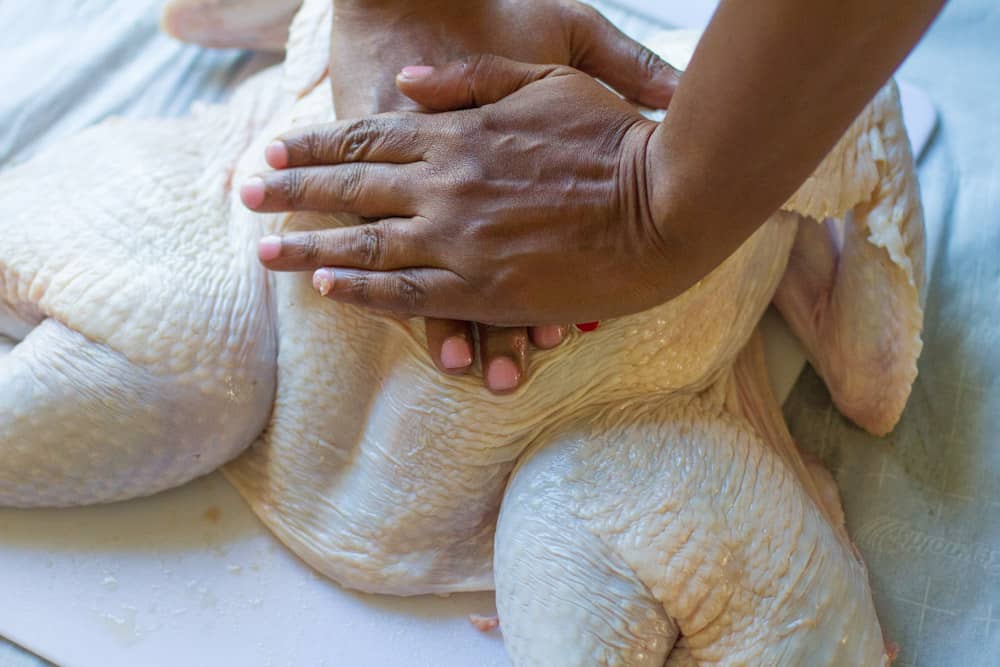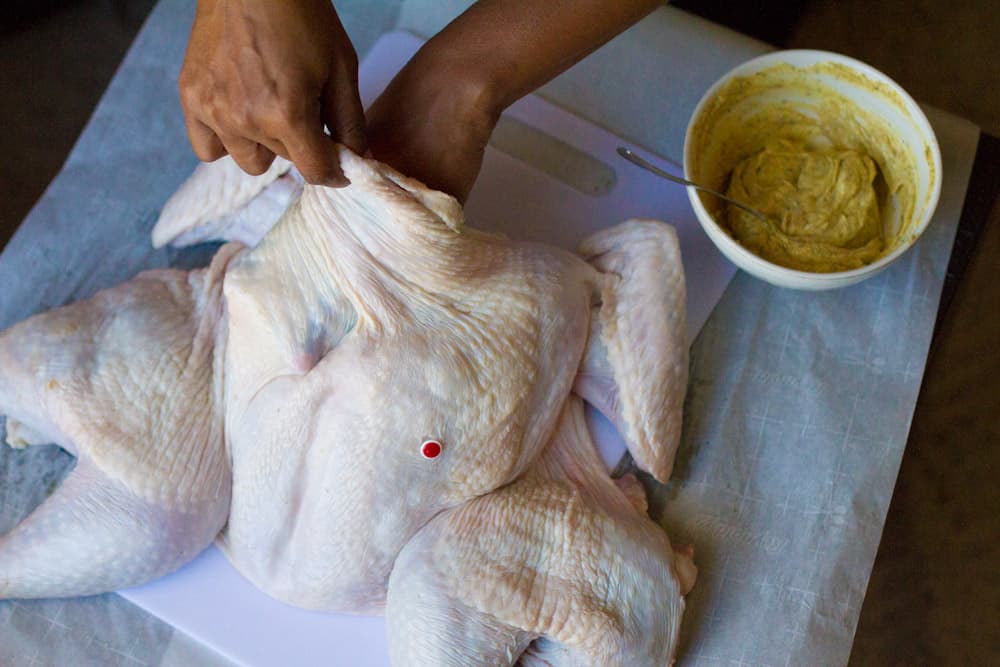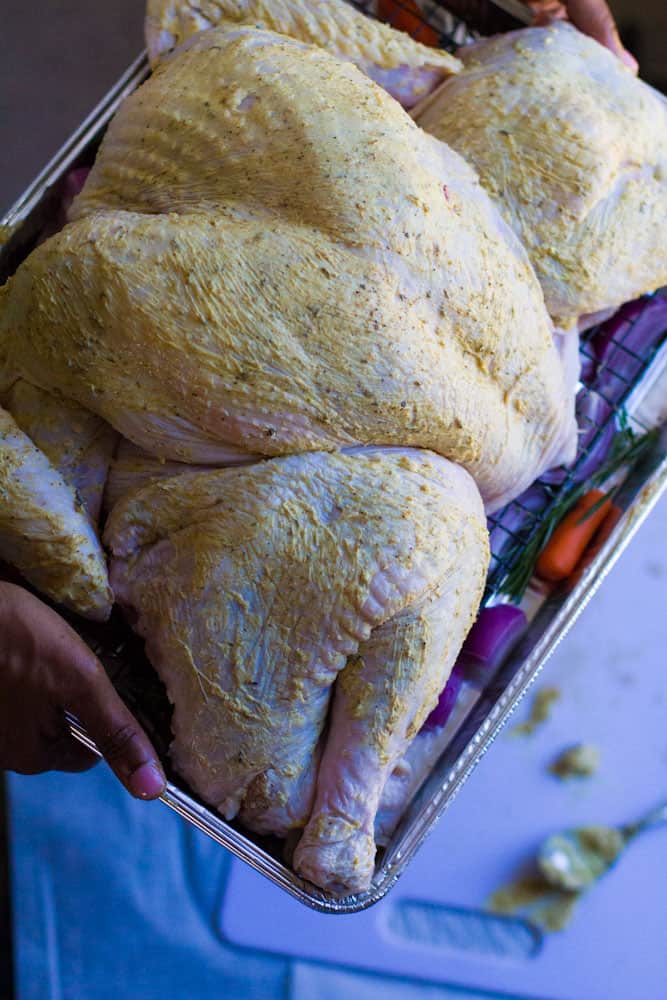 Ingredients
12-15

lb

Turkey

3

onions roughly chopped

1

lb

pack of baby carrots or 3 carrots roughly chopped

4

stalks of celery roughly chopped

1

fresh herb poultry pack

thyme, rosemary, sage

Turkey Butter Compote

2

sticks of unsalted butter

room temperature

1

tablespoon

of garlic powder

1

tablespoon

italian seasoning

1

teaspoon

yellow curry powder

1

tablespoon

cajun seasoning

1

teaspoon

salt (you can omit salt if using a salt brined turkey
Instructions
In your oven adjust your racks down so that once the turkey is placed inside it will sit right in the middle of the oven. Preheat the oven to 450°F.

In a medium bowl add butter, garlic powder, Italian seasoning, curry powder, Cajun seasoning and salt (if needed). Use a spoon to stir all the components together until you reach a smooth consistency.

Spatckcock your turkey by placing it laying chest down. Using heavy-duty scissors or a sharp knife remove the backbone (you can preserve the excess bone to make a broth for the gravy). Flip the bird over so that is laying chest up and the cavity is on a flat to the surface. Use both hands to press down on the upper chest plate until you hear the bone fracture. This helps the turkey lay flat.

Use your hands to separate the skin of the turkey from the meat over the two breasts and two thighs. After creating a pocket of space add in some of your butter compote inside those four pockets. Reserve enough of the butter mixture to cover the outside of the bird as well.

On a rimmed baking sheet, with wire rack, add your fresh herbs and vegetables and then place the turkey on top of the wire wrack chest up.

Place turkey in the oven to roast making sure to rotate the pan every 20 minutes. The turkey will cook for approximately 80 minutes or until an instant read thermometer inserted into the deepest part of the breast registers 150°F and at the thighs registers at least at 165°F.

When the turkey is ready remove it from the oven and let it cool or 20 minutes undisturbed.
Notes
Tools
Baking Sheet with Wire Rack
Heavy Duty Aviation Scissors
*Nutrition information is a rough estimate.
**The equipment section above contains affiliate links to products I use and love. As an Amazon Associate I earn from qualifying purchases.