Salt & Pepper Chicken Thighs
A play on salt and pepper chicken wings, this version gives the same flavor and crunchy skin, without all of the oil and deep frying.
Today, March 1st, I am highlighting my last black cookbook author for Black History month. Yes, I know, yesterday was the last day of Black History Month but there is a rhyme to my reason. March marks the beginning of Women's History Month and also happens to be the month where I am exclusively showcasing keto-friendly recipes.
This recipe for Salt and Pepper Chicken Thighs out of the cookbook "How To Eat Your Feelings" is the perfect transitional recipe from Black History Month into a KETO abundant Women History Month.
The book was written by my friend and fellow female foodie Holly, of the blog From My Impossibly Tiny Kitchen. This book is a whole MOOD, literally. Holly is known for her clever play with words and this piece of work is no different. In the book, she counsels readers through the best recipes for their every changing disposition – GENIUS. I mean, who doesn't eat based on their feelings? Her kitchen may be small but her recipes are overflowing with ingenuity and flavor. And this recipe for Salt and Pepper Chicken Thighs is a prime example.
First let me caveat by saying that it is imperative for those of you unfamiliar with this dish, not to be swayed by the simplicity of the recipe title. This happens to be one of my favorite preparations of chicken and I've missed good S&P chicken since I moved away from San Diego. Which reminds me, Holly is from San Diego which helped my confidently select this particular recipe from her cookbook to showcase on the blog. And she killed it!!!!
I made it, ate it all in one day – no judgment – then had my husband make it again so that I can take it to lunch the next day. It was equally delicious the first and the second time which is why it's made its way to the blog. Holly was gracious enough to allow me to share the full recipe which you can find below. In the recipe details, you'll notice that it is absolutely keto-friendly which makes my heart happy because it does not skimp on flavor. One thing I will note is that I happen to be a big fan of spicy food so I added one sliced jalapeno to the recipe but you can obviously omit that step.
How to Eat Your Feelings is the perfect emo cookbook with delectable cross-cultural comfort food recipes. I love Holly's interpretation of food and I am confident you will too. So make sure you check out the cookbook and check out this recipe especially if you are looking DELICIOUS keto-friendly meal options.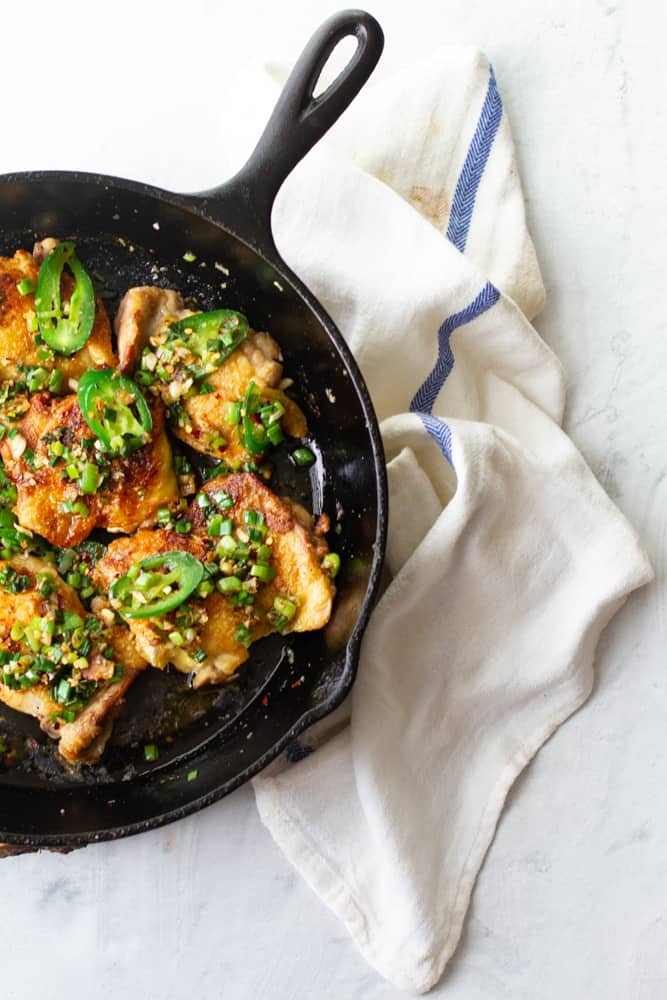 Ingredients
4-6

chicken thighs; skin-on

bones removed

Kosher salt

White pepper

major key – don't substitute this

1

head garlic

finely chopped

1

bunch green onion

finely chopped

1-2

tbsp

chili flakes

to taste

[1 jalapeno

sliced - optional]
Instructions
Dry chicken with paper towel. Remove the bone with kitchen shears and trim any excess fat. Salt skin generously. Season meat side with about 1 tsp salt and 1 tsp white pepper. Heat a large pan over medium-high (cast iron is great for this). Put the chicken in the pan, skin-side down, then leave it alone – the fat needs to render for the skin to crisp up. Let skin side fry until crispy and golden brown, about 10-12 minutes; use a splatter guard to keep the oil from going all over the place. Flip chicken, cook an additional 3-5 minutes or more, until cooked through. Let drain on paper towels.

While the chicken rests, remove all but about 2 tbsp chicken fat from the pan and add garlic; sauté over medium heat until fragrant, about 1 minute. Add in the chili flakes and green onions and cook a couple more minutes. Season with 1 tsp white pepper and 1 tsp salt; taste and adjust seasoning as needed. Pour over crispy chicken thighs.
Notes
I adjusted the recipe to include 1 sliced jalapeno which I added in with the garlic.
Per Serving
440 Calories
27.6g Protein
4.8g Net Carbs
27.1g Fat
Nutrition
Serving:
1.5
g
|
Calories:
440
kcal
|
Fat:
27.1
g
*Nutrition information is a rough estimate.
**The equipment section above contains affiliate links to products I use and love. As an Amazon Associate I earn from qualifying purchases.