Get into this Cast Iron Blueberry Peach Cobbler with Bisquick Biscuit Top. This is my easiest cobbler made all in one skillet, no fuss, bursty with juicy peaches and fresh blueberries mingling under a blanket of buttery, golden-brown Bisquick biscuits. This rustic, homey treat features warm biscuits soft on the inside, crispy on the outside, and the fruit filling bursting with sweetness and perfect for those lazy summer evenings.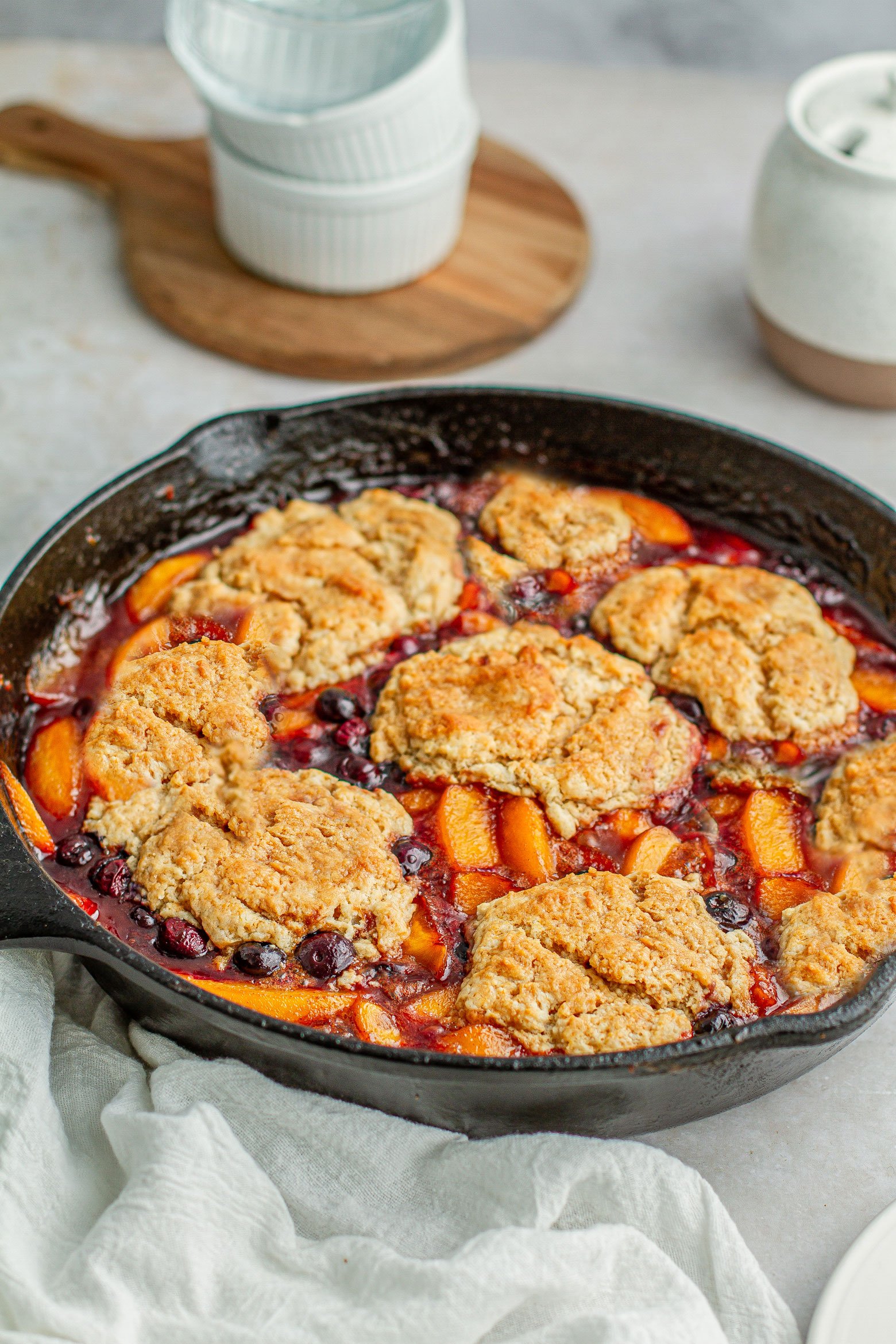 Need Help With Serving Suggestions?

If you're wondering what to pair with this delightful cobbler for a full-blown summer feast, I've got you covered! Here's a meal plan that's as easy as a summer breeze and as tasty as a sun-ripened peach:
Easy Summer Peach & Blueberry Dessert
The sun is out, the flowers are blooming, and the sweet scent of peaches and blueberries fills the air. It's the perfect time to whip up my Cast Iron Peach and Blueberry Cobbler with Bisquick Biscuit Top. This ain't your average cobbler, honey. It's a celebration of summer in a skillet!
Now, I know we're all busy bees, but this recipe is as easy as pie. No need to fuss over dough or biscuits. The secret? Bisquick, my friends. It's the shortcut to a fluffy, golden-brown biscuit topping that'll have you saying "sheesh, why didn't I think of that?"
But let's get into the heart of this dish – the filling. We're talking juicy peaches and fresh blueberries simmered to perfection. It's like a summer romance in your mouth – sweet, a little tangy, and oh-so-memorable. And when that fruit filling meets the biscuit topping? It's a match made in heaven, y'all.
This delicious cobbler is the kind of dish that makes you want to gather your besties around the kitchen table, dig in, and share stories until the stars come out. It's homey, it's comforting, and it's the perfect way to end a summer day.
Ingredients For Peach Blueberry Cobbler
Bisquick Cobbler Topping
Bisquick baking mix: This is our shortcut to a quick and easy biscuit topping. It's a lifesaver when you don't have time to make biscuits from scratch.
Brown sugar: Adds a touch of sweetness and a hint of molasses flavor to our biscuit topping. You could also use granulated sugar if you prefer.
Kosher salt: Balances out the sweetness and enhances the overall flavor of the biscuit topping.
Buttermilk or heavy cream: These add richness and moisture to the biscuit dough. If you don't have either, you can make a quick buttermilk substitute with milk and lemon juice or vinegar. You can also substitute any other kind of milk that you may have on hand!
Melted butter: Gives the biscuit topping a rich, buttery flavor and helps it brown beautifully in the oven.
Blueberry Peach Filling
Unsalted butter: Used to sauté the peaches and form the base of our filling. If you only have salted butter, just reduce the additional salt in the recipe.
Sliced frozen peaches: These are a great time-saver and they're just as good as fresh. If you have fresh peaches, by all means, use them!
Fresh blueberries: They add a pop of color and a burst of sweet-tart flavor to our cobbler. Frozen blueberries can also be used if fresh aren't available.
Pure vanilla extract: Enhances the natural sweetness of the fruit and adds depth of flavor.
Lemon juice: Brightens up the flavor of the filling and balances out the sweetness.
Brown sugar: Sweetens the filling and adds a hint of caramel flavor. You can adjust the amount based on the sweetness of your fruit.
Honey: Adds a touch of floral sweetness to the filling. If you don't have honey, maple syrup would also work.
Ground cinnamon and nutmeg: These warm spices add a hint of cozy flavor that complements the fruit beautifully.
Kosher salt: Just a touch enhances the flavors of the filling.
Cornstarch and water: These are mixed together to create a slurry that thickens the filling, giving it a luscious, saucy consistency.
Step-By-Step Blueberry Peach Cobbler Recipe
Here's the quick rundown but more detailed instructions can be found below in the recipe card.
Storage & Reheating Recommendations
Store
Got leftovers? Cool the cobbler to room temp, wrap it up or pop it into an airtight container, and it'll chill in the fridge for 4 to 5 days. To reheat, slide a slice into the oven at 350°F for about 10 minutes. Or even quicker, zap it in the microwave for a few minutes.
Freeze
Now, if you're planning for the long game, you can also freeze this cobbler. Just make sure it's in a freezer-friendly container, slap a date on it, and you're good to go for up to 3 months.
Make Ahead
Busy day? No worries, y'all! You can prep the peach and blueberry filling a day ahead. Think of it as a flavor-infused sleepover for your fruit, soaking up all the sweet and spicy goodness overnight. You can also get a head start on the Bisquick biscuit batter. Just remember to keep it separate until it's time to bake. When the spotlight's on, bring them together for a grand performance in the oven.
Why Bisquick is Your Bestie for this Cobbler
Listen, y'all, peach cobbler is my ride or die dessert, and I want everyone to get in on this goodness, no matter their cooking level (intermediate = Soul Food Peach Cobbler, advanced = Brown Butter Bourbon Peach Cobbler. That's where Bisquick struts in, making this recipe the easiest one on the blog.
Now, lemme 'splain something here. Bisquick ain't your regular all-purpose flour. It's like that friend who always comes prepared to the party. It's got leavening already mixed in, thanks to the baking powder, and touch of salt. So, when you're baking with Bisquick, you're cutting down on the ingredients you need to add.
So, whether you're a kitchen newbie or a seasoned chef, this Bisquick Blueberry Peach Cobbler is about to become your new summer fling.
Make Your Own Bisquick
Out of Bisquick? To make this recipe without Bisquick, for every cup of Bisquick needed in a recipe, use 1 cup all-purpose flour, 1½ teaspoons baking powder, and 1/4 teaspoon kosher salt.
This recipe asks for 2 cups of baking mix so whisk together 2 cup all-purpose flour, 3 teaspoons baking powder, and 1/2 teaspoon kosher salt and add the remaining ingredients by measurements in the recipe card below.
Meiko's Pro Recipe Tips

Size Matters: If you don't have a 12-inch cast iron, a 9×13 baking dish will do the trick. The baking time will stay the same.

Cook Your Filling: Don't skip cooking the filling on the stove. It's like a pre-game for your peaches and blueberries, getting them all juicy and flavorful before the big bake.

Don't Overmix: When it comes to your biscuit batter, remember, less is more. Stir until your wet and dry ingredients are just combined to keep your biscuits light and fluffy.

Give Your Biscuits Space: Make sure your biscuit mounds have room to breathe. This allows the fruit to bake better and the juices to bubble up freely.

Brush Up Your Biscuits: For that golden-brown glow, brush the top of your biscuit dough with an egg wash, then sprinkle with cinnamon-sugar. It's like giving your biscuits a little sun-kissed tan.

Avoid the Overflow: If you're worried about your cobbler bubbling over, just place a sheet pan on the oven rack under your cast iron. It's like the perfect safety net for your oven.

Check Your Biscuits: The trickiest part is making sure the inside of your biscuit dough is fully cooked. Just lift a piece of dough with a fork and check that it's not still wet inside.

Cool It Down: Let your cobbler cool for a few minutes before serving. This gives the fruit juices time to set and thicken up a little.
Add Some Flair: Recipe Variations & Customization Ideas
This cobbler is like a chameleon, y'all. It can change its flavor profile based on your whims and what's in your pantry. Here are some fun ways to play around with it:
Fruit Fiesta: Swap out half of the peaches and blueberries for another fruit to create a new flavor combo. Strawberry-rhubarb, peach-strawberry, Black berry-lemon, mixed berries, cherry-strawberry, or even caramel apple – the world is your fruit basket!
Fresh or Frozen Peaches: I'm all about the convenience of canned peaches, but if you're a fresh fruit fanatic, go ahead and use fresh peaches. Frozen peach slices work too, just make sure to thaw them first.
Crunch Factor: Want a little extra texture? Sprinkle an additional tablespoon of sugar on top of the cobbler dough before it hits the oven. You'll get a delightful crunch with every bite.
Gluten-Free Goodness: If you're avoiding gluten, don't worry, you're still invited to the cobbler party. Just swap in gluten-free Bisquick, and you're good to go. The taste is just as scrumptious as the original version.
More Peach Desserts To Fall In Love With!
Frequently Asked Recipe Questions
Can I use fresh peaches instead of frozen ones? Absolutely! If it's peach season and you've got fresh ones, go ahead and use them. Just remember to adjust the sugar to match the sweetness of your fresh peaches.
What about canned peaches, can I use those? Of course! Canned peaches are a great time-saver. Just drain most of the syrup and add a bit more melted butter to balance the flavors.
Do I need to thaw the frozen peaches before I start? Nope! You can use the peaches straight from the freezer. They'll release their sweet juices as they cook, creating a syrup that's pure peachy perfection.
What if the syrup in my cobbler is too runny? If you like your syrup thicker, you can make a slurry. Just mix 3 tablespoons of the syrup from the pot with 1 tablespoon of cornstarch. Stir it back into the pot and simmer until it's as thick as you like it.
Is there a gluten-free option for Bisquick? You bet! Bisquick offers a gluten-free version. So, if you're avoiding gluten, you can still enjoy this cobbler. Check the recipe notes for the gluten-free version.
What's the difference between a cobbler, a crisp, and a crumble?
Cobblers, crisps, and crumbles are like cousins – similar, but each with its own personality. Classic cobbler's have a biscuit dough while others may have pie crust like this one. Crisp is the crunchy one with oats in its topping. And crumble, well, it's got a crumbly top without a single oat in sight, more like a streusel.
Prep Your Tools & Ingredients
Here is a quick list of things to do before the recipe to ensure everything goes smoothly. This list may contain affiliate links which won't change your price but will share some commission to help support this blog.
Gather Your Tools:
12 inch Cast Iron Skillet
Mixing Bowl
Recipe Prep
Always read the recipe through at least 1 time before you start. It helps you move faster when you already know what step is coming next.
Measure out all of your ingredients.
Now It's Your Turn!
it's time to roll up those sleeves and dive into this Cast Iron Blueberry Peach Cobbler with Bisquick Biscuit Top! This isn't just a dessert, it's a celebration of summer in a skillet – simple to whip up, packed with juicy fruit, and crowned with those golden, buttery biscuits. I'm buzzing with excitement for you to give it a whirl. And hey, don't forget, your thoughts are the secret spice in my recipe mix. So, do me a solid, rate the recipe, and drop a comment below. If you're recreating this cobbler magic at home, make sure to tag @meikoandthedish on your socials – I live for your kitchen wins! Let's get baking, folks!
Ingredients
Bisquick Biscuit Topping
2

cups

Bisquick baking mix

2

tbsp

brown sugar

½

teaspoon

kosher salt

⅓

cup

buttermilk or heavy cream

8

tbsp

butter

melted
Blueberry Peach Filling
3

tablespoons

unsalted butter

2

lbs

sliced frozen peaches

1

lb

16 oz fresh blueberries

2

teaspoons

pure vanilla extract

2

teaspoons

lemon juice

¼

cup

brown sugar

3

tablespoons

honey

¼

teaspoon

ground cinnamon

⅛

teaspoon

ground nutmeg

¼

teaspoon

kosher salt

1

tablespoon

cornstarch

2

tablespoons

water
Instructions
Preheat the oven to 375°F.
Prepare biscuit topping
In a medium bowl stir together Bisquick mix, brown sugar, salt, milk, and melted butter. The batter will be thick, with a dough-like consistency. Set aside.
Prepare Blueberry Peach Filling
In a 12-inch cast iron skillet over medium heat melt the butter. Stir in the peaches, vanilla, and lemon juice then simmer for 5-6 minutes or until almost thawed and peaches warm to touch.

Stir in brown sugar, honey, cinnamon, nutmeg and salt. To thicken the syrup, whisk together 1 tablespoon of cornstarch with 2 tablespoons of water. Stir it into the peach mixture and cook for 3 minutes.

Remove the cast iron skillet from the heat and gently stir in the blueberries. Using a large spoon or ¼ measuring cup, drop rounded biscuit dough on top of the peach blueberry mixture making sure there is plenty of space between each dough ball to allow the biscuits to expand.

Transfer the skillet to a preheated oven on the middle rack. For safety, place a baking sheet on the rack directly below the cobbler in case of overflow. Bake until the top is golden brown and the filling is bubbly 30-35 minutes. Cool for 10 minutes before serving. Drizzle with additional honey and top with vanilla ice cream or fresh whipped cream.
Notes
If using canned peaches, use 2 (29 oz) cans and drain the excess syrup. Reduce overall cook time over the stovetop by 5 minutes. You will also need to decrease the sugar if using the canned peach syrup.
If using fresh peaches, use

6

fresh peaches (1-1/2 lb). Remove the pit, peel skin or keep skin on, remove the pit and slice them. Just remember to adjust the sugar and syrup levels to suit the natural sweetness of the fresh peaches.
While baking, place a large sheet pan under the peak cobbler to prevent spillage.
Cover foil if you begin to see excessive browning of the biscuits while baking.
Nutrition
Calories:
337
kcal
|
Carbohydrates:
45
g
|
Protein:
4
g
|
Fat:
17
g
|
Saturated Fat:
5
g
|
Polyunsaturated Fat:
3
g
|
Monounsaturated Fat:
7
g
|
Trans Fat:
0.1
g
|
Cholesterol:
10
mg
|
Sodium:
610
mg
|
Potassium:
218
mg
|
Fiber:
3
g
|
Sugar:
28
g
|
Vitamin A:
840
IU
|
Vitamin C:
9
mg
|
Calcium:
71
mg
|
Iron:
1
mg
*Nutrition information is a rough estimate.
**The equipment section above contains affiliate links to products I use and love. As an Amazon Associate I earn from qualifying purchases.