The warm spiced peaches with the flaky, golden crust already make this old-fashion classic an instant crowd-pleaser. Add candied brown sugar and bourbon syrup; your tastebuds will be in heaven. This peach cobbler is family potluck perfection.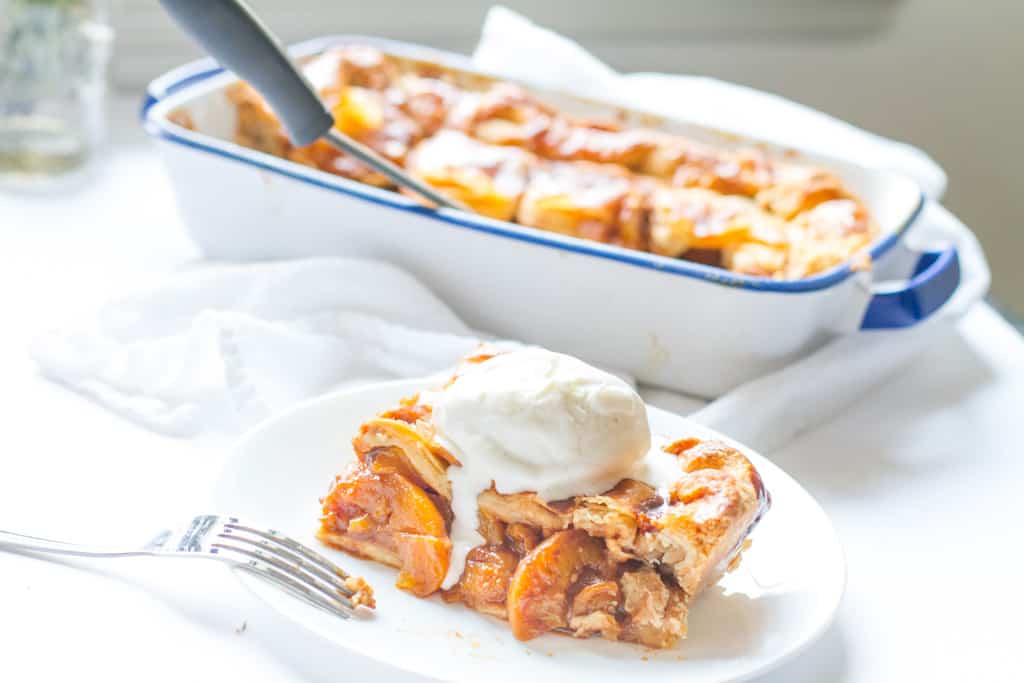 It's – Black – History – Month –[singing]
It's Black History Month
Hey Hey Hey
It's – Black – History – Month –[singing]
It's Black History Month
I love Black History Month because it's a time that I not only showcase a family or cultural classic recipe but I also get to showcase the amazing talents of black bloggers from around the web. Last year I helped kick off the inaugural Black History Month Virtual Potluck collaborating with 27 other black food bloggers to develop a menu representing dishes ranging from African, Creole, Caribbean and Southern roots and this year is not different. As with any potluck or family picnic everybody has to bring a dish and this year I'm bringing the Peach Cobbler.
This year I'm bringing the same peach cobbler heat with a twist of Candied Bourbon Sauce which is a deliciously decadent addition to the southern classic. This version isn't for the faint of heart and requires a bit of elbow grease to pull it of.
Some of My Fave Recipes this Year
Pilau Kachumbari
Orange Bundt Cake
Smothered Turkey Wings
Fried Sweet Potato Hand Pie
Mofongo Relleno (Mashed Plantains with Garlic Shrimp)
Honey Turmeric Skillet Chicken
Creole Seafood Courtbouillon
>>Jump Down To See Full List Of BHM Virtual Potluck Recipes<<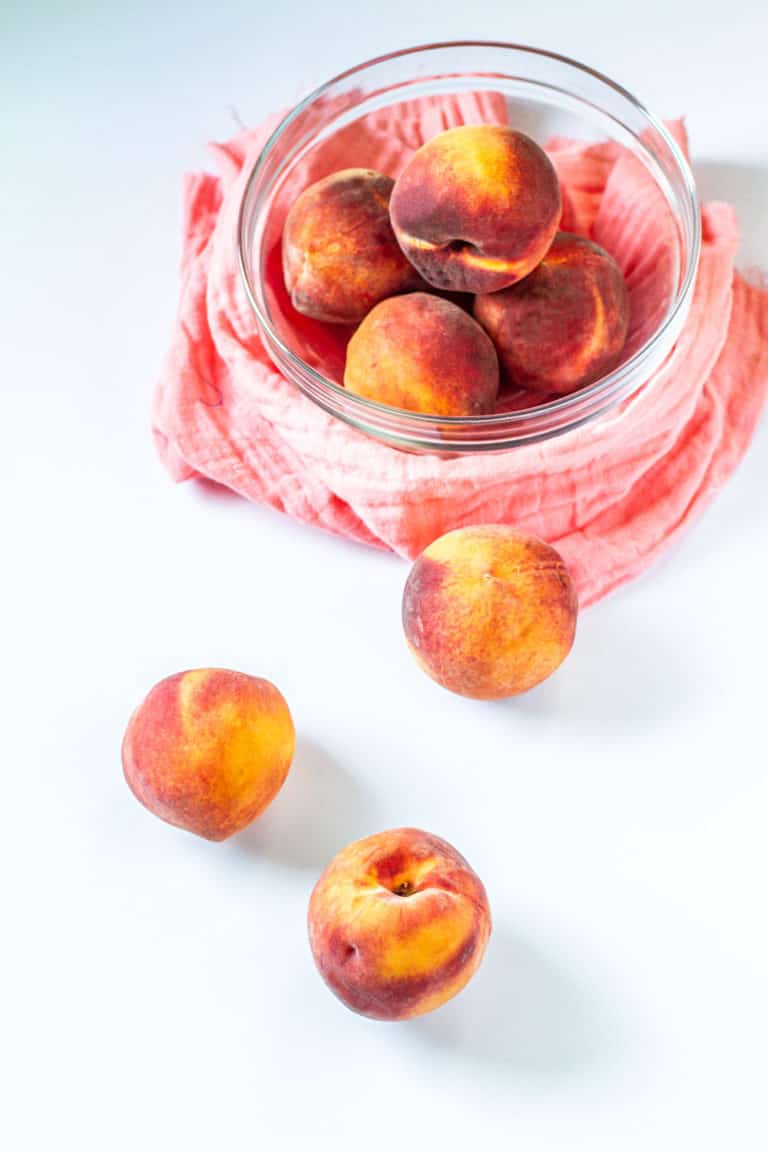 If I had to pick one dessert to eat every day for the rest of my life it would be peach cobbler. Depending on the day you ask you may get me to say banana pudding but 8 times out of 10 it's going to be a good old, flaky crust peach cobbler. And I specify flaky crust because now that I've lived in the south a bit I see that there seems to be a bit of division on whether peach cobbler is maid with crust or biscuits. I had the dessert both ways and I think they are both delicious but I am sticking with grandma's version for the G.O.A.T.
All I know is that when I was in the kitchen helping with Thanksgiving prep as a little girl, I saw my grandma roll out thick sheets of butter packed crust. She would slice long strips of the peach and create an almost lattice design over the top.
She took a lot of pride in her cobbler and she would wait until everyone started eating to before she threw it in the oven. It was very important that she ensured it was served warm so that the ice cream scoop on time melted juuuuuussst right. Her attention to detail enamored me and the ooh and ahhhs from the each partaker intrigued me. Very young I knew this dish was special. Even to this day I haven't met a person who doesn't like a good slice of peach cobbler.
How to make Candied Bourbon Peach Cobbler?
To make the sauce you start off by creating a brown sugar candy by melting down brown sugar to a liquid and adding a bit of cold milk. A chemical reaction takes place causing the sugar to immediately solidify. It's important to have a sturdy wooden spoon at this point to help break up the candy solid into small bits and continue stir to recompose the sauce.
Once I get to a good consistency of brown sugar sauce and candy bits, I then stir in butter, bourbon and salt to finish it off. I pour my sauce over the spiced peaches and secure my top crust and throw it in the oven. It's important that you make sure to brush on an egg-wash over the top crust and cut slits into the top so that the pie can breath. If done right, when you serve the dish it will still have small bourbon sugar candies throughout each bite.
History of Peach Cobbler?
Created by American settlers, cobbler got its name from how it's prepared or, should I say, "cobbled" together. Fruit, biscuit dough, and baked. Cobblers are a southern dessert favorite; however, there's a great debate on whether to use biscuit dough or pie dough. If you've read thru or hopefully made the recipe above, you know where I stand. But hey, you decide. Wink wink. Fun Fact: In the beginning, cobblers were eaten any time of day, even for breakfast! Ahh, the good ole days.
What type of peaches to use?
This recipe calls for canned peaches. But feel free to use fresh or frozen peaches. Make sure to cook them before starting this recipe.
How to peel fresh peaches?
For perfectly ripe peaches, you can easily peel them by using the blanching method. Let the peaches soak in boiling hot water for about 30 seconds, then immediately transfer them to a bowl of ice. Let sit for 30 seconds, then remove. The skin should peel off easily by hand. If the peaches aren't ripe enough, you can peel them with a paring knife by gently cutting the skin from the flesh.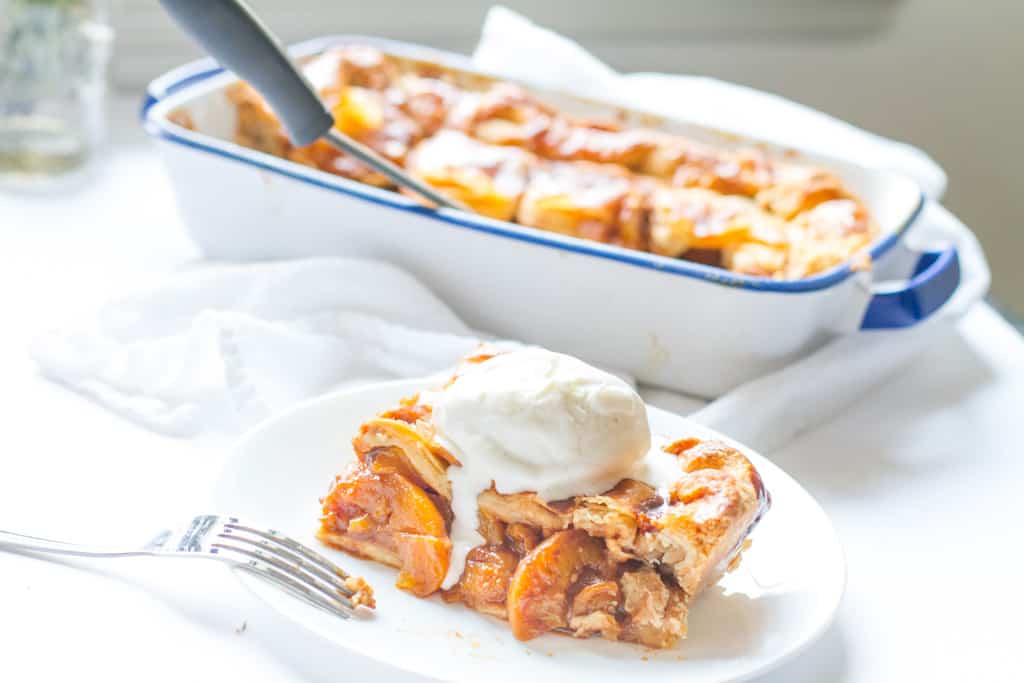 Regional differences in peach cobbler recipes?
The main difference in Peach Cobblers regionally is the crust. Biscuit dough or Pie dough? Baking powder biscuit or sweet yellow biscuit? The variations continue. But let me tell you, no matter your region or preference, you CANNOT lose with Peach Cobbler. Believe me.
Crumble vs Crisp vs Cobbler
Though these three are deliciously similar baked fruit toppings. There are some significant differences. Crisp and Crumbles are the most alike; both are streusels, but the crisp usually have oats where crumbles do not. The Cobbler, however, has a biscuit-style topping.
Additional cooking tips
Make sure to use a wooden spoon. Get ready to use some elbow grease when making the candied bourbon sauce; trust me, it's worth it. Check out my notes above for more. Pro Tip: Make sure to share! No one likes a stingy Cobbler baker.
More Black History Month Collaborations
Hey, check out some of my other BHM Collabs!
Black History Month Virtual Potluck
28 recipes from the best black food bloggers from around the web
Beautiful Eats & Things | Turkey Sausage Stuffed Collard Green Wraps
Better With Biscuits | Fresh Corn Pudding
Beyond The Bayou Food Blog | Creole Seafood Courtbouillon
Brandi's Diary | Better than Jiffy Cornbread from Scratch
Butter Be Ready | Southern Style Mac and Cheese
Chef Kenneth | Fried Sweet Potato Hand Pie
Chocolate For Basil | Pilau and Kachumbari (Spiced Rice with Pico)
Cooks with Soul | Braised Short Rib Meatloaf
D.M.R. Fine Foods | Cinnamon Raisin Bread Pudding with Maple Glaze
Dash of Jazz | Nigerian Jollof Rice
Domestic Dee | Fried Peach Pies
Eat.Drink.Frolic. | Olive Oil Braised Collard Greens
Food Fidelity | Mofongo Relleno (Mashed Plantains with Garlic Shrimp)
Food is Love Made Edible | Buttermilk Biscuits with Fried Chicken and Tabasco Honey
High Heels and Good Meals | Crawfish Etouffee
HomeMadeZagat | Shrimp with Spicy Curry Cream Sauce
Houston Food Fetish | Sweet Almond Tea Cakes
In the Kitchen w/Kmarie | Pineapple Lemonade
Marisa Moore Nutrition | Bourbon Peach Glazed Salmon
My Life Runs On Food | Lentil Soup and Roast Okra
Orchids + Sweet Tea | Carrot and Zucchini Noodles Stir Fry with Shrimp
Raised on Ramen | Orange Glazed Brussels Sprouts
Savory Spicerack | Creamy Seafood Stew
Simply LaKita | Blackberry Cobbler
The Hungry Hutch | Orange Bundt Cake with Vanilla Glaze
The Kitchenista Diaries | Smothered Turkey Wings
The Seasoning Bottle | Honey Turmeric Skillet Chicken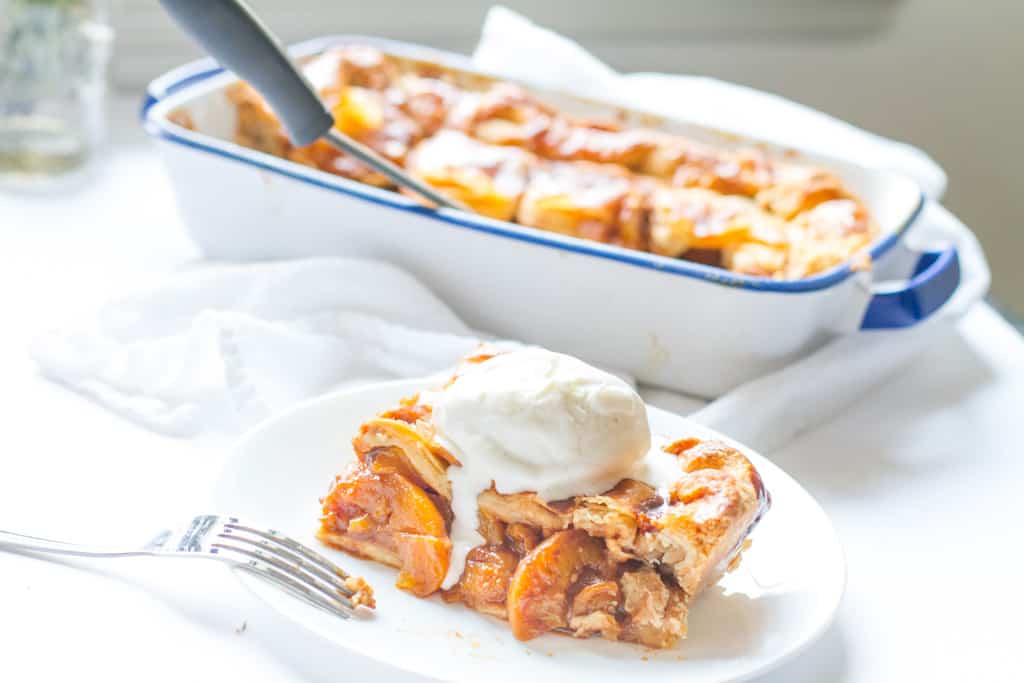 Ingredients
Peach Filling
2

tablespoons

dark brown

1

teaspoon

lemon juice

1½

teaspoon

cinnamon

½

teaspoon

nutmeg

½

teaspoon

salt

⅛

teaspoon

of black pepper

2

cans

29 oz sliced peaches

syrup drained, reserve 3 tablespoons
Candied Bourbon Sauce
1¼

cup

dark brown sugar

⅓

cup

milk

2

tablespoons

unsalted butter

3-4

tablespoons

bourbon

¼

teaspoon

salt
Remaining Ingredients
2

boxes

Pillsbury Refrigerated Pie Crust

4 pie crusts

6

tablespoons

unsalted butter

plus extra

1

egg yolk

Flour

Cinnamon
Tools
Wooden Spoon

9

x13

Baking pan or pyrex

Rolling Pin

Fork

Basting Brush
Instructions
Preheat oven 425 degrees F.
To Assemble Peach Filling:
In a large bowl add in dark brown sugar, lemon juice, cinnamon, nutmeg, salt, pepper, reserved peach syrup and drained peaches and lightly toss until peaches are covered.
To Assemble Candied Bourbon Sauce:
Add brown sugar to medium sauce pan over medium heat. Stir continuously until the brown sugar dissolves into what looks like a chocolate sauce. Stir and pay close attention as it is easy to burn.

Have a wood spoon handy. Reduce heat to low and slowly add in milk. The sugar will immediately seize up into a solid rock which will created the candied effect, So stir vigorously with your wooden spoon to break up the sugar. Use the end of your wooden spoon to stir and break up the sugar for about 3 – 5 min depending on how much force you use. You are done when you see a sauce has formed with bite-size brown sugar nuggets throughout.

Add in butter, bourbon and salt and stir for 1 minute then remove pan from the heat and set aside.
To Assemble Peach Cobbler:
Lightly grease 9×13 baking pan with butter.

On a lightly floured flat surface, place 2 pie crust rounds. Overlap the crusts at the center (so the almost look like a venn diagram. Use a floured rolling pin to roll over the overlapping portions so that they form 1 solid crust. (repeat this step for the top crust as well)

Add the pie crust to greased baking pan making sure that it is tucked into the corners. Allow the crust to just hang over the sides of the pan and cut off any excess crust.

Use a fork to pierce the crust all along the bottom .

Add in Peach Filling and spread it evenly across the pan.

Pour Candied Bourbon Sauce evenly over the peaches then add sticks of butter through out.

Add the top crust onto baking pan and remove any excess crust around the edges. Pinch or fold the top and bottom crusts together.

Whisk yolk and brush over the entire top of crust. Cut 3 large diagonal slits into the top of the crust so that it can breath. Sprinkle top with cinnamon and place in oven for 30-40 minutes.
Notes
1) When making candied bourbon sauce stay close, stir continuously, and be prepared to use your muscles. After adding the milk the sugar will turn into a solid and you will need some brut force and a good wooden spoon to break up the sugar into small pieces.
2) While baking, place a large sheet pan under the baking sheet to prevent spillage.
3) Cover edge of crust with 2- to 3-inch wide strips of foil after first 15 to 20 minutes of baking to prevent excessive browning.
4) If candied bourbon sauce starts to thicken (before adding to cobbler) loosen sauce by adding 1-2 tablespoons of milk and stir on medium-low heat for 1 minute.
Nutrition
Calories:
770
kcal
|
Carbohydrates:
97
g
|
Protein:
8
g
|
Fat:
39
g
|
Saturated Fat:
16
g
|
Polyunsaturated Fat:
4
g
|
Monounsaturated Fat:
16
g
|
Trans Fat:
1
g
|
Cholesterol:
56
mg
|
Sodium:
645
mg
|
Potassium:
374
mg
|
Fiber:
4
g
|
Sugar:
46
g
|
Vitamin A:
753
IU
|
Vitamin C:
7
mg
|
Calcium:
79
mg
|
Iron:
3
mg
*Nutrition information is a rough estimate.
**The equipment section above contains affiliate links to products I use and love. As an Amazon Associate I earn from qualifying purchases.