Get ready to have your taste buds blessed with this epic recipe for Southern Peach Cobbler – no cap, this one's a game-changer! We're talkin' that rich brown butter swag and a hint of smooth bourbon. And we're conveniently using frozen peaches, so you can whip up this soulful treat anytime, any season. Now, I won't lie, it takes a lil' extra effort, but believe me, it's worth every ounce of that elbow grease. Trust me, this recipe's full-proof! So, level up your dessert game with the main character, this Southern Brown Butter Bourbon Peach Cobbler.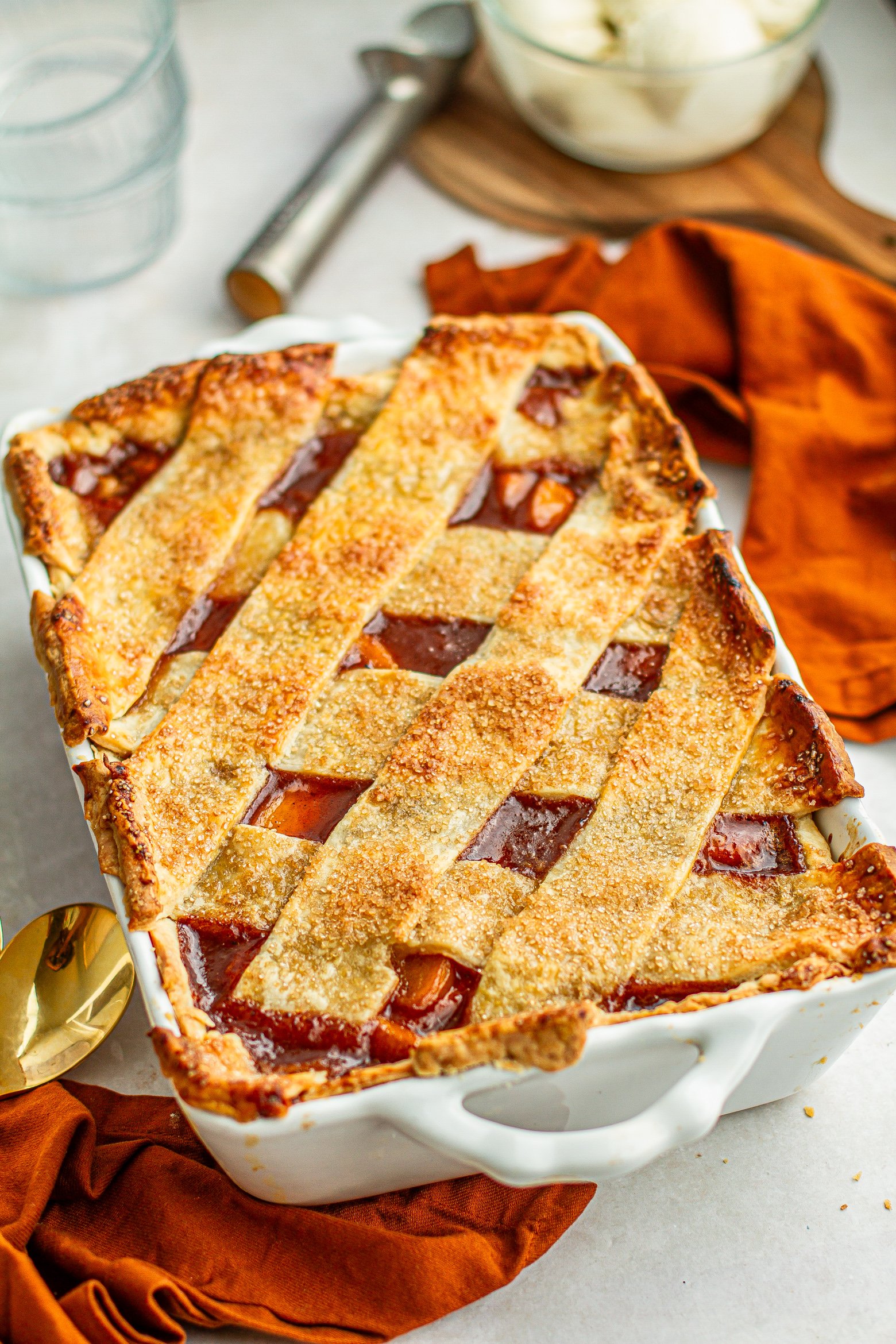 Need Meal Plan Ideas?

You ain't seen nothin' yet! Get ready for a down-home Southern feast that'll have your taste buds hollerin' for more. Here's a soulful menu that pairs perfectly with our Southern Brown Butter Bourbon Peach Cobbler:
ICYMI: My Best Peach Cobbler Ever!
Friend, let me tell you straight up, no cap, this right here might just be the peach cobbler of your dreams. Now, I ain't no stranger to whipping up some peach cobbler, and let me take you back to where it all began – 1989 in my grandma Jessie's San Diego kitchen, getting ready for Thanksgiving. I was her little sous chef, watching her every move in awe. She cooked up a feast fit for royalty, but her peach cobbler was something else entirely.
See, like most Black folks, grandma's peach cobbler was made with homemade pie crust – she never settled for store-bought (though in a pinch, it'll do). That woman could work magic with dough, rolling it out, cutting those beautiful lattice strips. Oh, and those canned peaches she used? Immersed in warm cinnamon, nutmeg, and sugar, you'd never guess they weren't fresh from the orchard.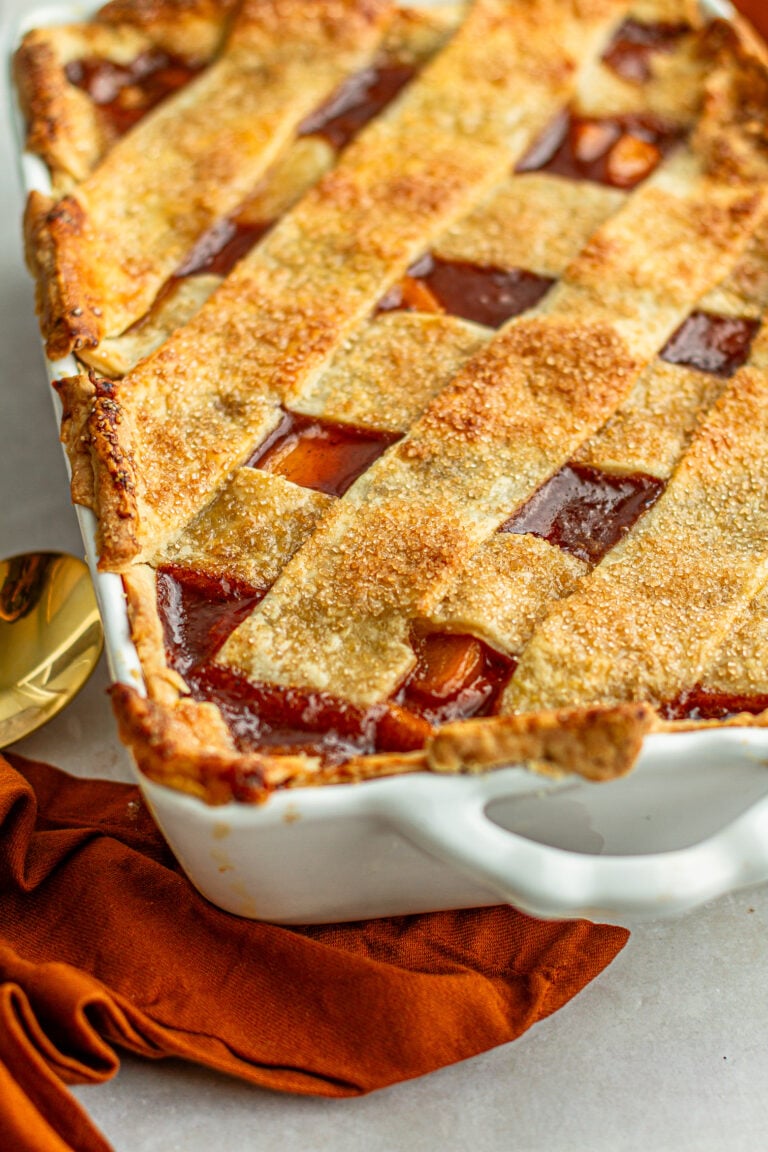 The moment I took my first bite of that double pie crust, with its cinnamon-sugar sprinkled top, and the heavenly blend of juicy peaches and buttery syrup, topped off with a dollop of vanilla ice cream – it was pure bliss. That's when peach cobbler claimed the top spot as my all-time favorite dessert. And let me tell you, I've been fine-tuning that recipe ever since.
Now, if you think having three different peach cobbler recipes on my blog ain't enough proof, then I don't know what else to say. I ain't new to this – I'm true to this. So buckle up, 'cause you're about to embark on a peach cobbler journey like no other. Welcome to the world of Southern Brown Butter Bourbon Peach Cobbler with Frozen Peaches – the dessert of legends.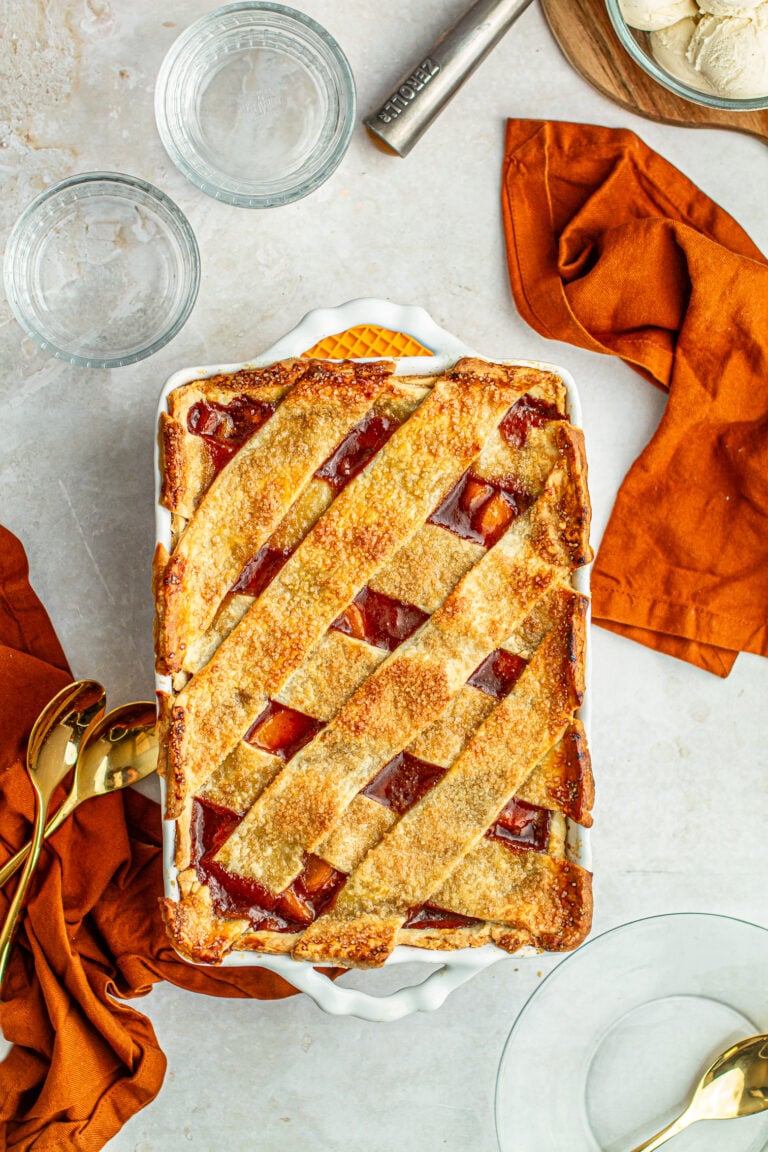 Types Of Peach Cobbler
Let's get to the nitty gritty about homemade peach cobbler versions. The world of peach cobbler is as diverse as the communities that savor it. Across different regions, cultures, and personal preferences, you'll find a delightful array of variations. Here are some of the most popular types of peach cobbler:
Biscuit Top: This cobbler is all 'bout the fluffy, golden biscuits sittin' pretty on top of those luscious peaches. When it bakes, that dough rises to perfection, so every bite is like a warm, pillowy cloud minglin' with that juicy peach syrup!
Cake Top: In this version, we flip the script and pour a loose, pour peach cobbler filling over the cake batter. As it bakes, that batter magically transforms into a moist and tender cake, enrobing the peaches. The best part? It's the easiest to make, allowing you to enjoy this mouthwatering treat with minimal fuss!
Pie Crust (a.k.a. Soul Food Peach Cobbler): While the exact origins of its cobbler association is unclear, this variation is commonly prepared by black families and cherished the magical combination flaky pie crust with rich molasses like peach syrup. Now, when it comes to that pie crust, some folks might say it's more like a peach pie, especially with that double-crust action goin' on. I've been diggin' for historical data, but honestly, there ain't a concrete reason why black families prefer it this way. It's usually baked in a rectangle dish with that snazzy lattice top showin' off some kitchen flair.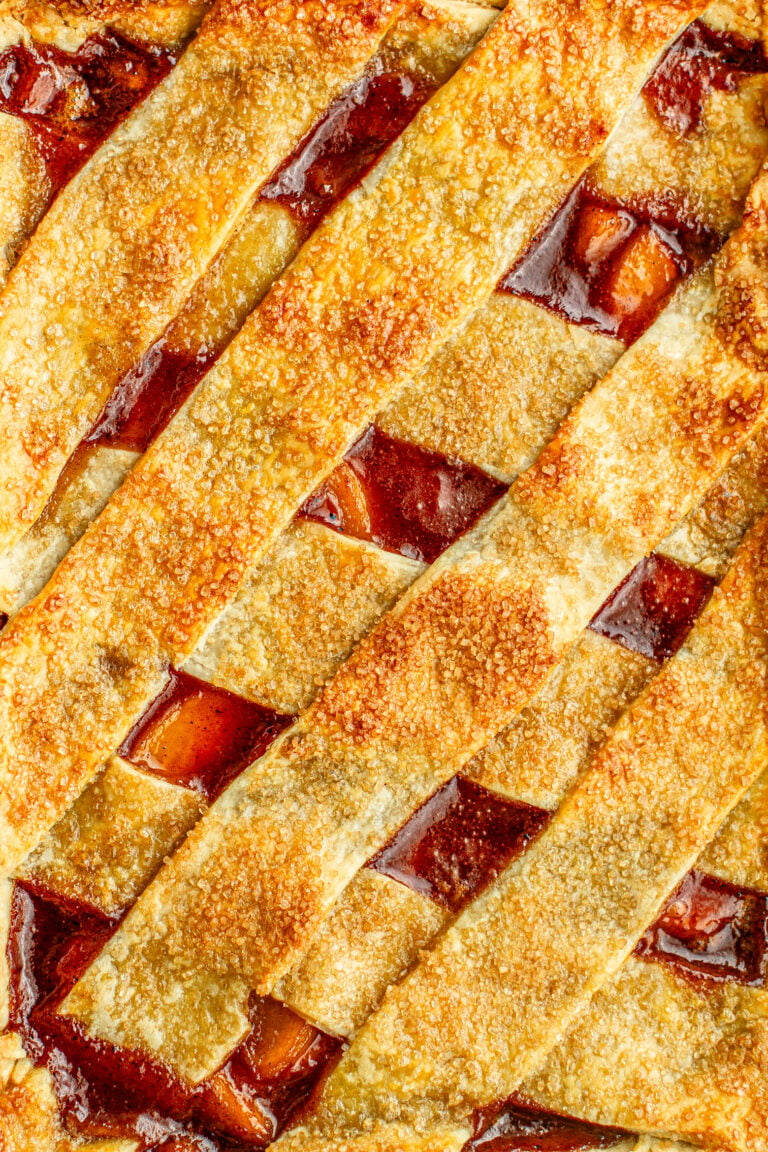 Southern Charm With A Little Bourbon-Infused Bliss
I love all the different types of peach cobbler but this one is extra special. The secret ingredient that sets our cobbler apart? Rich, smooth bourbon, the very soul of Southern spirits. As the brown butter dances with the warm, juicy peaches, the bourbon swoops in, adding its signature oaky depth and caramel notes. This luscious elixir harmonizes flawlessly with the velvety peach filling, creating an experience that's both comforting and luxurious. And don't worry, it's still family-friendly because the alcohol cooked off, making it a delightful treat for all to savor without any worries.
What Makes A Good Peach Cobbler?
When it comes to crafting the perfect Southern Peach Cobbler recipe, three essential factors reign supreme: the peaches, the crust, and the peach filling. These delightful elements harmonize together to create a dessert experience that's downright heavenly. We're talking tender, juicy peaches enveloped in a flaky, buttery pie crust, all bathed in a luscious, brown butter bourbon peach filling. It's a symphony of flavors that'll leave you craving more. So, let's dive in and explore how each of these components contributes to making this cobbler the absolute best!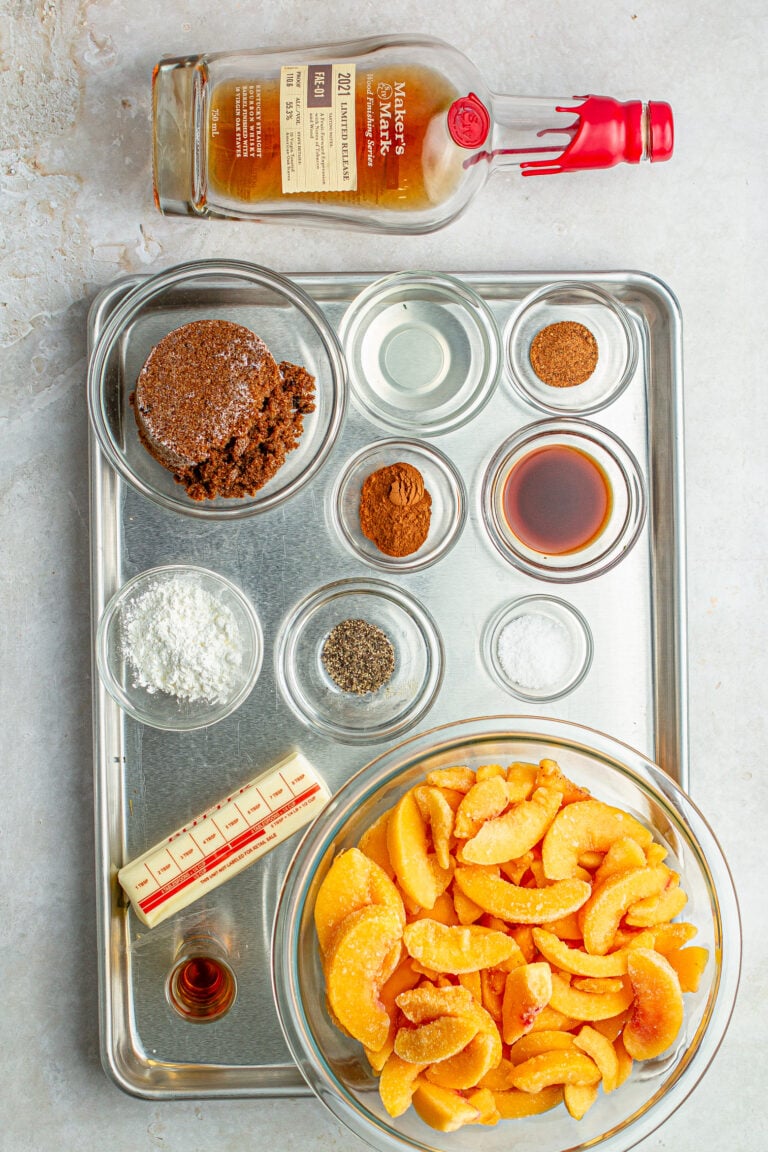 The Peaches
Let's talk about the star of the show – the peaches! When it comes to making this epic Southern Peach Cobbler, you've got options, fam. You can roll with fresh, frozen, or even canned peaches in light syrup – it's all about what you prefer!
What Types of Peaches To Use For Peach Cobbler (Fresh, Frozen, or Canned)
So, here's the deal – you can totally go fresh and grab those juicy peaches when they're in season, usually around July and August. But don't trip if it's not peach season – canned or frozen peaches got your back! I'm tellin' you, I've whipped up this deliciousness year-round with canned peaches, and it was just as legit!
How To Use Each Type of Peaches in This Recipe
Alright, let's break it down – if you're rollin' with frozen peaches, keep 'em frozen until it's time to shine in the cobbler- no need to thaw them out. Now, if you've got ripe and ripe fresh peaches on deck, you have the choice of peeling them or leaving the peel on. If peeling, drop them in boiling water for a hot sec, then ice 'em down. Those skins will come right off!
When using canned peaches, drain most of that syrupy goodness, but leave a little bit behind. But remember to add the brown sugar to taste since the syrup already has sugar in it.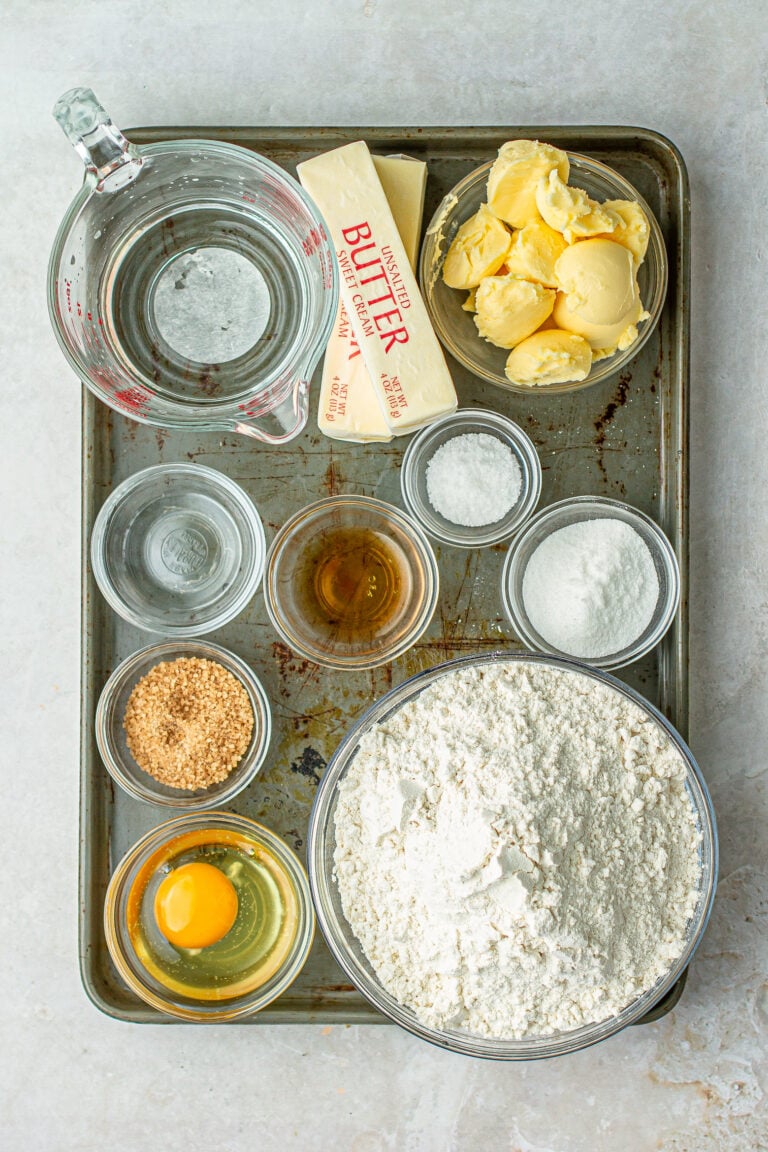 The Crust
Now, let's talk about that buttery, flaky pie crust that takes this cobbler to the next level! Get ready to roll up your sleeves, cause this ain't no store-bought shortcut – we're talkin' homemade and worth every bite.
What You'll Need For Buttery Flaky Pie Crust
Unsalted Butter: Cold butter is best to cut into small cubes before adding it to the all-purpose flour. This technique ensures that the butter flavor is distributed throughout the pie crust.
Butter-Flavored Shortening: Chill this shortening to keep it solid and ready to work its magic, ensuring our pie crust is flaky and oh-so-delicious.
All-Purpose Flour: This is our foundation, providing structure and a smooth texture to the crust. Plus, a little extra for dusting to keep things rollin'.
Sugar: A touch of sweetness brings out the best in our crust, creating the perfect balance with the tangy peaches.
Kosher Salt: Just a pinch – it's all about balancing those flavors and making everything pop!
Apple Cider Vinegar: A secret ingredient that adds a subtle tang to the crust, enhancing the overall taste experience.
Ice-Cold Water: Add just the right amount to bring the dough together, keeping it light and flaky.
Egg Wash: For that beautiful golden-brown shine – you'll see your masterpiece gleaming with this finishing touch.
Coarse Sugar: Sprinkle this on top for a little extra sweetness and a delightful crunch.
How To Make Home Make Pie Crust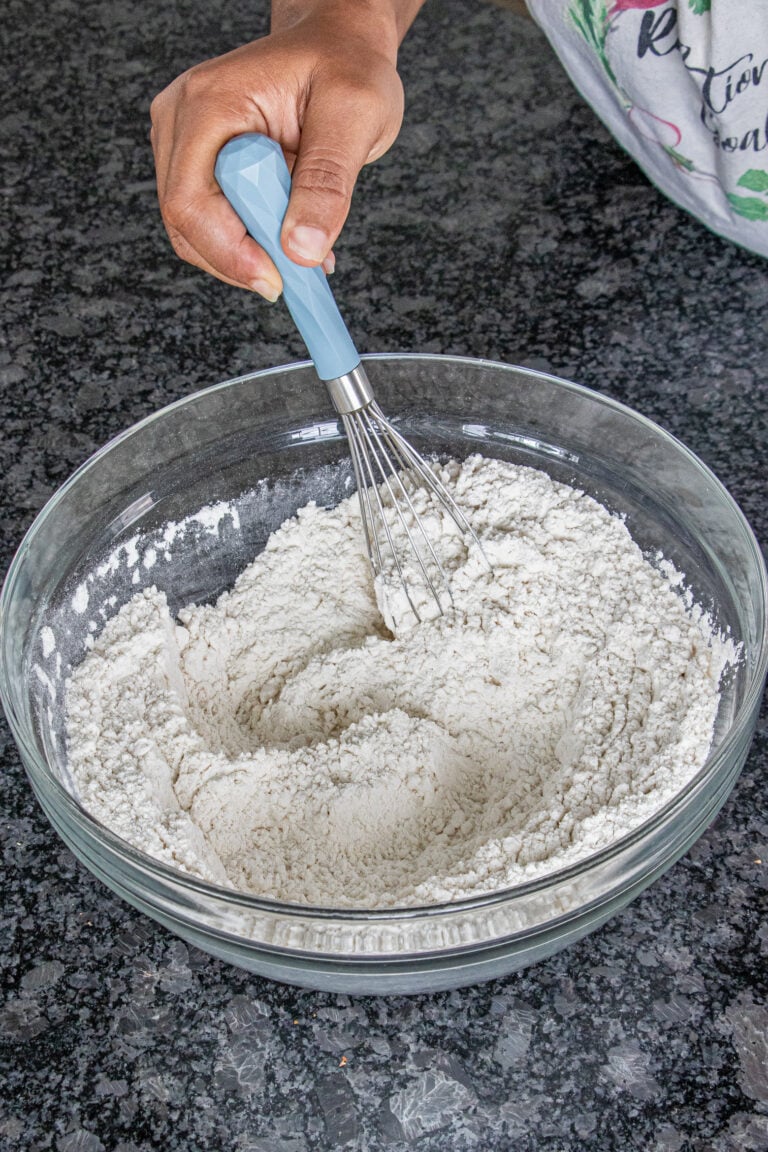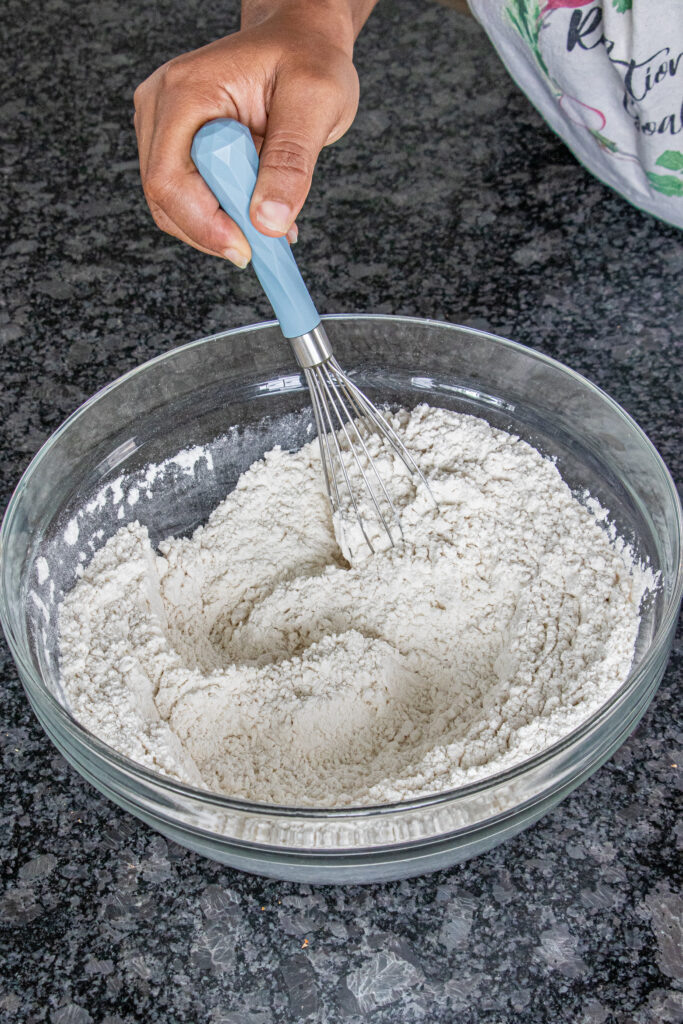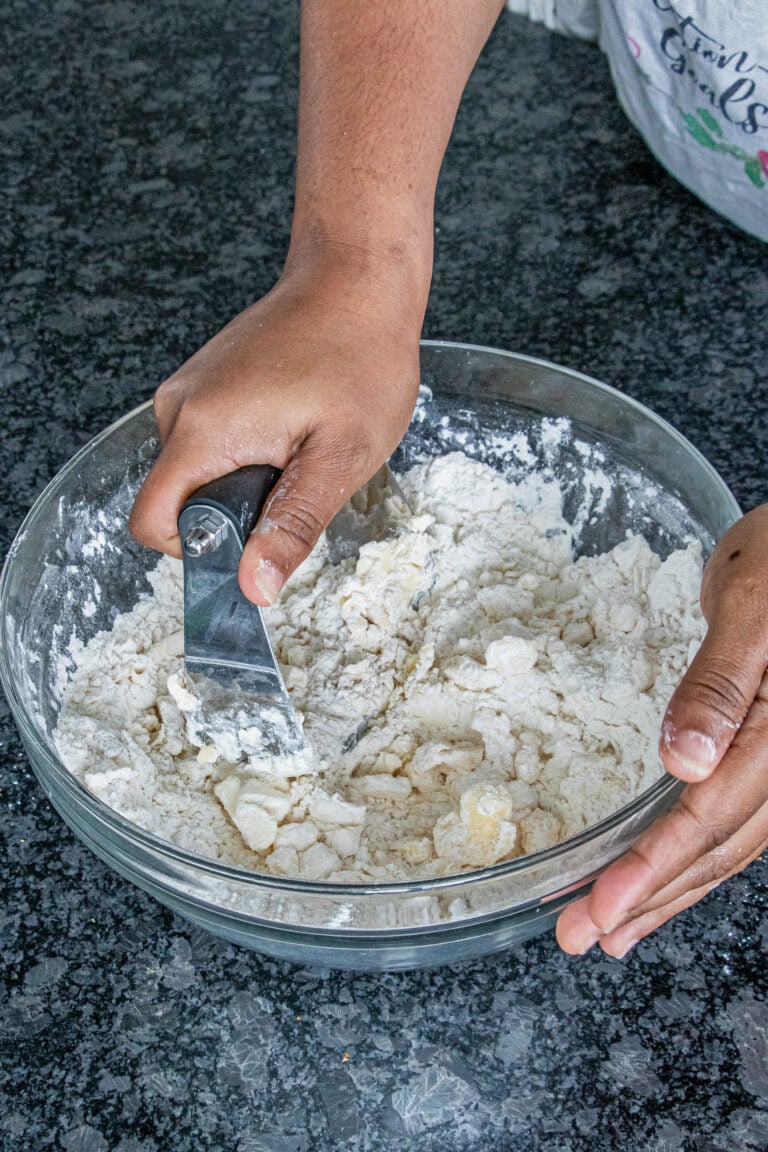 The Peach Filling
The soul of this cobbler lies in its luscious Brown Butter Bourbon Peach Filling, where we bring together the juiciest frozen peaches, warm spices like cinnamon and nutmeg, and a touch of smooth bourbon for that irresistible southern charm.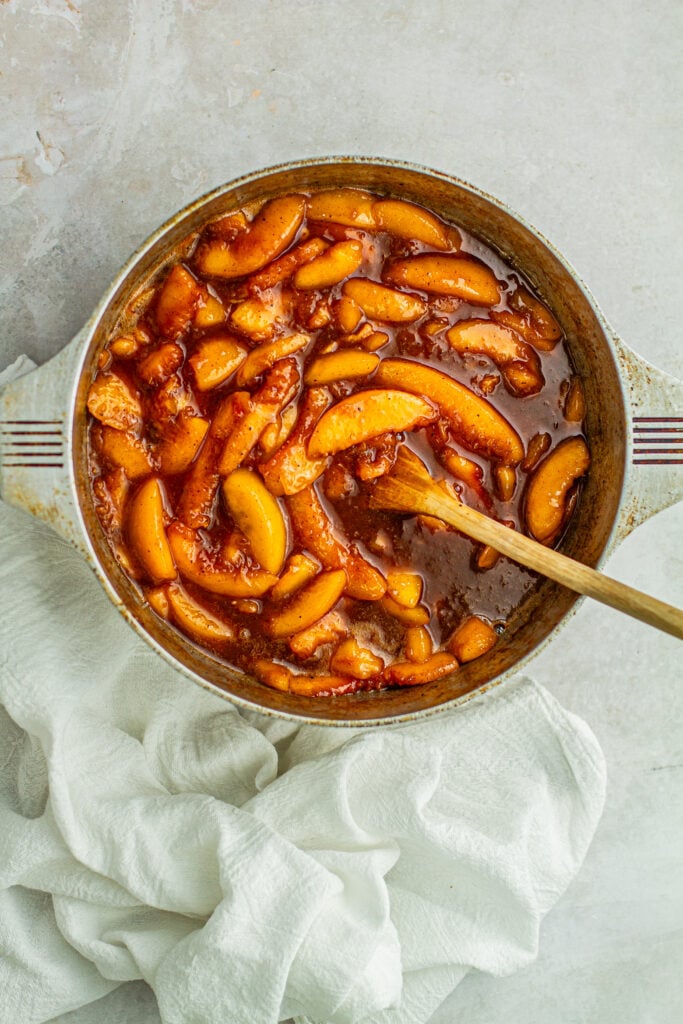 What You'll Need For This Brown Butter Bourbon Peach Filling
Unsalted Butter: Butter is melted down to create that luscious, golden-brown brown butter – it's the secret to creating a nutty, caramelized richness that is next level.
Frozen Peaches: Don't let the frost fool you – these frozen peaches are picked at peak freshness and already peeled, making them not only convenient but also perfect for enjoying the taste of summer all year round.
Water: Just a splash to keep everything saucy and juicy.
Dark Brown Sugar, Ground Cinnamon, and Ground Nutmeg: This trifecta of sweet spices brings rich, warm flavors that infuse our peach filling with comforting deliciousness.
Kosher Salt and Black Pepper: A dash of salt and a pinch of pepper elevate the flavors, striking the perfect balance in this soulful creation.
Pure Vanilla Extract: To round out the taste and enhance the natural sweetness.
Cornstarch (Optional): For those who love their filling on the thicker side – this cornstarch is the key to that perfect texture.
Bourbon: The grand finale! This smooth, rich bourbon brings a touch of sophistication and elevates the whole dessert.
How To Make Peach Filling
How To Assemble Southern Peach Cobbler
Now that we've got all the main components ready, it's time to focus on the grand finale! Prepare to bring together the delightful Brown Butter Bourbon Peach Filling and the buttery, flaky pie crust in a visually stunning lattice top. Also remember that there are more detailed step-by-step instructions in the recipe card below.
How To Roll Out The Bottom Crust
Preheat oven to 400℉ and grease a 9×13 baking dish.
How To Layer & Assemble Lattice Pie Crust:
Storing, Freezing, & Make-Ahead Recommendations
To Store
If you somehow manage to have leftovers (props to you!), here's the deal – you can stash it in the fridge for up to five days. No worries, it's still delicious straight outta the fridge, but if you're feelin' like bringing back that crispy goodness, just pop a slice in the oven at 350°F for 10 minutes. If you are trying to get to it faster and don't mind a softer crust you can throw it in the microwave on high for a few minutes.
To Freeze
You can freeze this masterpiece, makin' it last for up to three months – talk about makin' the most of this cobbler! Just make sure it cools down completely before you send it to the freezer.
When you're ready to let it shine again, let it thaw out in the fridge overnight. Then, give it some life by throwin' it in the oven to warm up the sweet, juicy peaches and resurrect the flaky, golden crust.
To Make Ahead
If your trying to get ahead I would recommend preparing the peach filling a day before you bake. It's like marinating those peaches in all that yummy goodness, lettin' 'em soak up all the flavors before they hit the oven.
Meiko's Pro Recipe Tips

When preparing the pie crust, remember not to overmix the dough. Keeping it slightly coarse and craggy results in a flakier, more tender crust. A few lumps won't hurt – they're what make it extra delicious!
Before assembling the cobbler, allow the homemade pie crust to chill in the refrigerator for at least 2 hours or, even better, overnight. This step is essential for achieving a perfectly flaky and tender crust. Chilled dough is easier to work with, retains its shape during baking, and yields superior results in texture and taste.
When browning the butter, keep a close eye on it to prevent burning. There's a fine line between browned and burnt butter, so stir continuously and remove it from the heat as soon as it turns a golden-brown hue and releases a nutty aroma.
For an extra burst of flavor, add a splash of fresh lemon juice to the peach filling before baking – it enhances the natural sweetness of the peaches.
If you prefer a thicker syrupy consistency, opt for the cornstarch slurry – it's the secret to achieving that perfect texture in your peach filling.
For a flawless lattice top, try using a pizza cutter to cut straight lines. It ensures precise cuts and even spacing between the strips, giving your cobbler a professional touch.
For a luscious golden-brown finish on your lattice crust, don't forget the egg wash! Brushing the lattice with a mixture of beaten egg and water before baking creates a beautiful shine and enhances the visual appeal of your peach cobbler.
To prevent the crust from over-browning, you can cover the edges with foil during the last 15 minutes of baking. This ensures a beautifully golden top without any burnt edges.
While baking, place a large sheet pan under the peak cobbler to prevent spillage.
More Peach Desserts To Fall In Love With!
Frequently Asked Recipe Questions
Can I use fresh peaches instead of frozen for this recipe?
Absolutely! While frozen peaches provide convenience and year-round availability, fresh peaches can be a delightful alternative during the peak of their season. Just remember to adjust the sugar and syrup levels to suit the natural sweetness of the fresh peaches.
Can I use canned peaches instead of frozen peaches?
Absolutely! Canned peaches can be a convenient and tasty option for this recipe. Just make sure to drain most of the syrup and add additional liquid through melted butter to get that perfect balance of flavors.
Why is it essential to chill the homemade pie crust before assembling the cobbler?
Chilling the pie crust allows the butter and shortening to firm up, resulting in a flakier, tender crust once baked. It also helps the dough hold its shape better during the rolling and lattice process.
Do I have to thaw out the frozen peaches before starting the recipe?
No need to thaw the frozen peaches beforehand. The recipe incorporates them frozen, and as they cook, they will release their delicious juices, creating a luscious syrup that enhances the cobbler's taste.
What do I do if the peach cobbler syrup is too runny?
If you prefer a thicker syrup, you can make a slurry by mixing 3 tablespoons of the pot syrup with 1 tablespoon of cornstarch. Stir the slurry into the pot and simmer for a few minutes until it reaches your desired consistency.
Can I leave the bourbon out? Certainly!
If you prefer to skip the bourbon, you can omit it from the recipe without compromising the overall taste. The cobbler will still be packed with delicious flavors from the brown butter and spices.
Can kids enjoy this peach cobbler if it contains bourbon?
No worries! The bourbon used in this recipe is heated, allowing the alcohol to cook off completely. This makes the cobbler family-friendly and safe for all to enjoy the rich, bourbon-infused flavors without any alcoholic content.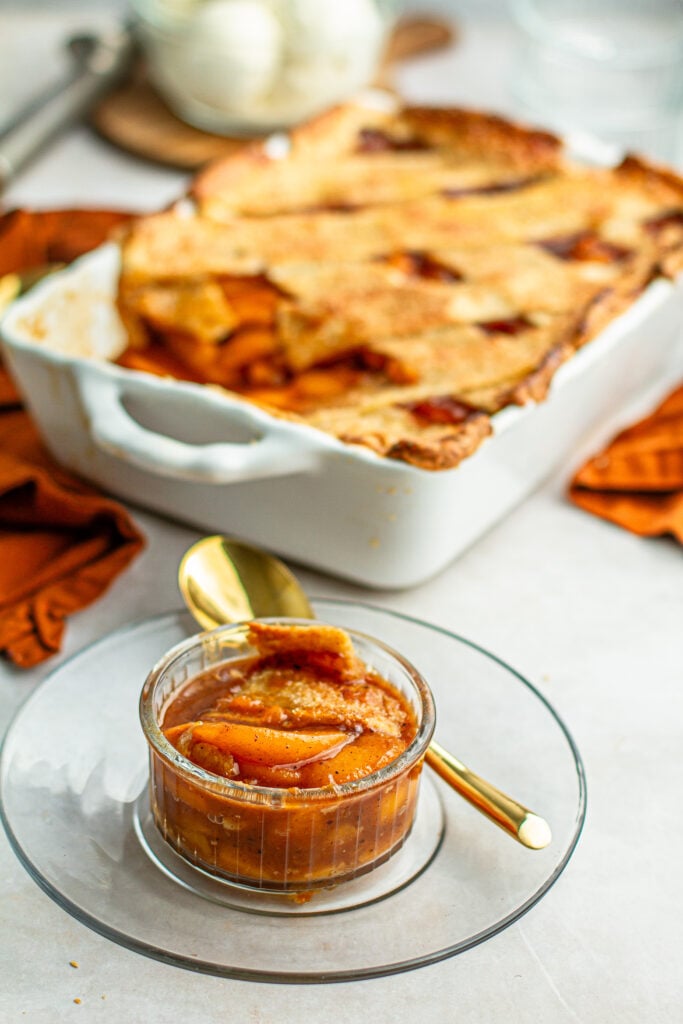 Prep Your Tools & Ingredients
Here is a quick list of things to do before the recipe to ensure everything goes smoothly. This list may contain affiliate links which won't change your price but will share some commission to help support this blog.
Gather Your Tools:
Wooden Spoon
9 x13 Baking pan or pyrex
Rolling Pin
Fork
Basting Brush
Sheet pan
Pizza dough cutter
Recipe Prep:
Always read the recipe through at least 1 time before you start. It helps you move faster when you already know what step is coming next.
Measure out all of your ingredients.
Prepare pie crust and let it chill for two hours.
Now It's Your Turn!
Now that you've got all the deets, it's time to work your culinary magic! I can't wait to see you make this Southern Brown Butter Bourbon Peach Cobbler with Frozen Peaches your own. Share your kitchen triumphs, your funny anecdotes, and your dessert adventures with me – I wanna hear it all!
Until next time, my darlings, remember to savor every delicious moment, and always keep the soulful flavors alive in your kitchen. Happy cooking, and as Issa Rae would say, "I'm rooting for everybody eating!"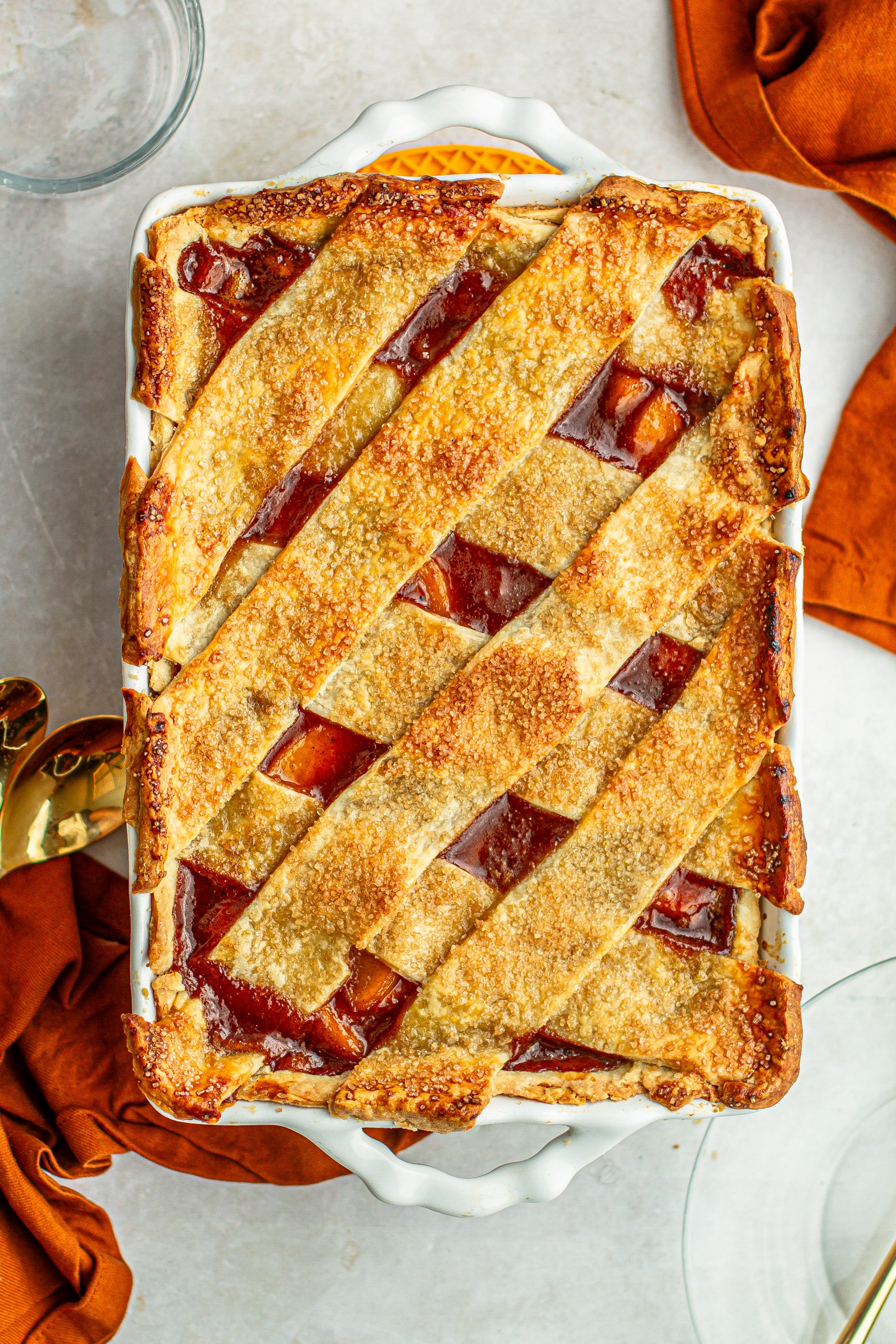 Ingredients
Butter & Shortening 9×13 Double Pie Crust
3 ¾

cups

all-purpose flour plus more for dusting

3

tablespoons

sugar

1 ½

teaspoon

kosher salt

12

tablespoons

1 ½ sticks cold unsalted butter, frozen & cut into ½" cubes

10

tablespoons

butter-flavored shortening

chilled

1

tablespoon

apple cider vinegar

8

tablespoons

ice cold water

more as needed

1

egg

for egg wash

1 ½

tablespoons

water

for egg wash

2

tablespoons

coarse sugar (turbinado or demerara)

for dusting
Brown Butter Bourbon Peach Filling
8

tablespoons

1 stick unsalted butter, divided + more for greasing pan

4

lbs

sliced frozen peaches

unthawed

¼

cup

water

1

cup

dark brown sugar

1 1/2

teaspoons

ground cinnamon

1/2

teaspoon

ground nutmeg

1

teaspoon

kosher salt

¼

teaspoon

black pepper

1

teaspoon

pure vanilla extract

2

tablespoons

cornstarch

optional

4

tablespoons

bourbon
Instructions
Prepare Butter & Shortening 9×13 Double Pie Dough
To a large bowl, add flour, sugar, salt and whisk thoroughly.

Add in frozen butter butter and chilled shortening. Cut the butter, shortening and flour with a pastry cutter. If you don't have a pastry cut it into the flour with a knife, squeeze with your hands.

Pour in liquid (water & apple cider) and stir until you start to see a dough come together and congeal into a craggy ball.

Pour dough out onto a lightly floured surface. Cut dough into four even pieces and stack on top of one another. Press down flat and repeat the cutting and stacking process 2-3 more times.

Cut dough in half and form into a disc. Wrap in plastic wrap and refrigerate for at least 2 hours but preferably overnight.
Prepare Brown Butter Bourbon Peach Filling:
In a large pot over medium heat melt the butter, stirring continuously until butter turns golden and smells nutty, 3-5 minutes. When the butter starts to foam and brown bits start to form in the bottom of the pan, remove it from the heat.

Add frozen peaches, water, and occasionally stir for 5-6 minutes. Once peaches begin to unthaw, the mixture becomes warm to touch. Stir in brown sugar, cinnamon, nutmeg, salt, pepper, and vanilla then bring to a simmer – 3 minutes or until sugar dissolves. Remove from the heat and stir in bourbon.
OPTIONAL: Thicken peach sauce
Check the syrup consistency. If you like your syrup thicker, make a slurry by stirring together with 3 tablespoons of the pot syrup and 1 tablespoon of cornstarch. Stir the slurry into the pot and simmer for 2 minutes.

Remove the peach mixture from the heat and stir in the bourbon.
Roll Out Pie Dough & Assemble Peach Cobbler:
Preheat oven to 400℉. Grease a 9×13 pyrex or baking pan with 1 tablespoon of butter.

Remove pie dough from the fridge and lightly flour a flat surface. Roll out a single pie dough disk into a rectangular shape 1⁄4 inch thick to extend past the length and width of the baking pan you are using.

Add the rolled out pie crust to the greased baking pan, making sure that there are no pockets of air and that it is pressed into the corners of the pan. Use a fork to pierce the crust all along the bottom and sides. Allow the crust to just hang over the sides of the pan and cut off any excess dough hanging over the edges, and preserve them to help make the lattice top.

Scoop the peach filling into the baking pan and spread it out evenly.

Re-flour surface for the next pie dough. Combine the remaining single portion of dough with the excess preserved dough and roll it out to 1⁄4 inch thick. Cut dough into (8-10) 1 ½ inch wide strips – it's ok if the lengths are different.

Starting with the longest in the middle, place strips on top of peach filling in diagonal rows 1 inch apart.

Place another row of strips going the opposite direction 1 inch apart.

Trim the excess strips hanging over the edges and pinch where the lattice strips and meet the edge of the baking pan.

In a small bowl whisk together the egg and water. Lightly brush lattice crust with egg wash, and sprinkle it with coarse sugar.

Place in the cobbler in the oven on the middle rack. For safety, place a baking sheet on the rack directly below the cobbler in case of overflow. Bake until the top is golden brown and the filling is bubbly 30-35 minutes. You can loosely cover the edges with foil to prevent excess browning.
Notes
If using store-bought pie dough, use (3) 9-inch pie crusts . Cut one of the pie crusts in half. Combine 1 whole pie dough with ½ pie dough to make a rectangular pie crust for the bottom and 1 rectangular pie crust to cut into the lattice top.

If using canned peaches, use 3 (29 oz) cans and cook in syrup instead of adding excess water. Reduce overall cook time over the stovetop by 5 minutes. You will also need to decrease the sugar if using the canned peach syrup..

While baking, place a large sheet pan under the peak cobbler to prevent spillage.

Cover the edge of the crust with 2- to 3-inch wide strips of foil to prevent excessive browning
Nutrition
Calories:
465
kcal
|
Carbohydrates:
56
g
|
Protein:
5
g
|
Fat:
25
g
|
Saturated Fat:
12
g
|
Polyunsaturated Fat:
3
g
|
Monounsaturated Fat:
8
g
|
Trans Fat:
2
g
|
Cholesterol:
51
mg
|
Sodium:
416
mg
|
Potassium:
212
mg
|
Fiber:
3
g
|
Sugar:
29
g
|
Vitamin A:
877
IU
|
Vitamin C:
5
mg
|
Calcium:
31
mg
|
Iron:
2
mg
*Nutrition information is a rough estimate.
**The equipment section above contains affiliate links to products I use and love. As an Amazon Associate I earn from qualifying purchases.