Jerk marinade is a Jamaican classic that goes great on just about anything beef, poultry, seafood, and veggies! It is amazing how just enjoying its aroma is enough to set your taste buds on fire.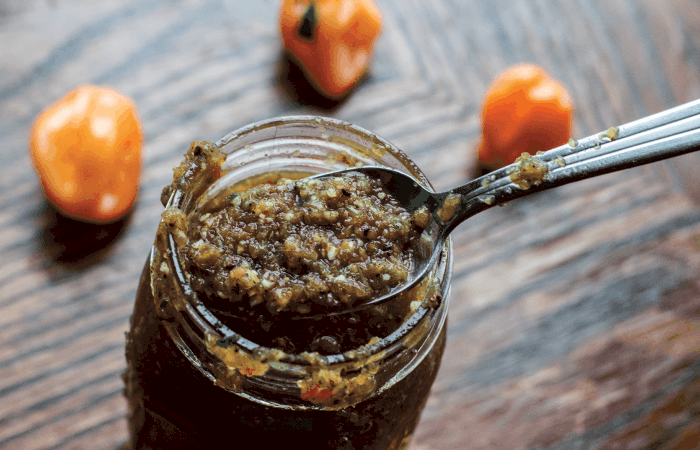 Anyone who loves spicy food cannot miss the jerk marinade recipe. Its set-your-nails-ablaze scotch bonnet pepper will make even the most prepared foodie reach out for honey.
What's even better is how easy and quick you can make it. Also, you don't have to worry about the leftovers either. You can turn it into a dipping sauce and enjoy it with the simplest dishes like breakfast sandwiches (apples won't feel like the best way to wake up after that).
So let's dive right into it. Oh, and let me caution you – if you are dealing with a scotch bonnet, you need gloves, or that pain from under the nails will not go for a week.
What types of food taste good with jerk marinade?
There is no limit! You can add a dollop of this marinade to seafood, meats, quinoa, or veggies like cauliflower steaks. You can also turn the marinade into a sauce. Pour the marinade into a saucepan and heat. Bring it to a boil and let it simmer until it reduces the thick consistency.
Do you season after marinating?
There is salt, bonnet peppers, and spices in the marinade, so it should be nicely salted even without seasoning. Besides, adding extra salt can take the moisture away from the meat, leaving it tough when cooked. If you need to season the dish after marination, the best time to do so would be once it is cooked. I suggest sampling a small piece after cooked before adding seasoning.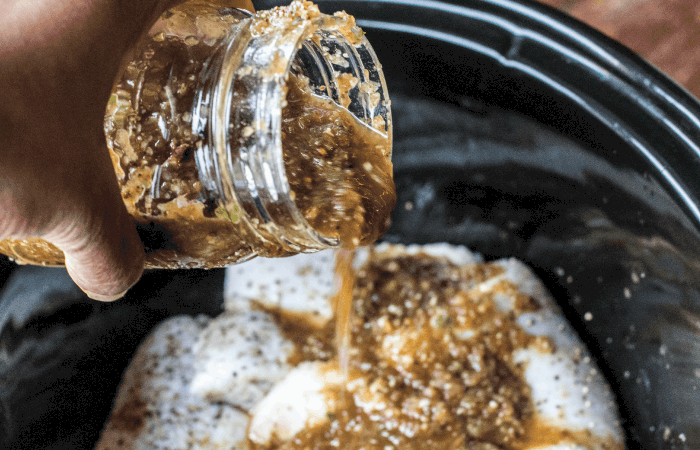 How to store leftover marinade?
Place leftovers in an airtight container or mass jar, then refrigerate. If you are unsure whether you will use it in a week, freeze the marinade. Pour the marinade into ice cube trays and freeze. Once frozen, place in an airtight freezer bag. Do not keep used marinade as it can be harmful to your health.
How long does leftover marinade last?
When properly stored, leftovers are good for up to 7 days refrigerated and up to 6 months when frozen.
Jerk seasoning vs. marinade – are they the same?
There is a subtle difference in jerk seasoning vs. marinade, and it is in the consistency. The marinade is thinner than the seasoning, which is like a thick paste that you rub on the dish and let it stay for a day before cooking.
More Recipes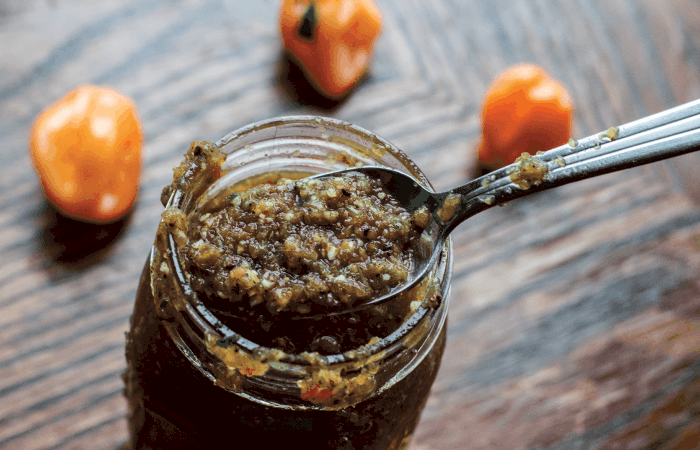 Ingredients
4

scallions

½ cup, chopped

1

onion

chopped

2-4

scotch bonnet or habanero peppers

seeded & chopped

2

tablespoons

fresh thyme leaves

¼

cup

brown sugar

2

teaspoons

allspice

1

teaspoon

cinnamon

½

teaspoon

nutmeg

½

cup

orange juice or pineapple juice

6

tablespoons

soy sauce

1

teaspoon

fresh ginger

grated

2

tablespoons

white vinegar

1

tablespoon

kosher salt

½

teaspoon

black pepper

¼

cup

vegetable oil
Instructions
Make marinade by combining all its ingredients in a blender and blitzing to your desired consistency (normally smooth puree).
Nutrition
Calories:
456
kcal
|
Carbohydrates:
49
g
|
Protein:
8
g
|
Fat:
28
g
|
Saturated Fat:
22
g
|
Polyunsaturated Fat:
1
g
|
Monounsaturated Fat:
3
g
|
Sodium:
6523
mg
|
Potassium:
535
mg
|
Fiber:
4
g
|
Sugar:
36
g
|
Vitamin A:
809
IU
|
Vitamin C:
66
mg
|
Calcium:
130
mg
|
Iron:
4
mg
*Nutrition information is a rough estimate.
**The equipment section above contains affiliate links to products I use and love. As an Amazon Associate I earn from qualifying purchases.