Southern Potato Salad, the kind proud auntie's make, the kind that gets you invited back to the cookout. Creamy & loaded with hard-cooked eggs, pickle relish, mayonnaise, mustard, paprika, and of course, soul.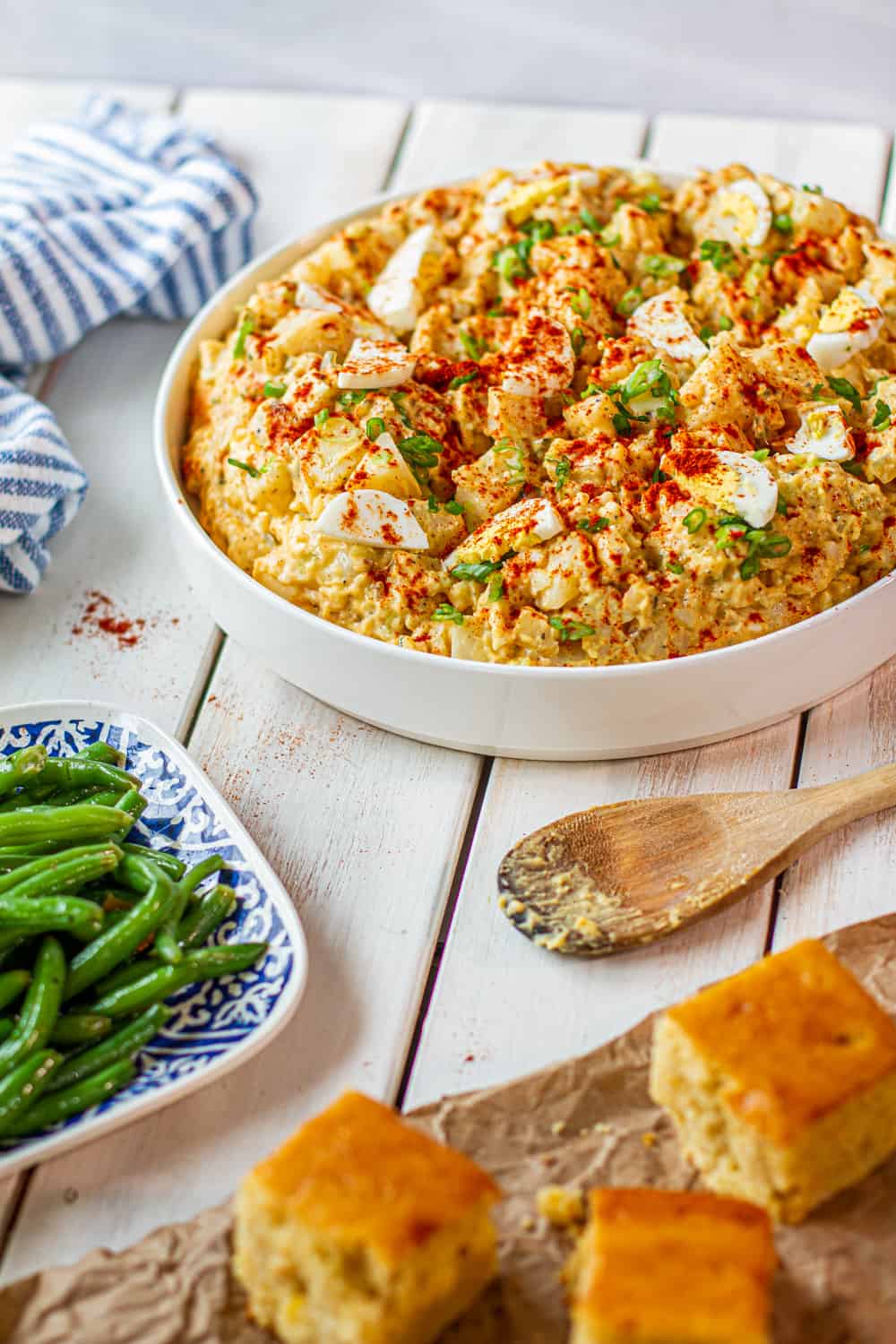 ---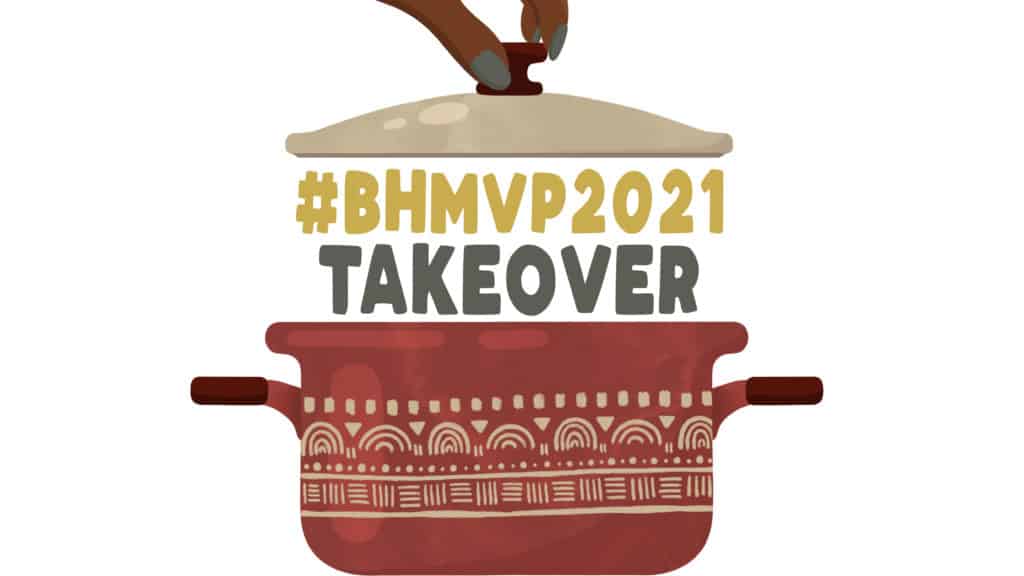 I'm participating in the 2021 Black History Virtual Potluck. A collaborative menu of recipes contributed by 40+black bloggers from around the globe in honor of Black History Month. See a sampling of some of the amazing participant recipes down below.
---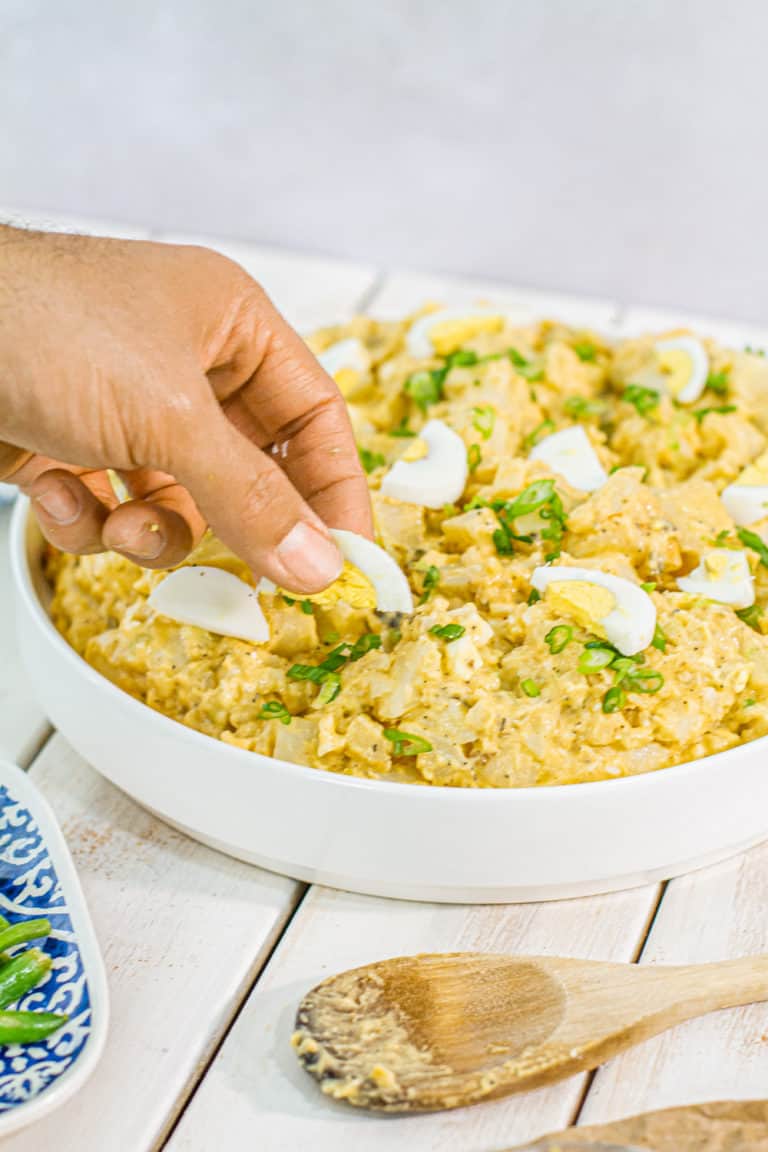 Every year when February approaches, I get so excited because it means I get to celebrate Black History Month with a ton of my virtual friends in blogging. Together we participate in the Black History Month Virtual Potluck, a round-up that allows us to honor our ancestors and the experiences that united them, celebrate the ingredients that shape our unique cultures, and learn from one another about recipes that span the African Diaspora. Each participant submits a recipe that ties into heritage ingredients and family stories.
This year I wanted to celebrate with a simple yet classic dish that is super crucial to black families, and when it comes to black family outdoor functions, there is one dish that needs always to be present, and that is Potato Salad.
Southern-Style Potato Salad
Southern-Style Potato Salad is a blend of chilled fork-tender potatoes dressed in a creamy and tangy sauce made of mayonnaise and mustard. It typically is contrasted with loads of texture from ingredients like onion, relish, and celery. To have real street cred, a couple of things must remain true; the potato salad must be yellow, be topped with your prettiest hard-boiled eggs, and doused with a hefty sprinkle of paprika.
I have racked my brain about why potato salad is so significant to our culture, considering its German roots besides the fact that it's inexpensive to make, super filling, and easy to scale for a crowd.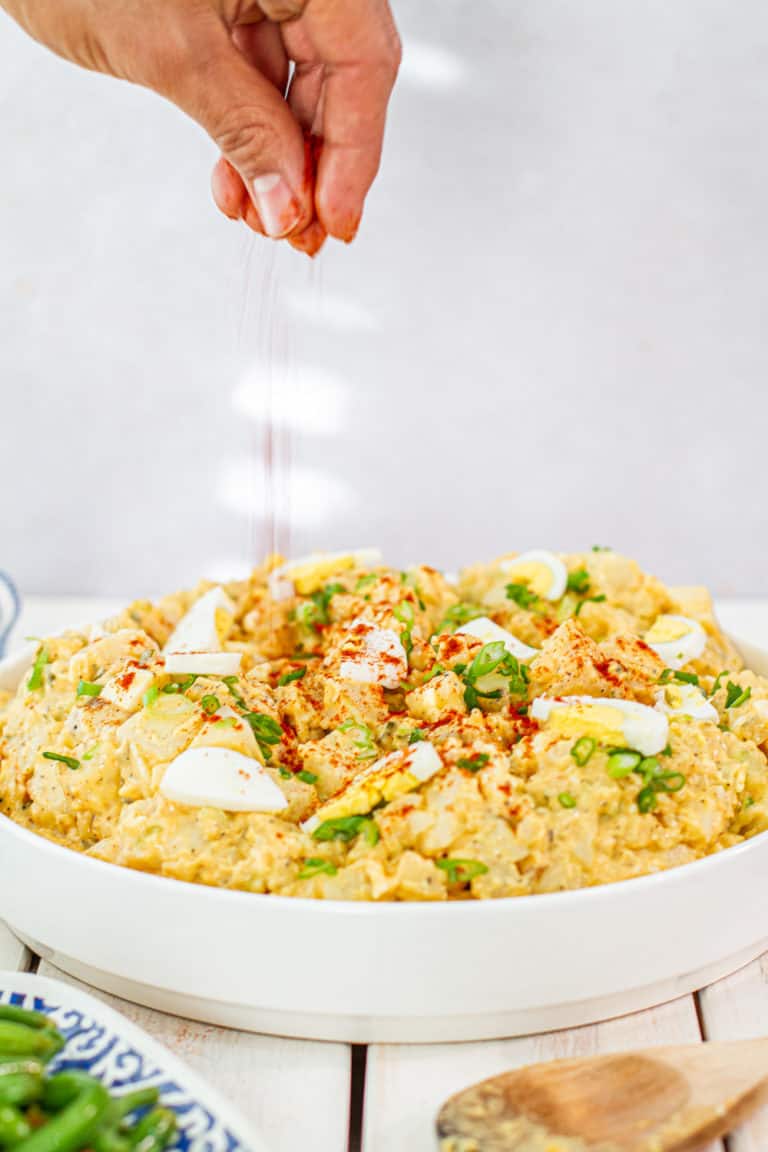 Who makes the potato salad at the cookout?
Speaking of crowds, you go to any family cookout with black people, and you are bound to hear the question, "who made the potato salad?" You would think a dish mostly comprised of cooked potatoes smothered in mayo, mustard, and eggs would be easy to replicate, right? Think again because It is a cardinal sin to eat just anybody's version. Typically, a person is assigned to making the potato salad, and if it ain't their potato salad, you let it sit there. Many-A-Auntie has had their feelings hurt trying to step into the acclaimed role of the potato salad maker to find their casserole dish of potato salad still sitting untouched at the picnic table.
And don't be the non-black friend attending the function for the first time. You are encouraged to bring something, but you might want to think twice about it being potato salad. We get real siddity when we see anything outside the norm like raisins, grapes, or walnuts floating around with our potatoes. I'm telling you just don't do it if you want to be invited back.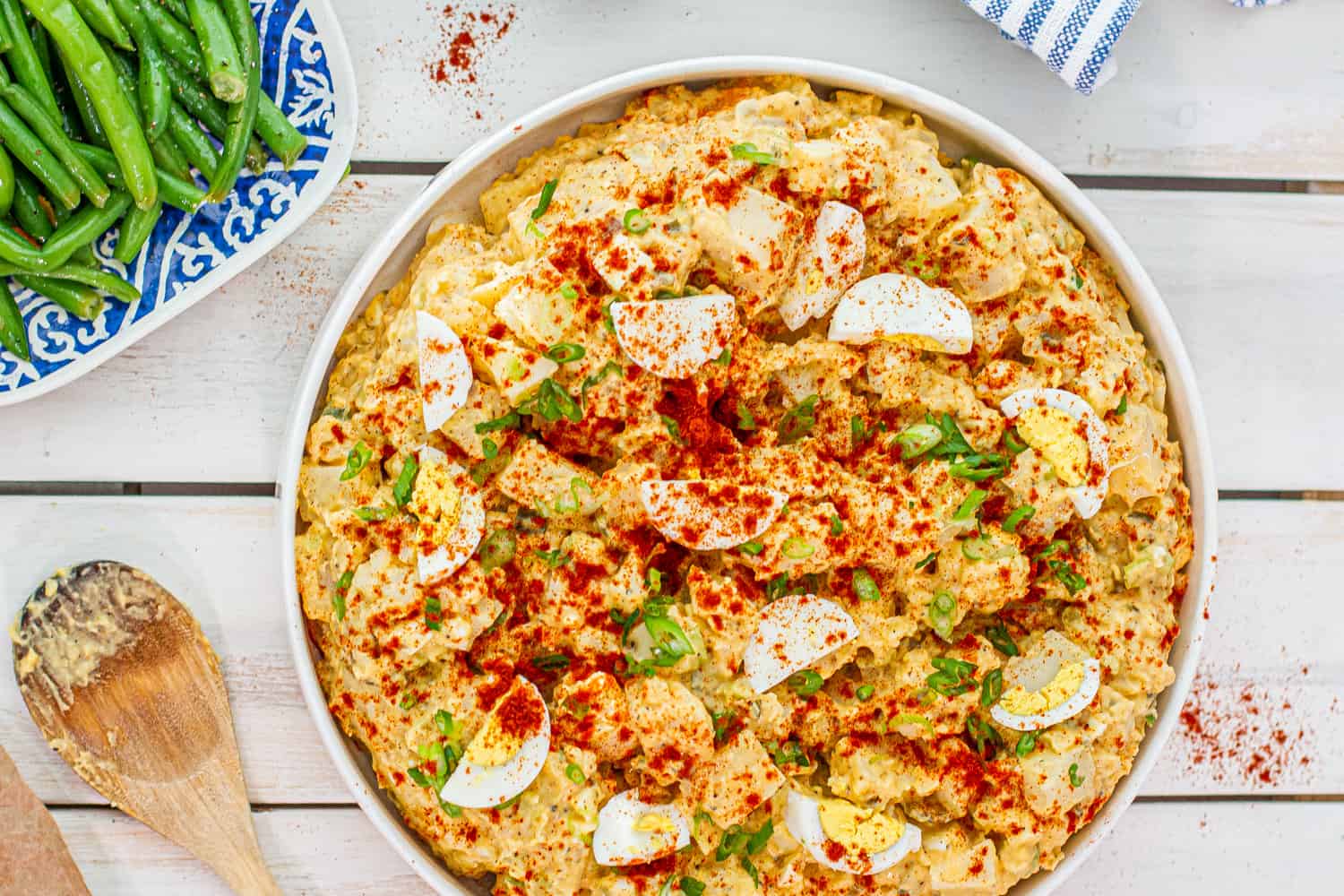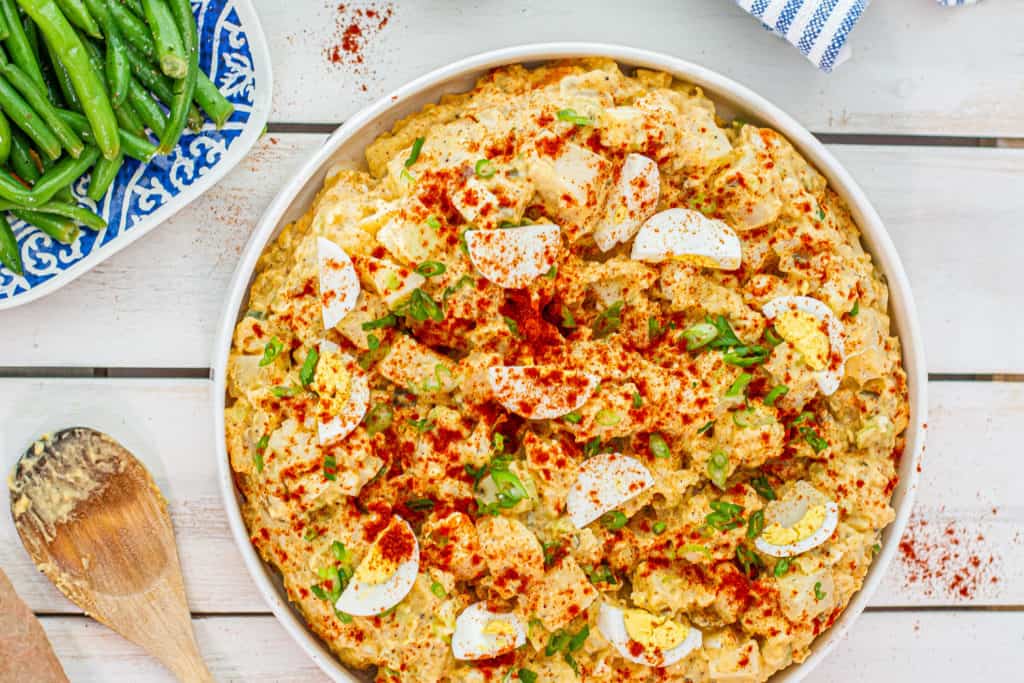 Ingredients for Southern Potato Salad:
Amongst our people alone, we have huge debates over what ingredients are appropriate. It truly does depend on what region you are from and your family preferences. For example, I was never allowed to add onion to my potato salad because my mom hates raw onion. However, chopped onion is a suitable ingredient to include. Or take my family's brand loyalty to miracle whip growing up; you didn't make potato salad with anything else. But in many southern households, anything besides Dukes is blaspheming. The specific doctrine of potato salad is unique to each family, but the core precepts include:
Potatoes – Drier more crumbly versions like Russet or Yukon gold are preferred
Mayo – I make my potato salad with miracle whip, but I know many are also loyal to Duke's, Blue Plate & Hellman's.
Mustard – I keep it classic with good old yellow mustard
Eggs – Hard-boiled and a ton of them
Relish – Over here, we use sweet relish, but chopped cornichons are also a good substitute.
Onion – For the onion-averse, you can use my trick of loading up on onion powder so that you still have the flavor.
Celery – Add texture and crunch that livens up the creamy potato salad.
Paprika – An ingredient that does nothing for flavor but without it you have no credentials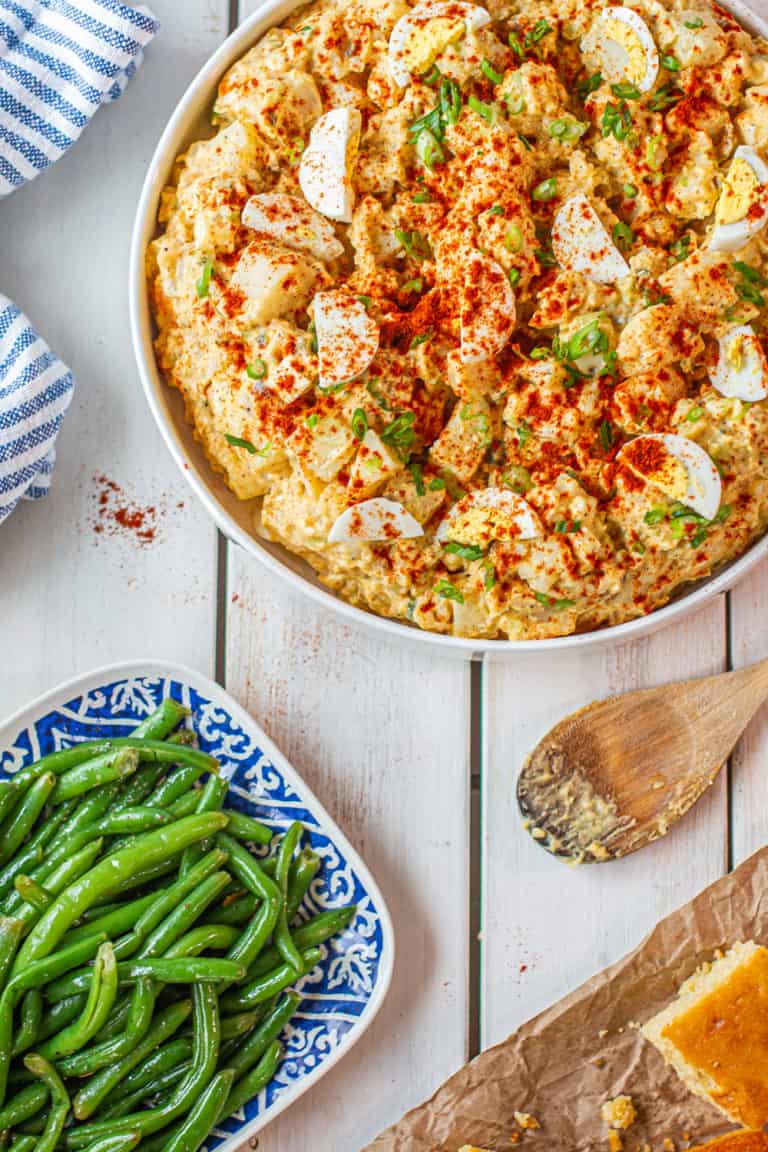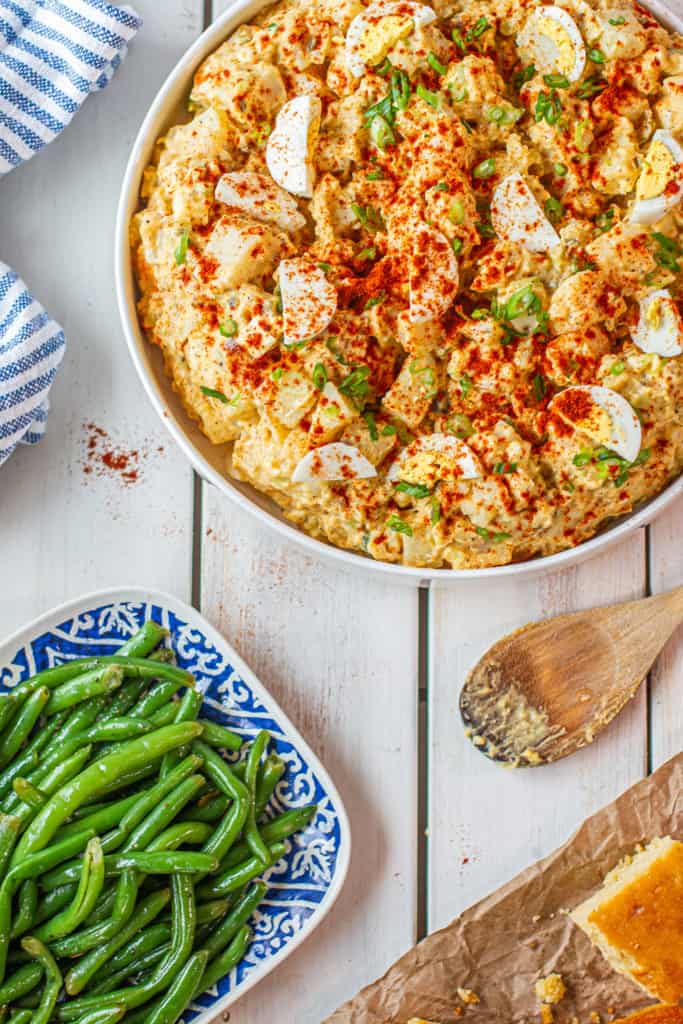 There is nothing more renowned and celebrated when it comes to black cookouts than a good plate of chilled potato salad. The reason why potato salad is important to Black American Families may not be explicit, but the truth remains, you mess it up, and that's your a**! I hope you enjoy the soul-filling and crowd-pleasing recipe for Southern Potato Salad. And remember to show some love to the rest of the Black History Month Virtual Potluck recipes linked down below.
More Black History Month Collaborations
Hey, check out some of my other BHM Collabs!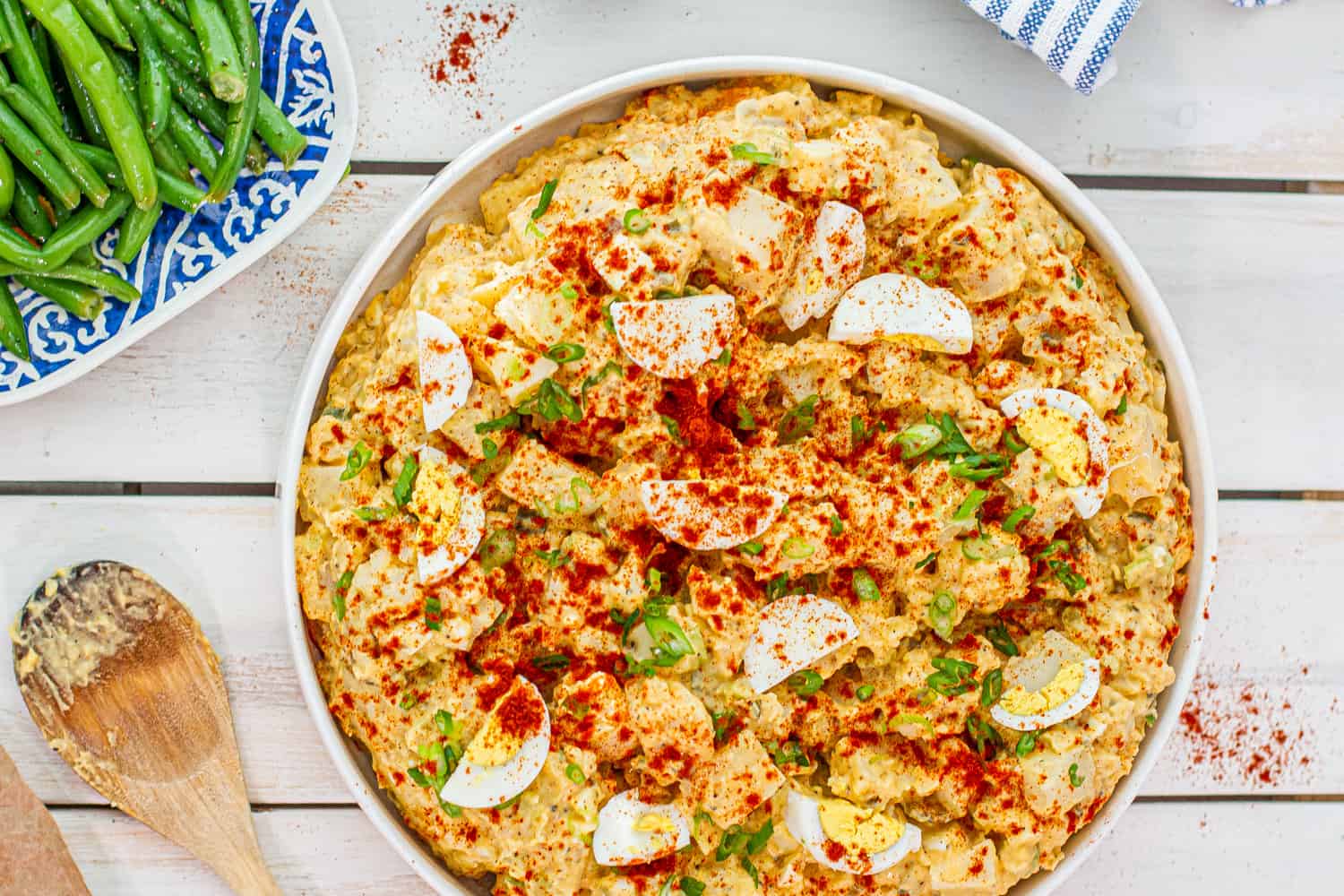 Ingredients
5

lb

russet potatoes

cleaned, peeled, and cut into ½-inch cubes

32

ounces

low-sodium chicken stock

2

tablespoons

plus 1 1/2 teaspoons kosher salt

divided

1

bay leaf

5

hard-boiled eggs

4 peeled, diced, and chilled; 1 sliced, for garnish

2

medium stalks celery

finely chopped

1

cup

sweet relish

1 ½

cups

Miracle Whip

⅓

cup

yellow mustard

2

tablespoons

hot sauce

1 ½

teaspoons

garlic powder

1 ½

teaspoons

onion powder

½

teaspoon

celery seed

plus more for garnish

1 ½

teaspoons

black pepper

Paprika for garnish

Green onion

for garnish
Instructions
Place the cubed potatoes and chicken stock in a medium pot. If the potatoes aren't fully submerged by the chicken broth, add enough cold water to cover the potatoes by an inch. Add 2 tablespoons of kosher salt and the bay leaf, and cover with a lid. Turn heat to high; once boiling, remove the lid, reduce the heat to medium, and cook for 14-15 minutes or until the potatoes are just tender.

To test for doneness, pierce a potato with a fork; there should be little resistance, and the potato should retain its shape. When ready, immediately transfer the potatoes to a colander and drain. Spread the potatoes out on a sheet pan to cool, and once at room temperature, transfer to the fridge.

In a bowl combine the celery, relish, Miracle Whip, mustard, hot sauce, garlic powder, onion powder, celery seed, kosher salt, and black pepper and mix the dressing until combined. Chill in the fridge.

Once both the potatoes and dressing are cool, remove them from the fridge. In a large bowl, add a third of the potatoes and the dressing and mix until combined. Use the back of a wooden spoon to slightly mash the potatoes. Add another third of the potatoes, half the chopped eggs and dressing and fold them in. Finally, fold in the last third of the potatoes, the last half of the eggs and dressing.

Top with the sliced egg and green onions, then sprinkle with celery seed and lots of paprika. Cover and refrigerate until chilled and ready to serve.
Nutrition
Calories:
384
kcal
|
Carbohydrates:
73
g
|
Protein:
13
g
|
Fat:
6
g
|
Saturated Fat:
2
g
|
Polyunsaturated Fat:
1
g
|
Monounsaturated Fat:
2
g
|
Trans Fat:
1
g
|
Cholesterol:
121
mg
|
Sodium:
2669
mg
|
Potassium:
1413
mg
|
Fiber:
6
g
|
Sugar:
16
g
|
Vitamin A:
632
IU
|
Vitamin C:
19
mg
|
Calcium:
78
mg
|
Iron:
4
mg
*Nutrition information is a rough estimate.
**The equipment section above contains affiliate links to products I use and love. As an Amazon Associate I earn from qualifying purchases.